It's no secret that Gen Z coworkers are changing up the style game. New data reveals the most popular men's fashion trends have an accelerated global presence.
From sustainable awareness to elevated streetwear, this unpredictable generation is paving the way for new styles and trends at the workplace and beyond.
And the Stylelujo.com team has insight into how the tech-savvy generation is maximizing the use of apparel for office and leisure time.
This Autumn-Winter 2023 season young women are expressing a new elegance by taking cues from past generations and adapting them to the present. The result is a look that focuses on confidence, comfort, and empowerment. Today, these three concepts are personified by a diversified womenswear audience.
I like to refer to today's style movement as the new womenswear global campaign, one that draws inspiration from the golden era of heritage by giving a nod to brand archives of the past while offering a striking testament to Generation Z's way of taking cues the global marketplace- whether from fashion house archives or from the street – and turning them into a new kind of contemporary look.
Masai:
Masai Nuria Collared Mid iDress $238
Give your look a touch of 50s nostalgia with this beautiful dress. The soft jersey fabric is tailored in an oversized cut, so it falls loosely and comfortably over the body. The dress is designed with side slit pockets and a black shirt collar and cuffs in crisp cotton that contrasts beautifully with the yellow pattern. Wear the dress with a pair of high boots for a stylish look.
Good Chemistry:
Good Chemistry Coffee Cloud Eau de Parfum Perfume coaxes you closer for a fluffy hug held fast by dark decadence. With notes of bergamot, espresso, and cedarwood, Coffee Cloud Eau de Parfum perfume spray is balanced and brave with a cozy style, making it the perfect fall scent.
Our most-concentrated formulation, the Eau de Parfum is a timeless staple that can be used for any and all occasions. For a more personalized signature scent, use an Eau de Parfum as your base, and layer with a complementing travel spray or body mist. Apply to pulse points–wrist, neck, and even the back of the knees–to heighten the senses. Notes of bergamot, espresso and cedarwood make Coffee Cloud balanced + brave with a cozy style. (28.99)
PHIPPS:
Cowgirl Cargo Skirt/$510, PHIPPS Gold label T-Shirt/$80, Nordic Cardigan. $425.
Fall is the season for layering, and what better to layer than cozy matching knits? This will add an additional dimension to your look. You'll be the best dressed in PHIPPS this fall.
Tamara Mellon:
Forever Knee 85 Boot, $995
Inspired by vintage silhouettes, Tamara Mellon has designed a new take on her classic boot silhouette which is perfect for the fall season.
Luxeire:
Luxeire Classic Sleeveless Button Up $208.00
The Classic Sleeveless Button-Up provides women with the style and sophistication of a traditional button-up but with a sustainable, comfortable, easy-care technical fabric. This top is slim fitting, polished, and non-constrictive, so you never have to sacrifice comfort for style. Perfect for transitional dressing and layering!
Arcade Belts:
Arcade Belts: Sometimes, subtle pops of color are just what you need to take a performance stretch belt from great to greater. The Carto is the new "not-solid" solid that can make your next adventure. $34.95
jandvision.com:
J+S Mana Series – Crystal Frame $24.99USD
A pair of blue light blocking computer glasses will be essential as we transition into the colder months this autumn. With longer days spent indoors in front of screens, you need to take care of your eye health while looking on trend. Minimalism is still the word and a pair of round crystal frames can be the perfect addition to your wardrobe that can blend perfectly with casual looks or formal business attire while keeping your eyes fresh.
DuoBoots:
Haltham Standard Knee High Boots in Brown Leather $280
Utilitarian yet feminine, Haltham is an everyday boot that promises to go the distance. This flat, knee-high staple style is crafted from smooth brown calf leather and lined with nylon fabric. A memory foam insole ensures maximum comfort, while an internal elasticated stretch panel offers a neat fit. These will be your new favorite boots for fall and beyond
Kasper:
Kasper Belted Fit and Flare Jersey Knit Dress $89
Make a lasting impression with the captivating allure of Kasper's Fit and Flare Jersey Knit Dress. Arrived in a classic hue, this elegant piece is exquisitely tailored for timeless sophistication and charm. The classic fit-and-flare silhouette effortlessly accentuates your feminine curves, while the addition of a tie belt detail enhances your waist. It's an effortless essential for any event on your calendar.
Katie Loxton:
The roomy, versatile, and stylish Alina Handbag in off-white is made of a luxe vegan leather material to last you for years to come. Featuring a gorgeous detachable lock charm, gold-tone hardware, and an internal zip pocket for all their day-to-night essentials. Alina's crossbody strap and top handle, which have been added for an extra touch of sophistication, make it easy to carry by hand or over the shoulder. You can also personalize this bag making it the perfect Fall 2023 staple!
PinkTag:
Sleek and Chic Sweater Top $46
The perfect blend of sophistication and trendy flair! The Sleek And Chic Sweater Top features a ribbed material, a cropped length, and a slim-fitting silhouette that hugs your curves just right. The mock neck adds a touch of elegance while providing a cozy and snug feel. Its long sleeves offer versatility, allowing you to transition seamlessly from season to season. You can rock it on a casual day out or dress it up for a night on the town!
Peachez:
Peachez is your judgment-free zone where sexy and comfortable can meet in one place. With sizes ranging from XS to 3XL, Peachez caters to various sizes and shapes to help all women express confidence and their individual selves. Fall styles aren't just about outerwear. Embrace your individuality and feel good in your skin with the first thing you put on each morning, undies! From seamless to lace, Peachez has a style for all of your needs.
IMOGEN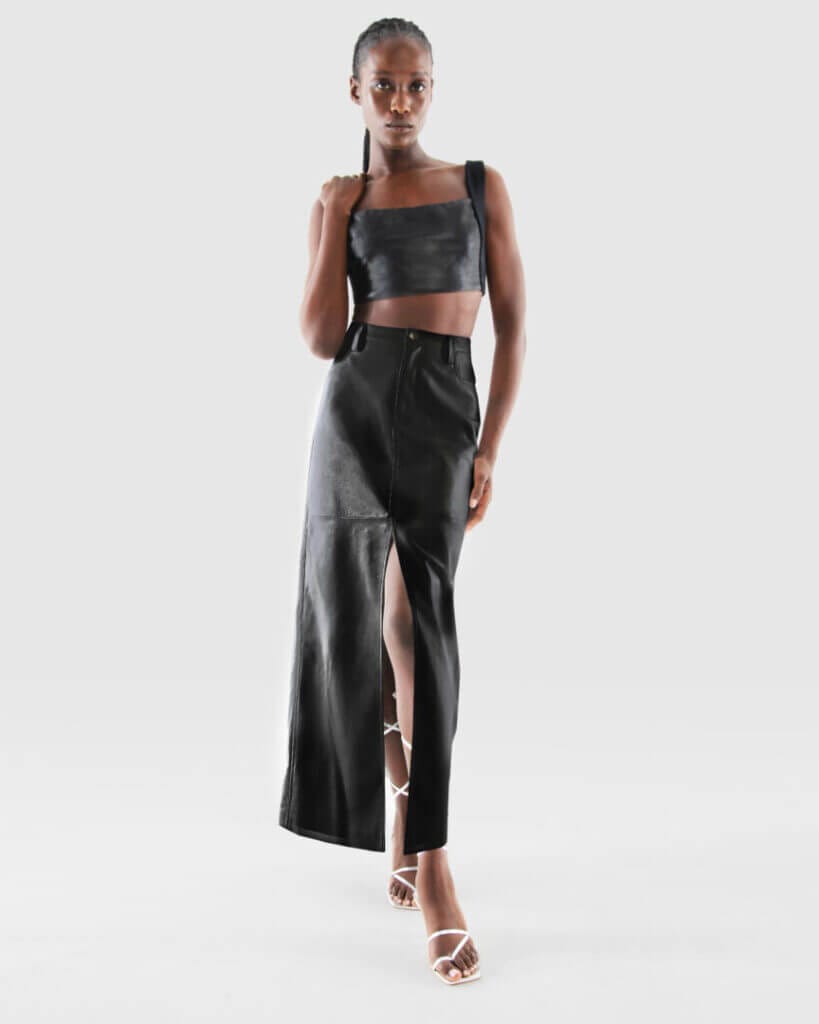 Introducing the "IMOGEN" Recycled Leather Maxi Dress
Buttery soft recycled lambskin leather maxi skirt. SRP: $540.00
AS by DF's recycled leather "Imogen" maxi falls right in line with what's trending at the moment! This lightweight ankle length, buttery soft, supple and pliable skirt is made of "recycled" lambskin leather! With its peek-a-boo above the knee slit, is ideal for casual day dressing and nights on the town! Designer Denise Focil says what's even better is that it's "ideal for both end-of-summer (ouch) and cooler fall weather so it's transitional and will overlap easily into your soon to come wardrobe rotation." Currently sold exclusively via the link above.
An added bonus for your social eco consciousness in addition to the recycled use of leather, is the fact that
AS by DF's packaging is made from 100% recycled materials, is 100% biodegradable and the hang tags can be planted as they incorporate seedlings that will sprout pretty poppies wherever they lie. Oh, and did we mention that AS by DF Donates $10 of every garment sold with a $25,000 guaranteed donation to non- profit organization Ocean Conservancy to help clean up ocean pollution + protect the future of our oceans
State Cashmere:
The Ribbed Turtleneck Basic Sweater $150
Tuck this turtleneck into your waistband for an easy, breezy, effortless style. Or tuck yourself up at home and get cozy. This Is your new go-to sweater for fall
Zodiac: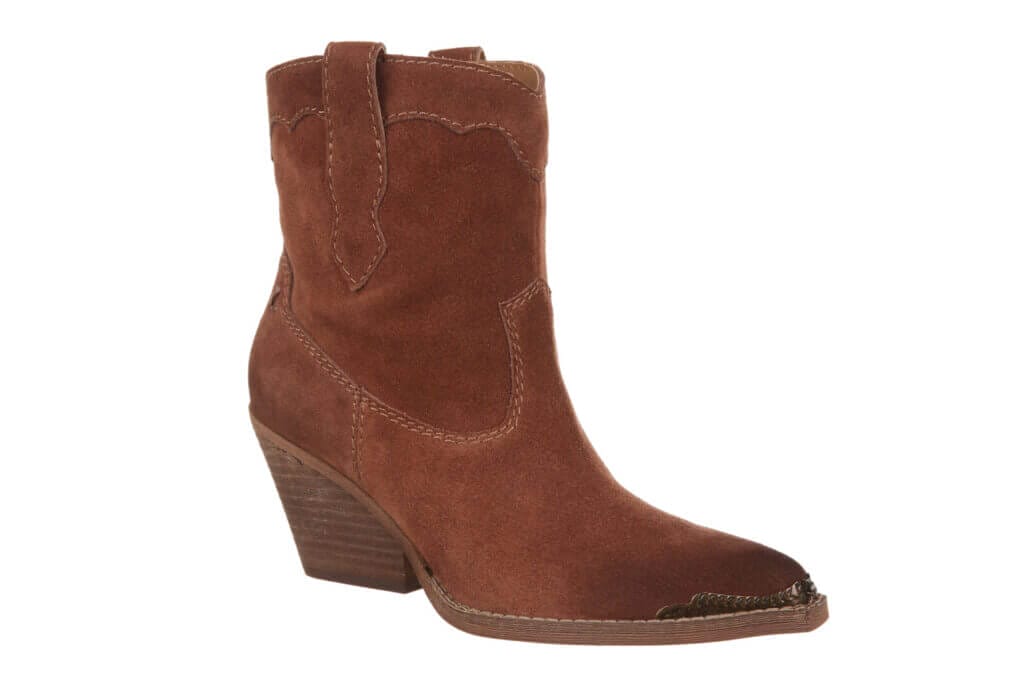 Roslyn Western Boot / $159
This western ankle boot will be your new Fall 2023 wardrobe essential with its pointed-toe and stitch detailing, experience classic charm on the open road.
Marie Oliver:
Catie Mini Dress ($398)
This Marie Oliver dress is the perfect look for this transitional season! The seasonal layering piece pairs particularly well with a popover, vest, or coat.
BodyMark:
BodyMark freckle pens use cosmetic-quality ink so you can create natural freckle makeup looks. With the soft brush tip, you can easily create faux freckles or build up the pigment for bold beauty marks for the ultimate selfie look. The vibrant ink in these freckle pens for skin can stay on all day and removes with makeup remover or soap and water. Plus, the brown freckle pigment looks stunning on you fashionistas, so bring your fake freckle pens to music festivals, Instagram photoshoots, girls' nights and create freckle magic together or simply use it by yourself on self-care days. $12.99
Privé Revaux:
priverevaux.com-The Paris-$39.95
Haven't you heard? It's hip to be a square… or rectangle! This summer, rectangular frames are on every it-girls must-have list. This stylish, geo-rectangle shape has an 80's vibe, but the chunky styling gives it a modern edge.
PARADISED:
Printed cotton jersey hoodie– $180.
We can always count on Paradised for clothing that's both uplifting and comfortable. This hoodie is made from cotton jersey backed in cozy fleece and stamped with the word 'optimist' across the chest. Wear it on days spent lounging at home, running errands, or traveling. This sweatshirt can transition from Summer to Fall seamlessly, you'll never wear any other sweatshirt! Princess Polly and Pacsun.
Princess Polly and Pacsun: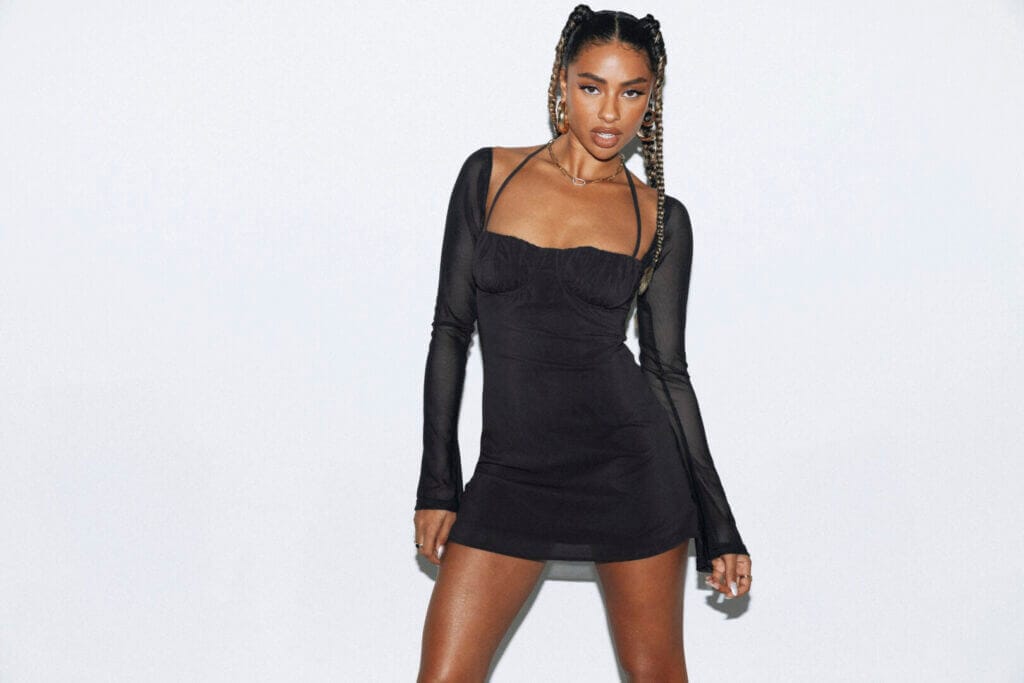 The Dyer Sheer Sleeve Mini Dress is the perfect party dress for Fall events and occasional dressing – it's a classic in black with a unique Princess Polly twist – a versatile look under $100.
Ettika:
The Golden Hour Flex Snake Chain Stretch Bracelet Set priced at just $50 features 3 beautiful gold-toned bracelets to elevate any look. Ettika recently launched its Flex Collection composed of trendy bracelets and necklaces reviewers revere as sleek, sophisticated, and dripping with gold-plated goodness.
LifeStride:
The Women's Open Book Clog offered by LifeStride is an essential addition for anyone aiming to achieve impeccable style for Fall 2023. As the temperatures cool down, this clog not only provides a cozy and comfortable option but also embraces the fashionable elements of the season. Its latte fabric hue exudes a warm and inviting feel that perfectly complements the autumnal color palette. The clog's timeless design, featuring a modern twist with a slight heel, effortlessly combines versatility and elegance, making it a versatile choice for various outfits. Whether paired with jeans, dresses, or skirts, the Women's Open Book Clog adds a touch of sophistication and completeness to any fall ensemble, making it an essential accessory for those seeking to elevate their style this season.
TAFT:
The Verona Loafer in Brown from Taft Clothing is an essential item for those aiming to achieve impeccable style for Fall 2023. The loafer's rich brown color exudes warmth and sophistication, perfectly complementing the autumnal palette. Its classic yet modern design, featuring intricate detailing and high-quality craftsmanship, effortlessly elevates any outfit. This versatile footwear can be paired with a wide range of fall ensembles, from tailored suits to casual knitwear, offering a seamless transition between various occasions. The Verona Loafer not only adds a touch of refined elegance to your look but also embodies the essence of Fall 2023's style trends.
WEAR by Erin Andrews:
Dallas Cowboys WEAR by Erin Andrews Women's Cozy Lounge Cardigan Sweater – Cream
This cozy lounge cardigan sweater not only showcases your support for your favorite team but also embraces the comfort and warmth needed as the weather cools down. Its cream color and versatile design make it an ideal layering piece, allowing you to effortlessly elevate your outfit with a touch of NFL-inspired fashion. The cardigan's relaxed silhouette and soft fabric provide a cozy yet fashionable option for casual outings, social events, or simply relaxing at home during the fall season. With its combination of team spirit, comfort, and style, this cardigan sweater is a must-have addition to anyone's wardrobe looking to achieve a chic and cozy look this Fall.
Eugenia Kim:
"Cooling temperatures and changing leaves bring us back to basics, with a twist, in this new collection." – Eugenia Kim