It's no secret that Gen Z coworkers are changing up the style game. New data reveals the most popular men's fashion trends have an accelerated global presence.
From sustainable awareness to elevated streetwear, this unpredictable generation is paving the way for new styles and trends at the workplace and beyond.
And the Stylelujo.com team has insight into how the tech-savvy generation is maximizing the use of apparel for office and leisure time.
This Autumn-Winter 2023 season young men are expressing a new elegance by taking cues from past generations and adapting them to the present. The result is a look that focuses on confidence, comfort, and empowerment. Today, these three concepts are personified by a diversified menswear audience.
I like to refer to today's style movement as the new menswear global campaign, one that draws inspiration from the golden era of heritage by giving a nod to brand archives of the past while offering a striking testament to Generation Z's way of taking cues the global marketplace- whether from fashion house archives or from the street – and turning them into a new kind of contemporary look.
SANDRO:
Aviator Jacket – $820
This season is all about quiet luxury, and SANDRO's timeless outerwear is the perfect way to achieve a sophisticated yet cool look this fall. From the quality shearling and wool fabrication, SANDRO's Aviator Jacket will remain timeless yet updated in your fall wardrobe for seasons to come.
Santoni:
The Andrea loafers (Price: $830)are dedicated to those seeking lightweight elegance without compromising on luxurious materials and workmanship. Reinterpreting an archival classic, this iteration flaunts a sleek design with a low-cut silhouette that leaves the ankle bare, supported with an elegantly bevelled heel. Its soft nappa-esque leather construction is elevated with tassel embellishments and a stitched toe box. Being a unique and tangible expression of the manual craftsmanship of Santoni's artisans, the product is available for both Men and Women, in leather or suede and in a wide colour palette – from classic black to bright pink. @santoniofficial #SantoniAndrea
Rolex:
Rolex Yacht-Master in Rose Gold​​; Rolex Yachtmaster 37 Everose Gold Rubber Strap Watch, $23,790
Colmar:
Wool Coat With Nylon Inserts: For all the smart to casual occasions that might come up during the fall it's hard to beat a classic outerwear. A high-quality overcoat, that epitomizes modern classic appeal and integrated functionality, is an investment piece that effortlessly transitions from season to season, year to year. A neutral color ensures endless versatility in pairing with any look and will elevate your closet with a timeless investment that guarantees impeccable style whatever the occasion. Price: $625
Goldwin: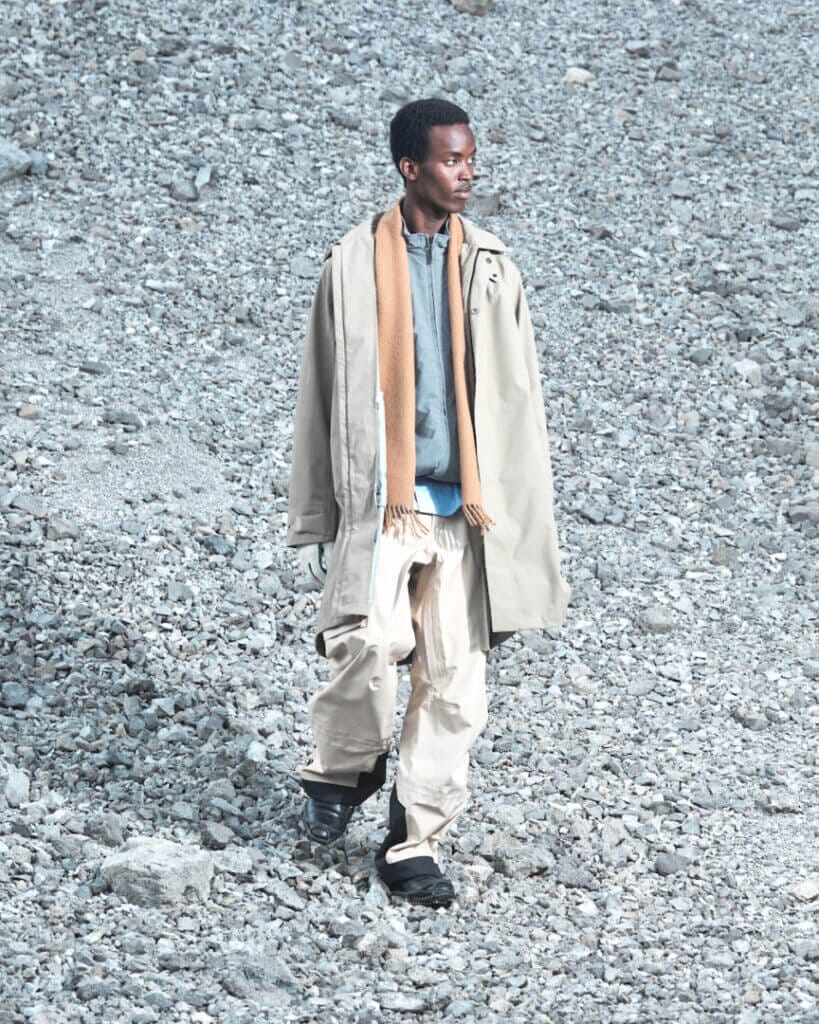 Goldwin: Gore-Tex Bal Collar Coat. ($1000). This slightly relaxed-fit A-line silhouette is appropriate for business meetings, dinners, and keeping dry and warm in fall weather. It is outdoor-level technicality with a sophisticated look for fall.
Save The Duck:
MEN'S LYNX JACKET IN DUNE BEIGE $159.99
The Lynx Jacket is the perfect mix of function with Save The Duck's animal cruelty PlumTech technology and style of a traditional button-up shirt, no one will know you're wearing a jacket! A classic look with additional functionality, perfect for fall. The Lynx is a timeless look with button fastenings, a collared neck, and single chest pocket, this jacket also has two hidden seam pockets with a zipper.
LeAlfré: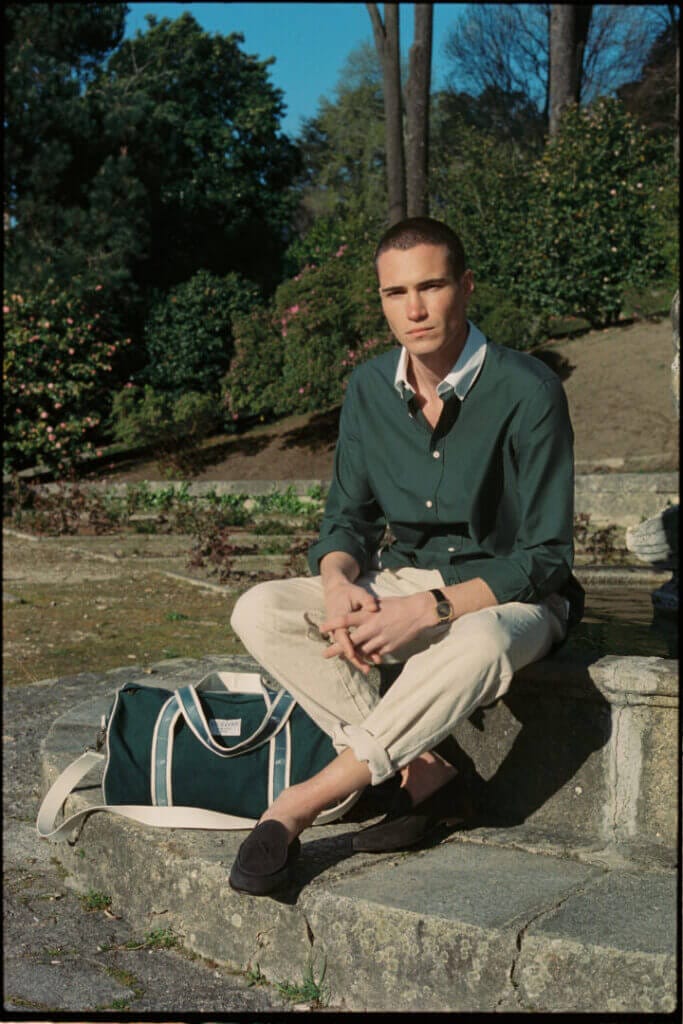 'Le Original' Contrast Collar Oxford Shirt – Hunter Green, 98 USD ) Our signature Hunter Green color is a bold statement piece that complements the shades of the season in an elegant and fashionable way. Paired with a fall Oxford fabric, for a more casual, comfortable, and durable wear for the season's activities.
Novella:
Novella "The Lion" Price- $385
Co-Founder Phil Marineau says "Sneakers constitute an enduring cornerstone of every gentleman's wardrobe. However, the task of selecting the ideal pair that effortlessly transitions from daytime to evening can prove to be quite the conundrum. Enter The Lion, a midnight blue jacquard sneakers crafted by Novella—a stylish and comfortable augmentation to any autumn ensemble. Whether paired with jeans, a tailored suit, or a more casual attire, these limited sneakers effortlessly elevate your style."
Jack Victor:
Canora Donegal Lambswool, Cashmere, and Polyamide Quarter-Zip Sweater $378. This sweater is made from luxurious and exceptionally soft materials that leave you feeling warm during the cooler fall months. The Donegal sweater is cozy, comfortable, and breathable, allowing for versatility as the weather continues to change.
Able Carry:
MSRP: $198 USD. The Daily Plus is perfect for everyone from commuters to college students. The sleek and minimalistic look goes with any outfit. The backpack has all of the features any EDC enthusiast or techie would want: durable materials, protective laptop sleeves, and lots of pockets.
Rastah:
Image Courtesy of Rastah
The "Bahaar" Puff Print Button Down is a Green and white striped button-down with Puff printed floral details, Mesh accents, and Slightly stiff, and heavier fabric for a structured fit. $200.00
The Green and White Striped Button Down features puff printed floral details for an elevated touch. With its mesh accents and slightly stiff, heavier fabric, it offers a structured fit that's perfect for in-between seasons. The playful design also makes it an ideal piece as we head from late summer to early fall!
Edward Green: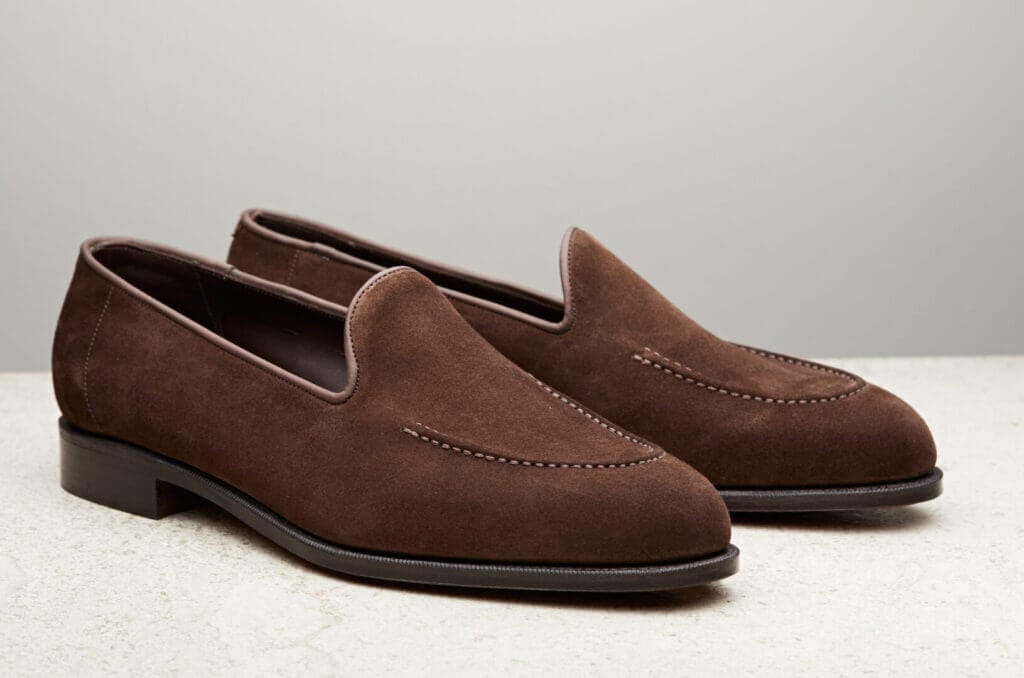 Mink suede with slim leather soles ($1,375).
This season Edward Green have built on the success of their unlined loafer collection by introducing the Hampton, a light saddle-less loafer. Cut from the finest Italian full-grain suedes, the Hampton has been handcrafted in England to the highest standards. As you would expect for a shoe made in Northampton, the Hampton is made with a Goodyear-welted construction, ensuring it will stand the test of time, but by minimizing the internal lining the Hampton is featherlight and supple enough to wear sockless in the summer months.
Colmar:
Colmar Originals – Wool and Cashmere Turtleneck. $185.00
Nothing says luxury quite like a white cashmere knit. A combination of sporty and elegance, this turtleneck hits all the right notes for the dapper gent around town.
Nautica:
Pure Blue is the newest addition to the collection. The Eau De Toilette embodies the resounding call of the great outdoors, supporting Oceana's mission to protect the world's oceans through its progressive packaging. Aimed at the modern explorer, Pure Blue combines a minimalistic formula with a long-lasting scent, ensuring that the scent you smell is the scent that stays.
Vilebrequin x Highsnobiety: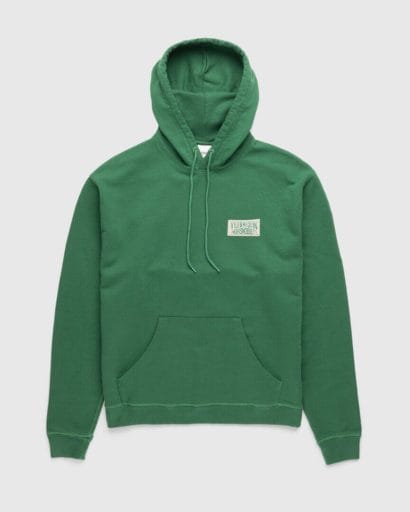 Vilebrequin x Highsnobiety – Logo Hoodie Green / $165 USD
An ode to the essence of 1970s St. Tropez, the Highsnobiety x Vilebrequin collaboration is designed to give you the best look and bring the energy of the sun-drenched French Riviera with you.
WearFirst:
($28.00 $19.00): Poly Quick Dry Technology lets you move freely and stay dry. This fabric is a 4-way stretch knit featuring moisture-wicking materials, making it perfect for high-performance activities. You can move freely and stay dry, no matter where you are. Fall '23 is all about comfortability and versatility! WearFirst's All Day Performance Shirt achieves that and more – with its Poly Quick Dry Technology that lets you move freely and stay dry – to its French Placket that gives you the elevated luxury of a seamless front that makes you stand out from the sea of typical men's sportswear.
RIPNDIP:
PUMA X RIPNDIP AOP TWILL JACKET (EUCALYPTUS) Regular price $90 USD. This jacket doesn't just keep you cozy as the temperatures drop but also adds a bold, playful twist to your ensemble elevating your Fall 2023 style effortlessly. Its custom RIPNDIP X PUMA cat logo all-over graphic exudes streetwear chic, making it a must-have for anyone seeking standout style this season.
Hadobody:
Hadobody – MINDFUL TEE – HEMATITE GREY-$80 USD
Hadobody's Mindful Tee is not just another tee; it's a statement piece that fuses comfort and empowerment. Imagine cozying up in its super-soft, eco-friendly fabric while radiating the energy of affirmations like "I Am Devine" and "I Am Powerful." This tee isn't just about looking good; it's about feeling amazing and aligning your vibes with the season. With its unique Hematite garment dye and oil wash, you'll rock the equilibrium of style and positivity. Don't just wear a tee; wear an affirmation of your personal power and dive into Fall 23 with style and intention.
PHIPPS:
Vintage Americana Oversized Barn Coat. $1180
This coat represents our commitment to heritage style and authentic craftsmanship. It's part of our ongoing partnership with heritage brand Woolrich "the Original Outdoor Clothing Company" using leftover deadstock of their iconic fabrics to make a small capsule of ultra-limited edition classic American workwear staples.
Better World Fragrance House:
Carby Musk Candle $80. Good Thoughts, Sweeter Tings, Muskoka, Williamsburg Sleepover, and Winter Warmth Candles, all for $48
Drake's relationship to scent is deeply personal. For years Drake has used scent on the road traveling around the world to better his immediate surroundings with familiarity and comfort. His experience prompted the idea of 'bettering your world' through scent. Established in 2021, Better World Fragrance House is an expression of that connection, a physical manifestation of memories. The signature scent Carby Musk, is a soy blend candle that contains notes of soft floral, amber, and marine connotations with Trail Air technology. The permanent collection evokes emotion, passion, and direction and includes Williamsburg Sleepover⁠, Sweeter Tings⁠, Good Thoughts⁠, and Muskoka. A gold marker adds the finishing touches with the ability to customize each candle, as a means for expressing yourself artistically or to create the perfect gift. #BWFH #Drake
Malo Cashmere:
MALO CASHMERE turtleneck cashmere sweater with handmade embroidery. $2,635.00
This white turtleneck cashmere sweater by Malo Cashmere has a sophisticated and timeless styles. It is embellished with a typically Nordic-style cable knit. 2/28 yarn is a reference to the fineness of the yarn, a luxurious choice for those who appreciate uncompromising softness and warmth. The exclusive detail: a handmade embroidery on the central part, realized with a 3-thread pure cashmere chain stitch. This item is part of "Inhabit the body", the FW23/24 collection. A collection where beauty becomes functional thanks to garments that make welcoming our living, pampering our senses. The quiet luxury, which has always been Malo Cashmere's stylistic code, meets absolute comfort, the highest quality of yarns, craftsmanship and sustainability research. #malocashmere #quietluxury #handmade
GSTQ:
The GSTQ Quilted Bomber Jacket features a modern take on a classic style. A quilted chevron pattern and 2-way zipper offer countless ways to style. $498 USD
Wolves Whiskey:
There is no more beautiful bottle to display on your home bar. Wolves Lot Two American Single Malt is a perfect example of understated luxury presented by two of its most iconic practitioners, Jon Buscemi (Buscemi) and James Bond (UNDEFEATED). Each bottle of this deceptively approachable 110-proof American Single Malt whiskey is wrapped by hand in a supple, bespoke Italian sheepskin label dyed a rich, matte black, a finish that is incredibly hard to achieve due to the texture of the hide. The skins are painstakingly individually die-cut into label form, before being printed with UV light, hand-numbered, embossed, and laid one-by-one on the custom-made French-cut glass that required four months to achieve the perfect color. The process of hand-labeling alone took four weeks to complete and further illustrates the unflinching attention to detail lavished on every bottle of Wolves Whiskey.
Peepers:
Peepers Blue Light Focus™ Lenses utilize proprietary baked-in technology that filters over 40% of high-energy visible blue light and 7-Layer Anti-Reflective Coating enhances contrast and visual acuity by reducing reflections (glare) on the surface of the lens. Featuring dual anti-scratch coating for long-lasting protection, and unique lens clearness for comfort and style with barely-there tints. UV400 Protection blocks 99.9% of UVA/UVB rays.
Talentless:
This hoodie is made with 100% combed ringspun cotton, and although it's much heavier than your typical hoodie, it's one of the most comfortable hoodies you'll wear. It keeps you warm without being too bulky or hot… perfect for those cold days around town. Constructed of high-quality material with double – stitched seams and strong metal grommets on all its pockets, this hoodie will definitely last you a long time.
Prevail Clothing:
The Men's Crown Hoodie by Prevail Clothing is the ultimate studio-to-street piece that's perfect for the fall season. Pair it with sweatpants or matching shorts while working out, or jeans and casual short for post-workout, everyday wear. Men's everyday hoodie, available in S, M, L, and XL. $69.97
Bruno Marc:
Bruno Marc Men's Smooth PU Leather Penny Loafers. Price: $40.99
Bruno Marc Men's Smooth PU Leather Penny Loafers are designed to offer optimal cushioning with a memory foam insole for maximum comfort and support.
Bruno Marc men's leather penny loafers are essential for achieving a stylish Fall 23 look. Their memory foam insole offers maximum comfort and support, while the soft vegan leather upper adds a polished touch. The lightweight, wear-resistant EVA outsole ensures durability and easy walking. Their classic slip-on design suits both formal and casual occasions, making them versatile and stylish when paired with dress pants, suits, or jeans. A must-have for Fall 23.
TAFT:
TAFT The Rapido High-top Sneaker in Eden Price: $295
The Rapido High-Top Sneaker in Eden from Taft Clothing is an essential item for achieving a good style for Fall 23 due to its versatile and fashionable design. The sleek high-top silhouette, combined with the rich and earthy Eden color, complements the autumn aesthetic perfectly. The premium craftsmanship and attention to detail make these sneakers a statement piece that can effortlessly elevate any outfit. Whether paired with jeans, chinos, or even dressier trousers, these sneakers will add a touch of sophistication and flair to your fall wardrobe, ensuring you look stylish and on-trend throughout the season.
State Cashmere:
State Cashmere The Turtleneck Basic Sweater Price: $160
The simplistic design of this everyday turtleneck sweater makes it the perfect staple for Fall. Debonair and super-soft to the touch, comfortable at home, in the office, or at an event- it doesn't get more sophisticated than a cashmere turtleneck.