Show Your Appreciation With These Delightful Gifts for Mom:
Finding the best gifts for mom wraps all your love and gratitude in just one box? No matter her personality or style, celebrate all the wonderful mothers in your life with these no-fail gift ideas. Whether you're shopping for your mother or a friend who recently became a mom, the best Mother's Day gifts are those that truly show your appreciation for all they do by looking for items that speak to their personalities and interests. For instance, if the woman you're shopping for loves apparel, she'll be delighted to unwrap a brand new pajama set by Gilly Hicks. Who doesn't love a comfy pajama update or a chic pair of slippers to glide around the house in comfort. Those little luxuries are things one rarely wants to spend their own money on but will welcome wholeheartedly when presented as a gift. Or maybe she's a gadget person who could use a new a brand- new car fragrance diffuser by Pura, bringing their advanced scent technology on the road. Those high-tech gadgets certainly make her smile and never disappoint.
And if you're still in doubt, make it personal. A sentimental locket is surely one way she can hold loved ones close, while monogrammed fashion and accessories score big this year in part because of the special consideration that went into having them made especially for her. And if none of the above seem to be right, Style Lujo suggests buying her the sweetest jewelry. Discover Style Lujo's gifts that are guaranteed to keep mom smiling no matter the occasion.
And remember: The best Mother's Day gifts don't have to be expensive. Gifts as simple as a mani-pedi can easily bring joy to her day.
All products featured on Style Lujo are independently selected by our editors. However, when you buy something through our retail links, we may earn an affiliate commission.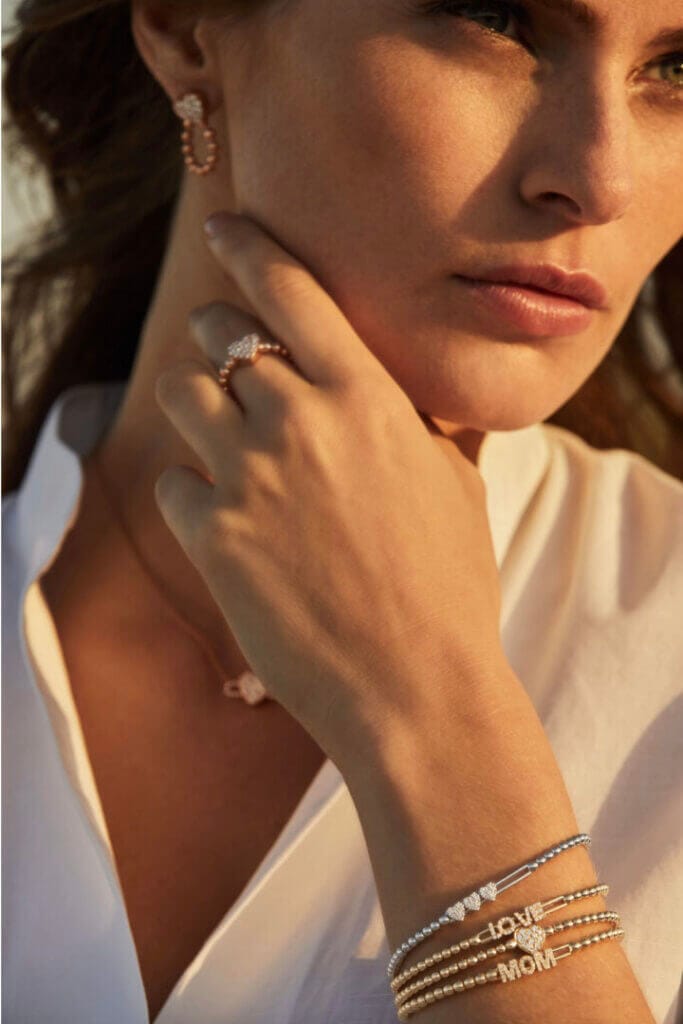 Tresore Stretch Bracelet Hulchi Belluni's 'Mom' Bracelet is a beautiful way to show your love and appreciation for whoever you call mom in your life. And, since the bracelet is customizable, you can also have it say any name of your choice–a gift that will be a cherished and treasured keepsake for years to come! $3,207 USD
Sicily dauphine calfskin leather handbag.
Price $1795
Jewellery Set Romantic Freshwater Pearls & Rose Quartz gold
Gift Mom a luxe set of freshwater pearls and rose quartz, the stone channeling unconditional love this Mother's Day. Coeur De Lion is offering a free travel case for Mother's Day with a purchase of $120 or more. $395 (on sale from $455)
Vienna Dress Baruni's Vienna Dress is a showstopper and if you hurry, you could even order to wear it just in time for Mother's Day! $475 USD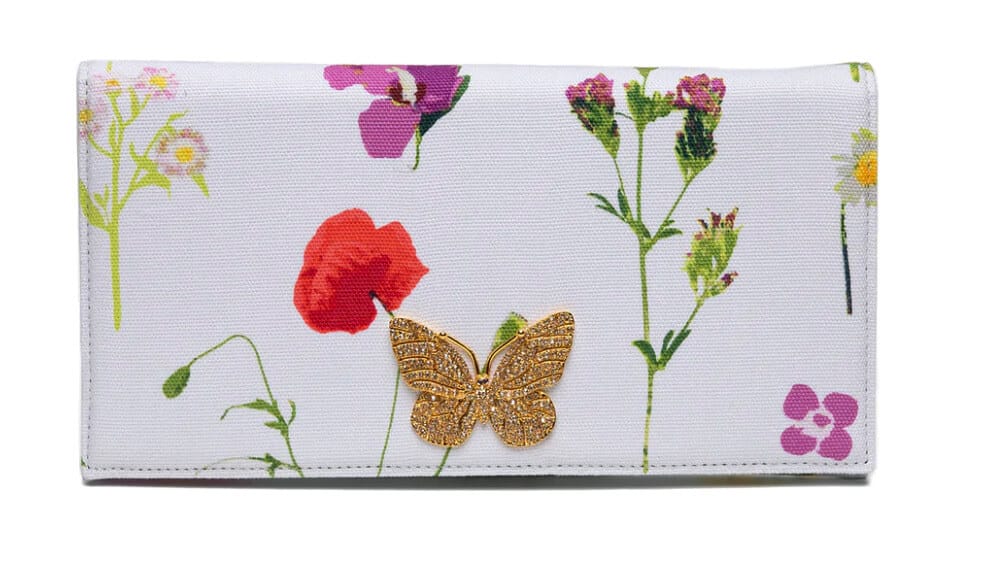 This fabric clutch is timeless and classic. It is sleek and beautiful and can be worn with jeans or a dress. It comfortably fits a cell phone, lipstick, keys, and credit cards. The bag comes with a detachable chain shoulder strap measuring 25″ (drop 17″). The surprise that adds a bit of added value is the gold plated butterfly hardware which is made with Swarovski Crystals. Each of the brand's bags are lined with lavender suede and contains an inside pocket perfect for credit cards. This bag contains a magnetic closure, and makes for the perfect gift for mom this Mother's Day as she can mix and match the piece with various outfits across seasons! 6. Price in USD $695.00
Illusion Diamond Studs YESSAYAN's Illusion Diamond Studs are the best high-quality diamonds you can get! Made with the top cut and clarity, you can do no wrong with these earrings. $500 USD
SIGNATURE HANDBAGS FOR MOTHER'S DAY
New seasonal iterations join the Antigona line: explore a curated selection of styles for Mother's day.
Antigona Stretch, Lock or Classic, the House's iconic line is available in-store and on givenchy.com.
Anchors Away Reversible Insert
Jack of All Trays ia a viral tray that comes with inserts for every occasion, eliminating the need for multiple trays and having the perfect storage solution for small spaces. $25
Crystal Letter Pendant NÜR's Crystal Letter Pendant is a great gift for moms who like to keep it simple, yet elevated. With the necklace being hypoallergenic and non-tarnish, this make's for a lasting and stylish Mother's Day gift! $43 USD
The First Spray Serum that's included sold over 20 MILLION BOTTLES and has been crowned the top three facial sprays on Amazon. Perfect for the mom on-the-go! $39
Acne Studios
Platt Mini Crackle Bag
Acne Studios Platt Mini Crackle shoulder bag is crafted from suede leather with a cracked finish and a leather Acne Studios logo patch. The Platt shoulder bag presents a minimalistic silhouette with sculptural folds at the base and sides. Complete with a decorative removable mirror and discrete closure. Price in USD – $1,000
Infinity Anchor 18K Rose Gold Plated 925 Sterling Silver Ring
VANCARO's infinity anchor ring is the perfect Mother's Day gift for the jewelry-obsessed mom, including an infinity and heart intertwined to represent never ending love. With additional offerings for custom moissanite jewelry, VANCARO offers personalized gifts for Mom. For Mother's Day, VANCARO is offering buy 2 get 1 free for all items. $109 (on sale from $309)
The Functional Chocolate Company
Carefree Chocolate combines ethically sourced, naturally vegan dark chocolate with a proven blend of vitamins, minerals, and trusted botanicals like passionflower to help mom relax and unwind. $7.89 USD
Kentucky Derby Ahead of the style stakes and perfect for Mother's Day. From our Kentucky Derby collection, this satchel bag has been designed with the same scooped shape as our coveted Clarence Road design. Its knotted handle is crafted in the same super-soft leather and the new, race-inspired horse illustration means this limited edition is perfect for showing off at your summer events. $288
Signature X Diamond Shape Earrings-Matara's Signature X Diamond Shape Earrings are a go-to for Mother's Day. If you're looking for modern pearls, Matara is the place to shop! $540 USD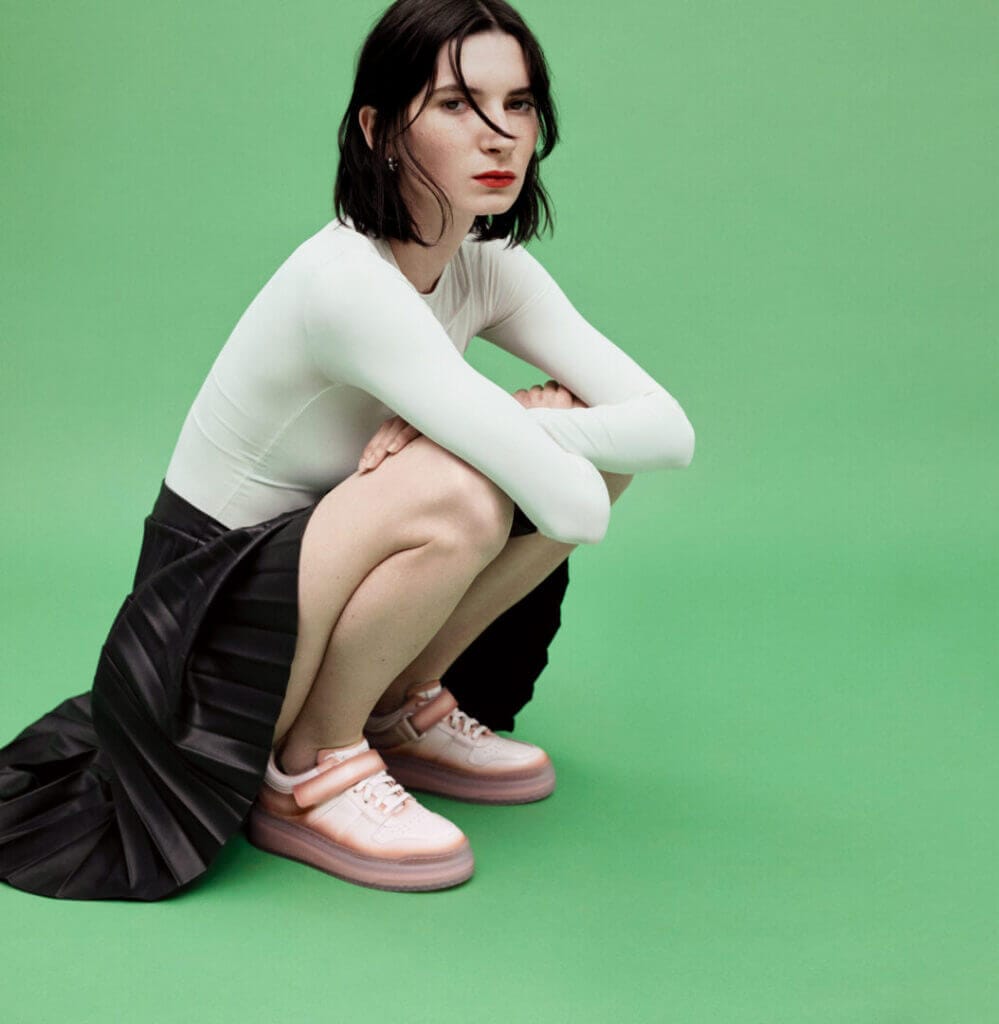 Born from the fusion of urban culture and the allure of the 70s, this new sneaker model represents a masterful celebration of color through the use of air-spray technique, akin to the art of murals, that allows for the creation of multiple graphic shades with a striking visual impact by combining delicate nuances, desaturated tones, and fluorescent hues.
DNA COSTOLO's DNA Earring is a dainty and classic bauble worn by several celebrities including Ashley Graham. If your mom likes to stack her earrings, this would be a perfect gift! $1,600 USD
Sail Silver Aviator Sunglasses The Sail Silver Aviator Sunglasses by ANEA HILL make the perfect Mother's Day gift because they feature a classic and versatile design, crafted with high-quality materials that offer both durability and protection to ensure mom looks and feels her best. $225.00
Chaos to Calm: 5 Ways Busy Parents Can Break Free from Overwhelm
The perfect gift for new moms, busy moms on the go, and moms looking to stress less, 'Chaos to Calm' is a guide for busy parents that will help them streamline the endless tasks they face every day. By creating more time and less stress, they can spend more hours appreciating their family, making sure they have what they need, and giving themselves the space they need to live their lives with intention and joy. Chapters are targeted at Efficiency, Habits, Communication, Community, and Self-Care, and include how-tos and simple small tasks anyone can take to lower the frenetic pace of every day and move forward with practical well-thought-out plans that prove everything can get done without losing your cool. Using examples from a variety of parents as well as her own life, author Jenna Hermans (businesswoman and mother of four!) shows us that calm can be achieved and maintained and that anyone can take control of their busy lives and embrace what really matters.$24.95 USD
This delicate sparkler is the perfect spring sip on any occasion, with aromas of toasted almond and notes of apple, dried cranberry and ginger snap. Flavors of lemon meringue pie nicely complement the wine's softness and lively, creamy finish. Your readers can bring this versatile sparkler to a Mother's Day brunch – where it will pair nicely with light, midday dishes – or wrap it up for the perfect Mother's Day gift that the women in our lives can enjoy all season long. $38
Vera Wang Eyewear Crystal in Tortoise Crystal is sure to turn heads. A cat eye shape with enchanting crystal detail on the frame front. Crystal is true to its name, a glamorous statement piece.
Ribbed Turtleneck Tank This limited edition ribbed turtleneck tank is silky, sleek and non-constrictive. Designed to wear on its own, but is also perfect for layering. Made with Renew Folk fabric, featuring an elegant and functional glossy, ribbed structure. Compact, light, thermoregulating and soft, with stretch where you need it. Doubles as activewear.
Signature Jelly Mask-The concierge Medspa offers custom treatments for mom and dad including the signature jelly mask facial. The signature jelly mask facial treatment addresses irritation, inflammation, dryness, sun spots, melasma, rosacea, acne, as well as fine lines and wrinkles. The team starts with dermaplaning and a custom peel chosen for your specific skin type. After the peel, a soothing frosting jelly mask of your choice that fits your needs is applied to the skin. Treatments are completed with a facial massage and moisturizing SPF applied to the face. $350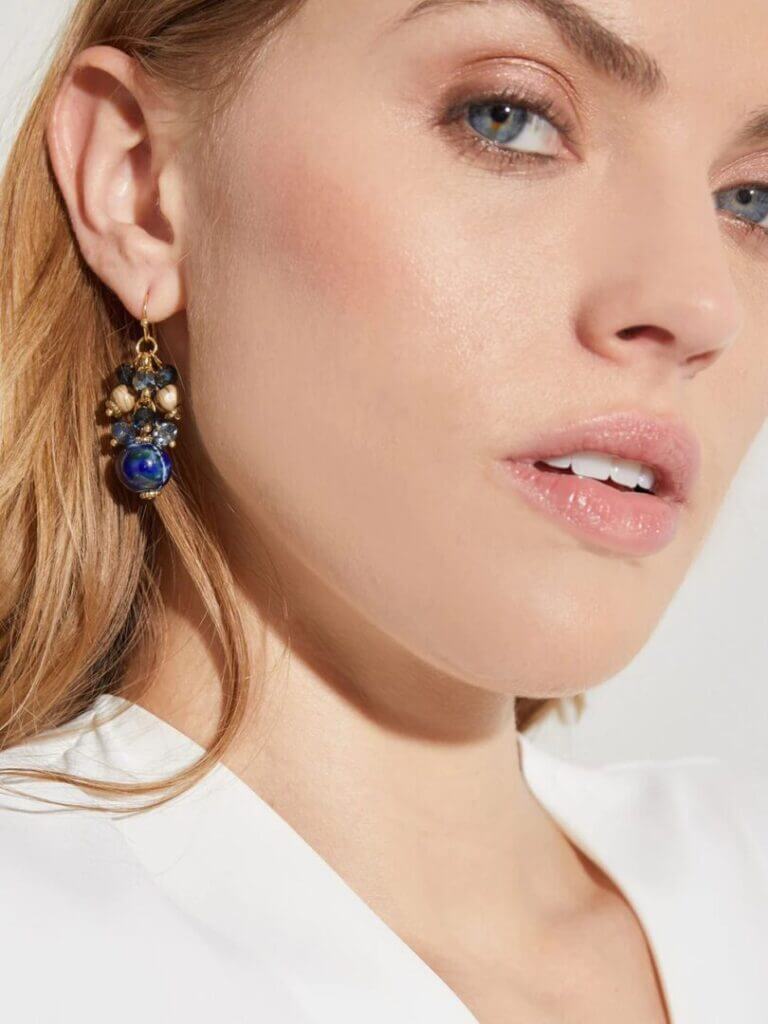 Cluster Bead Gold Drop Earrings Make a statement with a stunningly seamless blend of beads hanging in eye-catching harmony. The brilliant hues are complemented by gold metals to complete any look with undeniable brilliance.
AnaOno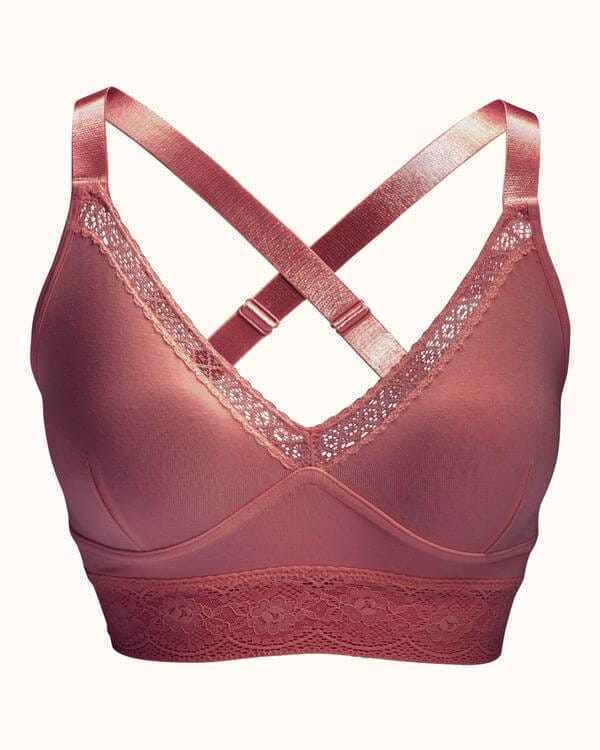 AnaOno's Delilah Soft Cup Bra The Delilah Soft Cup Bra is ideal for everyday wear! This super-soft bra is made with TENCEL™ Modal material, which is made from beech trees, and offers a customizable fit that's perfect for wearing even after a mastectomy, lumpectomy, reconstruction, or other breast surgery. This pocketed bra also includes lovely feminine touches, including ultra-plush Super Soft® lace trim and a breathable mesh back panel. In addition, AnaOno also has a tree for a tree policy, in which every tree they take to make their products, one is planted in its place and the brand also uses biodegradable, recyclable, and reusable packaging! $45.00 USD
GEORGY White Lace/Leather Add a little panache to Mom's spring wardrobe this year with J/Slides new GEORGY, featuring embroidered mesh to keep your feet cool through the warmer months, as well as J/Slides signature chunky sole to provide all-day comfort and support where Mom needs it most! $159
Featured item: Easy Crew Sweatshirt & Fleece Shorts Matching Set – $59.95
Gift mom an eco-friendly way to get around! This award-winning scooter takes a fresh approach with vibrancy, visibility, safety, and a touch of nostalgia. $479
Featured item: Lightweight Woven Short-Sleeve Shirt (part of set; shorts are available here)- top, $29.95; bottoms, $24.95
Andre Assous
Featured item: Jessa Sandal – $139
Resin Flower Drop Earrings Revel in the captivating beauty of our flower drop earrings – a romantic accessory that infuses notes of elegance and femininity. An image caption: Enliven each look with its vibrant floral design softened with milky-smooth ivory resin.
Featured item: Lightweight Quilted Lindy Jacket – $125
Women's Classic Stripe Nightgown in Pink These women's matching adult nightgowns are made out of our hand-sourced Pima cotton that lasts 3x as long as any other cottons. These hypoallergenic pajamas get softer with each wash – plus are perfect to match your little one!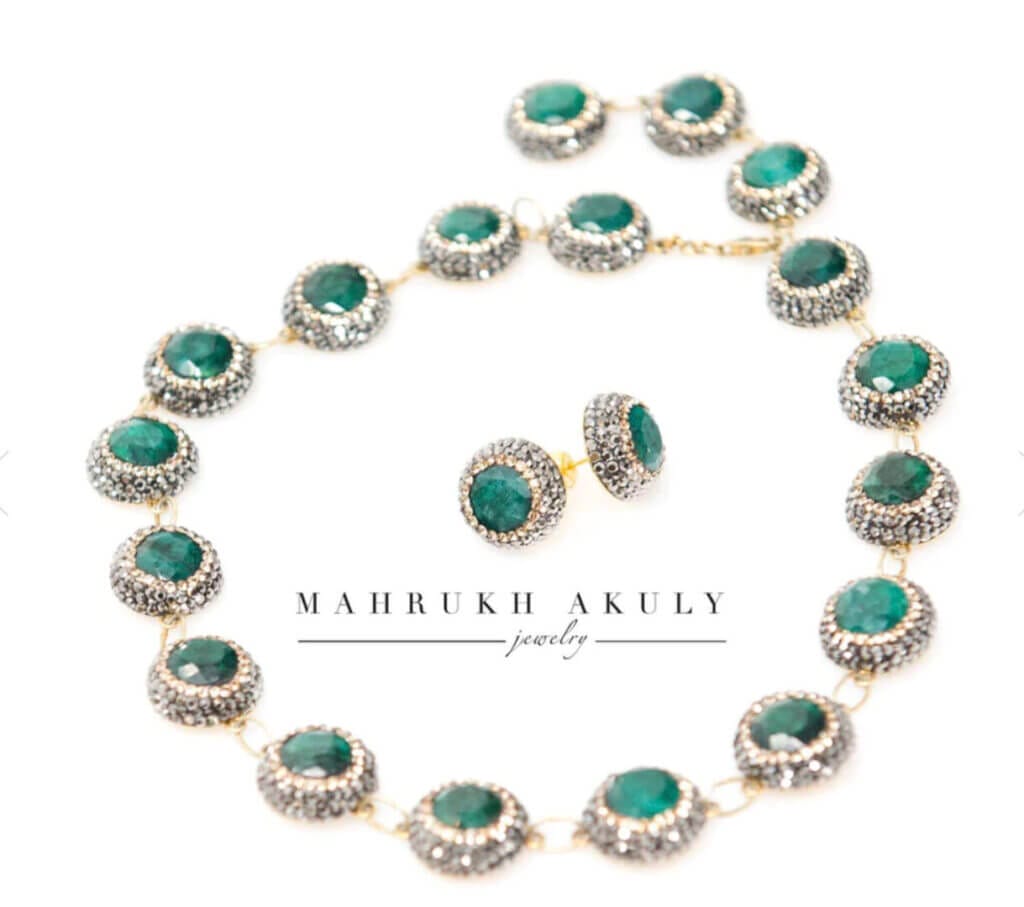 Emerald Choker and Studs Mahrukh Akuly's Emerald Choker and Studs set is a beautiful set to gift to any mom this year. The necklace and stud earrings are handcrafted with the finest quality gemstones which offer a classic look on a beautiful Emerald setting. $155 USD
Mont Mauve Leggings These stylish athleisure leggings are firm yet comfortable, whether using them for a workout or lounging around the house. Made from quick-drying, eco-friendly materials that are made to last, your everyday leggings look just got a little bolder.
Dynasty The Dynasty sunglasses by Otra Eyewear make the perfect Mother's Day gift because they combine both style and functionality, offering a chic and practical accessory for any sunny day that mom is sure to love $60.00
Kim Cashmere Sweater – $495
Introducing a brand-new car fragrance diffuser bringing their advanced scent technology on the road. While most car scent diffusers are associated with over powerful, synthetic fragrances made with toxic ingredients, Pura is aiming to transform traditional car air fresheners with a new compact and sleek smart device to eliminate bad odors with clean and natural scents including Coastal Palm, Cucumber & Mint, Fairway Morning, and more. The car diffuser retails for $34.99, while each scent retails for $14.99.
Canary is an independent, women-owned skincare company focused on creating products that are designed thoughtfully to support wellness and balance for skin, while creating happiness and confidence for humans. Their bestselling clean and vegan serum is designed for long term skin health and is packed full of all the best things for your skin such as: Powerful antioxidants, patchouli extract for self repair, and vegan encapsulated CBD! The High Tech Self Repair Serum is a unique antioxidant formula that's designed to brighten and calm your skin while defending it from the long-term damage caused by UV rays, smoke, pollution and other environmental stressors. ACTIVE INGREDIENTS: Broad Spectrum CBD Encapsulate (Cannabidiol): CBD is a potent antioxidant that experts agree performs better than ascorbate (Vitamin C) or tocopherol (Vitamin E). In addition to its skin restoring properties, CBD is a potent moisturizing ingredient that can help reduce and prevent fine lines and wrinkles. The CBD is delivered in a high-tech vegan encapsulate which supports suspension in a water-based formula, enhancing stability and effectiveness because the benefits of the CBD are released over time. CB2-Skin™ (Patchouli Extract): This ingredient is different from other patchouli extracts because of the high concentration of micronutrients and fatty acids, which is where the calming, soothing and restorative benefits live. Patchouli extract can help calm your skin, improve its texture and promote overall skin barrier balance. It also soothes irritated skin, supports collagen and helps mitigate the impacts of time and gravity, if you catch our drift. CB2-SkinTM is also the source of the natural fragrance – you'll notice a light hint of patchouli that dissipates quickly after application. Rosa Centifolia Flower Extract: The Rosa centifolia flower extract is 100 percent natural, and sourced from Provence, France. This extract will help your skin renew itself while preserving its healthy microbiome. The flowers are cultivated without pesticides, handpicked in May at the height of freshness, and prepared with an extraction method that follows principles of green chemistry.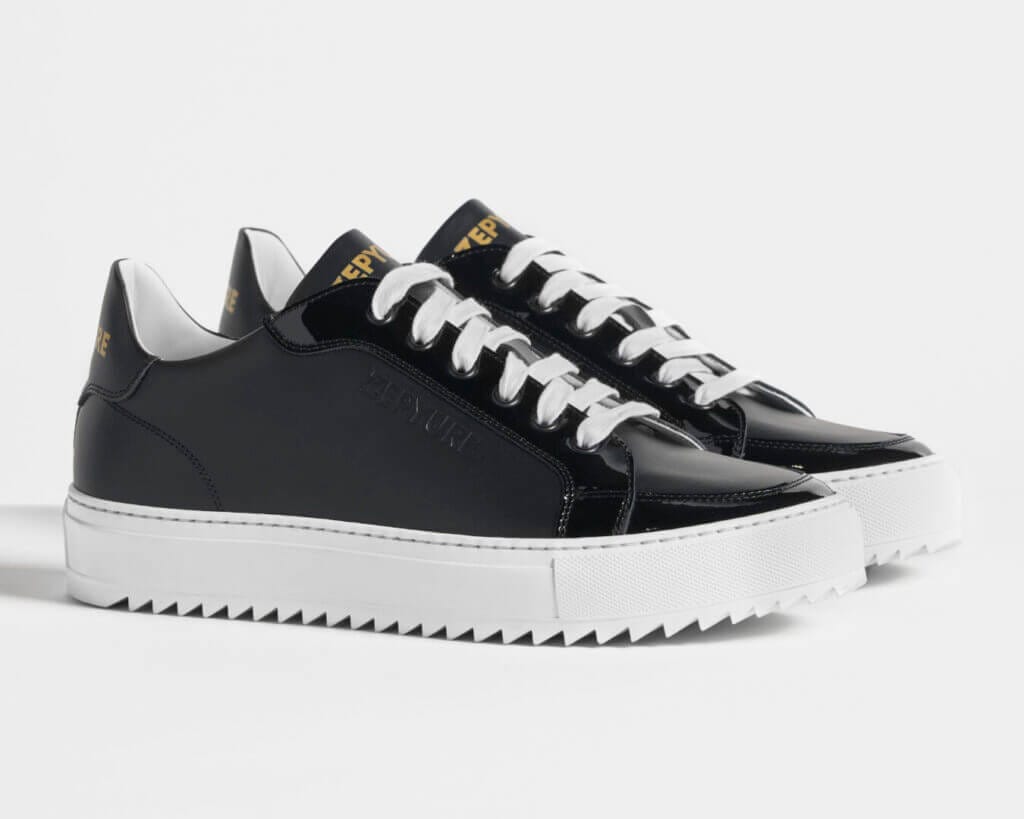 Designed in LA, Made in Italy, Black-Owned Zepyure sneakers are a timeless design and the perfect gift. The closet essential is made from 100% calfskin complimented by patent leather on the eyestay and toe bumper. In addition to style, the inside features a height-boosting elevated insole to flatter and elongate legs while providing long-term comfort. $395
Hailey Bracelet omè's Hailey Bracelet–part of their L'Arc en Ciel collection–features a beautiful freshwater pearl with an adjustable silk thread band that wraps around your wrist. A truly timeless and effortless look! $75 USD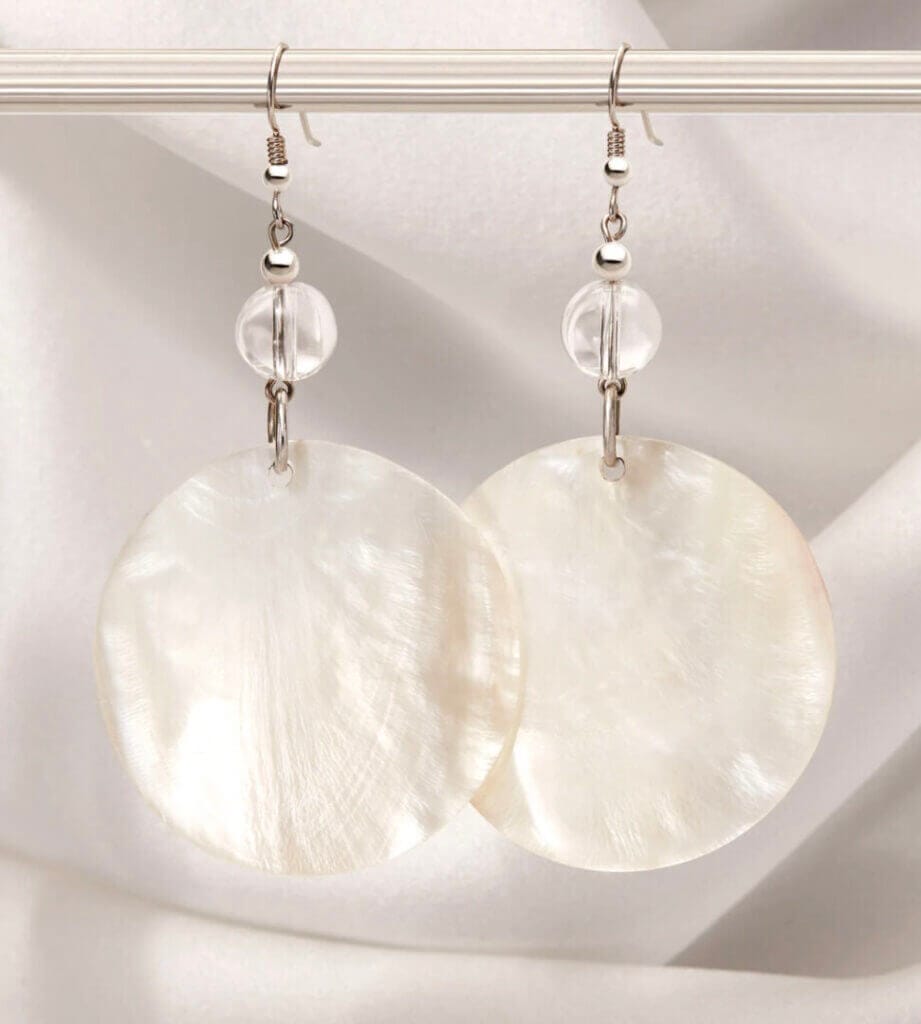 Crystal Quartz Shimmering Shell Earrings Jenny Lauren Jewelry's Crystal Quartz Shimmering Shell Earrings are truly illuminating! The crystal earrings are the perfect gift and just in time for the Spring/Summer season! $300 USD
Studio Scent Diffuser Hotel Collection's Studio Scent Diffuser is unmatched! Looking to give your mom a 5-star destination experience from home? Well, the Studio Scent Diffuser does exactly that with advanced atomization technology that is residue-free, and safe for pets, children, artwork, and furniture! $224.96 USD
Breath of Gardenia PATET's Breath of Gardenia readymade box completes any space in your home not only with it's luxe sight but also with its enchanting Gardenia scent. Mom's everywhere will be wanting this gift! $275 USD
A stylish carry all bag for the everyday women, hand-block printed canvas cotton. This bag is the perfect bag for everyone. It's the perfect size to hold all of your belongings. You can stuff towels, diapers, wipes, wallets, extra change of clothes, laptops, everything into this bag. You can use it as a beach bag, a large purse, a carry on, an overnight bag, any occasion.
Praerie
This is a vintage inspired square-neck, ankle length, embroidered dress with an exclusive Praerie floral pattern created in-house. It's made with softer than the clouds cotton voile for ultimate comfort. She boasts buttons down the front with a ribbon tie adjustable waist and neckline for your desired fit. Brittany makes dressing easy.
Women's Cecilia Braided Strap Espadrille Wedge Heel Platform Sandals
Andre Assous's Cecilia Braided Espadrille style is the perfect balance between looking chic and staying comfortable — which is so important for moms on the move. Shoppable on Bloomingdales.com! $329.00
AKNVAS' Cassie Shirt is the perfect shirt for moms who do it all — from office to dinner, this is a transitional piece sure to keep mom feeling confident all day long! $485.00
Mom's Pink Monogrammed Lucky 13
2. Rosepops offers the perfect preserved floral arrangements that will keep mom smiling for one year or longer. From customizable boxes to charms and scents, this is a gift that is sure to make mom feel all the love and appreciation. $200