In the past couple years, men's fashion has significantly transitioned to a new place in time. That time is modernity. What has been deemed masculine has now become a controversial subject, with an abundant number of styles and silhouettes taking new form; in turn, making menswear much more fluid than it has ever been before. Whether or not you agree with new trends that have arisen in menswear, there will always be some constants for men to hold onto as mankind moves well into the twenty-first century of style.
One such constant being boots. Dating back as far as 10,000 BCE (in Spain) and made out of animal leather, boots have been an integral part of menswear. Throughout history, boots have served as foundational strength with respect to the military capability as well the forcefulness workers reply on when doing laborious work.
For today's man, there are a countless product offerings to choose from that can suit the taste and needs of any type of man. In fact, a variety of popular styles today include, the Chelsea boot, chukka boot, combat boot, hiking boot, wingtip boot and many more.
As previously stated above, menswear has transitioned from a traditional conservative place to a more open-minded and robust way of dressing. This newly found form of style correlates directly to the acceptance of the heritage (traditional) boot being worn both in the spring and in the summer.What was once only recognized as (strictly) a winter style, multiple fashion brands are now incorporating boot styles in their SS 21 collections. But wait, there is a twist?
What I find especially interesting, is the way forward-thinking brands and manufacturer's alike, have developed racy new styles made in lightweight and comfort-driven suedes, leathers and nubuck for the warmer seasons.  More to the point, men are now able to incorporate their favorite boots into their spring and summer wardrobe.
If you fellas are looking to be on-trend for a nice night out on the town, I recommend a polished black Chelsea boot paired with one of your best button-downs to show them who's boss! I find another great option is chukka boots worn with jeans and a cool tee for a more relaxed– but still fashionable overall look. Lastly, for you guys out there who want to dress a little edgier than most, I suggest throwing on a pair of combat boots and pare them with some rock-in summer shorts to kick-off your summer style with a punch. "When a man wears boots in the summer it shows confidence and attitude," said by expert shoe designer George Esquivel of Esquivel shoes.
In my style research, I have found that many American men feel uncomfortable adapting to the current menswear trends. Nonetheless, I am here to say to you that there is a way to hold onto heritage as well as keeping up with changes in style as well as staying on trend. In a word, by keeping your boots year-round and amp up your style. Below I have gathered some of the top boots for men for
spring and summer in 2021.
Acne Studios
Acne Studios – This Acne Studios men's boot is the perfect transitional footwear for the early months of Spring. $700
Alexander McQueen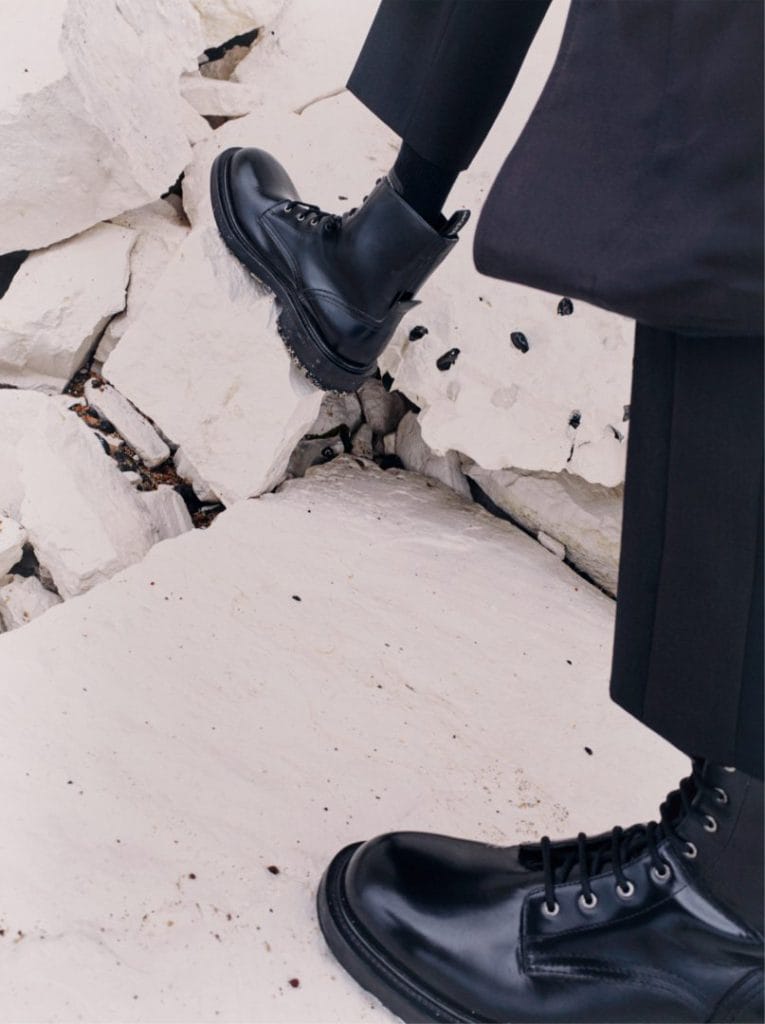 Alexander McQueen – Worker boots with an exaggerated toe shape and combat rubber sole combine the use of fine materials and elevated craftsmanship and functional modern design innovation that lies at the heart of the house of Alexander McQueen. $850
A.P.C.
APC – The Simeon boots are timeless in style, shape and material. The smooth calfskin material is highlighted by the deep chocolate brown leather, with the wide tone-on-tone elasticated band on either side of the ankle and velvet crust pull tabs at the back. The materials are lightweight and resistant, constructed together with an elegant rounded toe and a modest 1.18″ heel. $535
Bottega Veneta
Bottega Veneta – The puddle boot is designed as a rubber ankle boot made with Biodegradable Polymer Monobloc. It has a Chelsea boot design upper and a bulky rounded toe combined with a seamless construction that is lightweight and waterproof. $650
Brunello Cucinelli
Brunello Cucinelli – The versatile and lightweight style of these mid boots creates the perfect balance of comfort and craftsmanship. A special and refined wax finish enriches the suede with a compact look and a velvety touch. The ultra-lightweight natural rubber bottom provides added comfort and an artisanal touch, fitting for any summer occasion. $945
Celine
Celine – Camargue biker Chelsea boot in suede calfskin Havana. $1,050
Dunhill
Dunhill – The Traverse Boot references classic walking boots, and features a Vibram arctic grip rubber sole designed for better resistance on icy surfaces. The upper is crafted from vegetable-tanned Italian calfskin with rubber longtail branding at the tongue and lace hooks in our AD gunmetal finish. A padded heel and tongue enhance comfort, while a speed-lace design allows for easy release of the laces. $975
Esquivel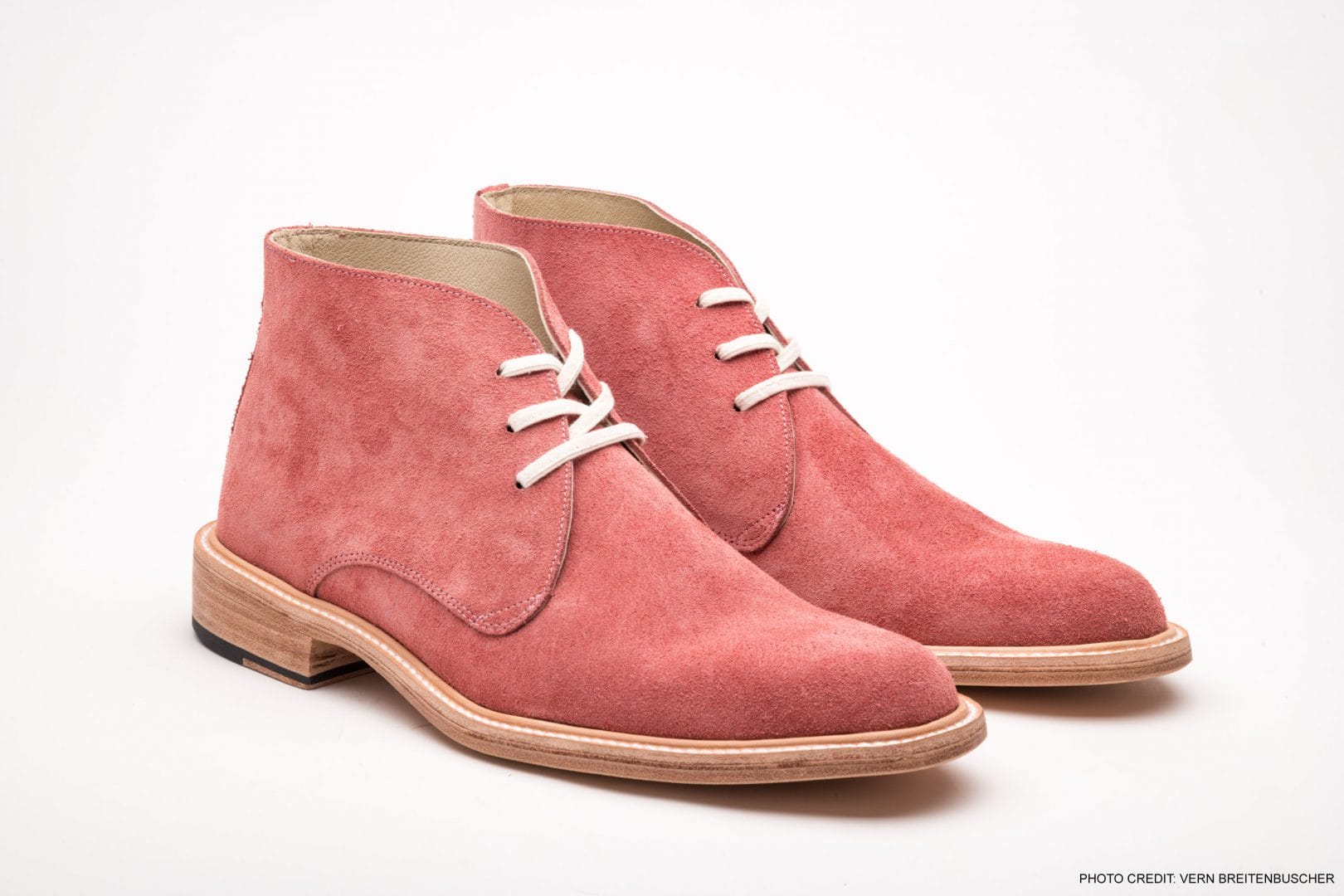 Esquivel -For much too long, boots have been mostly relegated to just being worn in the colder wet months. We are happy to report that guys are catching on to what we have been proposing for a long time. Wear them year round, to summer weddings, and to spring barbecues. They pair perfectly with seersucker and linen. My absolute must: rock them with shorts.
I designed these boots to have a Spring/Summer feel to them. Not only does the color lend itself perfectly to the warmer seasons, but we also make this boot with what we call Spring Construction. The boots have a very soft heel and toe construction requiring little break time and can be worn with very thin or no socks. $695 
Fear of God
Fear of God – A modern reinvention in recognition of the iconic American duck boot. The traditional rubber toe is replaced with contrasting black, French nubuck leather for a fashion finish. $895
Frye
Frye – The Greyson Lace Up is an example of Frye's signature rugged tailoring at its finest. Featuring luxury Italian leather construction, rubber outsole and Poron footbed with full leather lining. $398
John Lobb
John Lobb – The Newlyn jodhpur looks at John Lobb's bootmaking history with an almond-shaped toe and a natural leather sole – the characteristic welted silhouette with immediate ease and comfort. Single leather sole. $2,060
Paul Smith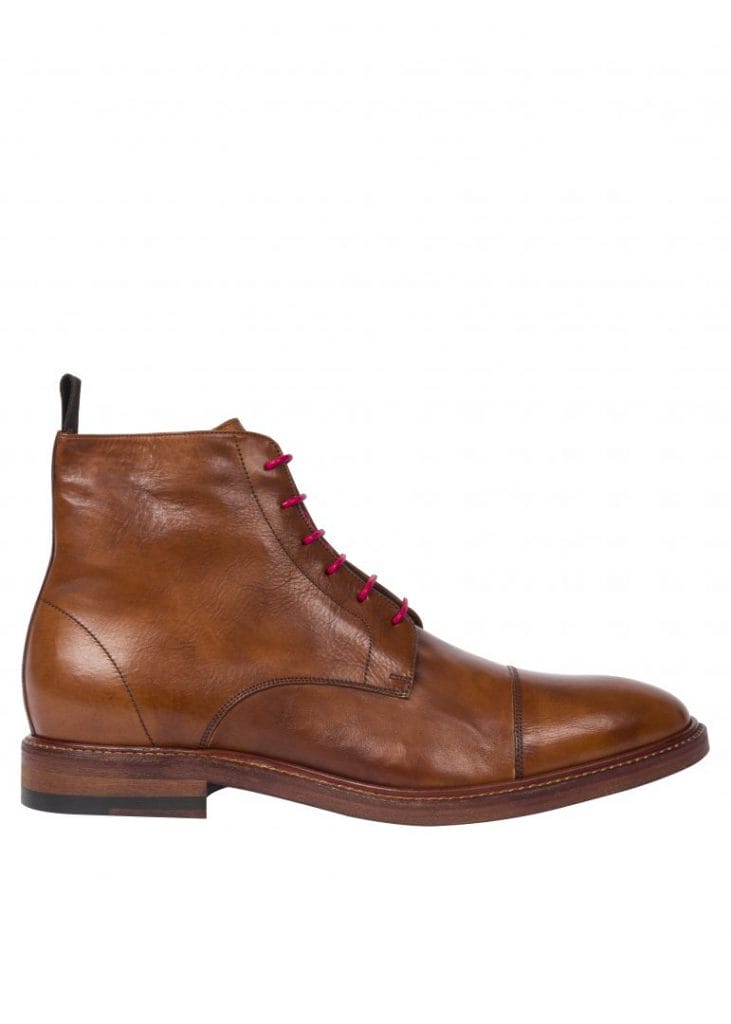 Paul Smith – Crafted in Italy from premium calf leather, these tan 'Jarman' boots feature subtle panel detailing and sturdy Blake-constructed leather soles, complete with leather rands and rubber heel inserts for extra durability. A timeless style which works well with both jeans and tailored trousers, the boots are expertly finished with an intricate 'Feather' motif embossed on the bottom of each sole. $505
Tod's
TOD's – The TOD's brown leather ankle boot is a must-have for men everywhere this Spring/Summer season. Made with durable Monteco leather, this boot becomes shinier and lasts over time, continually undergoing a complete transformation with each wear, making it look brand-new every time. This boot is a fresh twist to the boat style, while still encompassing Tod's legacy of ageless craftsmanship and footwear tradition. The result offers a young sporty design perfect for those leisurely Summer days. $895
Wolverine
Wolverine – Together with Dragon's Milk Bourbon Barrel-AGed Stout, Wolverine has crafted a truly legendary limited edition 1000 Mile boot. Infused with handcrafted details reminiscent of dragon's Milk's rich colors and tastes, this boot will only get better with time. The Dragon's Milk x 1000 Mile boot features rough-out suede from England's finest suede manufacturer, Charles F. Stead with the texture mimicking the oak bourbon barrels that Dragon's Milk is aged in. The suede is tanned in a smooth, waxy mohawk, exposing the natural grain and intricate texture while the coloring matches the deep, rich chocolate hues of Dragon's Milk. The bronze hardware detailing, found on each boot, is a reflection of the hardware used on the brewery machinery; and, is also adorned with a removable metal fob in the shape of a dragon. An embossed Dragon's Milk logo is featured on the tongue and is paired with classic, yet simple monochromatic laces to transform Dragon's Milk beer into wearable, functional, and quality footwear. The boot is made in Wolverine's classic 1000 Mile Evans silhouette featuring a leather outsole with a Vibram® rubber forepart, and Goodyear™ Welt construction, allows for the boot to be re-soled for many years of wear. Just as Dragon's Milk develops its unmistakable taste through its aging process, this timeless handcrafted boot will gain character with every wear. $400