Today, society calls for a novel approach to redefining the classic gentleman; one that possesses sartorial sophistication while accepting freedom to break boundaries of classic "rules."
Reflecting on the past while observing menswear patterns develop over the years, dipping into playful departments, the obscure as well as the vast fashion scene in today's climate has presented a gender fluid streetwear expansion, causing any conformed demands of compliance to traditional attire to evaporate.
At an electric pace on par with infrared creativity that current designers display, one still seeks out the classic gentleman who is handsome, sleek and gallant; arguably what could be considered "tastefully dressed." This, however, does not prevent well-established brands to remain captive to the past but leads to evolution within the extroverted scene by openly allowing change, artistic freedom and the creative license to tweak their own individually tailored style.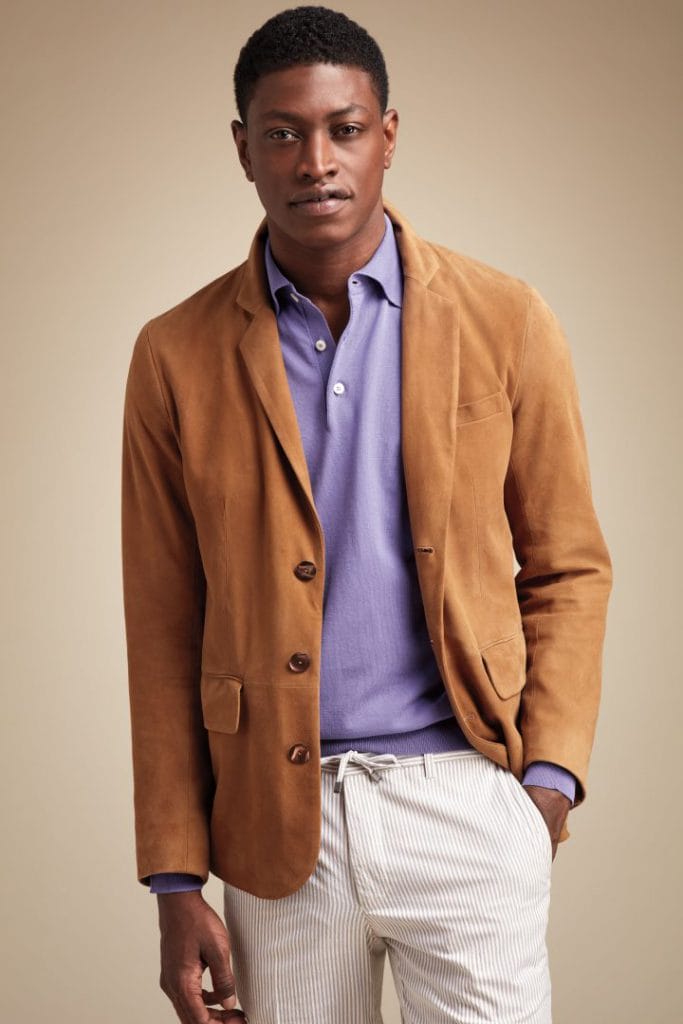 Paul Stuart was founded in 1938 by specialized haberdasher Ralph Ostrove during a time of the bustling industrial scene of New York City as the war effort began to stimulate the American economy. The company was honorably named after his son Paul Stuart Ostrove. Establishing refinement in the "concrete jungle," the company birthed a style that incorporated very fine English tailoring infused with an East Coast American prep essence. Attracting the likes of Hollywood's silver-screen legend Cary Grant and American recording artist Frank Sinatra, Paul Stuart had placed a (strong) foot in the door in the ranks of cultured fashion and high-society.
Longtime CEO Clifford Grodd drove the company forward with continued success – keeping it in the hands of the family as a privately held business until 2012. At that time, the company was sold to Japanese partners Mitsui, who had been present alongside the company for many years. In a word, there had been a vast following and demand for Paul Stuart within the Japanese marketplace that still holds true today.
In 2016, Paulette Garafalo took the helm as CEO, marking the first time the company was to be led by an outside member to the family. Entering into the modern-day retail arena, the brand extended their lengths to reach a wider demographic, incorporating lower-priced collections labeled customLAB and denimLAB, offering an accessible made-to-measure platform.
In the volatile retail market today, intelligence and intuition with respect to market development is seemingly the clear path of choice that forthright fashion companies must embark upon to secure financial success. Without abandoning the heritage and quality that had been founded decades prior, the new commanders did just that.
When COVID-19 forced the business world into a home-office, formal dressing came to a halt as offices closed and social engagements were prohibited. Casual attire and loungewear were the population's go-to pieces now that everyone was living behind closed doors. For a company like Paul Stuart, who specializes in custom tailored clothing, sportswear, footwear and accessories, this would potentially present itself as a challenging hurdle to tackle. Creative director Ralph Auriemma took the time to express his passionate opinions about the industry, sharing his thoughts on the return of "the suit" saying, "I feel that men would want to get dressed up again and not live in their pajamas anymore. The power of the suit and the power of being well dressed goes a long way. Suits always make a comeback, there has to be some kind of return to stability and normality. Suits represent that; they represent a position in society. Guys will want to look the part; they'll want to look professional again."
With Gen Z inheriting a strong stance in the fight against climate change (and the impact that many industries have contributed to) with its demise and heightened carbon footprint, Ralph ensures that this is an important consideration when creating new product. "I work with companies that recycle cashmere and wool. I'm also using more technology in fabrics that are natural fibers; looking at every aspect of sustainability in new fabrics that are biodegradable that won't cause damage to the earth," he ensures us.
The luxury fashion house exudes eloquence of the cultured and refined man, and proves to be a classic and appropriate choice of apparel to reside in any man's wardrobe. With their flair of colors and patterned fabrics integrated into classically tailored garments, it results in beautifully curated attire for men to endorse this play on traditional style. Offering sleek linen double-breasted jackets armored with peaked lapels for summer as well as cashmere sport coats to brave the harsh winter months, it is all done with empowered pizzazz; providing an array of daring colors encouragingly paired with a flamboyant bowtie. More poignantly, Paul Stuart is for the man who braves new territories with an exuberant aesthetic, breaking the box of monotone colors, while honoring a respectful and embellished clean-cut garment.
"We don't have trendy clothes and we don't have designer clothes. Our suits have style and flair, they're elegant clothing. You could walk into the room and look like you own the place; you're not outdated and our product has longevity," Ralph expresses adamantly. With a strong focus on e-commerce shopping especially as stores were forced to close their doors during 2020, one only hopes that boutique visits will pick up where they left off pre-pandemic. "There's something very unique and special about a man coming in to buy a suit and his experience. There's fun conversation between the salesman, the buyer and the fitter; it's almost holy. How are you going to buy a Ferrari online? You have to sit in the car, so it's got to come back," Ralph states with humorous nature.
Pack your bags and get ready for a weekend away, as the company covers every department required to complete a man's wardrobe. From suits, sweaters, leather goods and the option to enhance your golf game with an extended line of clothing for the aristocratic game of leisure, this is why one loves a firmly established and historic fashion house that provides not only garments as their own entity, but also a formulated concept of wide-ranging products, catering to a desired lifestyle and enriched spirit of self-being. As Ralph would say, one must always be, "well dressed, well-mannered and well groomed. That's what it's all about."