What To Look For in an Activewear Brand:
After a long hiatus, staying active plays an essential role in people's lives. Whether it's running, cycling, going to the gym, keeping the body in great shape is top-priority. What's more motivating than getting your workout done and keeping the body fit, trim— and fashionable while doing it
When you purchase the right activewear, it can help boost your motivation to try out new physical activities. But remember, it's important to choose brands that offer good quality sportswear to awaken your fitness zeal. Make no bones about it, women who want to stay healthy and fit value workout clothes made to get the job done and look good while doing it.
Fortunately, athletic wear offerings for spring/summer 2022 come equipped with stylish high-performance accelerators like never seen before. From cute leggings and chic yoga pants to comfortable sports bras and trendy tops, myself and fashion editor Emma Cunnington have reviewed and chosen the best activewear brands that you should know about right now. Check out this list of cool luxury athleisure labels that all women need to take their fitness to the next level.
This season, the activewear brands on the list are are committed to sustainability, making performance wear out of plastic bottles, perfecting moisture-wicking fabrics and engineered with anatomical design providing what I like to refer as the hybrids of the season. For example, CLQ Fitness – Classic Compression lifts, holds, and sculpts in all the right places, or CAMILLA's Nierika Active Crop crafted with compression support and anti-pilling technology. Also check out Russell Athletic's signature dri-power moisture-wicking technology and odor protection jacket that keeps you fresh all day long!
AnaOno
AnaOno – Made with you in mind, this ultra-comfortable bra is pocketed for all your needs, allowing you to accommodate expanders or customize the fit with lightweight breast forms and prostheses. It also works well as a sports bra for flat chests. The smooth fabric is soft around your sensitive areas to minimize irritation. $54.
Anatomie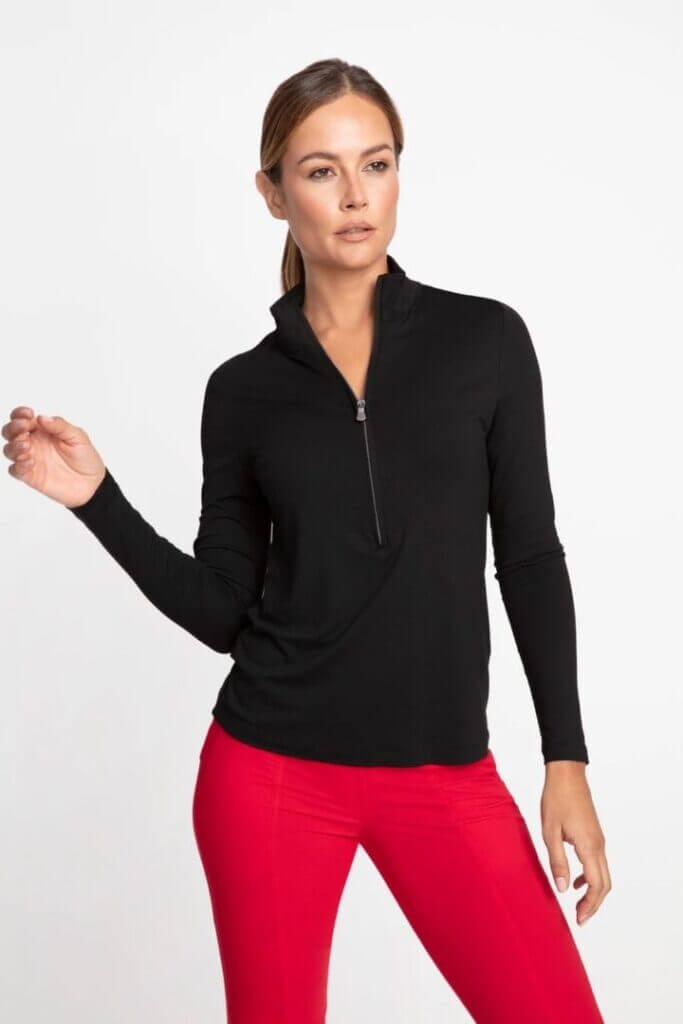 Anatomie – The Stacey Long Sleeve Zip-Up Turtleneck Travel Top. This modern take on the classic turtleneck is designed with a flattering slim fit paired with a classic high neckline and full-length sleeves. A bold half-zip closure at the front adds an edgy and highly wearable feel that pairs perfectly with the extended length that hits just below the waist for a modern appeal. $178.
Avre
Avre – Transform your lifestyle with the AVRE Swift Icon Shoe in Off White Cream. This is the perfect sneaker to transition from a quick workout to your daily routine without compromising your carbon footprint! The innovative speckle print stretch knit upper is responsibly made. Its sock-like upper feels like a second skin by providing a snug, secure fit perfect for the woman on the go. $125
BANDIER
BANDIER – All Access offers activewear wardrobe staples that merge fabrication innovation with the newest trends. $139
Byrdie Golf Social Wear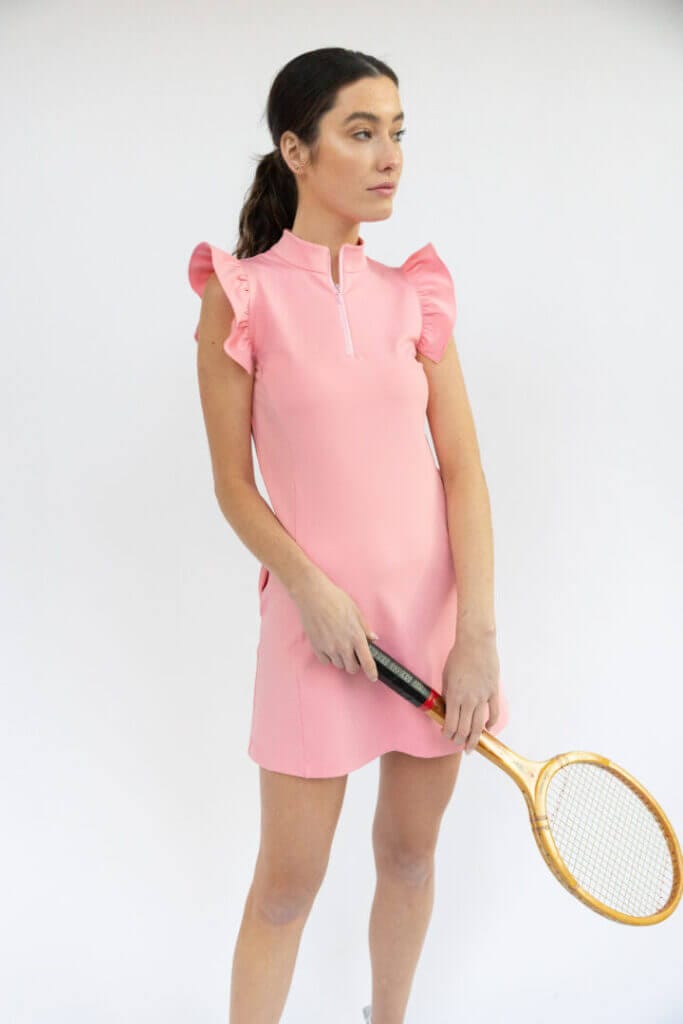 Byrdie Golf Social Wear – The Myers Flutter Sleeve Dress has instantly become a Byrdie Golf staple. Named after Myers Park, Charlotte, home to Rachelle and Hayden, this dress embodies the course to court to cocktail lifestyle that has been missing in our wardrobes for so long. $175
CAMILLA
CAMILLA – The Nierika Active Crop is the perfect combination of functionality and style. Infused with the brand's intricate pattern detailing and a symphony of coastal blues, this style is sure to stand out. It's also crafted with compression support and anti-pilling technology and features a scoop neckline, customizable straps, and a soft stretchy fit that molds to your silhouette. $169
Carbon38
Carbon38 – One bra, two ways. Carbon38's One Shoulder Convertible Bra Top is cut from our newest performance fabric that's oh-so-soft with a lightly compressive fit that holds you in. This sleek sports bra features an adjustable strap that can be worn over the shoulder or asymmetrically. $88
CLQ Fitness
CLQ Fitness – Clique's most popular style, the Classic Compression Tight in COCOA lifts, holds, and sculpts in all the right places. COCOA Collection pieces have been created using our moisture-wicking fabric to pull sweat away from the body for a more comfortable workout and the deep color gives maximum sweat and squat coverage. All CLQ Fitness functional pieces are made sustainably using 76% recycled fibers from post-consumer recycled bottles. $74
Cupshe
Cupshe – Honeymoon Contrast Binding Crop Top and Shorts Set. $26
Definite Articles
Definite Articles – At a height of 6 ¾ inches, this sock hits just under your calf to look as good as it feels. The blend of high-quality cotton and spandex creates a snug, protective fit that stays up all day (or night) long. $16.95
Desigual
Desigual – The Desigual Oversized long hoodie is a plush piece perfect for your winter wardrobe! The 70's pop art geometric lettering print and dual side pocket design let you stay warm while looking stylish. $145.95
DRiiBE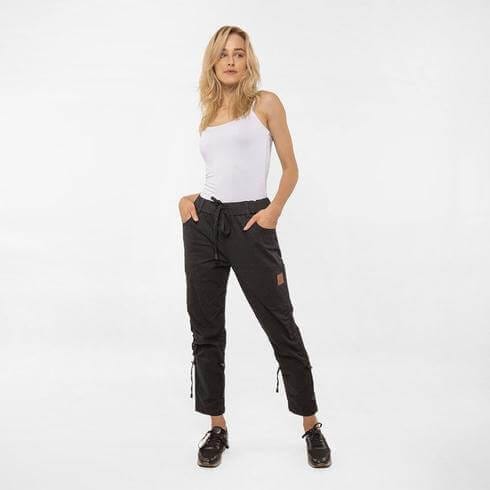 DRiiBE – DRiiBE designed their DownUNDERS Travel Pants to resolve this issue once and for all: You can wear them as longer, regular pants in colder climates and quickly shorten them up to knee-length when the temperatures rise. Made of natural, sustainable fabric and boasting five deep pockets, these pants are the ultimate travel outfit. $118
Eddie Bauer
Eddie Bauer – This seamless racer-back tank top is the perfect fit for your everyday active lifestyle needs. The top is constructed of ultra-soft materials and stretches with your body in any direction you move for extreme comfort. The scoop neck makes it breathable and easy to perform in. $45
Edify
Edify – These cycling shorts are made from a supportive and thick 95% GOTS and Fair Trade certified organic cotton and 5% elastane. With a thick high-rise waistband they sculpt and support your core. The weight of the fabric makes this piece comfortable and non see-through. The 5% elastane content allows for stretch and movement making them suitable for a wide range of physical activities. $39
FALKE
FALKE – The tights keep the body warm and dry in mild to cold weather and at higher levels of activity. The dynamic design advantageously emphasizes the figure and the exact fit guarantees maximum freedom of movement. The combination of moisture-absorbing and slightly warming materials ensures perfect moisture and temperature regulation. $84.95
Feetures
Feetures – Elite Light Cushion No Show Tab – Targeted Compression, engineered with anatomical design providing a custom-like fit, delivering maximum comfort and protection by eliminating blisters. $18
For Love & Lemons
For Love & Lemons – The Los Angeles fashion brand cultivated on the principles of confidence, femininity, and individuality – A cutout sports bra paired with high waisted leggings geared towards ultimate comfort. Sports Bra – $59, Leggings – $79
French Lime
French Lime – Berlin Crop Top $28.98
GAUGE81
GAUGE81 – The VICTORIA jumpsuit has a slim, non-restrictive fit for great range of motion. Knit using responsible yarns, it offers high compression and features a herringbone pattern that elevates the piece and adds versatility. $330
GIGI C
GIGI C – Known for its signature aesthetic: clean lines, architectural shapes, and crisp, laser-cut details, GIGI C Sport is designed for high performance support and the contemporary styles provide a seamless transition from the gym to beyond. This tailored catsuit features the signature GIGI C triangle laser cutout design, center front locking zipper, scooped neckline, with a racerback. $198
GOLDSHEEP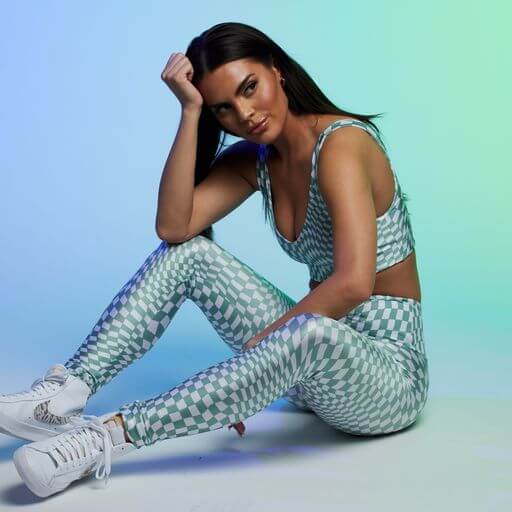 GOLDSHEEP – The Sage Wavy Checkers set from the Spring 2022 collection is the stand out print, inspired by the retro vibes of the runway. It embodies the Goldsheep aesthetic with its vibrant colors and bold design. $89
Grey State
Grey State – These luxe leggings are super soft, breathable, and perfectly comfortable. Cozy cotton combines with movable spandex to create just the right amount of stretch to keep up with you (and whatever your day may bring).These leggings will take you everywhere in style and comfort. $78
Gymshark
Gymshark – The softest of fabrics meets a stylish square neck cut and thin straps to make this bralette the perfect piece under any rest day look. $30
Ibex
Ibex – Ibex's Pro-Tech merino fabric is designed for high aerobic activities in cool and cold conditions. At only 180gsm, it maintains incredible warmth for its weight without overheating. Ibex bolsters Pro-Tech with nylon for durability and a touch of elastane to maintain its shape for days on end without washing. This is Ibex's performance at its finest. $105
IVL Collective
IVL Collective – Hydralux Panel Legging in black and white checkerboard print. Featuring our high-waist signature style. IVL's softest, silkiest, legging. Sensitive skin tested, eco-friendly, made with our collagen yarns. Limited edition. $108
Kindly
Kindly – Kindly's full-coverage bralettes are perfect for yoga and low-impact activities. Creators of the world's first plant-based bra cup, these bralettes are both kind to the planet and kind to your body. With X-Back straps and recycled nylon fabric, this bralette is both soft and supportive. $11.87
Kinflyte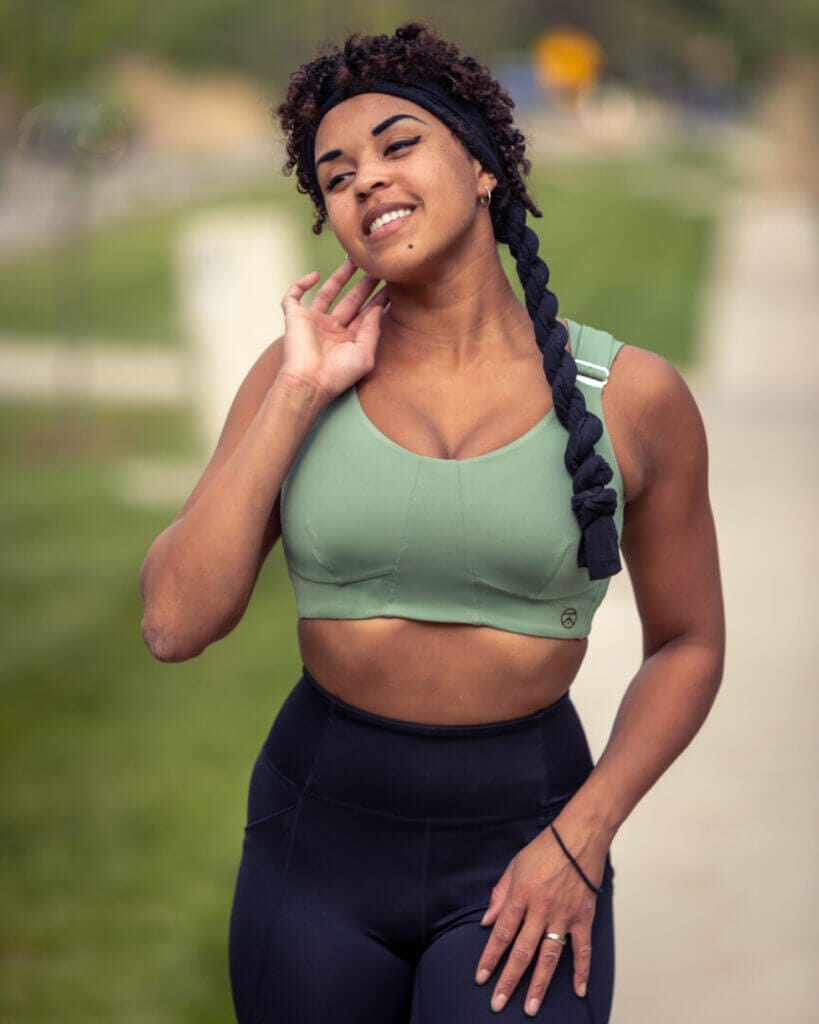 Kinflyte – The best bra for anyone looking to improve their posture and have sold support around your bust and shoulders. This adjustable bra is perfect for your active lifestyle. The Rise Bra has a silky soft feel, and it features darted soft cups, a scoop neckline, and velcro straps so you can adjust the fit around your bust and shoulders. The breathable mesh back panel helps you stay cool. Go from yoga to HIIT. $109
KINONA
KINONA – The Button Up Beauty Shortsleeve Top in Kelly Green is part of KINONA's new Spring Collection, which combines fashion forward silhouettes with mod prints. Details including crisp pleats, sporty stripes and playful snaps also round out the collection. The patterns and colors included in this collection feature a fresh spring color palette and are on trend with styles seen on the runway, including the bright Kelly green featured on This top features 4-way stretch, is moisture wicking and anti-microbial, has UPF 50+ sun protection, and the Italian fabric balances compression and comfort as you move, providing women with a functional, comfortable, and fashion-forward top that allows them to look great and play great. $119
KORAL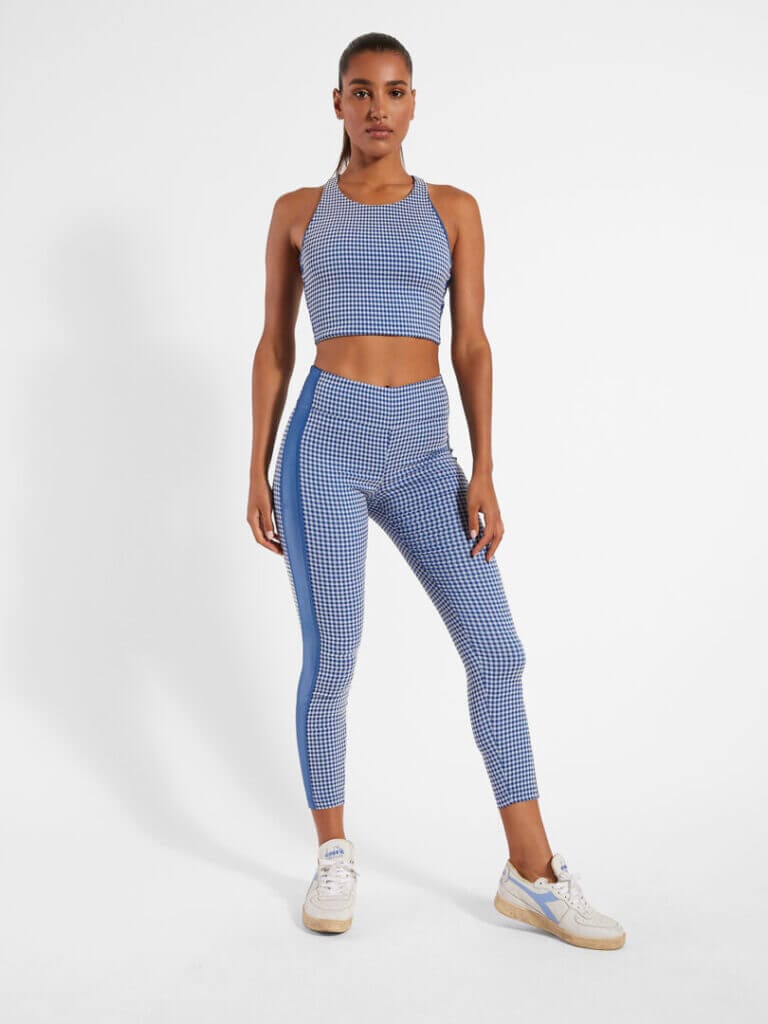 KORAL – The Bruna Redford Sports Bra and Trainer Redford H.R. Legging contains a cute checker design and is the perfect set to feel confident and in season. $90
La Detresse
La Detresse – The Psychedelic Opal Bikeshort is handmade in Downtown Los Angeles and created using a hand marbled tie-dye. The Cotton/ Spandex blend and high waist fit ensure these shorts offer the perfect amount of support whilst flattering the body. $150
LSKD
LSKD – Designed with 4-way stretch 'Rep Fabric' ft. crisp paneling and an identical waistband to the O.G. Rep Leggings. $70
Luli Fama
Luli Fama – This relaxed fit tank top features a mesh center panel that serves excellently for cooling during your workout while the racer back style allows for peak mobility. The breathable fabric is composed of pilling resistant fibers and offers UV protection up to 50% which makes it ideal for outdoor sweat sessions as well. $84
M.M.LaFleur
M.M.LaFleur – IMade from lightweight AirTech fabric, this piece keeps all the warmness in, and the cold out. And when you're on the go, just fold it up into the front pocket and wear it as a cross-body bag. $245
MIKOH
MIKOH – This scoop necked sports bra is brilliantly detailed with a "x" shaped back giving it a sexy flare. Whether it be yoga, pilates, or swimming this top is well-suited to support you in all of your active endeavors. Offered in numerous colors and patterns this top will keep you in style when going for a more casual activewear feel. $124
Montce
Montce – Beige Wide Rib Active Bodysuit. $178
Nancy Rose Performance
Nancy Rose Performance – These activewear leggings from Nancy Rose Performance are made of their signature high compression fabric made of Nylon and Lycra called PowerLux™ that is technically designed to define, contour and shape. This fabric offers advanced performance fibers that deliver anti-microbial properties, moisture management, high UPF rating and therapeutic grade compression. This is a unique product that is individually dyed by hand making each piece one of a kind. $115
NoiréBlanc
NoiréBlanc – The Crimson Leggings feature 4-way stretch technology to compliment your body while supplying that second skin feel. The Crimson Sports Bra showcases a geometric design that is equally functional and fashionable! Pair together for a sweat-friendly, non see through look tailored for your workout goals. LEGGINGS // $70.00 + SPORTS BRA // $54.00
On.
On. – The Running Pants were created by both engineers and designers, giving them the look and comfort of being worn on race day or on your day off. These pants are made for movement. They include fully bonded protective fabrics blended with clima-textiles and ventilation. These give the Running Pants the right balance between protection, breathability and freedom of movement. Versatile pockets and zips keep the elements out and important things in. Secondary ankle-zippers and uniquely designed knee-mesh means these pants can be changed to match the season or run. $169.99
P.E. Nation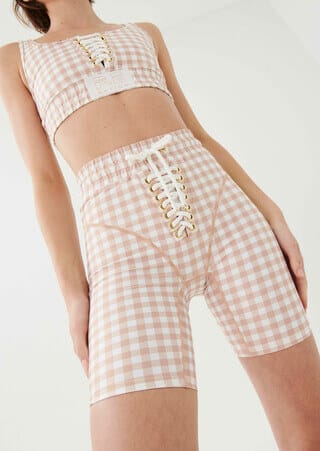 P.E. Nation – Make a statement in this P.E Nation matching set. Designed for low impact activities such as walking, yoga and Pilates, the Extra Time Shorts and Sports Bra also work as a streetwear option worn back with trainers or heels. Sports Bra $95, Shorts $99
Public Rec:
Public Rec These joggers are the perfect marriage of fashion and function. Elevated by luxuriously soft French Terry Fleece, these are an awesome choice for running errands or just lounging around. You can grab them in four different neutral colors that will redefine the way you think of everyday fashion. $110
Prettylittlething:
Prettylittlething – The brands activewear collection with 3-time Olympic medalist Sunisa "Suni" Lee. Classic sport silhouettes in seamless or premium sculpting fabrics for relaxed joggers, oversize hoodies and sporty styles such as a matching velour jogger set. This collection is true to the brand where they offer a variety of styles and sizes. $38
Roots
Roots – Designed with comfort and functionality in mind, these buttery-soft Journey Leggings by Roots are an essential addition to any activewear rotation. They feature minimal seams, a high waistband, and a super-soft finish with moisture-wicking properties, which makes them ideal for the gym. $78
Russell Athletic
Russell Athletic – Heritage sportswear brand and inventor of the sweatshirt Russell Athletic offers athletic staples designed to fit all active lifestyles. The Women's Cotton Performance Lightweight Full Zip Hoodie is a prime example. Made with the brand's signature dri-power moisture-wicking technology and odor protection, this jacket keeps you fresh all day long! With the Cotton Performance Lightweight Full Zip Hoodie, you can work out, run errands, or lounge at home with the comfort of cotton and the benefits of performance. $20
Sea Star Beachwear
Sea Star Beachwear – A classic espadrille design reimagined as a 100% water-friendly shoe with a quick-drying neoprene upper and durable rubber sole. Created with versatility in mind, the Beachcomber Espadrille easily transitions from the ocean to city streets and beyond—without compromising style. $98
Silver Spun Goods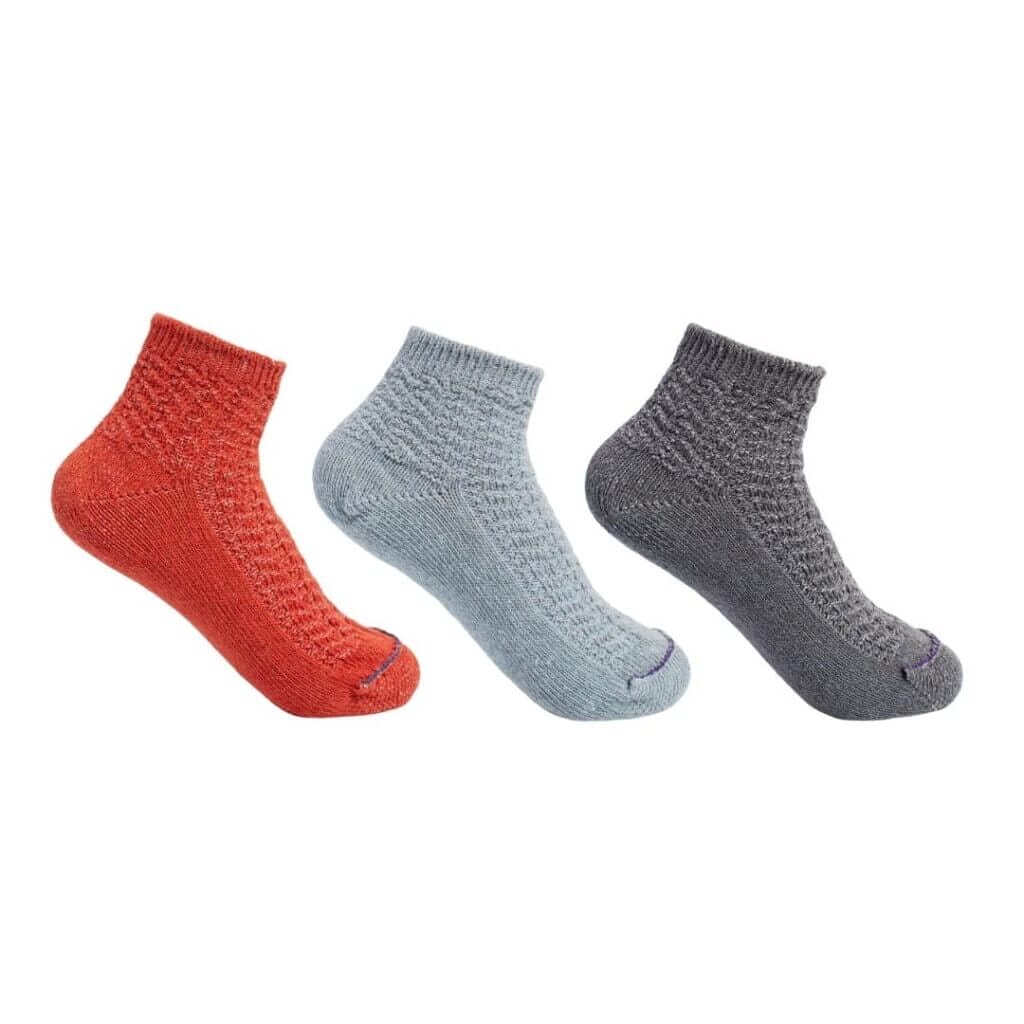 Silver Spun Goods – Sustainability meets fashion with Silver Spun®'s set of three pairs of footie socks from the Signature Collection. Created with 88% upcycled materials and our proprietary SilverSpun® fibers, this is the no-stink, no-germs and super cozy footie sock infused with pure silver. $56
Splendid
Splendid – The Corinna Bra and Active Legging are perfectly coordinating activewear essentials. These pieces are made from a heavyweight stretch jersey and finished in a playful leopard print so you don't have to sacrifice style for comfort. $66 & $88
Splits59
Splits59 – This bike length short has a thigh pocket positioned for easy cell phone access. Just the right compression and a no-roll high waist provides support for your every move. $78
Sprayground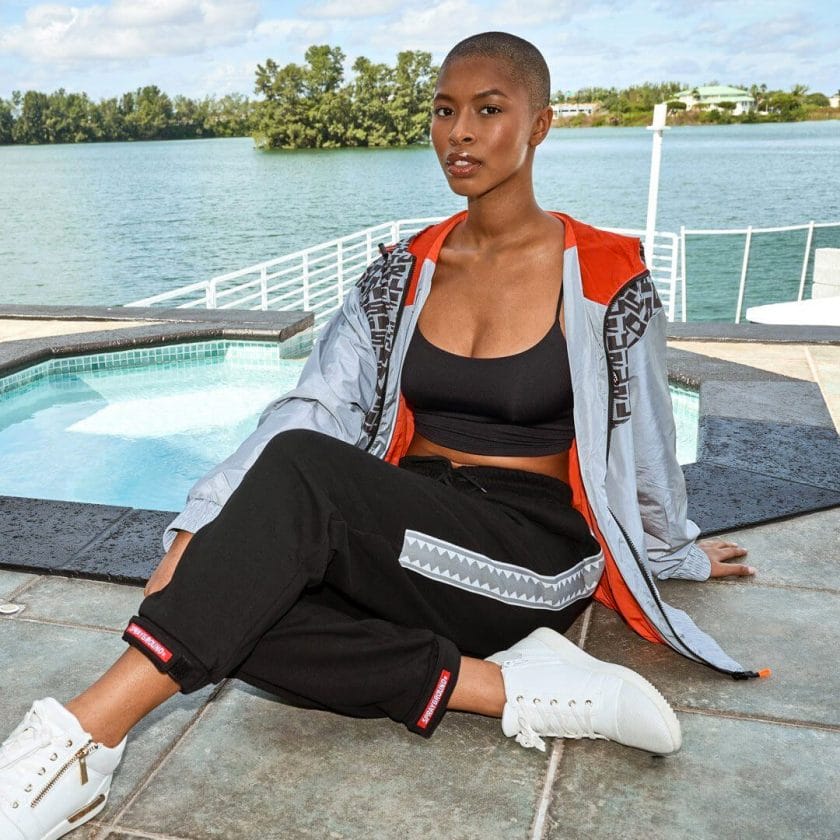 Sprayground – Workout joggers are fashionable, versatile and resistant and features some of the brand's iconic fashion-forward designs and patterns. $80
Stance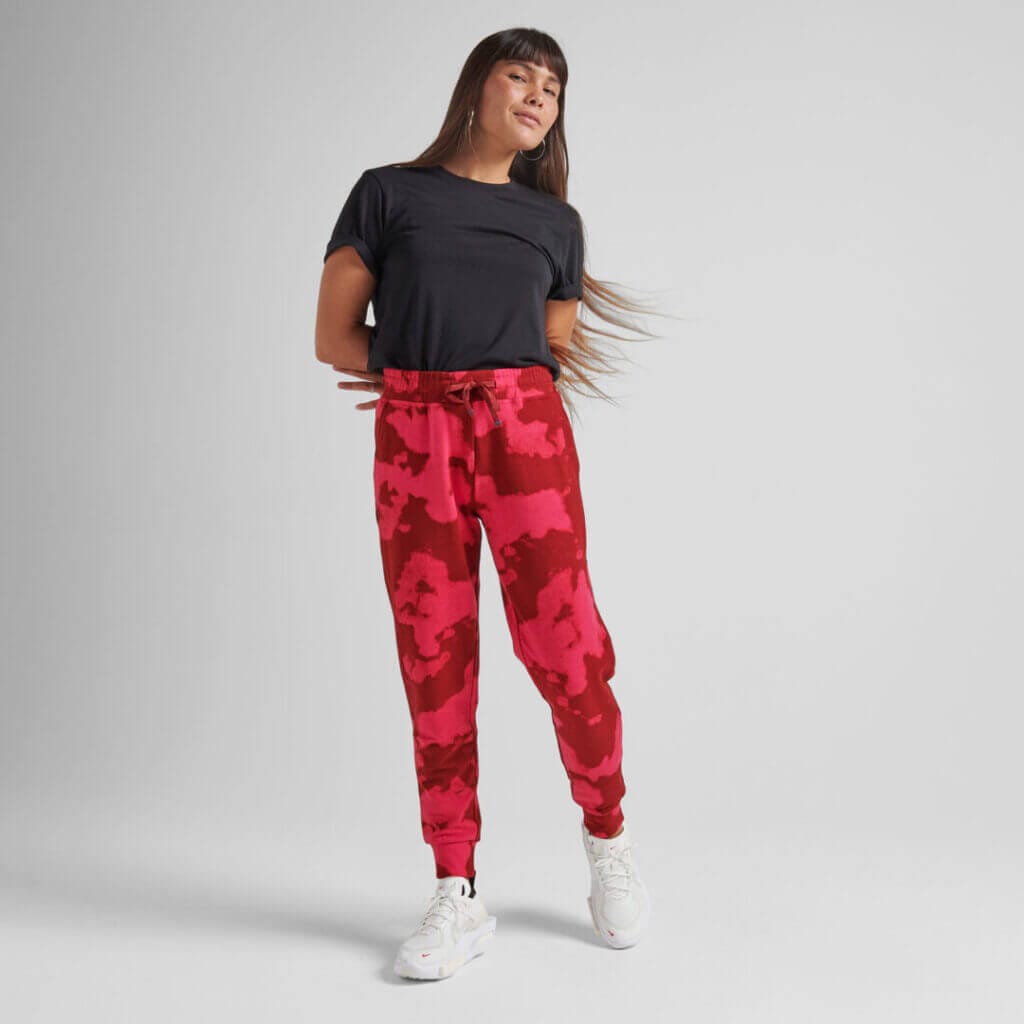 Stance – The Stance Shelter Jogger from the Active Apparel collection is the perfect Valentine's Day gift for the woman in your life. With a superior Butter Blend™ softness and a slim fit design, these joggers are sure to be a standout for any occasion. $85
Stitch Fix
Stitch Fix – This medium-impact racerback tank bra has moisture wicking, quick dry, fabric and 4-way/360 stretch that allows for free movement in your workouts. The bra has a flattering scoop neckline and is available in sizes XXS-XXL. We Wander was created using the service's fit & size expertise and designed for women in a range of sizes. We Wander is filled with everyday active essentials and created for life in motion. $44
Summer Stewart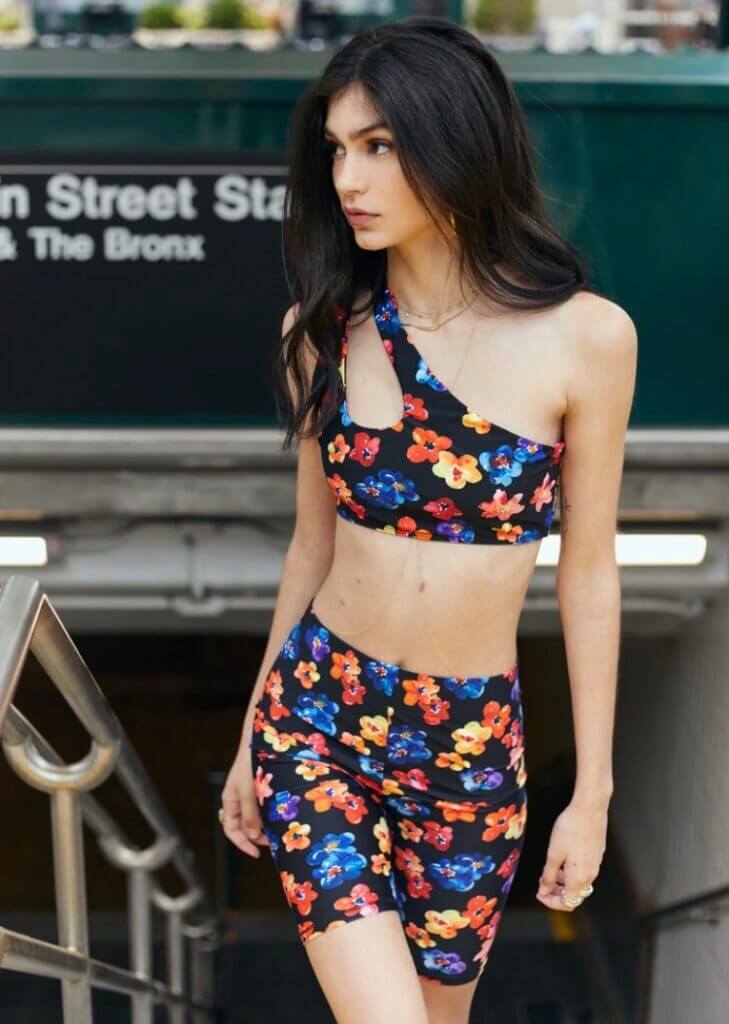 Summer Stewart – The Moon Flower Bra is perfect for finally mastering that headstand. The cropped silhouette combines style and support with recycled knit fabric to keep you dry. Pair with our Moon Flower Bike Short for the full look. $90
The Giving Moment
The Giving Moment – The fitted asymmetric bra invites creativity to the Active collection. Its one-shoulder design features a double strap on the right shoulder, made with ultra-comfortable 100% sustainable fabric. $39
Tommy Bahama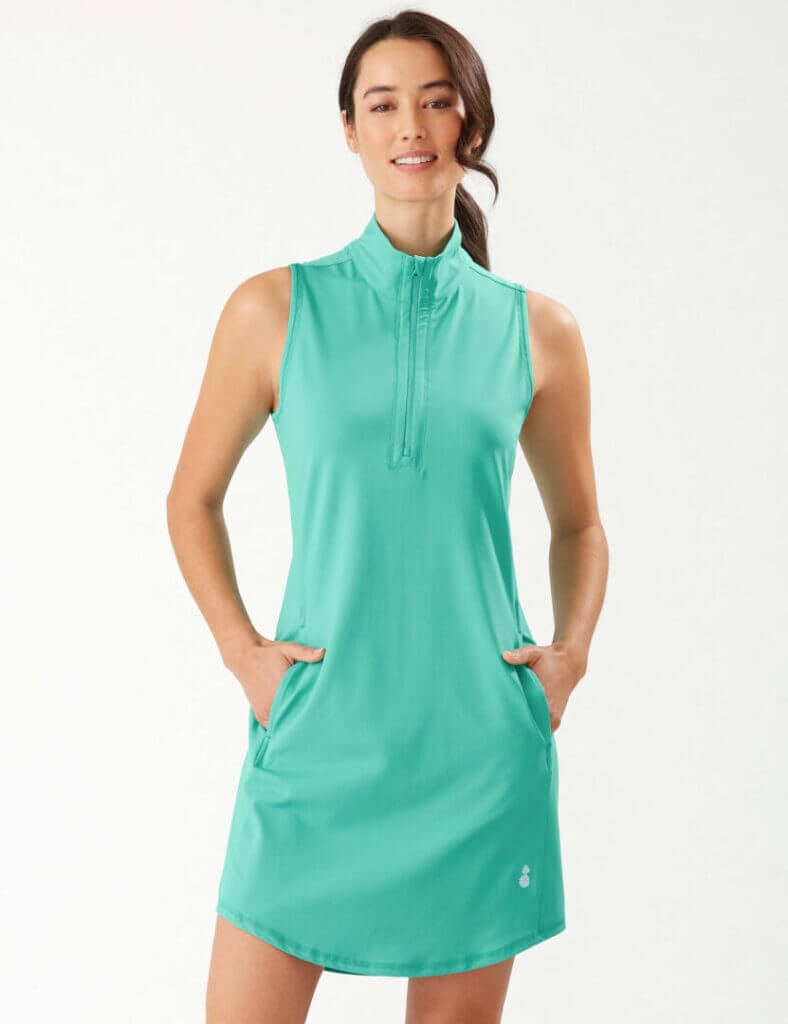 Tommy Bahama – IslandZone® Performance dress is moisture wicking and quick drying with UV protection (UPF 30) . Whether you are playing tennis, golf or going for a casual stroll, this dress is bringing versatility and comfort to your everyday activewear. $118
Tribe 35
Tribe 35 – Body Shaping V- Legging – This legging is breathable, squat proof, with flatlock stitching and all-way stretch, essential for performing your best yoga and Pilates moves in confidence. Experience 24/7 comfort without chafing. $99.99
Twenty Montreal
Twenty Montreal – Twenty is redefining and innovating luxury knits brand. Best known for designing everyday essentials for ultimate comfort and timeless versatility. $98
Under Armour
Under Armour – Women's ColdGear Reactor Performance Jacket. $67.99
Up! Pants
Up! Pants – The Scoop Tank is made of a lightweight stretch bamboo fabric allowing you to move and breathe through out your workout. $30
VICI Collection
VICI Collection – The Primary Colorblock Legging and Bra in black features black, red, yellow, green , blue, and white hues. Designed with a high rise fit for the legging and removable cups for the bra, made to be supportive and have a compression fit. Moisture wicking with a 4 way stretch. $58
White Fox
White Fox – Add some edge to your workout with this seamless cropped active top. It features long sleeves, high neckline with zip center front, thick ribbed fabric that adds support and wicks away sweat, thumb hole at cuffs and smooth flatlock seams. $49.99
YAGYA
YAGYA – A luxury riding jacket made for layering. Buttery soft yet structured enough to give your body a nice silhouette and support while riding. This is a true staple piece for every stable wardrobe. With a fashion-forward approach it looks so good you probably want to use it outside the barn. Wear it over a top or under a jacket for additional warmth. Minimalistic Swedish design, cut from a premium sports fabric from Italy and sewn in Portugal. $200