Miami Swim Week 2023 Powered by Art Hearts Fashion officially showcased Miami Swim Week Runway. When it comes to fashion trends in 2024, men's swimwear is no exception. Truth be told, most American men are more willing to experiment with punchy prints and bold colors in swimwear before experimenting with their day-to-day apparel.
If you're gearing up for a holiday vacation, I have to tell you that the key to purchasing on-trend swimwear is to understand that it should complement apparel of that same season. Whatever the fashion trends are at the time, swimwear will be sure to follow. Today, it is an exciting time for th men's swimwear. category. From board shorts to bright florals to heritage-inspired, conservative, and many more styles – swimwear is locked and loaded with product offerings to address the needs and style likes of most men.
More than ever before, highlights include quick-drying recycled material that can take you from the sea to the beach restaurant. The new styles seamlessly blend in with a nice polo shirt or luxury tee shirt – or even your favorite hoodie.
This season, Miami swim week proved to be on-trend in the men's category by highlighting paisley printed swim shorts – these are especially good for more reserved men who want to be on the print trend while experimenting with a conservative pattern. Floral patterns are still a hot item when it comes to mens swimwear- many eye-catching variations and colors to address the style preferences of consumer demand.
And perhaps you've noticed, the new throwback look of short shorts are making a splash this coming season. With an elasticated waistband, loose fit and short inseam, these red swim shorts replicate an iconic vintage swimwear trend perfectly and add a vibrant pop of color. A retro-inspired trend that we have seen more in the spotlight in recent years, Inspired by the popular 70's running shorts, this shorter length swimwear is one of the most popular summer trends for men in 2024.
Miami swim week covered all grounds on the runway from swim shorts that offer versatile wearing options, both in and out of the water and with the quick drying, water-repellent fabric that's breathable and lightweight.
And for conservative men who choose to remain in traditional solid colors, your swimwear has evolved as well. New quick-drying and sustainable options are making hybrids by offerings versatility with a twist.
Men's Colorful Swimwear: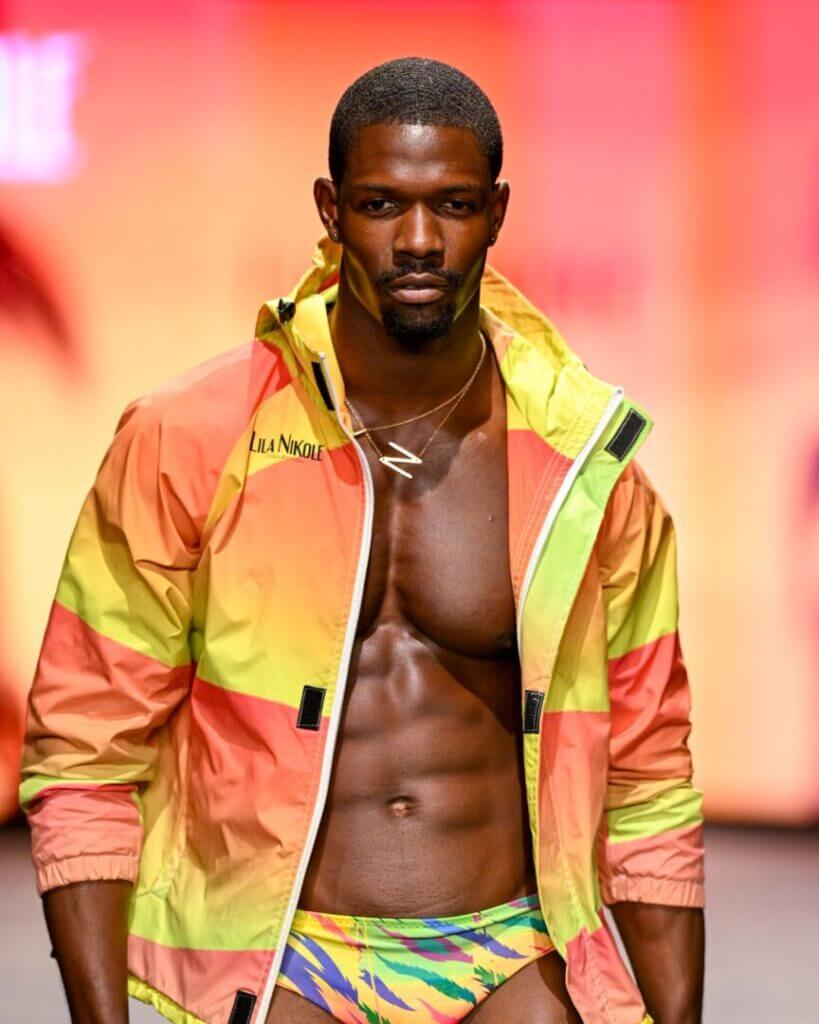 Lila Nikole:
Miami's finest swimwear line from Lila Nikole featured radiant sultry bright colors in this newest men's & swimwear collection.
Men's Patterned Swimwear:
NIKE Swim:
Love Island Season 9's heartthrob, Ryan Weekley, also hit the Miami Swim Week runway, walking for Nike Swim at the Fontainbleau resort. Muscles and bright colors were the focus of Nike Swim's latest Miami Swim Week 2023 runway show.
Marqueza Swimwear:
Model walk the runway wearing print Marqueza during Miami Swim Week.
Wilfredo Gerardo: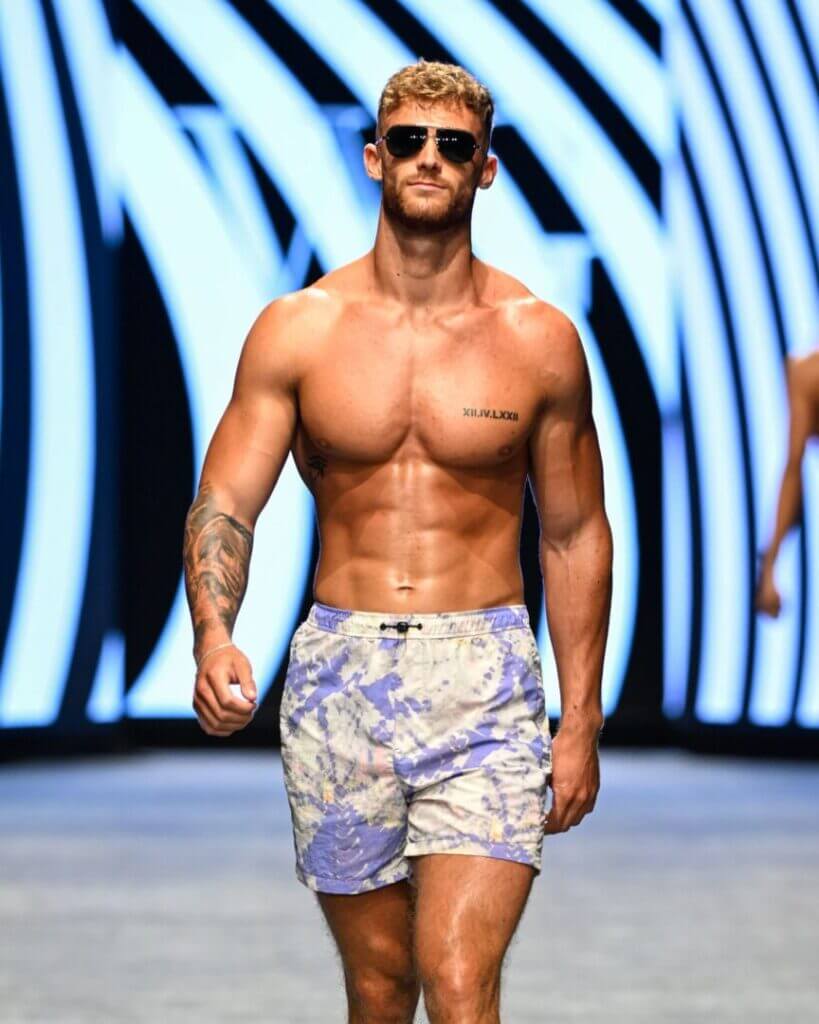 Wilfredo Gerardo
Cuban-Mexican Latino designer, Wilfredo Gerardo debuted a new swimwear collection for men & women at Miami Swim Week 2023 Powered by Art Hearts Fashion: Entire brand is hosting a Summer sale – 30% OFF: https://willfredogerardo.com
Men's Swimwear Sets:
Henri Costa:
Henri Costa – mens swim sets take you from beach to cabana seamlessly.
Men's Creative Swimwear: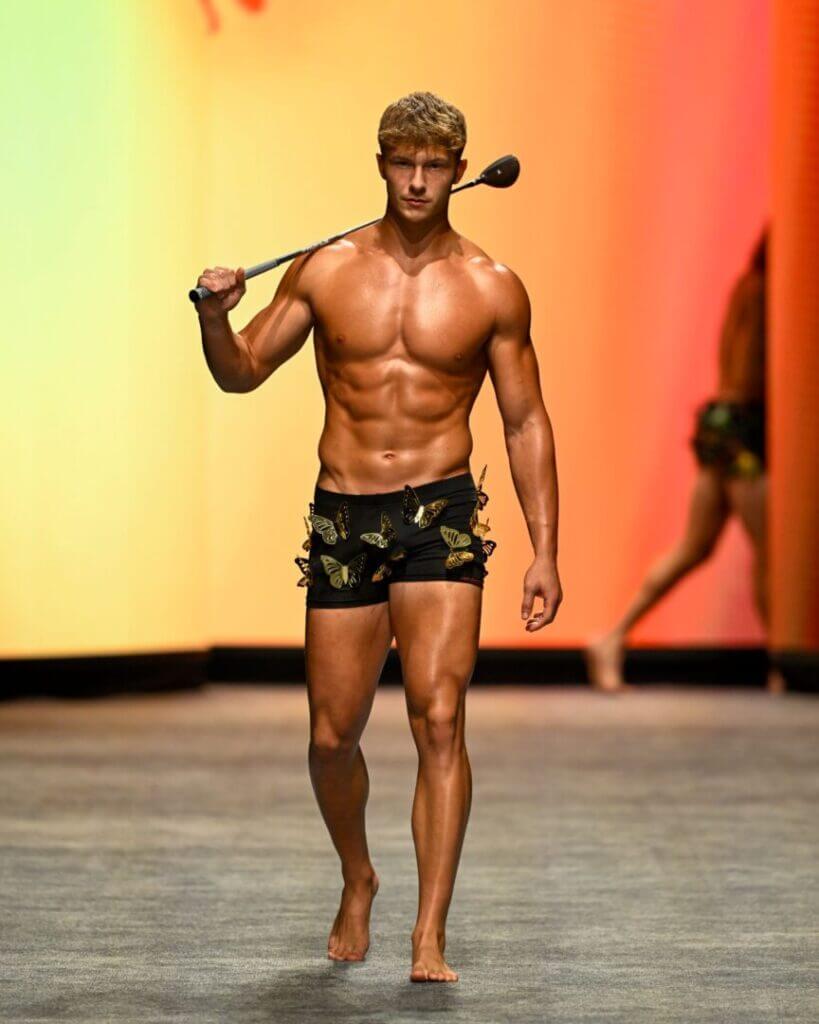 Naughty Boy Golf:
Known for making gold sexy and stylish, this men's fashion brand defies convention and preconceived notions known in the world of golf.  Break dancers and revealing fashion ensembles inspired by bees  to boxer briefs with gold 3D butterflies and insects and of course, breathable fitted golf shirts with insect patterns, Naughty Boy Golf kept the audience entertained and engaged the entire time. 
Men's Muscle Swimwear
NIKE: Muscles were the focus of Nike Swim's latest Miami Swim Week 2023 runway show – showing the trend of many guys that want to keep to more conservative styles and shapes – while flexing the pumped iron.
Men's Long Swimwear:
Art Hearts Fashion founder & CEO is an iconic Mexican-American designer based in Los Angeles– Erik Rosete– and he rocked the runway with his fashion line during Miami Swim Week 2023 featuring stunning beach boys in swim trunks & speedos while fierce women walked the runway in neon snakeskin swimsuits and other colorful snakeskin prints.