Slow Fashion:
As younger millennials and Gen Z grow into adulthood and as their purchasing power increases, innovative designers and creative thinkers have been working on developing solutions to environmental concerns.
In 2022, a wave of change is sweeping through the fashion industry as an abundant number of brands are rejecting the principles of fast fashion and opting for more inventive manufacturing methods. And these methods run vertically on the blockchain from inception to consumers. In fact, a brand's transparency has become a hot-topic of concern for consumers.
Slow fashion is considered to be a continuation of sustainable fashion. Today, it is distinguished by quality, locally manufactured clothing, produced on a smaller scale and with slower production times. Mindfulness is paid to workers, the environment, and cultural connections. Slow fashion is a reimagining of what the clothes-making industry could be such as using eco-friendly materials, repurposing discarded textiles, using raw materials from small producers. In short, new ideas and product innovations are constantly redefining slow fashion as it evolves.
New Textile Economy:
Since the carbon footprint of the fashion industry continues to plague the global environment, concerned industry insiders are aiming to make positive change. In order to support these ecological concerns, frontline fashion professionals are transitioning to slow fashion. That's right, slow fashion. The term was coined by author Kate Fletcher. An activist, Fletcher defined the term as fashion focused on quality rather than rapidity. She encouraged slower production to accelerate sustainability. In addition, she brought to light the dark side of the fashion industry such as a new moral code of ethics for underpaid employees often working long hours in deplorable and unsafe conditions. And consumers were invited to invest in apparel that lasts longer and adheres to strident ethical guidelines with intent to slow down on excessive production and mindless consumption.
"As the slow fashion movement gains momentum, fast fashion brands face a dilemma, how to continue engaging consumers to purchase frequently while mitigating the environmental impact of such consumption. There is no silver bullet to achieve both goals. However, any attempts to lower the carbon footprint generated by the fashion industry should be embraced by brands and consumers alike. While trends come and go, the Earth is one entity which can not be replaced -says Vincent Quan, Associate Professor and Assistant Chairperson Fashion Business Management Department Fashion Institute of Technology, SUNY.
Prof. Quan continues, On the "Made in the USA" manufacturing effort, this front continues to make progress as the pandemic highlighted the inherent risks of a global supply chain and ensuing disruption. The domino effect created by a shortage of just one component required to finish the completion of finished goods coupled with massive shipping challenges, has caused many fashion brands to rethink their lowest cost approach to manufacturing. The new supply chain equation balances cost with risk and lead time issues. For many firms, corporate social responsibility factors also weigh into the global supply chain algorithm."

Slow fashion refers to a more eco-friendly way of manufacturing and shopping that prioritizes eco-friendly practices such as manufacturing back to the USA, buying less, prioritizing natural fabrics. Slow fashion is advocating for clothing and apparel manufacturing in respect to people, environment and animals by focusing on the abandonment of harmful chemicals that have been used in apparel production since over a century.
Some brands are pushing back against harmful trends and focusing more on producing clothes with long-lasting quality. For example, one company that is working in this arena is Karolina Zmarlak and her business and life partner, Jesse Keyes. Founded by Zmarlak and Keyes, this NY brand is based on modern thought by its active use of technologically advanced materials integrated into form for maxim efficiency and versatility.
In 2016, the company re-launched as KZ_K Studio with new structure to the design process and segmented merchandising. Today, the brand has a strong focus on client relationships tailored to an individual's concerns and needs by creating personalized experiences for clients. These one-on-one meetings are designed to foster a relationship between the consumer and the brand. Expanding on brand culture, KZ_K Studio recently launched a noteworthy Great Jones Street location in NYC. Unlike designer ateliers of yesteryear, the space boasts a designer showroom, a beautiful library bar, a kitchen nook and a pleasant addition of a design room and rooftop. The brand is now conceived as a studio, a creative hub, in which the long-term client relationship and creative experience is most valued by the clientele.
The rebranding strategies seem to be working out well as the direct client database has grown from fifty clientele to well over one thousand. The collection capitalizes on its technologically superior materials that are integrated into minimally stylized functional forms resulting in a light, refined, and essentially minimal product form, while maintaining a sculpted silhouette.The KZ_K Studio brand culture aims to bypass fast-fashion trends by developing styles to last a lifetime.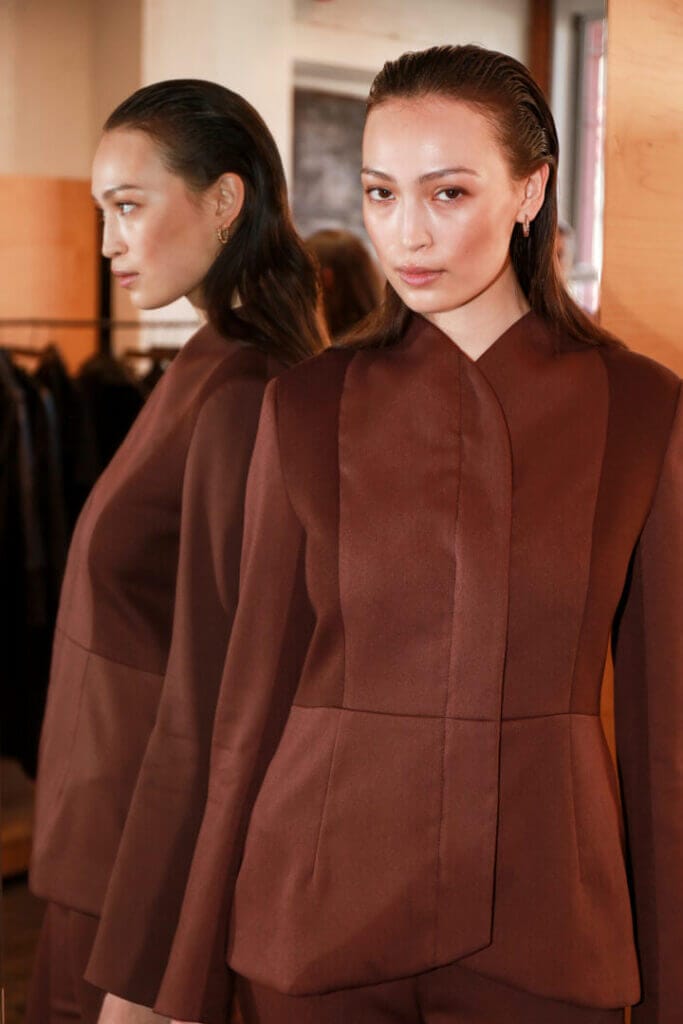 "I've spent my whole life in houses and spaces designed by my grandfather and dad. Grandpa was trained in the tenets of modernism studying under Walter Gropius at the Harvard School of Design, and Dad under Louis Khan at the University of Pennsylvania, and me under Ignasi Sola Morales and the Polytechnic University of Catalunya. All that is to say the program, coherent application of material, technologically interesting products, are all part of what we think about first as designers. Specifically, for our KZ_K Studio, we have been studying the tenants of Charlotte Perriand (many used in our Cycle 2.22 collection), in which saw furniture as "equipment," as way to make room and functionality within a space to free up the open areas for visual, communicative and productive creative use. Our studio is chock full multi layered drawer systems, anthropomorphic inspired shelving units, variable laid out pocket doors for distinct room uses, and spatial corridor flow that permits the relatively small full floor plan (the building dates to 1850, before the use of steel or concrete) to connect a series of multi functional, and hence aesthetically pleasing, uses." –Jesse Keyes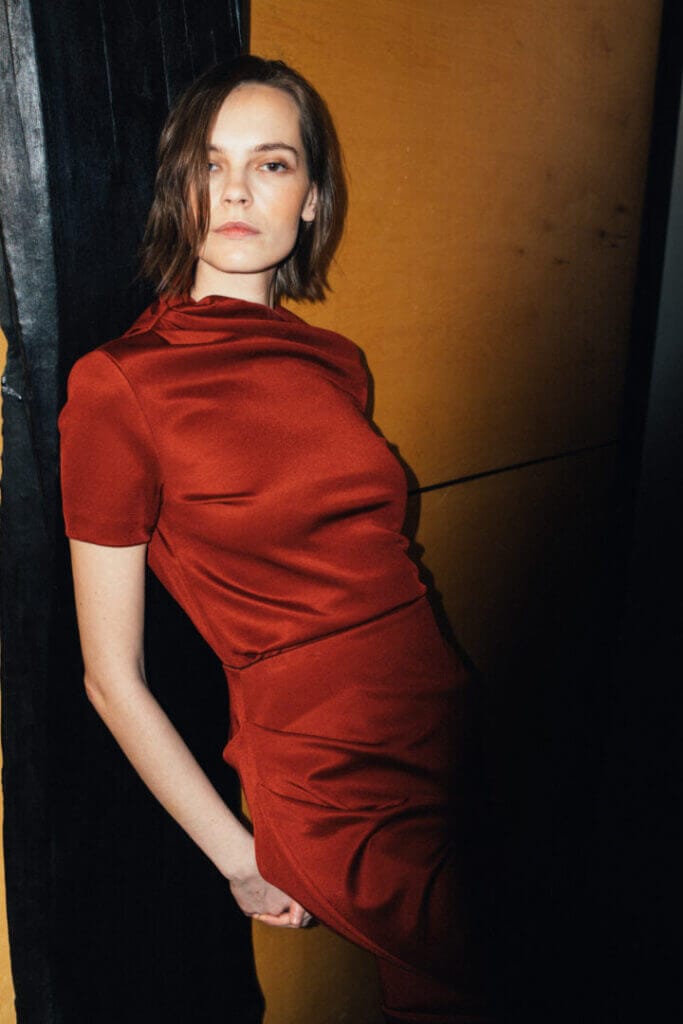 As part of my research on purpose-driven businesses, I recently asked Style Lujo Editor Agata Drogowska to speak with KZ_K Studio co-founder and designer Karolina Zmarlak about alternative and creative ways to fit the unique functional and aesthetic needs of modern women, why she is inspired by design, execution and precision and how years of experimenting with hundreds of fabric intermediaries has helped develop deep physical relationships between design and fabric!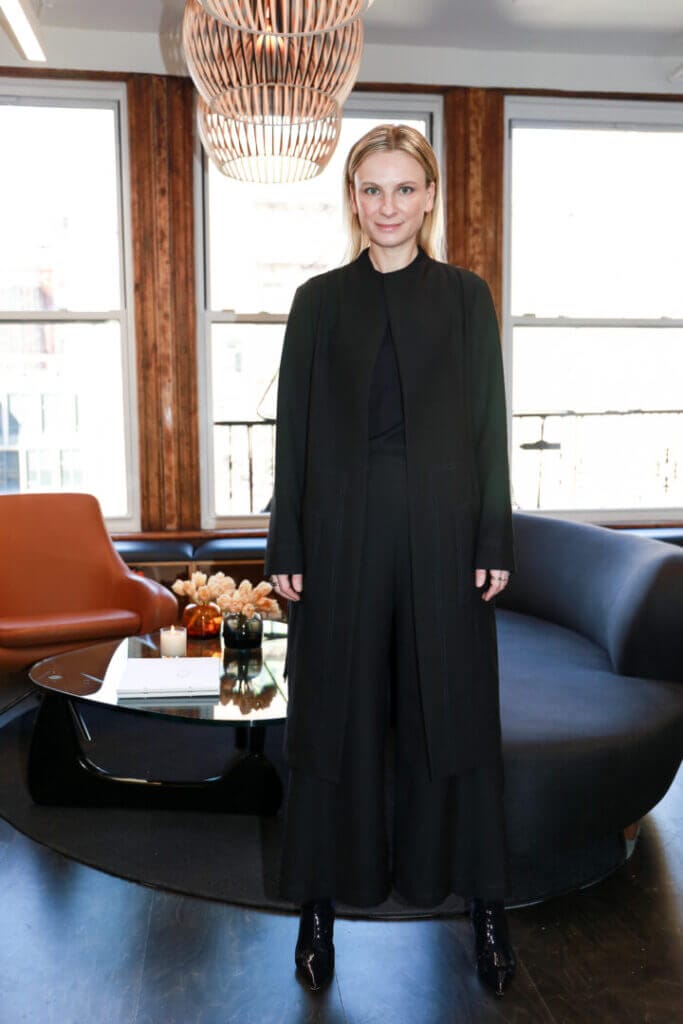 Agata Drogowska: Your company has been active for 15 years now. Can you tell me about the beginnings? How did you get started?
Karolina Zmarlak: I was on the train home with my partner, Jesse Keyes, from his architect Grandfather's place in Washington DC, on Jan 1, 2009, when we conceived of a fashion line that would hew to the tenants of multi-functionalism, a foundational notion within the discipline of architecture. We wanted to make pieces that could be worn, each in many variations, and together in a series of alternative and creative ways to fit the unique functional and aesthetic needs of modern women. I had developed a made-to-measure business with Jesse, up until that point: but as the Great Recession hit, this new concept would allow our clients a similar kind of personalization, but would also be oriented toward creating value: buy 1 piece and wear it in 3 ways. Indeed, our first piece of press from the wonderful fashion blog Tendence de Mode, called us the Recessioniste collection:
AD: What is the new vision for KZ_K Studio in 2022?
KZ: It became increasingly apparent that when we worked through the major designer retail stores, we lost connection with clients, and even our design, as they dictated things like colors and silhouettes. We decided, gratefully, to reduce the layers and maximize the communication between our mills, factories and clients, all mediated through our clothing design. As with the laudable transition of the food industry beginning in the late 80's and into 90's, we espouse "Slow Fashion." The essential notion is, know thy partner, were it be the superb Japanese set of mills we've been working with for over 10 years, or the handful of tanneries in Europe, we don't stray, we don't shop around, we don't counter source, we now trust, and they know and trust us. As in Bra with the "Slow Food" movement in Piemonte, Italy, the chef/owners of established restaurants cut off their far flung, inexpensive food purveyors in exchange for local only, one-on-one, relationship based exchanges between themselves and local farmers. Their customers became friends, and were commensurately introduced to their farmer friends, in a closed loop, trust-based, creatively hyped up –as all in this circle of friends know it in their best interest to shine among the group, and to provide quality products and delicious innovative plates– productive, virtuous cycle.
Besides our fabric and leather vendor partners, we now have deep, technical –as our reversibility and multi-functionality has necessitated many innovations– and trust based factory partners ONLY in New York City's Garment District. Each collection (one for cool weather, one for warm weather, each year) is fundamentally conceived in a specific movement of art, architecture or both, then conceptually developed in theory and visuals in our studio. We then connect our fabric and leather selections to our set of sketches, developing patterns with our team, then cut muslins and create sample collections, all draped, cut and sewn in the Garment District. Finally, we communicate, developing thoughtful sets of collateral through our Great Jones Street Studio, with the ultimate aim: a set of private atelier/studio appointments with our clients and stylists.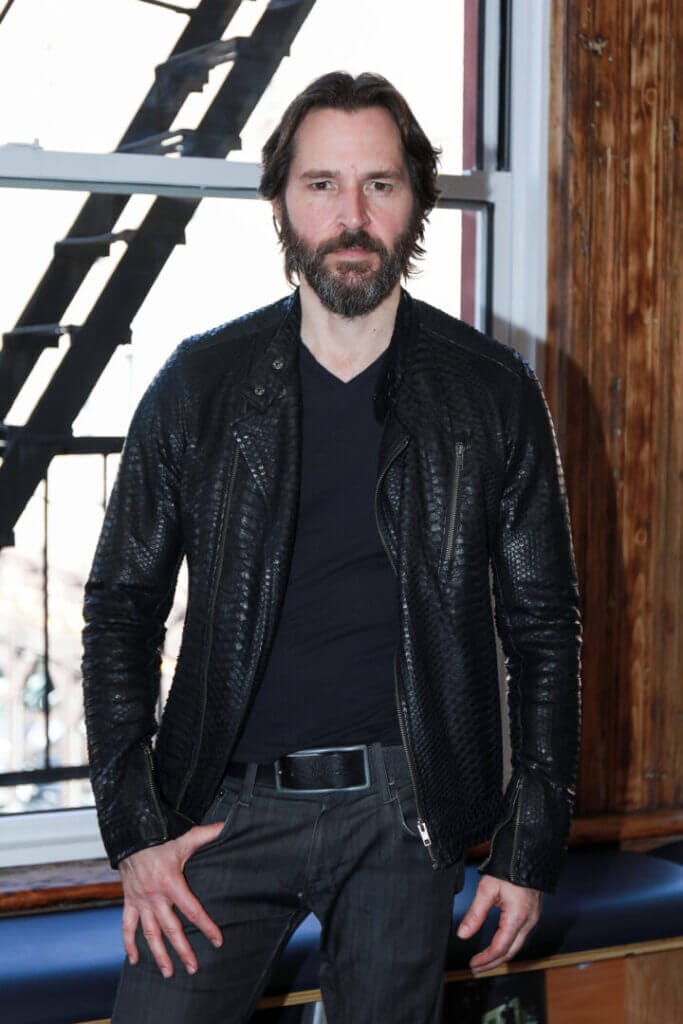 AD: Your new studio on Great Jones Street is a new project. Is the design of the interior connected to the new collection?
KZ: Specifically, for our Great Jones Street studio, we, and particularly, Jesse who was lead on design here, have been studying the tenants of Charlotte Perriand (used in our Cycle 2.22 collection), in which furniture was seen as "equipment," as a way to make room and functionality within a space to free up the open areas for visual, communicative and productive creative use. Our studio is chock full of multi layered, dimensionally expressed, drawer systems, anthropomorphic inspired shelving units, variable laid out pocket doors for distinct room uses, and a spatial corridor flow that permits the relatively small full floorplan (the building dates to 1880, before the use of steel or concrete) to connect a series of multi functional, and hence aesthetically pleasing, uses. Similarly, the Cycle 2.22 (cool weather) was inspired by Charlotte Perriand, herself. In her life, in its free spiritedness, she employed a highly conscious balance of work, leisure and sport which we captured within the collection. Spatial design meets fashion.
More broadly, one of our four studio pillars is to maintain an Architecture Studio Mentality. In its most broad interpretation, this means you need a design studio space that is creatively designed to communicate and inspire your design vision to your clients. This in turn is used as a space to more fully understand our clients, and through a dialectic that is enhanced by the space, we have a better understanding of our clients' wardrobe needs. We are enabled to create the architecture of a clothing capsule for each client through the studio experience. The design of the Great Jones Street studio is meant to connect with, inspire, educate and have fun with our clients.
AD: What inspires you creatively?
KZ: Seriousness in design and execution, precision that demands all my energy, focus and attention is tantamount to inspiration, so that the final product serves a functional, durable and aesthetic purpose for my client. I do it for the demands of the creative process and the pleasure of the sharing. Michelin starred Chef Arzak in San Sebastian once said: "be serious, be technical, but always share what you've made with joy and a laugh."
AD: Who manufactures your collection? Where are your designs tailored?
KZ: We have four very close partnerships with factories in New York City's Garment District. Each has a unique specialty and facility for a specific area within our collections (as, besides our Cycles based on seasons, we have a core, more stable, collection, and a "Transformational Habits" set of four outerwear jacket pieces, designed for multi functionality, each demonstrates our stylized minimalism). We are in-person, communicating with our factory partners EVERY DAY of the year, except Jan 1, and Chinese New Year. Concept development, designs, pattern making, pattern adjustments, and often sample adjustments are made in our Great Jones Street studio, and in our KZ_K Product Development studio in the Garment District.
AD: You are quite meticulous and your attention to fabric selection is amazing. They are comfortable, with stretch, natural and recycled – you care about the environment but also use very modern fabrics. Can you please tell me more about how you choose them? Where do you source them?
KZ: Years of experimenting with hundreds of fabric intermediaries from Europe and Japan has given us the good fortune to hone in on the deep physical relationships between design and fabric. The two have to work harmoniously, really, assiduously, to make a piece contain the comfort, reveal the silhouette and express the overall aesthetic we demand of it. And as mentioned, we now have the amazing fortune to work closely with the mills and tanneries we most respect, and who must understand our vision. This way, each year, as new techniques are invented, our partners know our language and can share many of the innovations that they feel we'll appreciate from the onset of the origin of each Cycle. The process of a full Cycle development takes place over 9-10 months: fabric sample selection is one of the earliest and most important elements of this development cycle.
AD: In your words, what makes your brand unique and separate from the competition?
KZ: We are most fortunate to have clients and partners with whom we truly connect and have loyal, long term relationships. Fashion is not known for its sustainable and consistent partnerships.
AD: What sustainable efforts have you implemented into your production methods?
KZ: We see sustainable fashion as a contradiction in terms, but rather think about our design, development and sales as responsible. We are responsible in our purchasing in that we only buy from countries where we are certain they employ environmentally responsible fabric manufacturing processes, namely in Europe and Japan. In addition, these same countries responsibly pay every person who works within the value chain reasonably, so each can maintain a decent quality of life. This means the fabrics we buy are expensive, and they also fall in line with our value system. Responsible also means we produce quantities that are in line directly with our full retail price sales expectations. We never go on sale, we are careful to plan smaller productions that fit with our direct to client majority model (via our studio and events we hold throughout the country), and more than happy to take back at full price any unsold items from our retail partners. We have designed each piece to last for a lifetime of use, and that the ultimate responsibility for us lies in each piece's durability. To sell more volume at discount is anathema to our studio values. Our responsible thinking also relates to the choice we make to spend 10X, to cut, sew and sample only with our partners here in New York City, never in a minimally regulated, low cost foreign country. We all know that low costs lead to environmental and social abuses.