TRANSFORMATIONAL HABITS
At stylelujo.com we're all about sophisticated clothing that works for each season. That being said, we always think that September presents a great opportunity for reassessing and refreshing dress habits, and setting intentions for autumn-winter 2023. People are looking for convertible pieces that can flow in various and distinct ways. And more than often, well-worn items are simply beyond repair. And honestly. you'll display much more self-confidence when your style is fresh and versatile.
I often suggest to my readers to clear their wardrobes out and start fresh. A good example to follow is one in and one out. Keep the closet clean and sparse and make sure each piece is serving a purpose for you.
Today, many stores offer textile recycling services that accept old and discarded clothing that'll help keep the planet more sustainable. And although clearing out old garments works wonders for closet space, there are still several things you can do to look your best in the new season.
I suggest that you try habit-dressing. Keep the closet clean and organized and get good use of the items you purchase. The goal is to be able to mix and match clothing items seamlessly. With this in mind, it is best to choose your color palette first. And even though colors will vary from season to season, you will still find certain colors that will always work best for you. Black, navy, camel, chocolate, and white are classic colors and are perfect for staples such as jeans, long-sleeve tops, shirts, and blazers. You can then build upon quality basics by adding pieces more targeted to flatter your own personal coloring.
Founded by Polish-born fashion designer, Karolina Zmarlak and her partner, Jesse Keyes, KZ_K Studio is based on the tenets of modernism by the use of technologically advanced materials integrated into a purely functional form for maxim efficiency and versatility, minimizing excess and maximizing utility, resulting in a light, refined, and essentially minimal product form built for today's fast-paced lifestyle.
At this juncture, women are aiming to find apparel with brand pillars such as multi-form for multi-functionality, reversibility, and convertibility, Slow Fashion with a Sustainable approach to production and most of all; apparel that serves a purpose.
HISTORY:
Karolina Zmarlak's eponymous label was re-launched in 2016 as KZ_K Studio with a new structure to the design process and segmented merchandising creating surprising, unique, personalized, engaging, and repeatable experiences for clients. The store, located on Great Jones street in NYC is a spatially diversified place, the studio boasts a designer showroom, a number of artist collaboration pieces (Including w/ sculptor Alex Roskin and G/L/O), a beautiful library bar, a kitchen nook, a design room, and a rooftop.
You don't typically associate habits with your wardrobe, but KZ_K Studio designed its Transformational Habits collection with exactly that in mind. This seasonless capsule collection contains 5 outerwear pieces, designed for multifunctionality (convertibility and reversibility) with the intention of each piece being worn as a habit within your wardrobe.
"We hope our clothes will be seen as investment pieces for the woman's closet," Zmarlak says. "Our design is not trend-driven, but rather can be considered to hold to certain classic basics while being forward in their expression, fabrication, and quality."–Co-Founder Karolina Zmarlak:
Joseph DeAcetis: What are the challenges associated with Habit dressing?
Co-Founder Karolina Zmarlak: Central to the challenge of consistent functionality and aesthetics on a personal level (the essence of habit dressing), is how you choose what to wear and why. As we designed the Transformational Habits and made adaptations over the years, we committed to a look that can be layered, and worn as a central piece, to transform from casual to business to sophisticated needs. Just as one desires to create an interior design for the home that speaks to one's values, needs, and aesthetics, we believe that every wardrobe should contain pieces that can be counted on to speak to you, fit you, create a silhouette that makes you comfortable, and be made of materials, and constructed in a way that can last for a lifetime of use. This explains the challenge to Habit dressing: the piece (or pieces, if it's a full look) has to bypass trends, fit a particular design mold that suits you (in our case, modernist stylized minimalism), and interact seamlessly with the rest of your personalized, coherent collection of looks.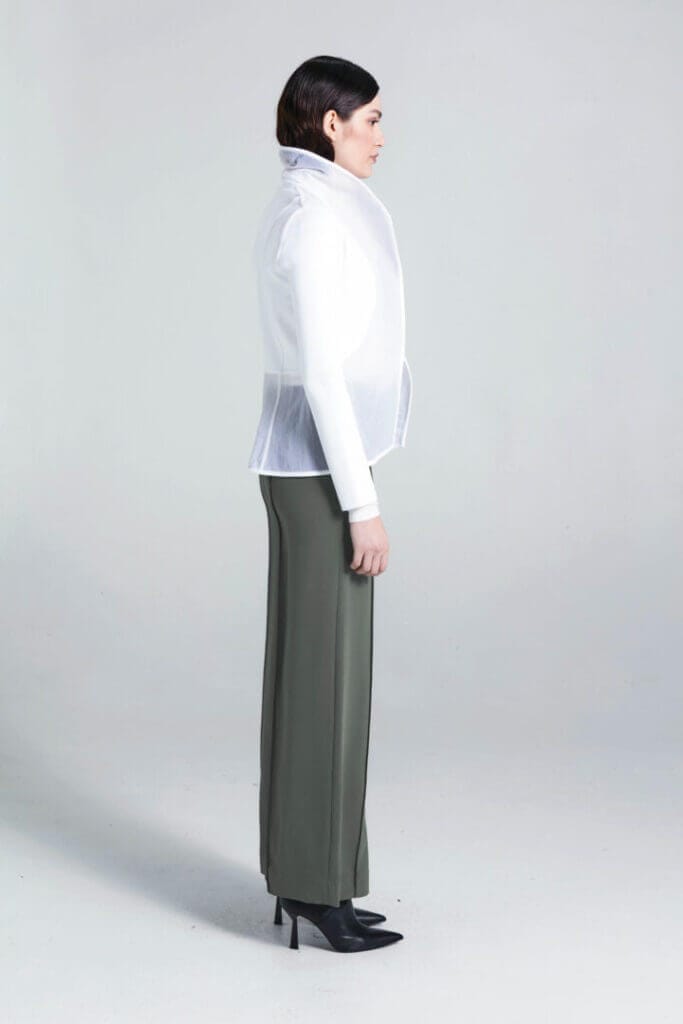 JD: Can you give some famous examples of habit dressing?
KZ: One can think of countless examples of famous, successful, and productive personalities who have turned to personalized, recognizable uniforms that adhere closely to that individual's set of lifetime professional, social, and even emotional goals. We've always loved the look of: Albert Einstein-For maximum efficiency, especially in his later life, Einstein wore the same ensemble on a daily basis: no socks (as they inevitably got holes in them), along with slippers or even tennis shoes (gimlet-eyed well before his time), a grey suit (he had five, one for each day of the week), and his leather Levi's Menlo Cossack jacket—the last piece had particular sentimental value for Einstein, as he bought it around the time he was becoming an American citizen in the mid-1930s.
Jane Birkin- Hidden behind a facade of nonchalance, her sartorial vision succeeded in pairing Paris' elegant and cool je ne sais quoi with the cool, laid-back nature of (some of) London. Sexy, relaxed, discerning, and tomboy all at once. Her ability to take a few core pieces and re-imagine them in her own image, along with subtle styling resulted in an indelibly memorable look, that undergirded her musical and acting career.
Zaha Hadid- My idea of comfort is unlike anybody else's. I can feel comfortable in flamboyant pieces," instructed Ms. Hadid. She dressed in fluid, pleated all-encompassing pieces by Issey Miyake, and the eccentric, technically profound yet understated sculptural creations by Yohji Yamamoto. But, always, she dressed with an extravagant flair, related to her architectural flourishes.
Cate Blanchett- What a fortunate (and fortuitous) relationship she's had with Armani over the years, to wear, in continuous, ongoing, and grand public appearances a series of understated pieces of minimalist and silhouetted precision that suits her steely, beautiful, and heady projected persona. More than anyone, we see Ms. Blanchett also finding the modernist, European-stylized minimalist pieces we create suit her personal and professional needs…if only she didn't have that Armani exclusive!
JD: How can Habit dressing help people reach for dressing for success?
KZ: Building an identity of one's own, begins at the earliest of ages: what toys do you engage with, what sports, how do you do in school, and what subject matters move you? As you build the power of your mind, you build the skills and communication abilities that help you shine in one set of personal or professional endeavors or another. As an element of that building-of-self process, what you wear is elemental. First, there should be joy in the discovery process in and of itself, similar to the natural appreciation you might feel when listening to music or reading a book that you find wonderful. So, clothing, if it's designed and developed thoughtfully, should have the intrinsic value of an enchanting creativity, with which you connect. Second, the investment pieces you choose, as mentioned, should have broad, multi-functional, and cross-purpose; without longevity and multi-use, the investment isn't worth it. Finally, how you feel, how you know you look to others, along with the personalized discovery that moved you to buy the piece, translates into confidence: the desire, will, spirit, and joy you to stand up to play out your own developed self/identity to the outside world. The goal: foundational, real joie de vivre. In our Cool Cycle_23, inspired by the great urban planner, Oriol Bohigas, we've been thinking a lot about how Barcelona, as a whole, developed in modern times into a magnificent, diverse set of civic uses (from play, to work, to culture) to infuse all its inhabitants with this same sense of joy, and a desired purpose to interact. Habit dressing, similarly, helps build up a desire (and confidence) to build meaningful connections, arguably, the source of much of human happiness