Valentine's Day is nearly upon us, which means that if you haven't shopped by now, it's time to start the search for a thoughtful gift for the special man in your life. If you're aiming to find the perfect present, Style Lujo is here to help- we've pulled together a master list of gift guides for all the special someone's in your life.
Instead of waiting until the last minute, take the time to find him a special and unique gift that he'll truly treasure. If you're out of gift ideas or just haven't had a spare minute since the start of the new year to locate the perfect present just yet, don't stress! We've done the hard work for you, and found all the best gifts that the most stylish man will absolutely adore on Valentine's Day. Whether you're on the hunt for a romantic gift for a big date night or want to find a sweet keepsake for that Valentine's Day date night, we've got you covered. These are the sweet Valentine's Day gifts that he's sure to love.
Below, you'll find OFFICE TIME – Dress For Success standouts from our roundup, many of which are vetted by our team of fashion editors and our very own readers. We've also come up with a wide price range. And depending on how much you plan to spend on February 14, we found dozens of gifts at all price points.
All the best Valentine's Day gifts that he'll absolutely love.
REGULAR-FIT SUIT IN CHECKED VIRGIN-WOOL SERGE– BOSS has the perfect options for any occasion. Their suiting options can be styled in multiple ways from casual to formal and are essential pieces for any wardrobe. $895.00
 Paul Stuart – Mason Suede Loafer: Nothing says Valentine's Day than a gorgeous pair of suede loafers in red. $595
ACCUTRON Legacy Automatic '565' Limited Edition With Silver Dial  Whether your significant other is a watch connoisseur or novice, a timepiece is a classic gift that is sure to leave a lasting impression. From elegant vintage pieces to splurge-worthy sports watches, eye-catching art books, and models that can be shared between loved ones – Hodinkee's got you covered. This year, I love the ACCUTRON Legacy Automatic '565' Limited Edition With Silver Dial for her.  Price in USD $1,390 
Hartley Cotton Stretch Khaki Suit Made to measure men's apparel brand, Indochino has chic options to guarantee compliments from coworkers, with vintage-inspired silhouettes, modernized with relaxed proportions, rich colors, and bold fabrics. $499
Backpack in cowhide The functional design of this backpack is enriched with the slightly vintage feel of refined vachetta leather with a matte appearance and rich texture. To make carrying easy while traveling, the backpack features a rear strap designed to attach the accessory to the handle of a trolley. Versatile and stylish, this makes it the perfect gift for any businessman. Price: $4,950.00
Classic Glo Brilliant Teeth Whitening Device Prepare for a romantic night out with this teeth whitening kit. The Classic GLO Brilliant Teeth Whitening Device combines light and heat to visibly whiten and brighten your smile without sensitivity just in time for a date with your loved one. $199
Montrose Turtleneck Sweater -The Montrose Turtleneck is sleek and luxurious and is the perfect sweater for dressing up your everyday style. The Montrose comes in various colors, but the rich burgundy makes option makes this particular sweater makes the perfect Valentine"s Day gift. $278
Nylon backpack with logo. This DNA backpack comes in 100% soft nylon, complete with practical compartments. Spacious for every day use. Price $1,945 available at select boutiques.
APL McLaren HySpeed™3. Luxury supercar maker McLaren Automotive and high-performance athletic footwear brand APL have just released a new drop of the APL McLaren HySpeed in three striking colorways inspired by the vibrancy, dynamics and energy of McLaren supercars.
The APL McLaren HySpeed is now available in three new colorways including:
Magenta/Pristine: The vibrant magenta represents McLaren's dynamicism. This is mixed seamlessly with elevated yellow hues — an ode to the innate luxury of APL and McLaren.
Black/White: An updated, fresh new take on APL's historical best-selling colorway.
Pristine/Tan/Midnight: A lifestyle inspired colorway taking inspiration from McLaren's stunning interiors and the elegant landscape of the French Riviera.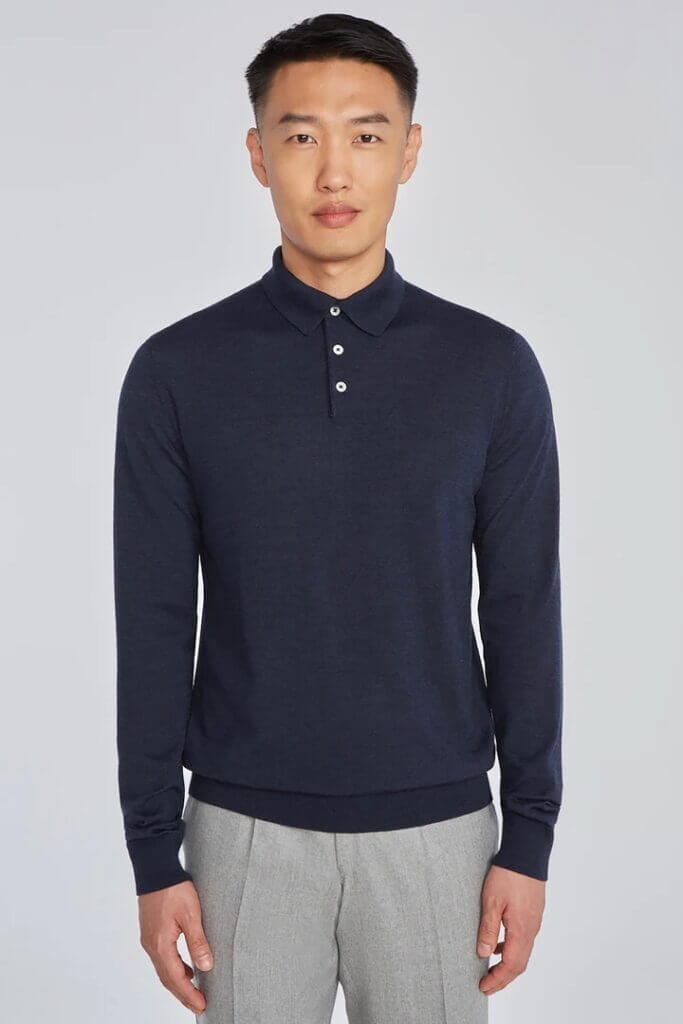 Melville Long Sleeve Polo-The Melville is the perfect Valentines day gift for any man looking to elevate his work style. $278
MILES™ Miles is a timeless, classic watch that's beautifully crafted with a premium leather band in three autumnal shades. The traditional dial design brings an air of old-world sophistication and is finished with rich tones of burgundy, tan, and green in sumptuous genuine leather. Complement your dressy look or elevate a casual weekend fit with the unisex Miles.- $75
Solid Mirror Flat-Link and Paper Clip Link Chain Necklace in 10K Gold– We all love a man who rocks jewelry. Whether they are into a simple or a more intricate look, choose from a variety of Banter by Piercing Pagoda men's rings, necklaces, and bracelets for the perfect matching set. The brand's fine jewelry is ideal for everyday wear as it's made with real gold and sterling silver. $154.00
Noble Shearling-Lined Lambskin Leather Gloves For anyone sending their man to the office, keep him warm and stylish all season long with Overland's sheepskin gloves. Trust me – he'll be thanking you every time he puts on the brand's gloves. $119.00