Valentine's Day is nearly upon us, which means that if you haven't shopped by now, it's time to start the search for a thoughtful gift for the remarkable woman in your life. If you're aiming to find the perfect present, Style Lujo is here to help- we've pulled together a master list of gift guides for all the special someone in your life.
Below, you'll find jewelry standouts from our roundup, many of which are vetted by our team of fashion editors and our very own readers. We've also come up with a wide price range. And depending on how much you plan to spend on February 14, we found dozens of gifts at all price points.
All the best Valentine's Day gifts that she'll love.
ivarjewelry.com:
The Ring Zero 1 inventively blends traditional Indian craftsmanship with a contemporary design perspective. The result is a modern heritage piece that is treasurable, wearable and sophisticated. $2260
Serenity Amulet in Pink Sapphire 14K Yellow Gold, Pink Sapphires, and Diamonds $2,645
ivarjewelry.com: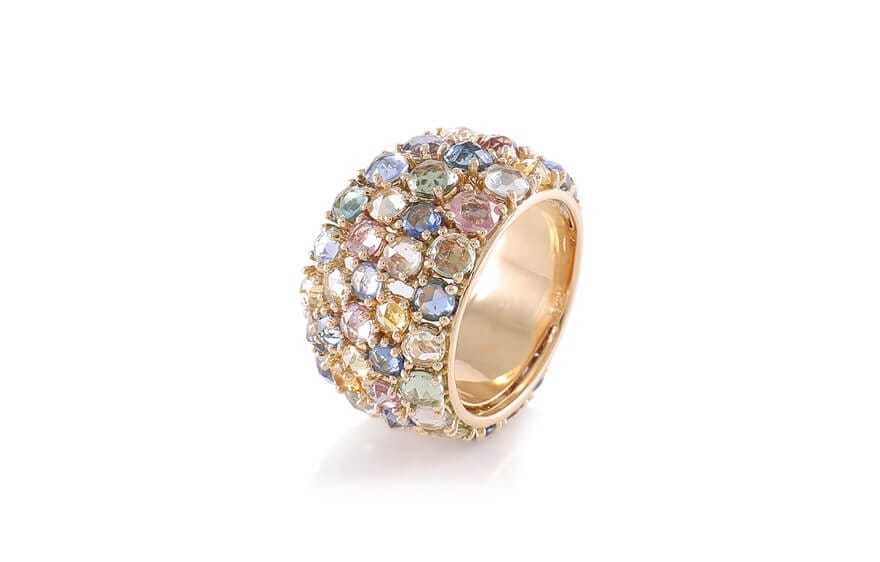 The elegant ring is effortlessly easy and beautifully crafted. $4180
Pink Oval Diamond RinG: Be pretty in pink with this 7-carat oval cut pink diamond ring fashioned with 64 brilliant round pink diamonds and black ceramic detail. Price available upon request
18K Yellow gold cross pendant with multicolored fine gemstones.This pendant from the new "Rainbow" collection is composed by a yellow gold chain and pendant with 8 different gems in the shade of the rainbow. price $5,645 -available at select boutiques.
Interchangeable Ombre Necklace Lugano Diamonds' Interchangeable Ombre Necklace is outfitted with heart-shaped diamonds, rubies, and pink sapphires. Masterfully shaped, it can be worn as an elegant necklace or a striking ring with a nearly 11 carat diamond heart center. It's impossible to go wrong with this statement piece!
Maor:
Maor—Pnina Trio Elm Pearl Necklace The modern pearl necklace with an edgy addition of sterling silver chain- for the fashionable guy in your life. This stunning piece can be worn as a necklace or bracelet. $550
Rubellite Charm Pendant The Rubellite Charm Pendant is a one of a kind piece from a woman-owned DTC jewelry brand. The pink gem is the perfect addition to any Valentine's Day outfit. One Of A Kind, Item Made To Order
Multi Colored Eternity Band Our ultimate bestseller due to its comfort, versatility and charm, this is the dainty ring you'll never want to take off. Featuring rubies, sapphires, amethysts, tsavorites and aquamarines, this ring is guaranteed to go with every outfit. ($550)
Small LolliBalls Rose Quartz  Lolli Balls was created to open hearts and soothe souls with one of a kind, energetic pieces of jewelry that encourage love, intimacy, relaxation, and play. Set a playful scene with your partner and pass it back and forth via mouth, roll it on your body, and get creative with how these stones will arose you. or give this gorgeous piece of jewelry as a gift. Stylish, modern, Lolliballs minimal look layers nicely with other jewelry or other Lolliballs. $165
1.5 Carat Round Brilliant Petite 6 Prong Micropavé At Liori Diamonds, a great selection of the world's finest cut man-made diamonds is offered. Each diamond is delicately chosen for extraordinary cut, color, clarity, and quality. Every single diamond used in their jewelry pieces is crucially evaluated. Their diamond pieces come with an independent certificate appraised by GIA gemologist graduates from some of the most rigid diamond appraisal labs. $4,325
Vera Wrap-The story of omè begins with a true love of the fashion world, styling and design. omè was born from my dream to create unique and versatile jewelry pieces that will make you feel beautiful and special on any occasion. $380
Matara Fine Jewelry Ring Eternal Love. Matara has established a reputation for excellence in craftsmanship and unique jewelry creations. The brand has defined a new wave of pearls with creative interpretations by combining timelessness with contemporary designs. Having over 30 collections, Matara continues to grow its designs which are inspired by nature, architecture, and everything in between! $4,940
It is not hyperbolic to call ManLuu's Dou Dou Cheri Ring a work of art. The geometric patterns are the marriage of traditional Creole furniture, the rich west Indian tapestry, and contemporary design. The Pink tourmaline gem is the perfect touch of flirtiness and whimsy, creating a timely yet timeless piece that can be worn long after Valentine's Day. $2400
Rocksbox My Love Pave Heart Studs These playful heart studs with the perfect pop of pink color from Rocksbox are sure to win you and your loved one over this Valentine's Day. Buy Now $58.00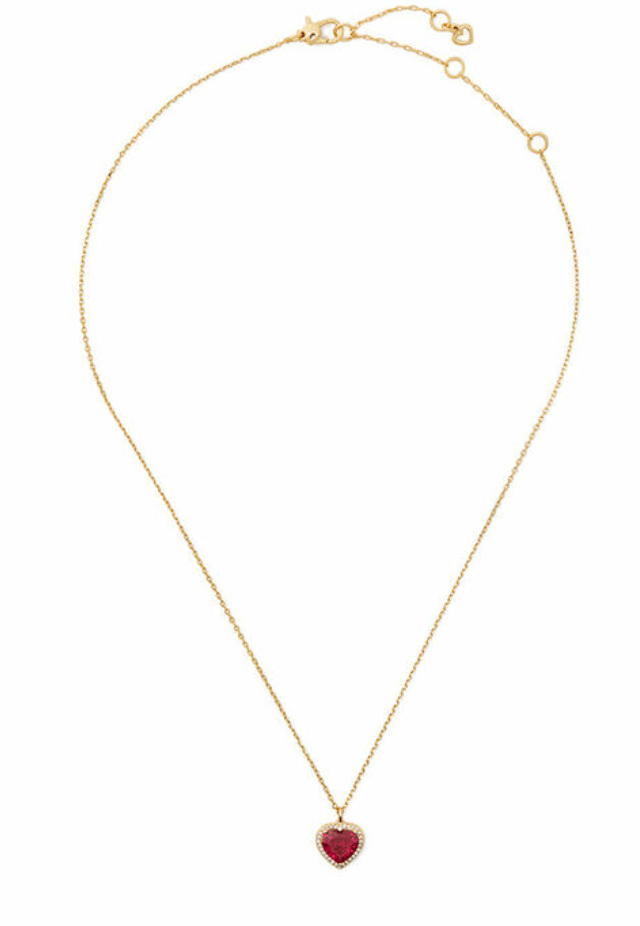 Rocksbox My Love Pave Heart Pendant This whimsical pendant necklace will not only enhance their wearers personal style and charm, but also showcase your love for them. Buy Now $68.00
Charles & Colvard 3/4 CTW Pear Caydia Lab Grown Diamond Couture Three Stone Fashion Ring 14K White Gold featuring Created Ruby Display your love this Valentine's Day with Charles & Colvard's modern rendition of a classic three stone ring – this 3/4 CTW geometric fashion ring spectacularly showcases a combination of pear and round-cut Caydia® lab grown diamonds alongside a bold pop of color courtesy of two pear-shaped, lab grown created ruby gemstones.
Charles & Colvard 0.06 CTW Round Caydia Lab Grown Diamond Drop Earrings 14K White Gold featuring Created Ruby Cherish those you care for with Charles & Colvard's stunning 0.06 CTW drop earrings which showcase a display of color and silhouette that defines perfection – this magnificent combination of round-cut Caydia® lab grown diamonds and conscious pear-shape created ruby gemstones is the perfect gift this Valentine's Day. $1,499.00
Kleinfeld® x Zales 1/2 CT. T.W. Certified Marquise Lab-Created Diamond Eight Stone Anniversary Band in 18K Gold Give the gift of love with this elegant look of this 18K gold certified marquise-cut lab-created diamond anniversary band from Kleinfeld® x Zales. $1,669.00
Kleinfeld® x Zales 1/4 CT. T.W. Certified Lab-Created Diamond Twist Anniversary Band in Platinum Say yes all over again with the elegant twist design of this certified lab-created diamond anniversary band from Kleinfeld® x Zales. $1,999.99
JustDesi locket The ideal gift to show your love for someone as you can combine yours and your significant others charm initials (also sold by JustDesi) together in a beautifully crafted, diamond edged, clear locket. All items are available in rose, white and yellow gold Weblink for charm initials and lifestyle pieces: https://justdesi.com/collections/just-charms $1,495.00 – Locket $150.00 / charm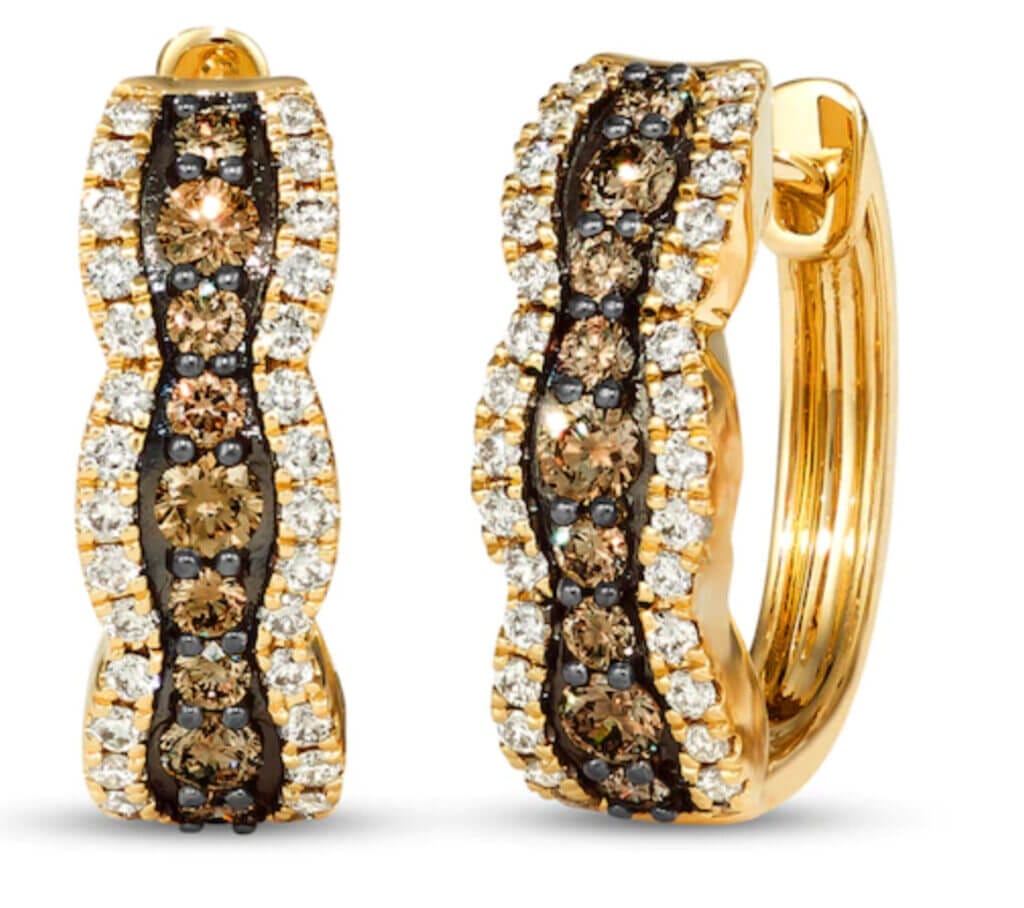 KAY Jewelers x Le Vian Chocolate Waterfall Diamond Hoop Earrings 1 ct tw 14K Honey Gold These enthralling Le Vian® earrings from the KAY exclusive Chocolate Waterfall™ collection are styled in gleaming 14K Honey Gold™ and adorned with indulgent round Chocolate Diamonds® embraced by dazzling round Vanilla Diamonds® $2,999.99
KAY Jewelers Disney Treasures Coco Round-Cut Garnet & Diamond Flower Necklace 1/10 ct tw Sterling Silver & 10K Yellow Gold From the Disney Treasures collection, this lively necklace inspired by the characters and moments from Disney Pixar's Coco features a celebratory Día de los Muertos flower. A rich round-cut garnet is surrounded by round-cut diamonds and petals crafted in gleaming 10K yellow gold. $449.99
Carino Heart Necklace Say you care without saying a word with the Carino Heart Necklace. Made by our expert artisans, this loveable heart-shaped pendant hangs on an 18-inch chain. Available for monogram personalization. $135
dorns themselves with their jewelry. $42.
"Russian Roulette" Bracelet–Our Russian Roulette jubilee style watch-Link band bracelet makes the ultimate Valentine's Day Gift. It's sleek, chic design, goes perfectly with any outfit and stands out with its bold, eye catching two-tone finish. The ultimate jewelry gift under $100. $82.00
Memento Mori Designs:
Wild at Heart Charm with Necklace ($70) – Fun two-sided charm… on the face it has a flaming pave heart surrounded by stars and moons and on the back it says "Wild at Heart". Sometimes the too sweet Valentines gifts just don't apply. The charm is brass with imitation gold plating and the 16″ chain is sterling silver plated in 14K gold for longer wear.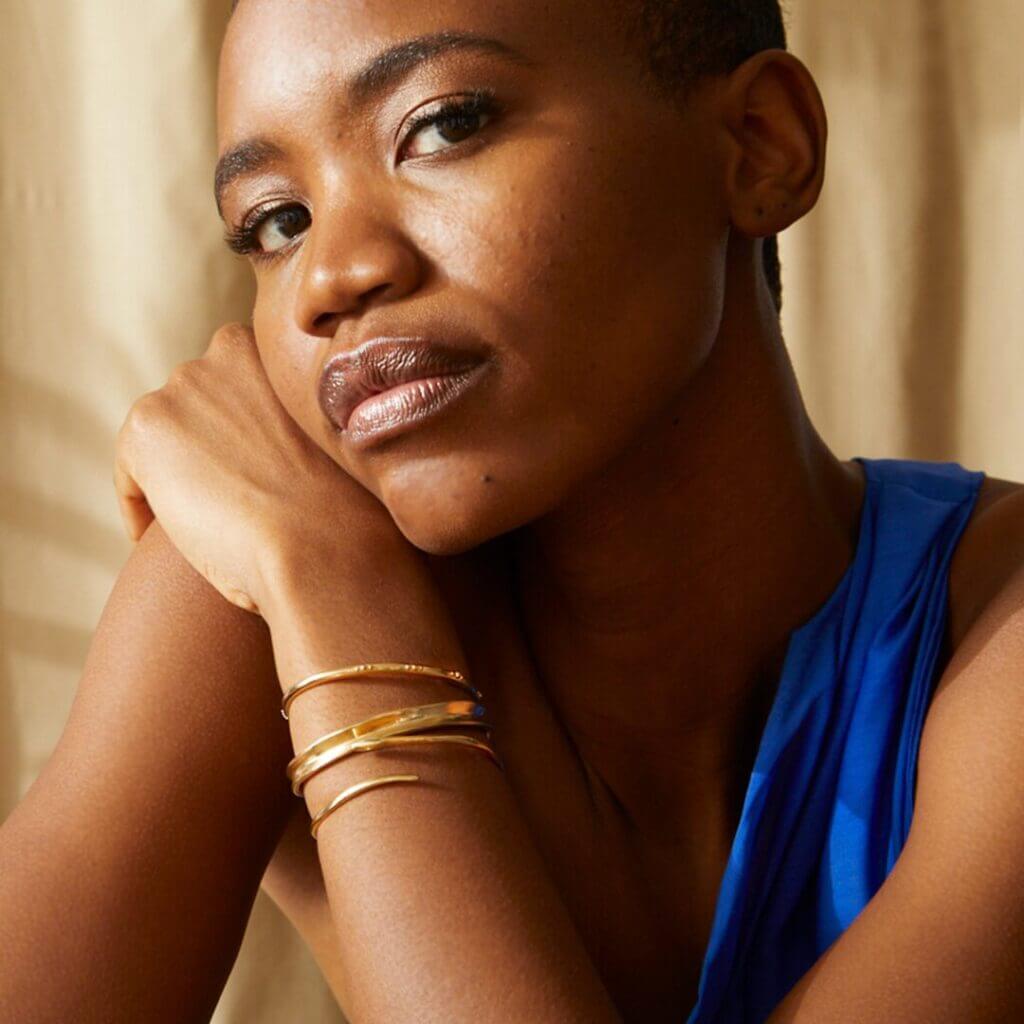 The Nile Bangle Bracelet ($115) – A hand made polished brass Nile bangle bracelet was made by artisans in California. Its natural shape was inspired by the life-giving Nile River and the palms and reeds that fill its banks. Best for smaller wrists. This bracelet is 2 1/4″ in diameter with a 1 1/8″ opening but brass has some natural give so you can open and close it, molding to your arm.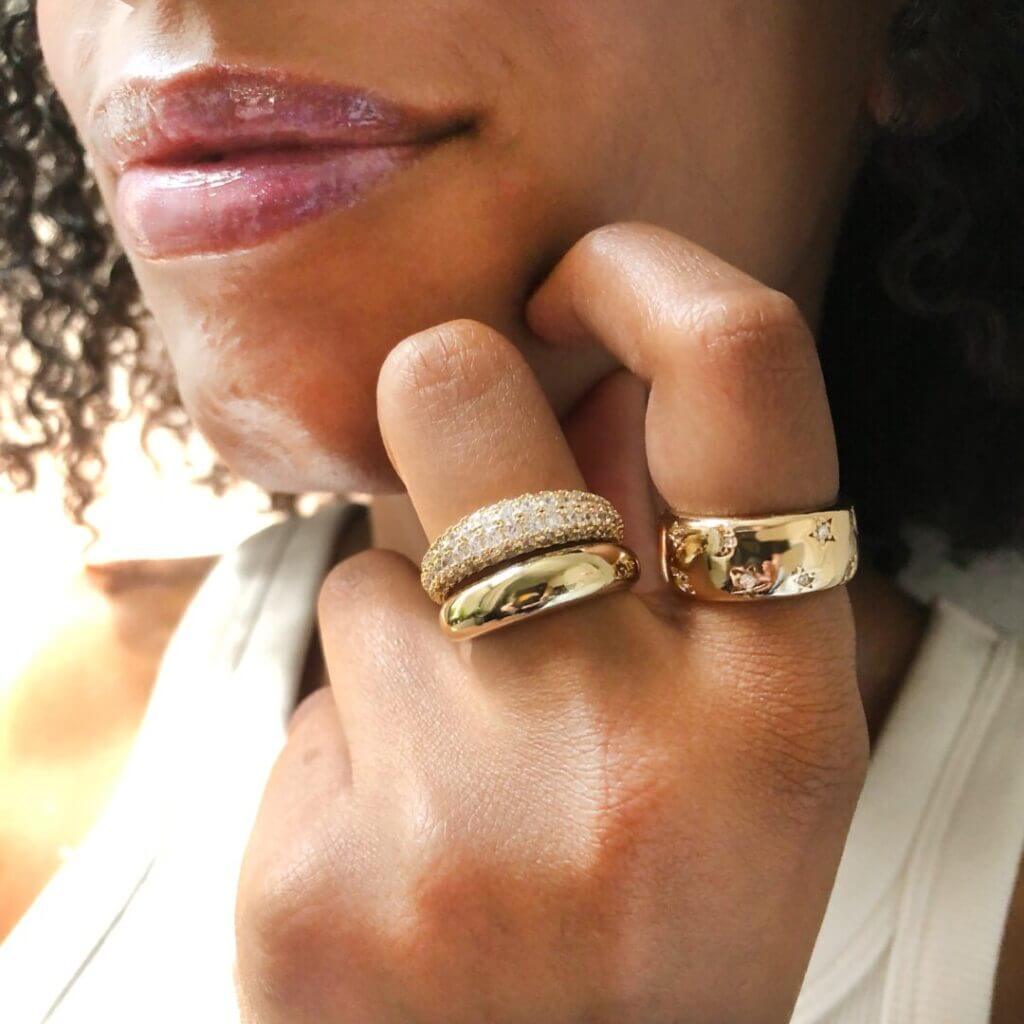 Set of Three- Dome Rings in Gold ($80) – A little luxury set to mix and match or wear all together. A domed shape that comes in a plain, pave with stones or with a twist. Brass plated in gold tone with cubic zirconia stones.
Heart Shape Earring. PATET is like the smell of fresh flowers, the sight of a sunset, the sound of the ocean waves, the taste of the perfect pasty, and the feeling of a hug from someone you miss. $35 USD
Butterfly Pendant . NÜR, also known as "the light between the heavens and the earth", translates to light in Arabic. When using the word NÜR, it is considered the highest form of a compliment–the exact feeling NÜR wishes to bring to anyone who a