Spring Accessory & Jewelry Trends 2022:
Call it jewelry therapy, but after a long fashion hiatus, people want to get dressed up again. And this year, jewelry leaves room for those special purchases that give your look personality to stand-out in the crowd. A new class of Spring 2022 jewelry trends, denote an extreme opinion of what it means to be superlative. and leave all else by the wayside. In a word, consumers are done with their old clothes and enthusiastic about the new arrivals- post pandemic. This season, women's styles range from pops of bright bright colors and fun pieces that make them smile. And this year, we sure do have a lot to smile about. Upon viewing the RTW fashion shows from Milan, Paris and NYC, I could not help but notice that fashion and jewelry trends call for sexy, statement looks. Yes, sexy has not only returned to the stage, but rather remains front and center– and set to make a performance.
From bold gold collars to playful earrings, jewelry is all about fun and joy right now. More to the point, today's on trend product offerings convey a message of feel-good jewelry, the kinds of pieces that instantly boost your style and spirit. All the consumer markers indicate that there is a welcome change from the minimalist aesthetic of recent seasons. Now, the time is ripe for revolution to make your statement. Furthermore, by adding a few well chosen pieces it can make a tremendous difference to your outfit.
Make no bones about it, this year, there's a shift in jewelry. Upon viewing the collections I was pleasantly surprised to find bolder, stronger and more festive pieces. In fact, trends today include mixing it up by combining fresh items with older pieces. In short, a fun party needs a good mix. And that is exactly what is happening now. So, whether you wear them with a party dress, power suit, or a tank top and jeans, these jewels will be a sure-fire way to express yourself in a joyful manner.
In my opinion, good jewelry is an investment at any price point. For instance, En Studio's knot necklace is a beautiful symbol of family and is sustainably and ethically made from recycled metals and fair-mined stones. And have you seen the stunning creativity at Messika this season? Messika, who has reigned supreme by cross-pollinating high-fashion supermodels models (Gigi Hadid, Kate Moss and Kendall Jenner) with tastefully on-trend statement pieces such as the white gold diamond necklace that defines what intense color truly is this season.
There are certain classic and timeless jewelry essentials that every women need to keep on hand for that special moment. But this year, 2022 jewelry trends see chunky chokers taking charge over threadbare necklaces as well as the resurgence of bicep bracelets and chrome metals. In fact, the perfect diamond studs and chain necklace are far more versatile and make a strong statement – even on a Zoom call.
Designed to be worn alone as a single statement piece or together for a whole vibe, these trendy and versatile jewelry pieces can easily blend in anyone's summer wardrobe.
Below, you'll find the 34 hottest jewelry trends that will elevate your style and bring you joy in 2022
77 Diamonds
77 Diamonds – This spring, explore the quiet harmony of 77 Diamonds' latest collection, Gaia. By harmonizing timeless design with organic shapes, Gaia is a celebration of nature's most precious gems. The Gaia Necklace features a round diamond centerpiece that tapers into a pointed pear-shaped stone. This shape is repeated through a single diamond that hangs from a chain for a touch of mesmerizing grace. 77 Diamonds is Europe's largest online diamond jeweler with a legion of loyal fans the world over, inspired by the 77 Diamonds journey from online retailer to established international brand and its passion for creating jewelry of the finest quality, while providing impeccable customer care and crafting heartfelt stories into timeless reality. $2,587
Âme Jewelry
Âme Jewelry – The Long Bar Hanging earrings are inspired by organic shapes found in nature and accented with princess, emerald and trillion cut lab-grown diamonds. The diamond cluster appears like the bloom of a flower on a branch and celebrates natural forms with a geometric twist to resonate with women who embrace femininity and strength. Their lightweight movement makes them perfect for spring. $7,500
Anna Sheffield
Anna Sheffield – Dress her up or dress her down – the possibilities are (literally) endless. Our Talisman Mixed Link Necklace is a stunning new addition to the storied Talisman collection. This shimmery, hand-crafted gold chain adapts easily to a Y shaped necklace with two clasps for adding your personal charms and talismans– perfect for the wearer who wants to collect and build a story of treasured tokens over time. $6,400
Anna Beck
Anna Beck – A pre-styled charm set takes the guesswork out and makes getting ready easy. Anna Beck's signature dotted texture reverses to a smooth canvas on our small drop charm that you can leave blank or personalize, so you can be both stylish and sentimental. A bold baroque pearl pairs perfectly. $290.
Bryan Anthonys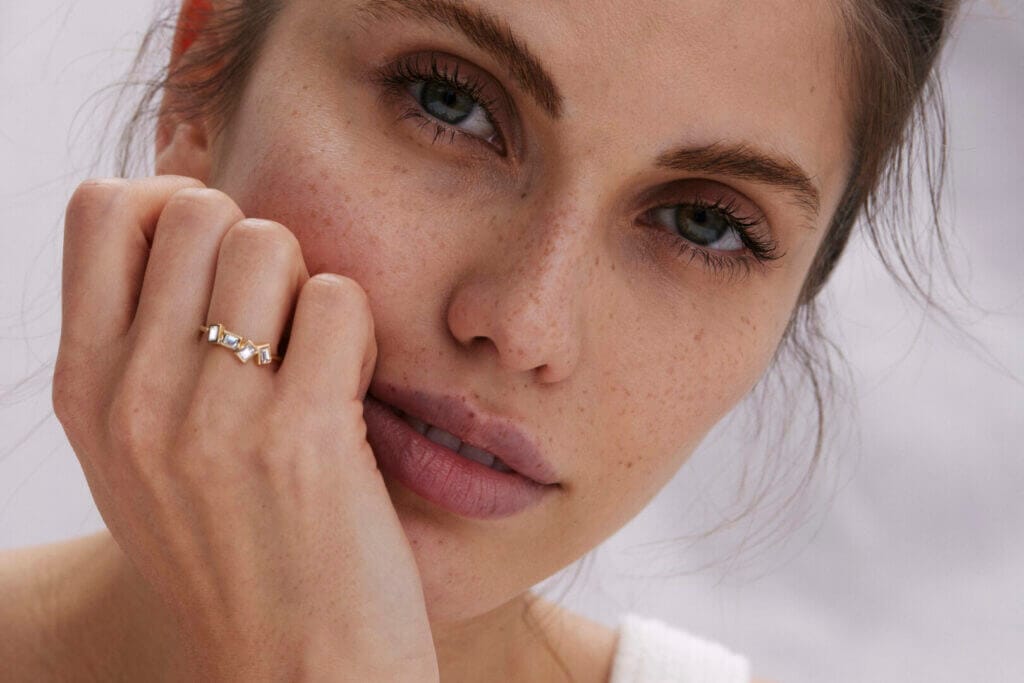 Bryan Anthonys – The Beautifully Broken Ring has become one of the top new major stand out pieces at Bryan Anthonys. It's a powerful reminder to embrace our flaws and find strength in our own perfect imperfections. The ring is very delicate and can be worn with many other rings or can be worn on it's own to shine bright. $42.
Casa Clara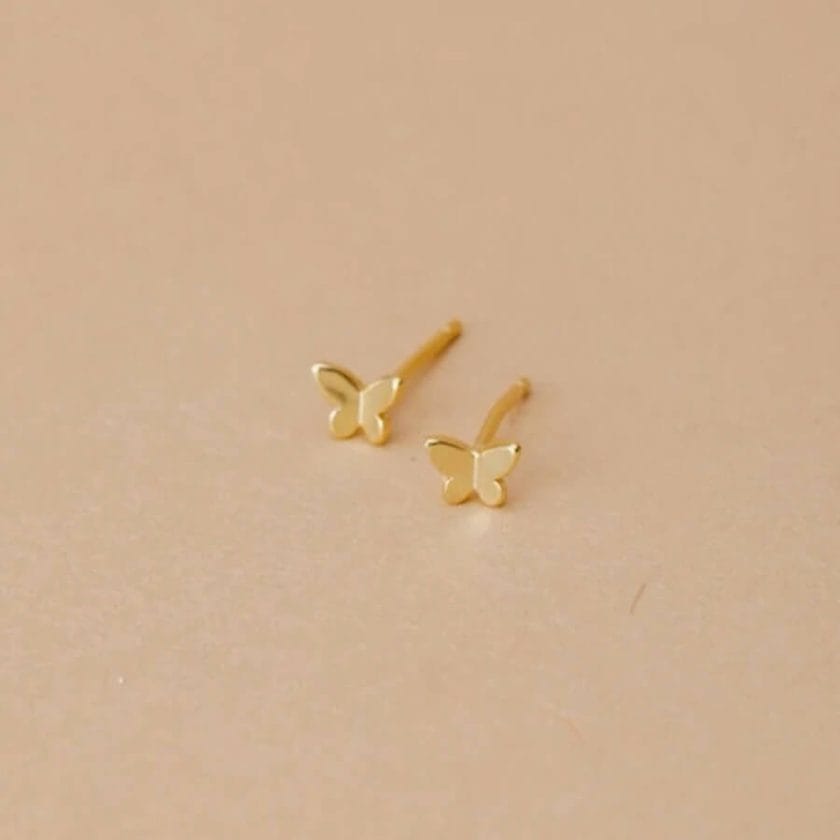 Casa Clara – These beautiful, yet dainty earrings are made by Casa Clara, which is owned, operated and financed by women. The brand partners with women across the world to curate timeless jewelry collections. $28.
Common Alloy
Common Alloy – Common Alloy offers ethically sourced and sustainably made fine jewelry at accessible prices that you can wear day to night, all year round. Categories include rings, earrings, bracelets and necklaces in sterling silver and gold vermeil. $90.
En Studio
En Studio – EN Studio's knot necklace is a beautiful symbol for lovers and family, and every shape that strong bonds take. Inspired by our deep connections with our closest family and friends, founders Malu Byrne and Rick Van Streain Low created this necklace to symbolize that we are knotted for life to the ones who mean the most to us. Consciously handcrafted in upstate NY, all of EN Studio's jewelry is sustainably and ethically made from recycled metals and fair-mined stones. Both timeless and modern, the mix of metals and stones feels utterly contemporary and classic. $3000.
Frasier Sterling
Frasier Sterling – The First Date Choker is your jewelry collection's soulmate. The necklace consists of a 15 inch chain with 3 inch extension, glass seed bead details and a lobster clasp closure. The extension chain allows for this piece to be worn as a choker or necklace to switch up your style. $42.
Hublot
Hublot – The new Big Bang One Click 33mm reveals their many facets and come with a new luxury. A collection of twelve silky bracelets, cut from 'soft touch' grained calf leather changes with the seasons. Already crowned with a set bezel, the highlight is the hour markers—eleven diamond markets are set around the dial, leaving the 3 o'clock position for the date. $19,900.
Jacquie Aiche
Jacquie Aiche – Small Rectangle Pave Diamond Mini Hoop. $1,565.
Jedora
Jedora – Stunning, timeless and classy eternity Unique Ring. Decorate yourself in luxury with this Gin & Grace Ring this spring. With the spring colorways you will be sure to be the center ofg attention this spring. $352.
Jennifer Meyer
Jennifer Meyer – The 4-Prong Diamond Ring from Jennifer Meyer. $3,650
Lightbox
Lightbox – A diamond pendant is essential to everyone's jewelry collection. Timeless, elegant, and goes with every outfit! Lightbox's leading lab-grown diamond technology backs why their lab-grown diamonds are among the finest you can find. $2,000.
M.M.LaFleur
M.M.LaFleur – The geometric Mardy earrings are made from carved wood, perfect for when you want to make a statement without going too formal. $75
Made by Mary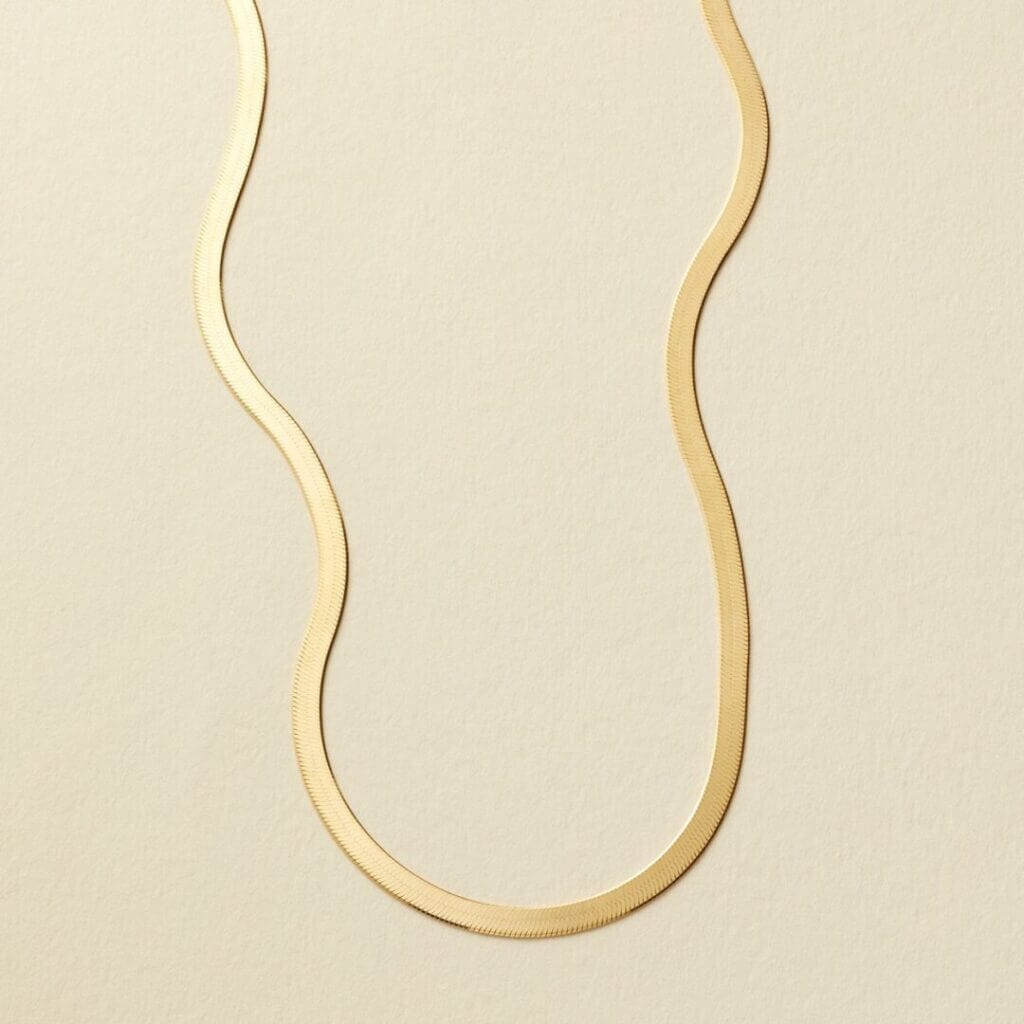 Made by Mary – An elegant statement piece, the Hera is for your bold and fearless moments. This unique chain is made by interlocking hundreds of delicate links that lie flat to your skin and move with you. Its sleek design makes it a staple layering piece for your chain stacking. Available in Gold, Rose Gold, and Sterling Silver. $68
Mark Broumand
Mark Broumand – The serpent biting, devouring, or eating its own tail symbolizes the cyclic nature of the Universe: creation out of destruction, Life out of Death. The ouroboros eats its own tail to sustain its life, in an eternal cycle of renewal. $3,295.
Messika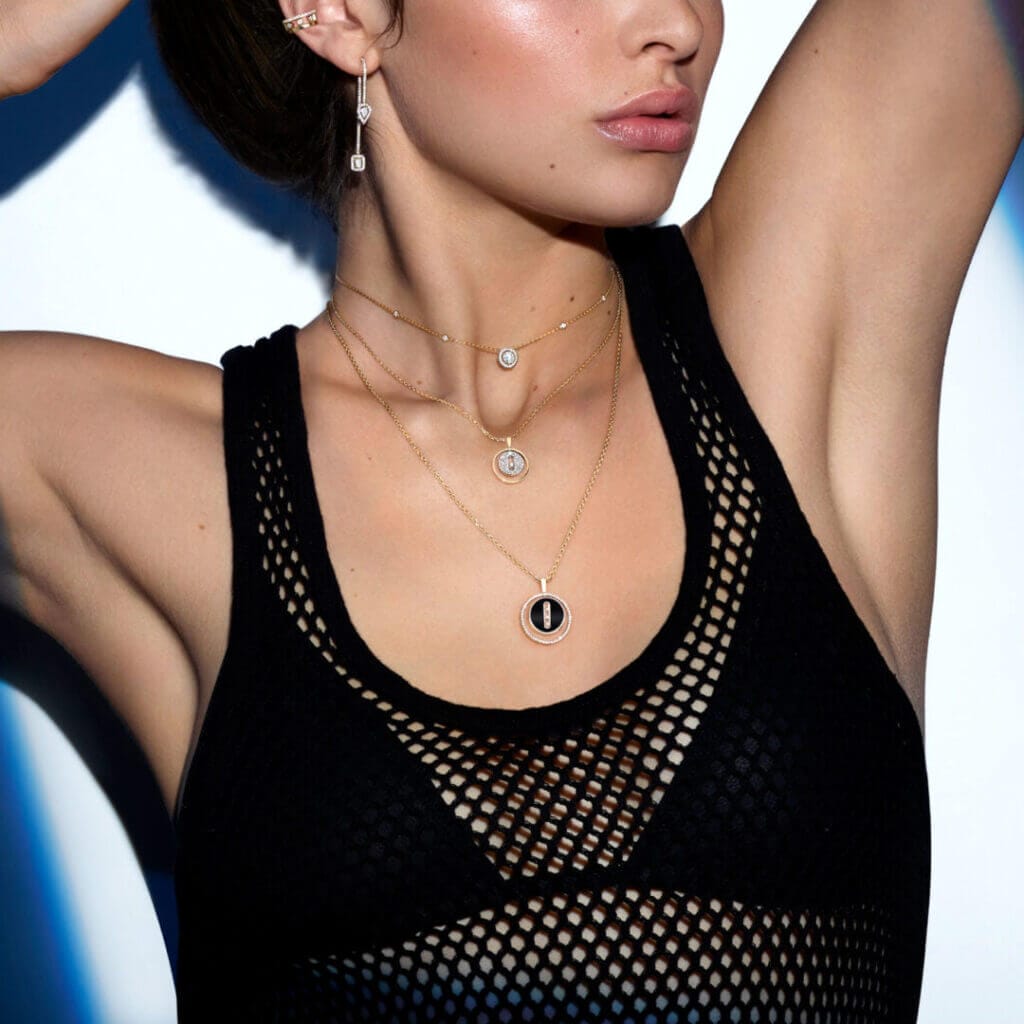 Messika – On this Lucky Move white gold diamond necklace with onyx, moving diamonds are encircled by a black disc in onyx. The definition of intense color – onyx is a testament to your inner strength. Perfect for women who are in control of their own destinies! The neutral nature of this necklace allows for pairing all Spring long. $5,940.
Miansai
Miansai – Miansai's Tailor Cuff features a belt-like closure so it can be easily adjusted to fit your wrist. Made in polished gold vermeil and available for monogram personalization, this skinny cuff will perfectly compliment any outfit. $235
Missoma
Missoma – A kaleidoscope of colour to express yourself with – layer with chains and pendant necklaces for a real 'more is more' moment this spring. Plus, the gemstones bring healing properties into your life. It's a win-win. $180.
MVMT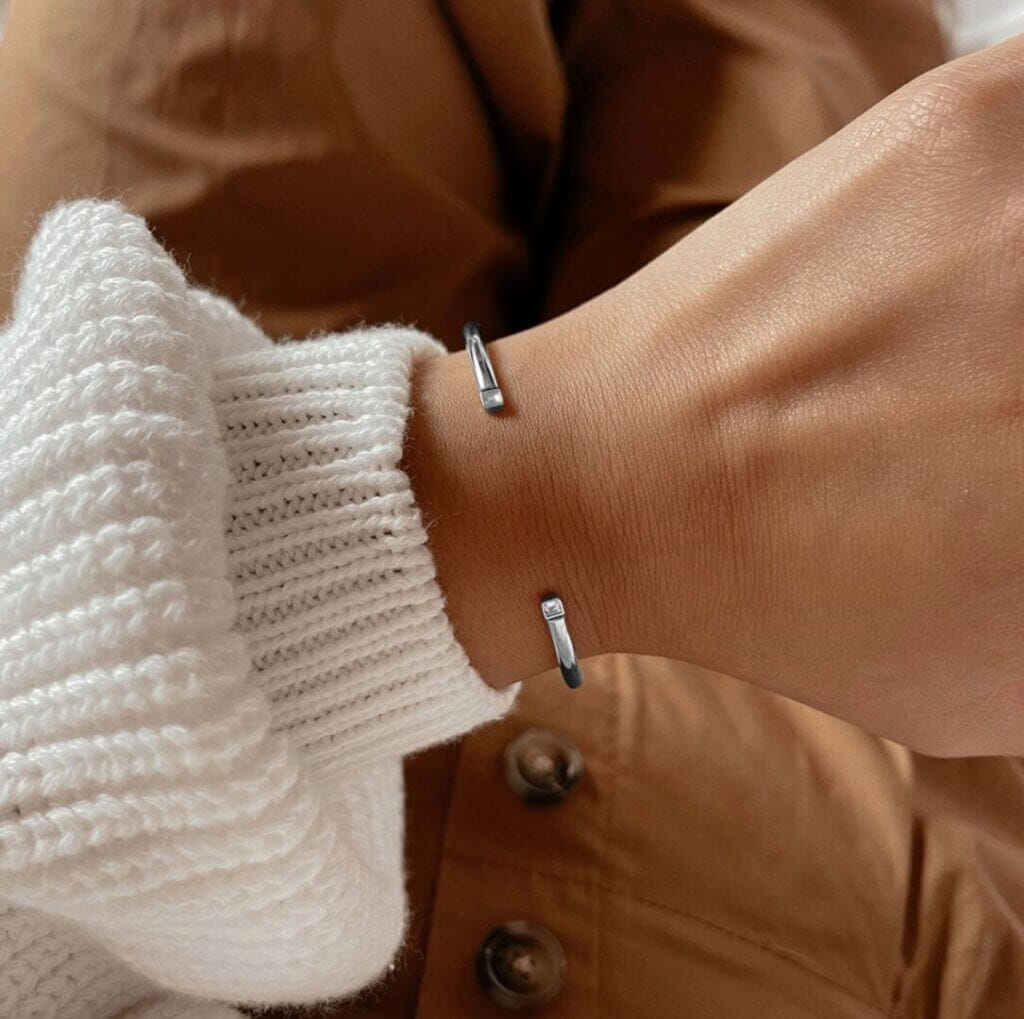 MVMT – A fine silhouette cuff bracelet accented with sustainably-sourced crystals. This is the perfect piece to frame your watch or stack with other bracelets for an elegant everyday look. $78.
MYKA
MYKA – Great for short words and names containing up to eight letters, this beautiful piece is just right for layering, or for creating a minimalistic, delicate look all on its own. With all-caps letters made of gleaming Gold Vermeil, all perfectly arranged on a sleek Rollo chain that adjusts to allow you to find the perfect fit. $120
Necklet
Necklet – Styling necklaces isn't an easy task, but this accessory hack will keep jewelry tangle-free and easy to take on and off and are the perfect complement to any spring style or outfit. Style experts and Sister Founders of Necklet, the original jewelry layering clasp (pictured below) loved by celebs like Chrissy Teigen and Shay Mitchell, Stacie Rae and Rickie Hansen invented the original layering clasp that keeps necklaces spaced at the perfect distance to prevent tangling. $42.
Noémie
Noémie – Noémie designs classic collections that feature conflict-free diamonds at unparalleled quality, prices, and customer experience – and is size-inclusive, offering rings in sizes from 3-10+ – all for the same price. Noémie guarantees happiness and offers free returns even on engraved pieces. The 3 Diamonds Stacking Ring includes a detailed appraisal report prepared by a gemologist which details the product quality, diamond specifications, and appraised value. $390.
Pasquale Bruni
Pasquale Bruni – The Ama Goddess Bracelet introduces the collection's vision of love. The three golds mix the yellow of the sun, white from the water, and pink from the moon to capture the light from the heart. This elegant jewelry essential symbolizes luxury and femininity within its master craftsmanship. $2,300
PDPAOLA
PDPAOLA – The new signature chain is the unexpected match between grace and industriality, a fresh and genuine design statement that frames our era. The unique design of the chain's links commands an aesthetic of contrasts. These versatile earrings can be worn as a full chain of 4 links or detach the bottom 3 links for a singular link hoop – the perfect travel earrings! $155.
RELLERY
RELLERY – A timeless locket necklace with modern design. We love the history behind lockets as a keepsake and sacred place to put your smallest treasures. Whether you're holding onto your family or tucking away that special someone these pieces are sentimental while still being fashionable. $185
Ring Concierge
Ring Conceierge – The rope detailing adds gorgeous texture to these easy-to-wear studs. You can dress them up or down for a bold look. They are 14k solid gold with tension earring backs. $198.
Serendipity
Serendipity – The topper for your stack that you never knew you needed, the Arc Ring adds a bit of an art deco-inspired flair to any ring collection or simple band. Gorgeous alone or as a part of a stacked look, the baguette cut crystals of the Arc Ring shine bright without stealing the spotlight or interrupting your look. Easy to wear every day and dazzling enough for any night, the Arc Ring will be the newest staple piece in your ring collection. $65
Sonu Company
Sonu Company – Pave set diamonds half way around a dainty 14kt gold band, perfect for stacking!Sonu Company is a custom engagement ring service, however, they've expanded their product offerings to include a permanent collection of everyday stackable rings. So whether you're looking for an everyday ring to compliment your engagement ring / wedding ring, or you're just looking to add a little sparkle to your everyday style, Sonu Company has you covered. $400
Sterling Forever
Sterling Forever – Antoinette Layered Necklace. $94
Swarovski
Swarovski – Precious, octagon-step-cut crystals are elegantly linked to create this delicate bracelet. Featuring a dynamic, light-sapphire hue, each stone is cradled within rhodium-plated prong settings. Wear it solo as an essential everyday adornment or go for bold by stacking it with other vibrant choices from the Millenia family. $330.
Sydney Evan
Sydney Evan – This piece is important to me because it embodies so much of what Sydney Evan is about, since it's inception 20 years ago. Love, protection, peace, happiness, and luck are all representations of the symbolic nature of our brand." – Rosanne Karmes, founder Sydney Evan. $3,720.
Ten Wilde
Ten Wilde – This personalized pearl choker is everything for spring from Black owned, female founded Ten Wilde. $56.
Vitaly
Vitaly – Created in collaboration with French designer Kacimi Latamène, the Datum is a hoop earring set with an alien appearance. Constructed from his signature organic wishbone structure, each earring is finished with a custom hexagonal backing. $80.