In 2022, the intersection of technology, and beauty will create the fresh concept of character customization. I believe that our selected beauty brands listed below have made sustainable and technical advancements fit to address the needs and wants of today's consumers whose aim it is to have better control over how their they wish to appear at the start of their day.
During Springtime, people have an overwhelming urge to be outside. But, before you make plans to head outside, there's a few things to remember. Your hair and skin health will need to be refreshed and protected. When it comes to preparation for the outdoor season, moisture-locking shampoos, glowing body scrubs, and hydrating face creams have been updated to give you a healthy glow while protecting your skin from sun.
When it comes to spending time outdoors, some women like to focus on physical fitness, while others set professional goals on the path to corporate ascension. At the top of our beauty list, we're eyeing the new beauty products launching in 2022 action-packed with solid new formulas for just about every new beauty preference in the consumer market today. For example, ATMA Botanica developed luxurious shower steamers made with natural ingredients. Furthermore, each tablet is made in the USA creating social impact on sustainability as well as supporting jobs for Americans. In addition, most fashion companies have just dipped their toes in the water when it comes to sustainability and the fashion beauty design. The millennial consumers purchase behavior is heavily influenced by the core value of sustainable product offerings.
The way my fashion editor Emma Cunnington and I see it, when revamping your routine the possibilities are endless — as long as you have the right beauty items at your disposal. In fact, this seasons beauty innovations are a healthy mix of hair, makeup, skin-care, and body-care products. Looking to give the new beauty products to start your day a try, check out Skinfix's deeply hydrating face cream clinically proven to moisturize and enhance radiance for healthy-looking, nourished skin or indē wild's vegan, cruelty-free morning formula that works in perfect harmony to reduce the appearance of dark spots and redness, while leaving a healthy glow.
Still, an abundant number of new brands hitting the stores can be a bit overwhelming, so to make finding your next product a tad bit easier, Here, we reviewed the brands featured below to give you the top-selects of the best hair, makeup, skin care, and fragrance launches this spring/summer 2022.
In fact, our comprehensive roundup of the best new beauty products are the things we believe can take you start of the day beauty regime to a whole new place. Scroll on to see some of our favorite new beauty products to help you start off your day!
4AM
4AM – Grueling work schedules, glaring iPhone screens, and sleepless nights aren't going away anytime soon. Time is our most precious commodity, but most multi-step skincare routines would make it seem otherwise. 4AM took the guesswork out of skincare by making sure that each ingredient is at a specific percentage, pH balanced, and can live happily with each other and on your skin. Guess what—your 10 step routine just took 30 seconds to swipe on your skin. Early mornings look a whole lot simpler with 4AM's two step skincare routine. $120.
AllWell Beauty
AllWell Beauty – AllWell Beauty all over face and body mask is formulated for all skin types, tones + genders. This moisturizing mask is packed with clinically proven, powerful plant based ingredients that boost your skin's natural radiance by exfoliating, refining and firming for glowing skin. Clinically proven to improve hyperpigmentation, diminish the appearance of dark spots, reduce the appearance of pore size and improve skin tone evenness. Our formulations are made from upcycled plant materials and are clean to the highest standard in the industry without silicones, phthalates, parabens or sulfates. Good for you + good for the planet. The unique rinse or roll technology allows for easy removal. $42.
American Provenance
American Provenance – As a manufacturer of quality natural goods, American Provenance began selling hand sanitizer to help bring safety and peace of mind to it's current and future customers. The production of the Hand Sanitizers directly supports American farmers and growers. Safety and community support just makes good scents to American Provenance. $5.
anokha
anokha – The soothing cleansing milk contains colloidal oatmeal and milk protein to gently cleanse, exfoliate and refresh skin. Helps to clear pores and minimize excess sebum in oilier skin, while maintaining healthy balance in normal skin types. Milk protein contains low levels of lactic acid to help gently exfoliate and brighten the complexion. $38 for 6.5 oz | $10 for 0.25 oz
ATMA Botanica
ATMA Botanica – Shower Steamers are the new bath bombs in a hurry! As much as we all love downtime to catch up on streaming tv shows or hobbies, our busy lives and various responsibilities keep us from having some much-needed "me-time." ATMA Botanica wants you to enjoy the downtime you make for yourself, even if it's just a ten minute shower! These luxurious shower steamers are the perfect addition to your self-care routine. Created by two moms who understand how easy it is to always be in "go" mode and not have time to just relax. Guaranteed vegan and made with only high quality, natural ingredients, each tablet is made in the United States by women. They are handcrafted in small batches to ensure quality and wrapped in 100% sustainable and biodegradable food safe film. You can also purchase them on Amazon! $38.99 (12 pack, 2 scents each).
Aurelia London
Aurelia London – The water-based formulation removes dirt, oil and makeup from the eye area while promoting brow and lash growth – you can see results within 4 weeks! Now you can get amazing brows and lashes all while maintaining clear skin with one product. With ingredients like Inca Maca, rose oils and cucumber, the cleanser also soothes the eye area and depuffs while cleansing. It's packed with anti-inflammatory ingredients, so eyes feel refreshed! The Conditioning Eye & Lash Cleanser also has Aurelia's patented PROTIDA complex of non-living probiotics to calm immune triggers in the skin for a brighter under eye area. $48
BBxEllie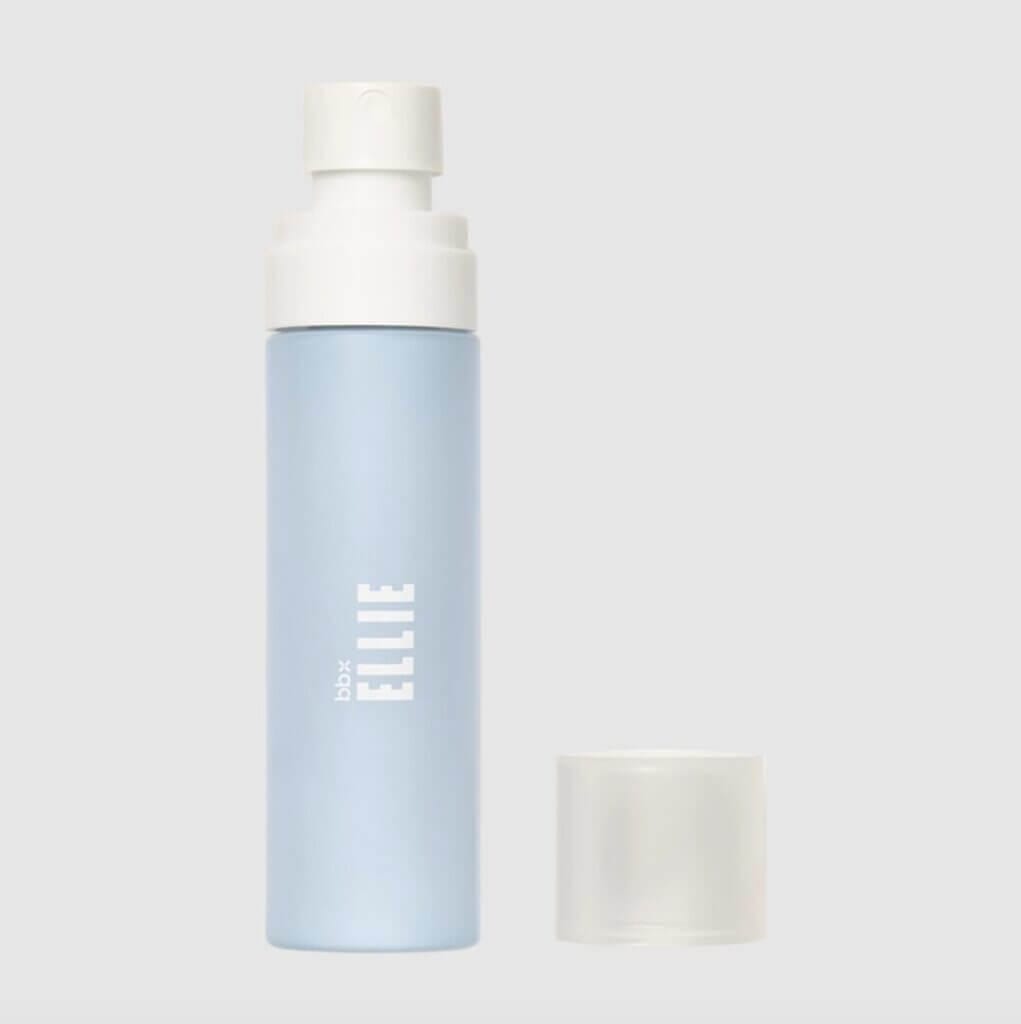 BBxEllie – Unlike traditional setting sprays which tend to be mattifying, the #19andahalf formula is hydrating while not compromising on the makeup-setting power. an alcohol-free, two-in-one setting spray that deeply hydrates the skin while keeping your makeup in place for a natural, glowy, most skin-like finish. $27.
Beautifect
Beautifect – The go-to brand for high quality beauty tools, leading the way with the luxury Beautifect Box. With an expertly engineered advanced lighting system, simulating true daylight through to evening light, a distortion-free glass mirror and fully wipeable smart storage, there is no better way to do your makeup every day at home or away. Get ready in less time, with less effort and achieve flawless results. A new era in the way we do our makeup every day has begun, you'll wonder how you ever lived without it. $325.
Beurre
Beurre – This natural formula features intentionally paired oils that are known for reviving and nourishing the skin. Infused with enchanted rose geranium carefully cultivated to comfort your senses with creamy and warm vanilla Shea Butter. $28.
Colekt
Colekt – REJECT Oak Face Oil is the perfect start for a morning routine. It gives an instant radiance and glow, with a tightening and brightening effect to the skin. After massaging a few drops it will prevent dryness, aggravation and overtime reduce the appearance of dark spots. A little goes along the way to protect the skin against the effect of pollution and blue light. As per all Colekt product range REJECT is vegan, creative and a clean alternative for contemporary lifestyle. $220
Cultus Artem
Cultus Artem – If you're looking for an intensely hydrating moisturizer for your morning routine, look no further than Cultus Artem's incredibly rich Moisture Cream Hydration Elixir. Formulated with all-natural, botanically derived ingredients, the cream is vegan, cruelty free and has a natural, earthy scent, beautifully and sustainably packaged in a recyclable glass bottle. $165
Elaluz
Elaluz – Lightweight beauty oil packed with 100% plant-based, skin-conditioning super oils designed to help rebuild, rehydrate and rejuvenate skin's appearance. Nourishing serum keeps skin hydrated by protecting the outer layer and supplementing the natural oils your skin is (or isn't) producing. It adds moisture to skin and helps repair the barrier that keeps that moisture in. $39
Element Mom
Element Mom – Major hydration and glow on the go. These pads are quick, simple and an easily incorporated step to your skincare routine that's full of ingredients your skin will love! Maximum hydration with a healthy dose of rejuvenation and radiance thanks to Niacinamide and four different types of root extracts! Licorice Root helps to reduce hyperpigmentation, even out your complexion, and boost overall radiance; Ginger Root helps in evening out your skin texture while reducing inflammation; Japanese Knotweed Root boosts antioxidant levels and helps to reduce fine lines and wrinkles; and last but not least Baikal Skullcap Root works to reduce inflammation and it can even help to prevent and treat acne! $39
Epicutis
Epicutis – The Lip Serum – Formulated with TSC, a small molecule that reduces inflammation, blocks UVA/UVB induced damage, possesses antioxidant properties, protects collagen and balances the skin's microbiome, the Lipid Serum will take your morning skincare routine from five products to just one. With only 8 ingredients, the serum works to improve skin hydration while re-texturizing the surface of the skin for a smoother feel, improving texture, evening out skin tone and promoting the health of your skin – not just the appearance of it. Clinically proven, non-toxic, cruelty free, GMO free, paraben free, fragrance free and PEG free. $275
Everyday Humans
Everyday Humans – This 2-in-1 sunscreen serum is made with moisture-magnet hyaluronic acid to give a good glow and jam-packed with nutrient and antioxidant-rich SPINACH LEAF and GREEN TEA extract to help enhance your skin's radiance and strengthen the barrier. The final step in your morning skincare routine (before adding makeup) and also great to apply under your face mask. $24 (50ml) / $12.50 (15 ML)
Freck Beauty
Freck Beauty – THE TREAT bundle. Choose your shade of CHEEKSLIME, SLIMELIGHT, and your favorite Freck: XL or NOIR. $62.
Fulton & Roark
Fulton & Roark – While Fulton & Roark is best known for its line of fine fragrances, it's Everyday Face Wash is an amazing addition to nearly anyone's routine, the formula deeply cleans and softens skin without overdrying, leading to healthy looking pores, a smoother complexion, and softer feeling skin within a matter of a week or two. Formulated with Tea Tree, Vitamin E, Eucalyptus and Green Tea Extract. $22.
goop
goop – Cleanse, smooth, and brighten your skin morning and night with this unique soft, exfoliating jelly face wash. Made with natural fruit enzymes and bitter orange peel to gently polish away impurities, the cleanser feels delightfully springy and soft on skin, then rinses off easily to leave skin fresh, silky-smooth, and glowing. Arctic cloudberry—it's packed with omega-3s and omega-6s, along with vitamins C and E—nourishes skin, while sugarcane-derived squalane moisturizes and soothes, and vitamin C–rich Australian kakadu plum ramps up radiance. The foamless jelly formula is gentle enough to use every day (even in a routine with AHA, BHA, or vitamin C treatments). $28
Hemp & Hand
Hemp & Hand– Instead of a laundry list of unpronounceable ingredients, Hemp & Hand Hand Sanitizer uses just five all-natural, plant-based ingredients to not only sanitize your hands but moisturize and protect them as well. Hemp is the "turbo-boost" that gives it added antimicrobial, anti-inflammatory, moisturizing, and mood-enhancing properties. We also think it's the best smelling, best feeling sanitizer ever – take our word for it! We use only organic ethyl alcohol, or ethanol for short, made from organic corn grown in the USA. Other sanitizers might use isopropyl alcohol, benzethonium chloride, or benzalkonium chloride. You'll love the refreshing citrus and calming lavender scents infused with enriched hemp extract. Enhanced with nourishing essential oils, revitalizing terpenes, and moisturizing aloe to keep your hands smooth, soft, and happy. $15 / 2-pack
Henry Rose
Henry Rose – Jake's House Bar Soap – a moisturizing body bar that creates a rich lather leaving your skin feeling smooth and cleansed with notes of watery freshness, honeyed neroli and soft musk. $30.
Honey and Roses Coffee Co.
Honey and Roses Coffee Co. – True to the brand's close partnerships with small businesses, The Coffee Bean Body Scrub comes from Virginia-based small business L'Essentials, which offers small batched, hand blended, and ethical products. Coffee Bean scrub is made with organic coffee beans to take care of both you and the environment. Filled with antioxidants and no harsh chemicals, the scrub leaves your skin feeling soft, radiant and youthful. $21.99
House of M Beauty
House of M Beauty – This Saffron Miracle Serum is an all-in-one anti-aging serum powered by highly-effective, natural ingredients. Starting with antioxidant-packed saffron, which acts as a powerful anti-aging defense, the skin savior protects the skin and strengthens skin barriers, as it work in combination with vegan squalane to hydrate, rosehip oil to even out skin tone, and neroli essential oil to reduce redness. $98
indē wild
indē wild – This vegan, cruelty-free morning formula is loaded with traditional Ayurvedic superfoods including Turmeric and Ashwagandha, coupled with potent actives such as pure Vitamin E, Ferulic Acid, Niacinamide and Hyaluronic Acid. These skin essentials work in perfect harmony to reduce the appearance of dark spots and redness, fight free radicals, hydrate and rejuvenate while leaving a healthy glow. indē wild is formulated for everyone no matter gender, color or skin type. $37
Inner Beauty Cosmetics
Inner Beauty Cosmetics – Wake up and makeup with this effortless Daily Essentials duo of lip balm and mascara. Sweep on this hydrating lip balm and add a coat of lash-building 99% natural mascara and you're out the door and ready for anything. $42
Iris & Romeo
Iris & Romeo – This 5-in-1-breakthrough formula is a serum, moisturizer, sheer coverage, sunscreen, and blue light/pollution protector. An instant skin beautifier that gives natural coverage and a dewy, glowy finish, while also protecting against UVA and UVB sunlight and oxidative stress caused from blue light. $64
Isa Lazo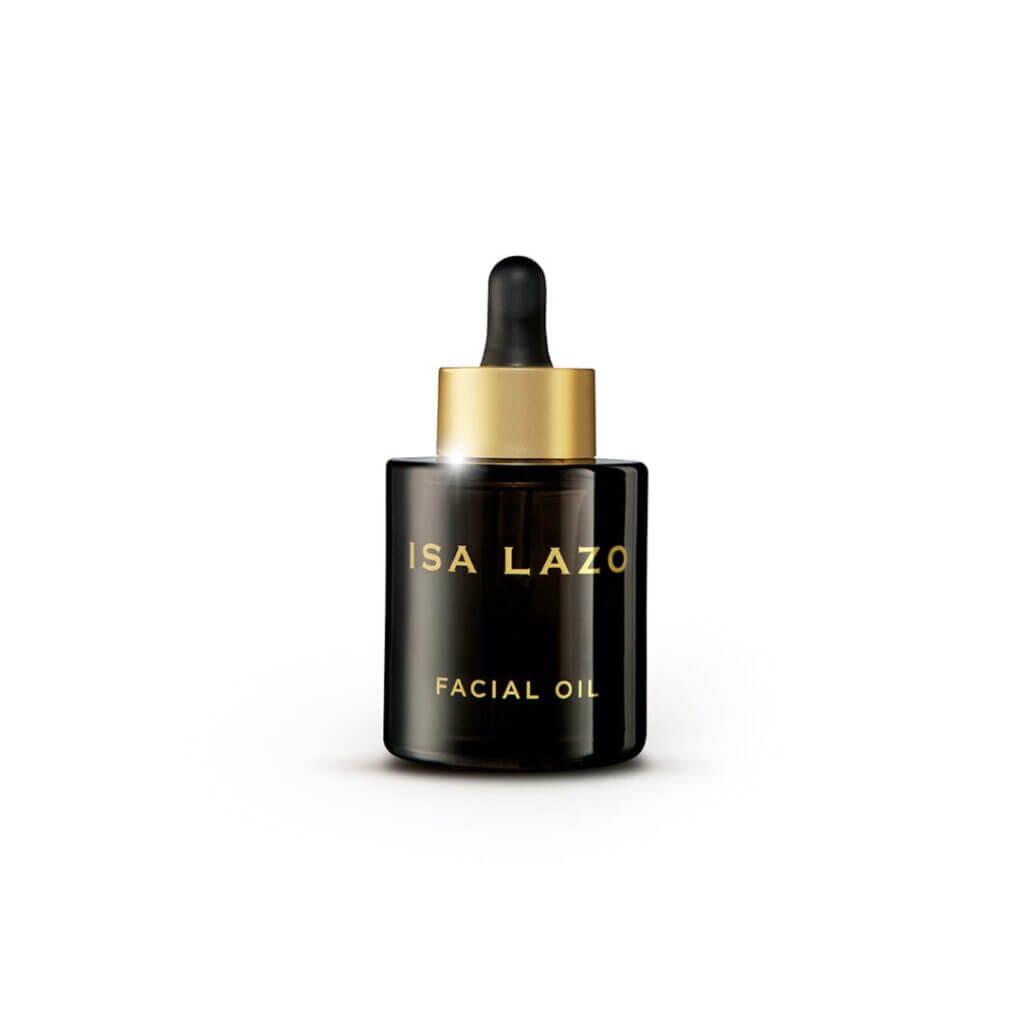 Isa Lazo – This sophisticated facial oil is filled with the soothing promises of raspberry seed oil. The formulation of lasting moisture is diverse, with vitamins E and A as well as anti-inflammatory properties. Concentrated with antioxidants, omega 6 and linoleic acid, this lightweight oil improves hydration and promotes a radiant glow all day long. $99.
KNC Beauty
KNC Beauty – Give your eyes some major TLC with all-natural plant extracts and hyaluronic acid that help replenish your skin and lock in moisture – with cactus and cucumber which help improve dry, tired skin and calming puffy under eyes. $25.
KORA Organics
KORA Organics – Noni Bright Vitamin C Serum- This potent daily serum is your morning dose of Vitamin C and essential nutrients to keep your skin even toned, bright & glowing. Apply 1-2 pumps each morning to your face after cleansing and before moisturizing to awaken and brighten your skin each morning. the fresh citrus scent, it's so uplifting and a great way to start your day. $88
Lancer Skincare
Lancer Skincare – This revolutionary silky-smooth Instant Brightening Booster combines powerhouses 30% Vitamin C + Turmeric to provide dramatically visible brightening benefits for a more even and uniform skin tone. Super-charged with 30% stabilized Vitamin C (ascorbic acid), this weekly booster helps exfoliate surface hyperpigmentation and discoloration, prevents new darks spots from forming, brightens and evens skin tone, and minimizes fine lines and wrinkles. Turmeric's powerful antioxidant and preventative capabilities defend skin against environmental triggers that can initiate new pigment formation. In addition, skin softening botanicals help hydrate and support the skin's barrier. $125.
LOLI Beauty
LOLI Beauty – Our #1 best-selling Plum Elixir is the must-have skincare product because it is a glow-inducing plum serum that instantly hydrates parched, dry skin, chapped lips and damaged hair – a winter must-have. Sustainably up-cycled from the kernel of the French Ente plum, this vegan, MADE SAFE® certified beauty oil is a completely waterless blend of four organic, food grade seed oils. Use this day and night for mega rejuvenation of even the most sensitive skin types. $68.
Luzern
Luzern – Force de Vie Crème Luxe – This elegant silk-like moisturizer boosts cellular oxygen uptake to increase collagen and hyaluronic acid synthesis and promotes microcirculation to enhance skin luminosity. Reverse the clock with pure Swiss Alpine Organics extracted in Alpine Mountain Water, as well as naturally occurring peptides, enzymes, and hyaluronic acid, to unveil a healthy, youthful glow. It's THE clean crème you'll ever need. $235
Mojave Desert Skin Shield
Mojave Desert Skin Shield – Delicately fragrant with chaparral jasmine, rosemary, and rose, the Organic Chaparral Protective Mist feels just like the end of a summer rainfall. Made with indigenous, organic and wild-crafted ingredients, this formula is created to detoxify, nourish, and protect all skin types against harsh elements such as dry air, wind, and sun. $62
Musely
Musely – The Day Cream is a moisturizing mineral sunscreen of SPF 30-50 that keeps the skin hydrated and protected from the sun. Formulated to even out skin tone and smooth the skin's surface. It contains titanium dioxide and zinc oxide, which are proven to reduce redness in vascular melasma & rosacea. $22.
MUTHA™
MUTHA™ – The ultimate protective and nourishing moisturizer that preps the skin to take on the day. Formulated with MUTHALOAD™ Core Technology, a skin-conditioning proprietary skincare system featuring four forms of Hyaluronic Acid and bio-fermented ingredients to hydrate, protect and repair the skin while a powerful anti-stress blend of adaptogenic herbs and extracts help combat harmful environmental stressors and aggressors. The lightweight and silky formula with an aloe juice base absorbs easily and provides maximum hydration. $135
Naturium
Naturium – This sensorial, multi-oil hydrating body wash transforms from a luscious oil to a gentle lather, cleansing without stripping the skin of essential moisture. Formulated with over 50% glycerin, a blend of linoleic-rich oils and plant-derived squalane, this transformative body cleanser is rich in humectants that hydrate and intensely nourish skin. $16
Navinka
Navinka – A clarifying treatment to unmask clear, calm, and even skin with this potent dose of detoxifying elements of magnesium, spirulina and sweet potato extract for purified, extra soft and radiant morning skin. $65
O'o Hawaii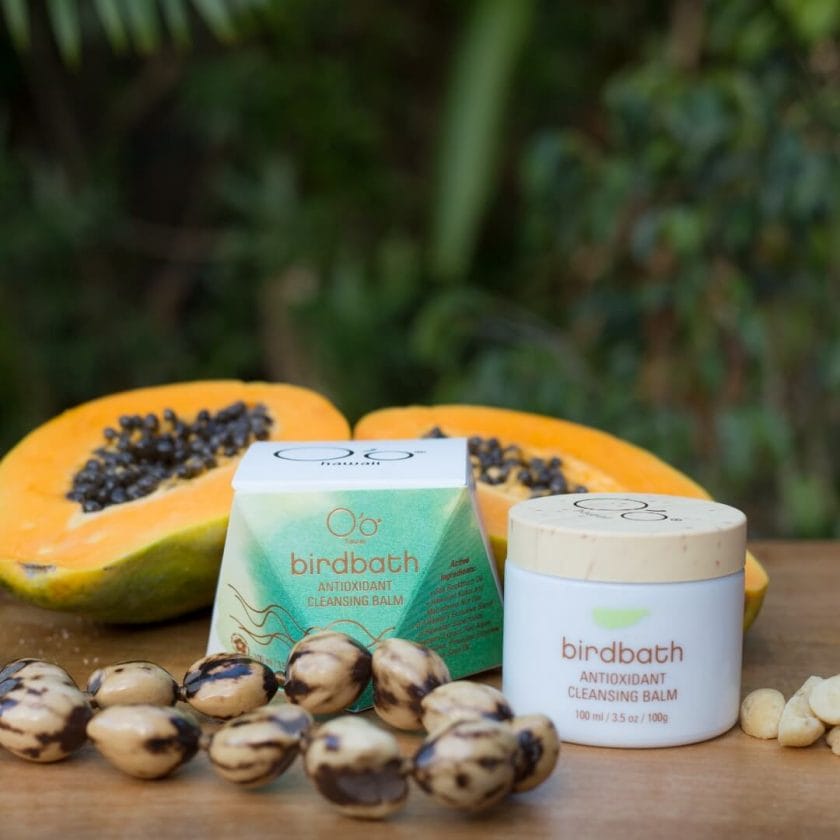 O'o Hawaii – At the root of the Birdbath Antioxidant Cleansing Balm are antioxidants grown in Hawaii's nutrient-rich, volcanic ash soil, exclusive Triple Boosting Complexes™, and real crystals from nature. This five-benefit cleanser offers a gentle solution for clogged pores. It gently wipes away makeup, evens skin tone, promotes circulation, and aims to repair UV damage. The gentle cleanser can also be used as a 2 minute flash mask to help reduce the appearance of fine lines and retain moisture. This balm is paraben and sulfate free, cruelty free, and non-GMO. $48
Object Beauty
Object Beauty – Object Beauty's award winning Rejuvenating shampoo bar is the most lauded bar in the range. It has been formulated for all hair types, and foams into a rich lather to help cleanse and revitalize, with an intoxicating natural scent. The equivalent of up to three bottles of liquid shampoo in one solid bar, it's made from a dynamic blend of ginger and vitamin E with soothing aloe vera, scented with natural essential oils. They're proud to say that the packaging is biodegradable, and totally zero-waste. $25.
OH.SO
OH.SO – The perfect skincare trio to start your day! With No Chemicals, No Cruelty, No Gluten, or GMOs. These Oh.So potent yet uber-gentle mists harnesses the natural power of colloidal silver to banish bacteria and leave your face blemish-free. $57
Onyx + Rose
Onyx + Rose – Bliss Balm has been part of the O+R brand from the very beginning, and for good reason. This soothing and therapeutic balm melts into the skin and provides relief for aches. CBD's anti-inflammatory properties are well known and allow you to bounce back faster. Bliss balm also relieves achy bones and joints resulting from post-workout pain, arthritis, and an excess amount of stress on the body. Consistently applying CBD balm to bones and joints that are experiencing pain may help relieve some discomfort. With Bliss Balm, you'll get an experience that's as wonderful for the senses as it is for the body with this calming balm that combines high-quality CBD with lavender + eucalyptus essential oils. $54.99
OUI The People
OUI The People – Using ingredients typically reserved for the face, OUI the People's SUGARCOAT Shave Gel-to-Milk goes beyond shaving, with ingredients that target skin concerns like hyperpigmentation, bumpy skin (keratosis pilaris), and dehydration. SUGARCOAT has sold out 8X over, moisturizing and protecting skin with Dandelion Root, improving collagen synthesis and reducing hyperpigmentation with Vitamin C, soothing burns and healing wounds/minimizing scars with Aloe Vera, and finished off with intoxicating notes of jasmine, orange blossom, and neroli. $64
Playa
Playa – The Playa Treatment Essentials Set features the brand's best-selling Jumbo Every Day Shampoo, Jumbo Supernatural Conditioner, California Salt Shampoo, Healing Hair Masque and The Brush. $120
PRIORI Skincare
PRIORI Skincare – PRIORI TETRA fx251 SPF 55 is an essential component of a morning skincare routine. It is the ultimate skin shield with four levels of protection. This also protects from free radicals, UV radiation, blue light, heat, pollutants, and other environmental aggressors that we face in everyday life – appropriate for all skin types and tones. $95
Saint Jane
Saint Jane – A complete routine that you can use day or night, these award-winning formulas blended with soothing botanical ingredients will visibly brighten the skin for a next-level glow without irritation. $225
SERUMKIND
SERUMKIND – This energizing serum, packed with Vitamin E and Vitamin C. Contains 2,500 capsules of fermented Shikonin oil and 40,000 ppm of sea buckthorn oil to leave skin feeling refreshed and energized. $49
Sheabrand
Sheabrand – Ideal for delivering CBD directly into your Endocannabinoid System, these comfortable fabric patches are convenient and discreet, utilizing simple time-release technology to give you up to 8 hours of therapeutic effects per day. Made with fabric, not plastic for the ultimate healing and staying power for up to 8 hours a day. $20
Shelby Nicole Skin
Shelby Nicole Skin – A hyaluronic acid serum is the foundation of any good skin care regimen and our serum not only restores and maintains your skin's moisture but also helps fight signs of aging from blue light exposure. This is especially important because, as work from home becomes the new norm, we are in front of screens more than ever. Blue light penetrates deep into our skin's layers, which not only dries out our skin but diminishes our elastin and collagen production leading to premature skin aging. Our non-toxic hyaluronic acid serum is loaded with antioxidants and a unique marine active extract that increases elastin and collagen production while minimizing the damage caused by our computer, phone, and television screens. Just think of it as pressing the undo button on skin damage! $48
Skinfix
Skinfix – Skinfix Barrier+ Triple Lipid-Peptide Cream. Deeply hydrating face cream formulated with a triple lipid complex, active peptides, small particle hyaluronic acid and rich shea butter that is clinically proven to moisturize and enhance radiance for healthy-looking, nourished skin. The perfect moisturize to kick start your morning with to ensure skin is hydrated. $52
Soft Services
Soft Services – There's nothing better than smooth, silky skin for Valentine's Day. This Smoothing Set from Soft Services features the best of the best physical exfoliant, chemical exfoliant, and daily maintenance lotion for radiant skin. $102
SolaWave
SolaWave – The Red Light Therapy Wand is SolaWave's hero device. They introduced it to market when the brand launched in 2020 and the demand for at-home skincare solutions was at an all-time high. The beautifully designed, compact tool is is actually 4 devices masquerading as 1, it combines Red Light LED Treatment, microcurrents, and warming massage. $149
SUNNIE
SUNNIE – A powerful eye brightener and product for all around results, this clinically proven combination of ingredients reduces the appearance of dark circles, puffiness and wrinkles around the eye area. Powerful peptides and vitamins promote collagen growth, strengthen capillaries and stimulate circulation, resulting in a brighter, rejuvenated and refreshed look to start your morning bright-eyed. $185.
Supernal
Supernal – The Cosmic Glow Oil from Supernal is a super silky and easily absorbed facial-oil blend rich in Vitamin C and Omegas 3, 6, and 9 for luminosity and glow. Reach for Cosmic Glow to seal in moisture and nourish skin with an aromatherapeutic experience. In celebration of Supernal's 3rd birthday (and Lunar New Year), on 2/8 the brand will be offering a mini Cosmic Glow Oil and Illumine Restorative Oil Serum with all purchases on Supernal.co. $108
Sweet Chef Skincare
Sweet Chef Skincare – Start the morning with a dose of Vitamin C. This lightweight serum is packed with antioxidant-rich ginger and potent Vitamin C for a naturally hydrated radiant complexion. Ginger helps to neutralize environmental aggressors and revive dull skin, while Vitamin C helps even skin tone and brighten for a radiant complexion. $19.99
Tatcha
Tatcha – This light serum instantly offers visibly firmer skin, reducing under eye puffiness and plumping the skin with Okinawa Red Algae, Caffeine and 23K Gold. $88
twenty/twenty beauty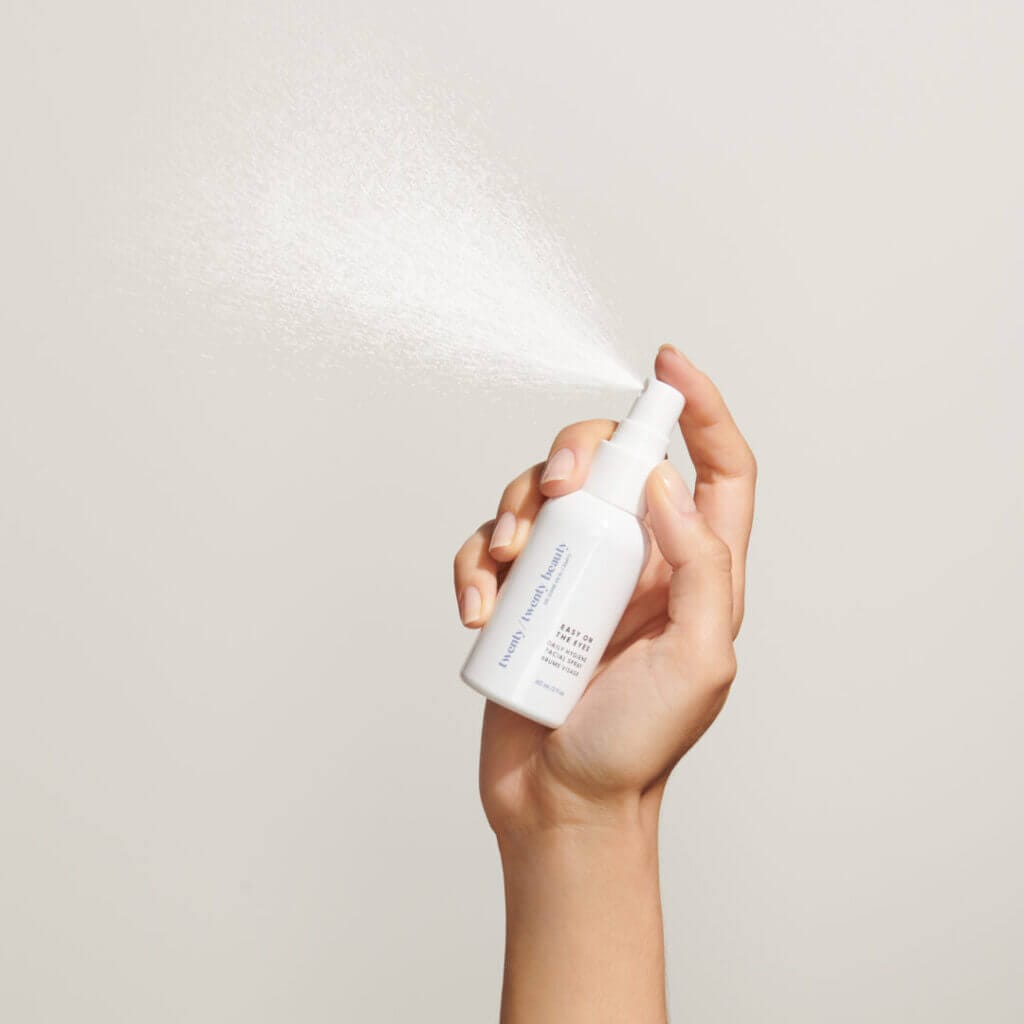 twenty/twenty beauty – Easy On The Eyes is a natural, safe and soothing spray created by an ophthalmologist that uses hypochlorous acid to clean lashes and lids. In addition to eyes, spray this fine mist on your face twice daily to fight acne-causing bacteria, reduce redness, repair skin damage and calm inflammation. $42
Vitabrid C12
Vitabrid C12 – This nourishing facial treatment essence quenches thirsty skin to help replenish moisture and refine skin texture, while leaving skin feeling silky-soft and perfectly prepped for the rest of the regimen. It is infused with a blend of nutrient-rich ingredients, a proprietary Peptibrid, line-smoothing Peptide Complex and three layers of moisture-binding Hyaluronic Acid Complex to deliver deep hydration to keep skin balanced and enhance the skin's natural moisture retention, unveiling revitalized complexion. $28
Winky Lux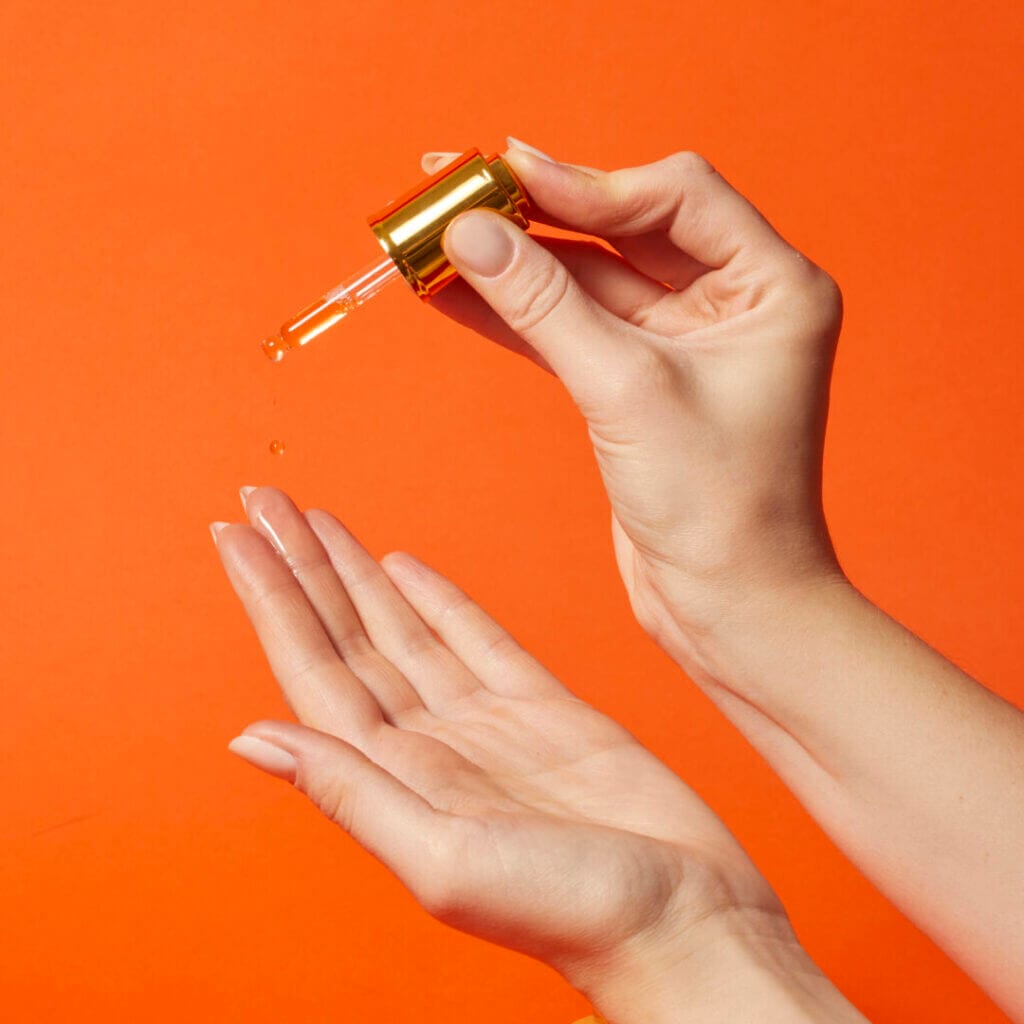 Winky Lux – Start your mornings with a drop of Winky Lux Orange You Bright Serum, packed with a powerhouse trio of vitamin C that brightens, tightens and smooths skin for a vibrant and even-looking complexion. The infusion of jeju guava extract, a tropical fruit extract harvested from Jeju Island in South Korea, is rich in antioxidants that provide anti-aging benefits and help to protect skin from environmental aggressors—leaving you with protected skin and youthful-looking results with each drop. $24
WINNØW
WINNØW – WINNØW combines CBD with Hyaluronic and Amino Acids, Niacinamide and shea butter which are activated at the moment you warm the product between your palms. As you press the cream into your skin, it instantly absorbs giving a satin-soft look, calming redness and minimizing fine lines, as if you just left your facialist. The secret is in the CBD. WINNØW contains broad spectrum CBD, organically grown in Colorado. WINNØW's broad spectrum CBD has 0% THC and contains beneficial compounds and cannabinoids including cannabichromene (CBC), cannabinol, and terpenes. $85.