Men's fashion is ever-changing and ever-evolving. Luxury menswear houses are all adopting trends related to men breaking traditional norms and breaking gender boundaries. This is even evident in seasonal collections. What may have used to have been referred to as a fall/winter or a spring/summer piece, can now be considered interchangeable as long as worn properly.
Over the past few years and collections, in my expert opinion, I have noticed a large number of menswear collections featuring a variety of tops without sleeves. Ranging from tank tops, jackets, vests, and most notably sweater vests. I have seen them in both FW collections as layering pieces and in SS collections as standout pieces on their own.
During this summer window, we are currently in, a sleeveless top is a perfect buy as it can still be used for the rest of this warm weather as well as staying within your wardrobe once September and October roll around for your fall wardrobe. There is a sleeveless top option for all men this summer. Whether you are a fashion-forward king looking at some of the standout bright sweater vests from brands such as JACQUEMUS or The Elder Statesman or maybe you are looking for some affordable variety to your wardrobe from brands such as State Cashmere or Saturdays NYC.
Below you will find some of the best sleeveless tops for men, no matter the occasion, season, or style.
Abercrombie & Fitch
Abercrombie & Fitch – Easy-fitting sweater vest in a super soft yarn fabric and oversized-fit silhouette, featuring on-trend button-through detail, ribbed hem and textural stitching details throughout. Imported. $55
Alexander McQueen
Alexander McQueen – A V-neck tank top in black wool with tonal lace detailing. $1,290.
Alexander McQueen
Alexander McQueen – A sleeveless tailored jacket with an asymmetric drape in black wool gabardine. $3,390.
Anatomie
Anatomie – Fusing elevated performance wear, this stylish men's vest features a classic relaxed fit design with a slightly extended length for an elevated feel. A high collared neckline is accented by a comfortable hood that's ideal for slipping on with any type of weather. A sturdy zip-front closure completes the look for a true wear-anywhere aesthetic. Crafted using Anatomie's signature wrinkle-free and weather resistant fabrics with super stretch side panels, this bold men's vest is the perfect companion for any upcoming adventure, whether local or abroad. $178.
Barbour
Barbour – A warm yet stylish layer, the Barbour Kyle Knitted Gilet features a diamond quilt design to the front of the garment and two lower welt entry pockets. With tartan trim to the inner, this gilet offers a front zip fastening for styling versatility and is finished with a Barbour side flag to the left seam. $180
Bode
Bode – Sleeveless crochet knit cotton tank top in blue, yellow, and white. $387.
The Elder Statesman
The Elder Statesman – Our favorite oversized unisex vest. 100% cashmere. $975
JACQUEMUS
JACQUEMUS – Fluffy striped pullover vest. $190
Jil Sander
Jil Sander – Long-sleeved mohair vest. $1,080
Lâcher Prise Apparel
Lâcher Prise Apparel – Lâcher Prise Apparel's Echape Top in Olive Green is a men's staple for spring since it's lightweight and sleeveless. This modern take on the traditional hoodie silhouette can be worn day to night since it's super breathable but comes with a hood to keep you warm for when the sun sets. $105
Louis Vuitton
Cut in a slim fit, this piece showcases the long belt with embroidered eyelets on display
this season. Crafted from woolen tailoring fabric, it is signed with a tonal hook pin detail. It
is lined in tonal plain silk, and incorporates hidden tonal metallic buttons and a tonal
Chainette. $2,080
Marni
Marni – Sleeveless V-neck sweater. Check jacquard on the front, stocking stitch back. Regular fit. Made in Italy. $570
NMB New York
NMB New York – This unisex denim vest is ideal for men who aren't afraid to be adventurous when it comes to fashion. It was made from hand selected upcycled t-shirts, individually sourced, to combine a fashionable look while being as sustainable as possible. $475
Saturdays NYC
Saturdays New York City – The basic you'll be wearing all summer, in breathable 100% cotton. $55
SHALAJ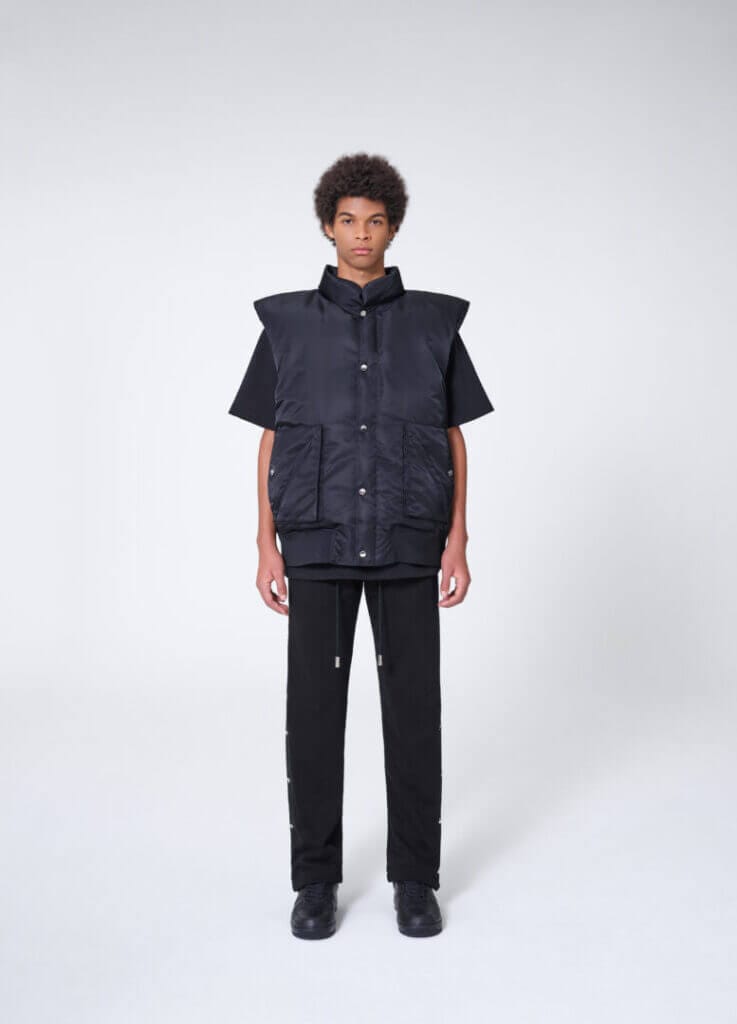 SHALAJ – This nylon padded vest is the ideal men's outerwear piece for the season. The vest can be dressed up with a long sleeve shirt, slacks, and dress shoes for an upscale occasion, or dressed down with denim and sneakers for everyday wear. The fabric also makes it comfortable and transitional from day to night, as well as seasonless from spring to winter, fall and more! $890
State Cashmere
State Cashmere – Could this be any cozier? State Cashmere's V-Neck Basic Vest Sweater gives a modern twist on a 90s classic. Made with 100% Inner Mongolian Cashmere, the sustainable cashmere brand add a special little something to your everyday golf wardrobe. $105