At His Latest NYC Restaurant, Emanuele Nigro Revives Italian Cuisine By Blending His Culinary Roots With Striking Modern Flair: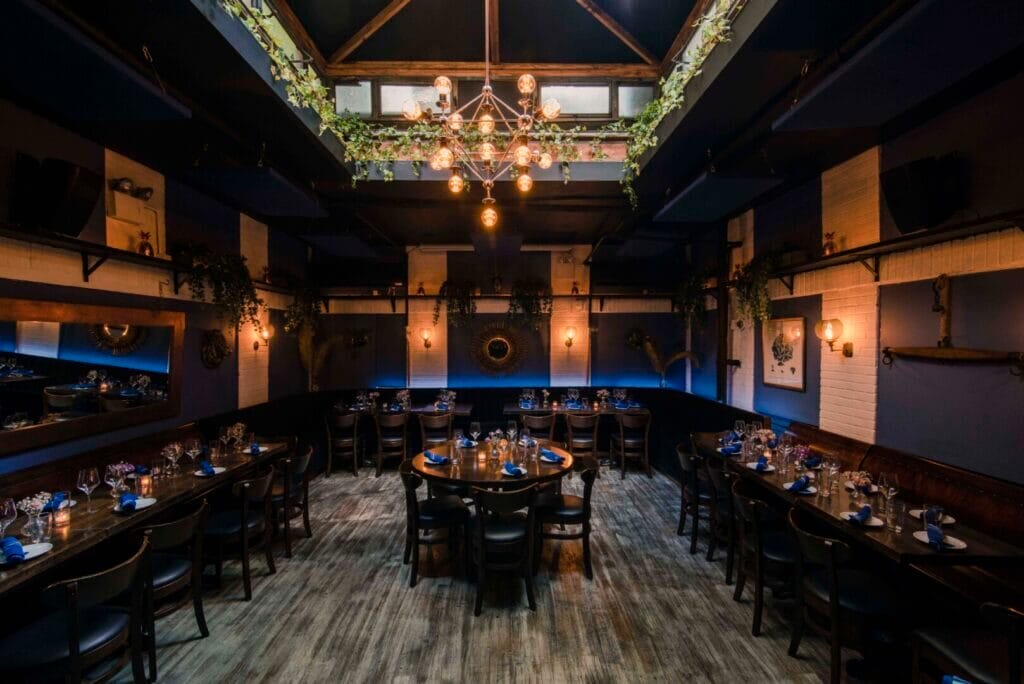 Recently, thanks to an increased population of Italians moving to NY, a handful of new restaurants are sure to impress. For an authentic Italian experience, ALICE Italian Restaurant, located in NYC's West Village, is where fresh ingredients, supporting local geo farmers, and high quality are a top priority.
The appetite has never been so manageable with a super-creative cocktail list and a full menu of customizable pasta and seafood dishes. The selective meatless menu boasts handcrafted pasta, made fresh daily, woven into the restaurant's identity. ALICE rates the best with fresh fish from Montauk, NY. The lobster dishes are some of the best I have ever had. This is Italian Cuisine that respects heritage while evolving into the future.
Frito Misto: Long Island Calamari, Rock Shrimp, Whiting, and Delicata Squash Tempura
ALICE'S Italian restaurant and Bar brings charm and energy to the West Village dining scene with fun music and a friendly dining area. The location includes a front, bar, and back dining room – unique to their space. The back dining room is picturesque and filled with a vibrant atmosphere. The atmosphere is warm and pleasant.
And a wine list will set the tone with an explosion of flavor. While dining there, I asked the waiter many questions about the perfect wine pairing to go with my entree. To my delight, there were over 50 wines on the wine list. The restaurant atmosphere works well for client meetings, date nights, and family get-togethers –the whole gamut.
"Perfect Darkness" Thyme infused gin, cassis, lemon, and blackberry.
This restaurant maintains a new approach to Italian dining and strives to bring a well-spirited atmosphere that aims to please. The appetizers and salads were some of the best I've ever had. The portions are generous, especially when ordering the fried calamari and fresh oysters.
When it came to the entrees, I could not help but notice how fresh everything tasted—especially the fish purchased daily. And the toppings and sauces are available in an assortment of unique combinations that are sure to impress.
In the heart of NY's West Village, ALICE has provided flavorful Italian fare since 2020. Founder Emanuele Nigro opened Alice amid the pandemic as a piece de resistance and shared the classic dishes from his homeland with savvy New Yorkers and visitors worldwide. Although the restaurant is quaint and reminiscent of Italy, the owner's passion makes Alice perfect for date night, as there is undoubtedly a romantic vibe and nightlife pace.
Gran Crudo Imperiale: Maine Lobster Tail, Scottish Langoustine, Jumbo Shrimp, One Dozen Oysters, Three Daily Fish Market Picks
The ordering is so much fun. No matter what, you're in the mood for creative cocktail selections such as the Cantarito, Spirit Bird, or what could be the best-ever Espresso Martini, which surefire-fire way to ignite the energy for the evening. The menu is entirely in step with the ambiance. Succulent dish ideas are just a hint at the first-rate service selection offerings. Al dente perfect pasta's light air, accompanied by sauces, pungent cheeses, fresh herbs, tomatoes, cream, and mushrooms. Just-caught seafood, especially the branzino, benefits from the chef's skill set in various incarnations and is satisfying. The desserts follow suit: There's a great selection from Tiramisu and Torta Di Mele to the must-have Cremoso Gianduia.
The Bar at ALICE
At times described as a seafood and lobster bar, Alice has blossomed into something a bit beyond this otherwise apt description. In line with Osteria 57's ethos of clean, organic food and a menu without meat except for select fish and the occasional egg, Alice is a multifaceted Italian restaurant, all-age NYC restaurant, and lounge.
I recently had the privilege of speaking with Founder Emanuele Nigro about the inspiration to open Alice, how the restaurant's meat-free menu and upcycled decor create a unique atmosphere and why he believes Alice can influence other restaurants to reassess how they source their food!
Emanuele Nigro – Founder at Alice
Joseph DeAcetis: In your words, talk to Nobleman's viewers about how you launched Alice.
Emanuele Nigro: We opened Alice in the heart of the pandemic when we felt like we'd lost a sense of community and togetherness. Opening Alice was our attempt to bring that back.
JD: Talk to Nobleman about your inspiration to open Alice.
EM: Inspired by the friendships and partnerships formed between all of us. Having so many talents come together under the same star was highly motivating and inspiring.
Waél Deek – Creative Director, Chief Designer, Bar Manager
JD: The restaurant industry is very competitive; what do you think makes Alice stand out from other restaurants?
EM: Alice has a unique, meat-free menu but abundant seafood. We source our food and produce, unlike so many other restaurants whose food gets delivered in trucks; we are going out and hand-picking produce and seafood from local farmers' markets and fish markets. We also have a unique interior that was furnished and decorated with almost entirely upcycled and vintage items by our creative director Waél Deek.
Branzino Al Sale: Sicilian Salt Crusted Canary Island Branzino.
JD: Speak to my readers about your top 3 menu items at Alice and why?
The branzino is one of our favorites. It's sustainably farmed in the Atlantic Ocean to avoid overfishing and guarantee quality. We bake it in a salt crust that preserves the flavor and moisture of the fish. The linguine vongole is always a hit.
"Squid Ink Bucatini" With Long Island calamari, zucchini, and heirloom tomatoes
JD: Sell my viewers one of your most prized menu selections from start to finish.
EM: For those obsessed with seafood and who feel extra indulgent, I recommend the Gran Crudo Imperiale. It includes Maine lobster tail, Alaskan king crab, Scottish langoustine, jumbo shrimp, a dozen oysters, and California sea urchins. Caviar is an extravagant display of the finest hand-picked seafood we offer.
Riccardo Orfino – Partner and Exec Chef. Chief Designer, Bar Manager
JD: Is Alice a leader or a follower? Explain.
EM: We genuinely believe Alice to be a leader, and that is our hope. We want to influence other restaurants to reassess how they source their food and from where. Now more than ever is the time to be environmentally conscious and aware of every action we take, and businesses like ours should be the ones to set a precedent.
"Viva Amor" Vodka, pomegranate molasses, lime, agave, orange blossom
JD: In the digital era, delivering excellent customer service is crucial. How would you describe your customer service skills?
EM: We pride ourselves on providing excellent customer service. Alice is a welcoming, laid-back environment and our warm and friendly staff reflects that. We want all our customers to feel like family when they dine at Alice.
JD: What is your favorite part of creating and working at ALICE restaurant?
EM: Working with our stellar team to develop everything from the concept and atmosphere of Alice to the food and cocktail menus was a fantastic experience. And seeing all those elements come to life in one space and seeing how much people enjoy the Alice experience has been infinitely rewarding.