New Groove:
Established luxury brands, emerging technical players alike are developing products to keep up with the trends to reach and resonate with modern consumers in 2023. Today, brand DNA manifests itself in the unexpected details: from the raw materials to sustainable packaging.
An urban and dynamic approach guides the new men's grooming products which are fully expressed in the product offerings available this fall. Designed to keep up with modern consumers needs, these hybrid products combine an understated approach to highly saturated marketplace.
This fall-winter 2023 season, men's grooming cultivates the attention to gently cleanse, while hydrating and softening to achieve smooth skin. Distinguished brands maintain an active approach while evolving into a high-performance version of their product offerings.
There is a playful take on the fusion between hair and skin by embracing a relaxed sensibility elevated through advancements in technology. Cementing the sentiment, men's grooming transforms into a fresh combination of process and ingredients that makes it incredibly moisturizing. With the change of seasons upon us, new grooming products will be sure to keep your skin feeling moisturized all day long!
Pisterzi:
Following the proper skincare routine, this Fall is essential to keep that glow and radiant skin tone achieved during the Summer. Pisterzi Italian Grooming Art offers you a way thanks to its high-end line of products, entirely formulated in Italy, with multifunctional characteristics that make it versatile and innovative in formulations and performance.
Before hydration, cleansing, and exfoliation are fundamental gestures to keep the skin bright and healthy. Pisterzi Italian Grooming Art "Perfect Skin Energy Booster Set" is highly recommended to cleanse, hydrate and preserve the skin. It includes our Daily Cleanser and Sculpting Shaving, a cleansing gel for daily use that cleanses deeply and purifies the skin; the Free Zone Mask and Scrub, which helps to eliminate dead cells for a smoother complexion; and the Solid Serum, an intensive daily moisturizer which preserves skin hydration, maintaining skin tone and enhancing radiance.
Baxter of California:
 Baxter of California Aluminum-Free Deodorant and a Revitalizing Exfoliating Body Wash!
The Revitalizing Exfoliating Body Wash has a rich, lathering formula that is great for everyday use Infused with ingredients such as pumice and jojoba meal to help exfoliate and maintain the skin's moisture. Has a subtle scent inspired by the iconic Exfoliating Body Bar. The Aluminum-Free Deodorant will keep its clear, solid, consistent formula, but it will now be available in three scents!  Inspired by other Baxter of California products, this deodorant will be available in Italian Lime and Pomegranate Essence, Cedarwood and Oakmoss Essence and the original Citrus and Herbal Musk Essence. It has ingredients such as Tea Tree and Witch Hazel to aid in detoxifying and conditioning the skin. You can shop these products at baxterofca.com.
Facegym:
Facegym's Active Collagen Wonder Cleansing Balm is brimming with advanced biotech vegan collagen and stem cells, the Wonder Balm Cleanser is a sumptuous oil-based balm with a buttery-soft texture to cleanse and rejuvenate the skin in preparation for the rest of the skincare routine. $55.00
Infused with FaceGym's biotech vegan collagen, potent ylang-ylang stem cells and a deeply nourishing combination of antioxidant ingredients including buriti oil, the advanced cleansing balm formula leaves skin feeling restored, recharged and looking radiant. Achieved through fourteen years of science, our signature vegan collagen is vital for keeping the skin looking bouncy and youthful by promoting cell growth and delivering anti-ageing and wrinkle-reducing benefits.
Augustinus Bader:
PRICE ($55) The Body Cleanser, which is the latest expansion to the award-winning Augustinus Bader body collection, is a replenishing lightweight gel body wash that transforms into a luxurious, rich lather to gently cleanse, while hydrating and softening for silky smooth skin. It is powered by Augustinus Bader's signature skin-cell renewing ingredient TFC8®, Trigger Factor Complex, along with powerful renewing ingredients including Ceramides and Coconut Oil to hydrate and soften for silky smooth skin and a refreshing Eucalyptus scent to revitalize and relax.
Cremo:
Cremo Tortoise Shell Barber Grade Razor
 Now available in Tortoise Shell! The Cremo Barber Grade Razor is designed to the highest standards – ours. Each cartridge features five durable blades, three layers of comfort coating, a coated guard bar and lubricating pools of Cremo's famous impossibly slick Shave Cream formula. Available for $17.99 at Walmart, Amazon, CremoCompany.com
ATTITUDE:
ATTITUDE Super Leaves Hand Soap – Patchouli & Black Pepper: Infused with an aromatic blend of essential oils, our Hand Soap is made with more than 98.8% naturally sourced ingredients that cleanse and soothe the hands. Perfect to create an at-home spa sensory experience! ($14.95)
This ATTITUDE Super Leaves Hand Soap is enriched with patchouli and black pepper essential oils known for their sensual aromas that provide a confidence boost every time you need it. Formulated with red vine leaf extract that enhances skin firmness and pomegranate extract to restore the suppleness and appearance of dry skin. Complex top notes of uplifting black pepper, blend into a warm and spicy heart of coriander, supported by an earthy, sweet base of patchouli, making it the perfect hand soap for Fall.
Humble Brands:
Bar Soap – Patchouli & Copal Our luxurious handcrafted, cold-process bars are made traditionally by saponifying plant-based whole oils. All the ingredients are organic, vegan, and non-GMO, making Humble Brands bar soap gentle enough for sensitive skin and perfect for the entire family. Forget the overpowering patchouli of the past. Warming, sweet copal balances the rich, musky patchouli in this soothing blend. It's woody, balsamic, subtle, and calming.
Our cold-processed bar soap is handcrafted slowly, using traditional soap-making methods with coconut oil, fair trade shea butter, glycerin and olive oil. This combination of process and ingredients makes it incredibly moisturizing. With the change of seasons upon us, Humble Brands' bar soap will be sure to keep your skin feeling moisturized all fall long! Why not start the season off with a new body soap that is sure to leave your skin feeling gently nourished and loved?
Humble Brands:
Original Formula Deodorant – Palo Santo & Frankincense Long Lasting Aluminum-free Deodorant ($10.99). Just 4 simple ingredients, plus botanically based fragrances. Formulated to absorb & neutralize body odors. Keeps you feeling fresh About the scent: Sweet & woodsy with a hint of soft spice. This signature scent comes from a tree native to the coast of South America and is related to Frankincense and Myrrh. It has been used for everything from important shamanic rituals to simply perfuming the homes of natives in Ecuador. Our customers have told us it elevates their mood and their lives! What better way to achieve great fall style then smelling, looking, and feeling good with this long-lasting scent.
SoapStandle: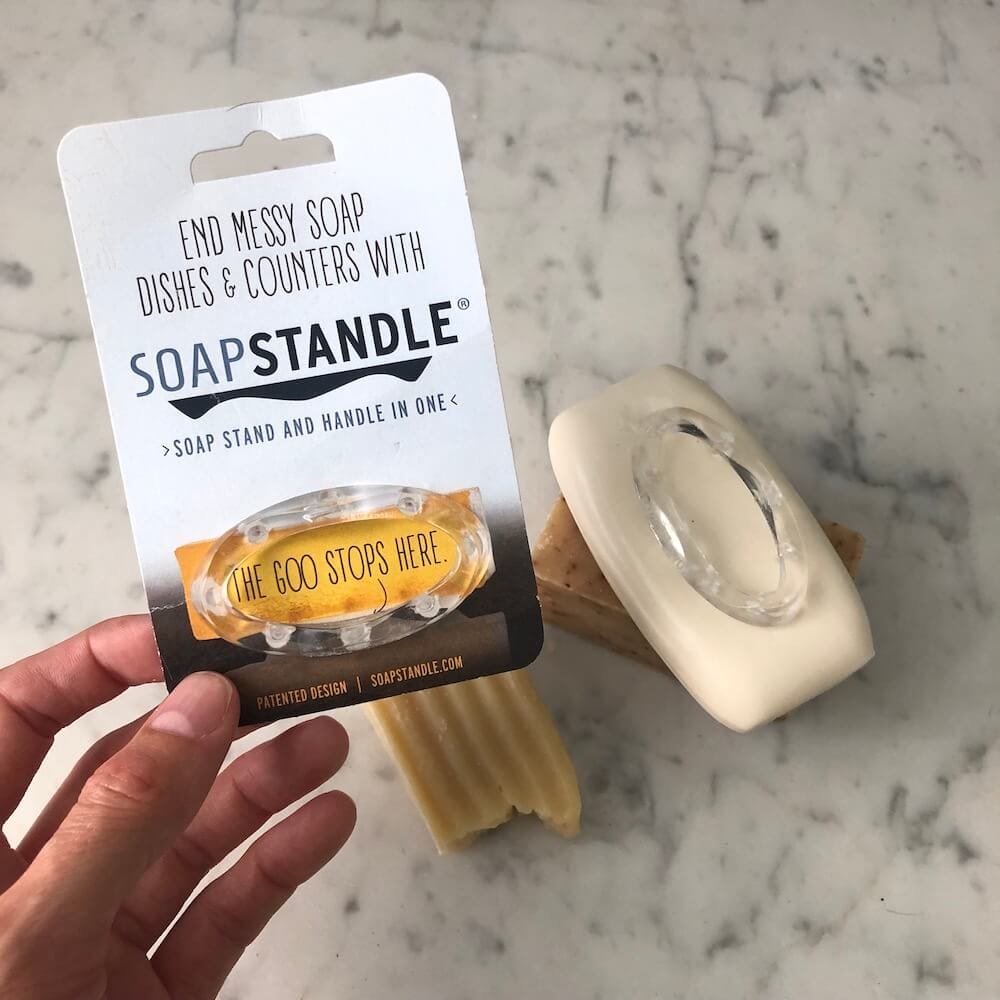 SoapStandle is the essential tool for those aiming to upgrade their bathroom this fall, creating a minimal and understated look that is equally functional by keeping countertops and showers free of the soap goo mess.
Face Reality Skincare:
Ultra Gentle Cleanser, Hydrabalance, Daily SPF 30
Healthy skin never goes out of style! The Ultra Gentle Cleanser, Hydrabalance, and Daily SPF30 Lotion are key components of a well rounded skincare routine. Hydrabalance soothes and moisturizes skin and can easily be worn under the Daily SPF30 Lotion which protects the skin from harsh UV rays. Then use the Ultra Gentle Cleanser to wash off the day and nourish skin.
Face Reality Skincare:
Face Reality's Skincare Hydrabalance ($28) is a water-based hydrating gel that contains antioxidant properties and can help reduce the appearance of oily shine. The Daily SPF30 Lotion ($32) is a lightweight sunscreen that provides UVA & UVB protection and antioxidant support.
Cremo:
Cremo Italian Bergamot Body Wash: Rich, moisturizing body wash that's designed with notes of Italian Bergamot, Neroli Blossom, and Fresh Vetiver. It's a layered and complex scent that evolves as you lather up with its deep-cleaning formula. You're guaranteed to leave the shower feeling thoroughly refreshed and smelling uncommon, without that sticky waxy feeling.
Balances cleansing and moisturizing without leaving a residue
Incorporates an elevated, layered scent that evolves as you shower
Available for $10.99 at Target, CremoCompany.com