As the global fashion industry adapts to social, economic and technological changes, marketing insight, analysis and production is what luxury brands will need to navigate what lies ahead for the industry.
With new items and fresh content (created and curated specifically for the global consumer market), Louis Vuitton unveils an exclusive capsule collection designed specially for the FIFA World CupTM that captures the excitement of football in sophisticated shapes and finely crafted details. The global consumer has helped luxury brands power through, thanks in large part to the FIFA World CupTM that is considered one of the most prestigious trophies at the World Cup. The Maison and FIFA have worked together since in 2010, when Louis Vuitton provided the travel trunk for the FIFA World Cup Trophy — one of today's most sought-after, legendary trophies.
For the first FIFA World Cup in Qatar, Louis Vuitton joins together with FIFA again in this year's winter edition to produce a second officially licensed leather goods collection. Since 2010, Louis Vuitton has provided the travel trunk for one of the world's most sought-after, trophies: the FIFA World Cup Trophy. Since then, Louis Vuitton's relationship with the FIFA World CupTM accelerated by unveiling a new leather goods collection launched for the 2018 edition of the globally anticipated sporting tournament.
Luxury companies are doing everything they can to make the most of the global-led boom. They're holding meetings and events in markets in most major cities across the globe. with an emphasis on the coming months that will put these strategies to the test.
On the occasion of this twenty-second edition, five collectible pieces in black Taurillon leather channel the game's energy by revisiting one of Maison's most emblematic signatures, the Damier motif, embossed to recall the movement of the net as a goal is scored. Timeless icons like the Keepall 50 and City Keepall bags, as well as the Discovery backpack, return as ideal travel companions, offering ample central compartments, practical inner pockets that keep essentials to hand, and adjustable straps accented with black metallic hardware (on Keepall styles, shoulder straps also are removable). Finishing touches include a leather tag shaped like a soccer league badge, with "Louis Vuitton" stamped in white and a tone-on-tone LV signature set amid the mesh. The generous Keepall 50 also features five protective bottom studs shaped like football cleats.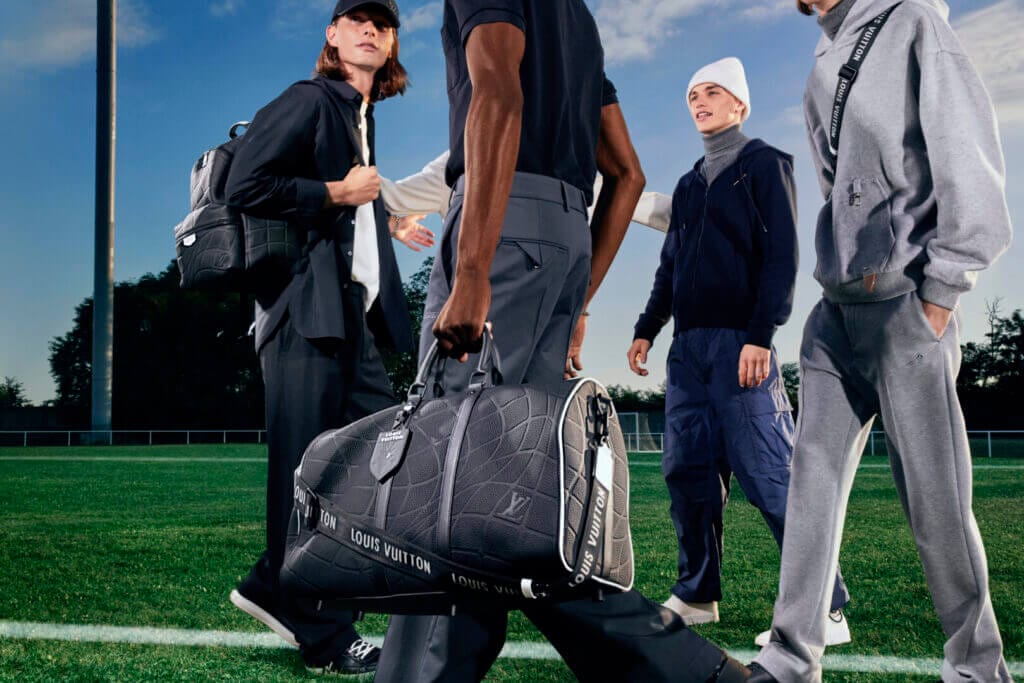 Louis Vuitton in particular has made no secret that it is all-in on the FIFA World CupTM with plans for its brand. The location alone is sure to see a big initial rush of business from customers, particularly when they're in cities that rate high on the world stage -especially for a hallmark event.
But the entry level customers are flocking to stores interested in small leather goods which include a dopp kit with contrasting piping and an adjustable leather handle, alongside a handy pocket organiser with five inner pockets, an outer pocket, and contrasting edges and LV logo. The Louis Vuitton FIFA World Cup 2022TM Official Licensed Product Collection will be available in selected Louis Vuitton stores and on louisvuitton.com from October 6th, 2022.
Since 1854, Louis Vuitton has brought unique designs to the world, combining innovation with style always aiming for the finest quality and preserving biodiversity. Today, the House remains faithful to the spirit of its founder, Louis Vuitton, who invented a genuine "Art of Travel" through luggage, bags and accessories which were as creative as they were elegant and practical.
www.louisvuitton.com