The 1920s was a critical decade in poetry. It was a time when modernism was on trend, with a handful of poets taking an increasingly experimental approach to form, rhyme, imagery, and subject matter. Ezra Pound and William Carlos Williams are just two fine examples of modernist poetry at that time. William Carlos Williams, who wrote the poem 'The Red Wheelbarrow' in 1923, is considered one of the most famous examples of American imagism- by reflects on something as simple as a red wheelbarrow and white chickens that convey the message to readers that farming and agriculture are central to the maintaining of life as we know it. All things matter.
In 1922, the American-born T. S. Eliot – who had settled in London in 1914, produced The Waste Land. A poem that presents us with the modern world of 1920s London. In short, the verse shows us how civilization has been reduced to a 'waste land' – a land that has lost its purpose of bringing forth life. And how regaining spiritual and psychological enlightenment will help mankind to move seamlessly into the modern world.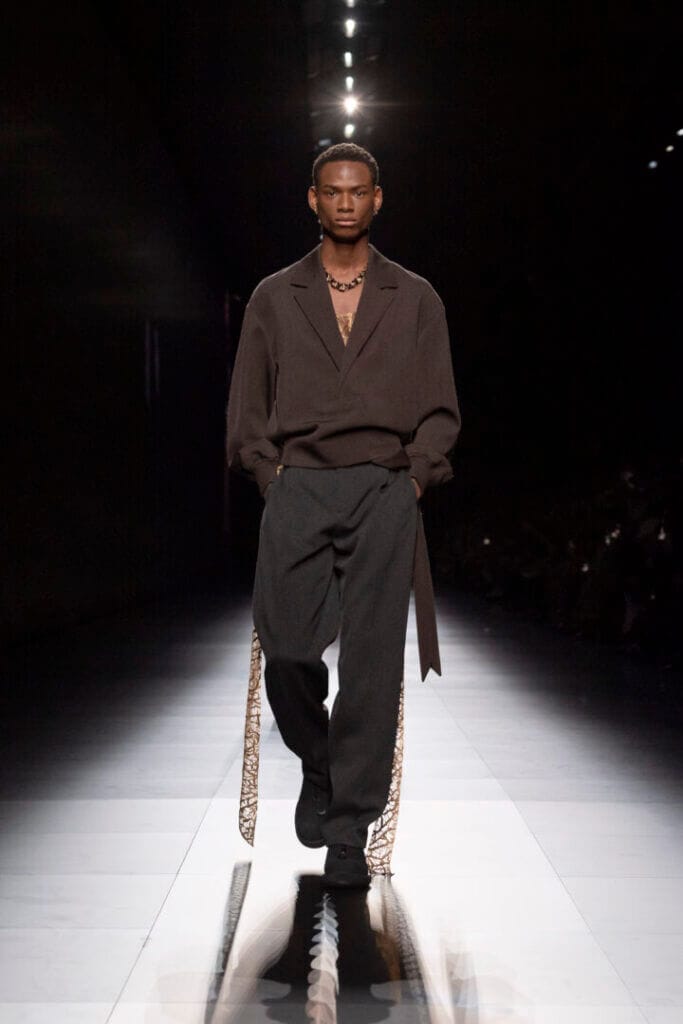 Kim Jones, a collector of rare books, brought in Robert Pattinson and Gwendoline Christie to recite The Waste Land, T.S. Eliot's melancholic poem written in the aftermath of World War 1. This work is considered by many to be a pivotal point in the time of romantic modernism a century ago. The models paraded down the runway as Pattinson and Christie read the poem (viewable by large screen monitors).
The message conveyed to the audience was to rethink what had been taught. It is a strong indicator that the old way of thinking has passed. It is a time for new thought. The collection could be considered a mediator between history and the future.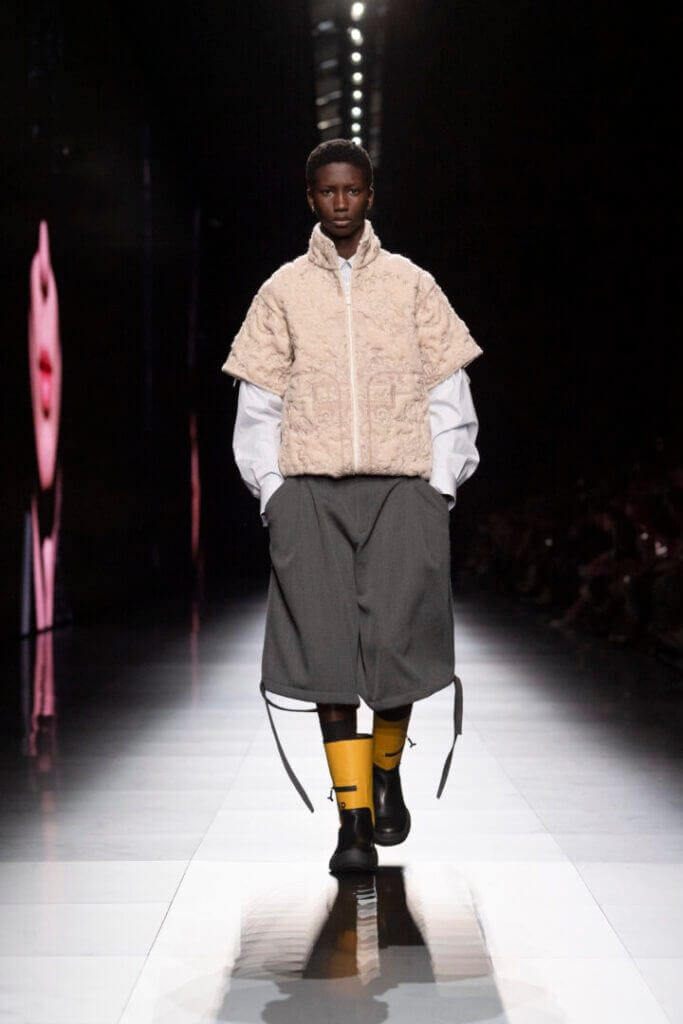 The menswear collection reinforced these words through design, texture, and form. There were washed-out neutral colors, a looseness and fluidity, and layerings, including trails streaming from the backs of trousers (a trend that's been presented in several shows). Jackets and sweaters embroidered with tiny chains of abstracted lily of the valley, a favorite of Christian Dior himself -harkening back to archival knowledge of the French brand.
Interestingly, there were conceptual life jackets with tonally matched buoyancy pads, riffs on seafarer's Aran knits, voluminous A-line storm coats, takes on yellow seafaring oilskin raincoats, and sou'westers – all made to fit modern standards of 2023.
In 1958, Saint Laurent worked at DIOR, and Jones referenced the reflections of the dynamism of Yves Saint Laurent, the youngest couturier in history – having taken the helm at DIOR at the age of 21.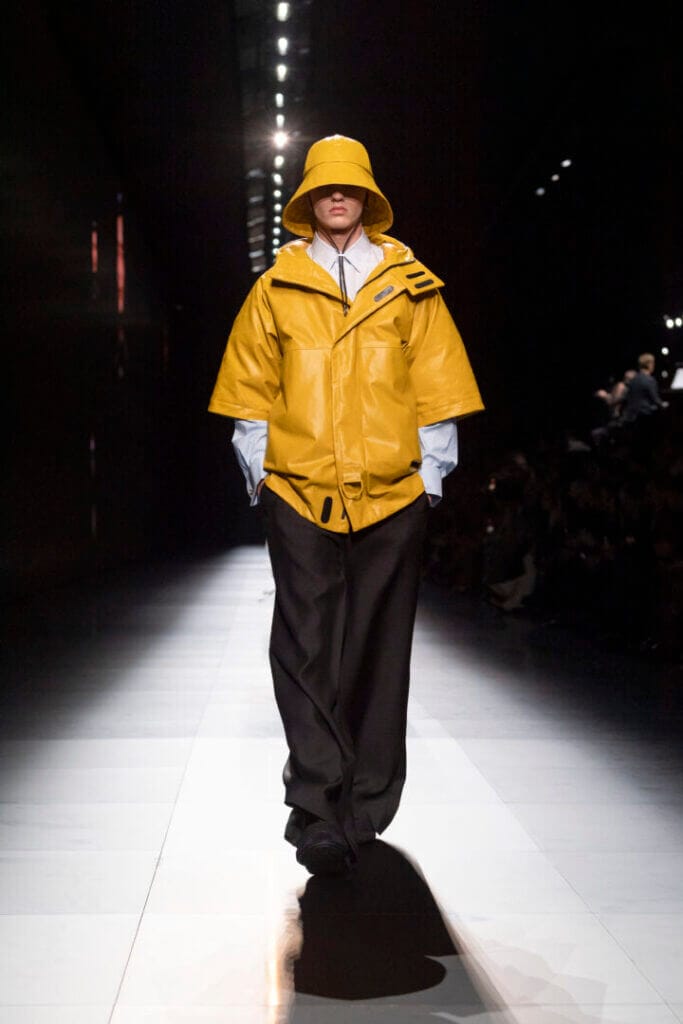 These complex styles included a gray over-the-head wool tunic he made, itself a revolutionary reference to fisherman's traditional workwear, but transgressively (for the time) upgraded to haute couture and well as Yves's penchant for animal prints visible in the faux leopard lining visible in an open-vented trench coat, and how he created volumes with vents in his raincoats, but never appearing complex.
Upon translating the references, it was apparent that social media influencers would soon jump at the change to decipher the message being told through style. Jones set the mark for distinctively tailored suits with afresh pulse- the minimal, lapel-less single-breasted jacket over flowing trousers. It has both a romantic sensitivity and a hybrid elegance about it.
And as time moves on and shock value is a thing of the past, there was a slight take on new gender fluidity about applying Christian Dior's women's templates to menswear. Jones's influence on skirts and shorts is so vast that they look like skirts—in this show, they now pass as usual.