A New Era of Fashion-Carmaker Collaborations: 
When we think of fashion collaborations, we typically think of partnerships with fashion and related industries. Today, however, a collaboration requires creating a narrative that explains why it makes sense in the first place. Fashion-carmaker collaborations are popular with consumers because the colorful, stylish, and matching one-of-a-kind art cars designed for the launch reflected a brand's reputation for daring collaborations that take fashion into new arenas across sport and lifestyle.
The Sprayground x Porsche intermix joins a long list of recent streetwear-influenced collaborations between carmakers and fashion labels. Sprayground, an increasingly frequent fashion collaborator, has opened up to a robust automotive marketplace. More to my point, the motorsports industry is looking to align itself with fashion. Even racing competition Formula 1 has used streetwear collaborations to transition from the former perception by marketing itself to a young and curious Gen-Z audience.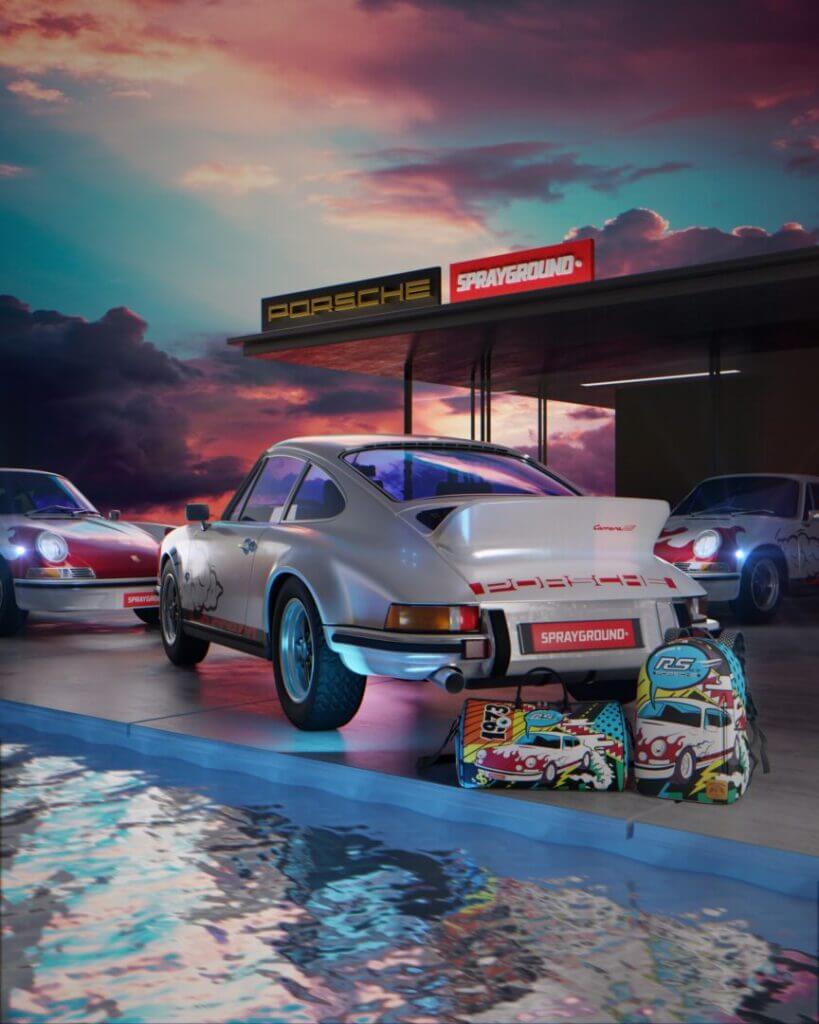 The brand was founded in 2010 by DAVID BENDAVID by bringing edge, art, music, and functional style into travel and fashion. Since The brand has become a symbol of youth rebellion, an elevated streetwear style, and a vehicle for
creative self-expression. Collaborations with some of the world's most recognized and
beloved brands and personalities, such as Disney, Marvel, Nickelodeon, NBA, Formula 1,
Saweetie, Soulja Boy, Cazzu, Rich The Kid, Spike Lee, and Odell Beckham Jr, to name a
few. Sprayground's vibrant designs are admired and sold globally in over 30 countries and
have become a collectible item, with fans collecting around 100 bags. The brand has since
evolved into luggage, outerwear, and footwear for fans to enjoy.
By teaming up, fashion groups and carmakers reach new, affluent consumers and place product categories in front of their customers. It's not just about selling more cars or creating a new revenue stream. Fashion companies benefit from the association of prestige automakers. Similar to how skateboarding and hip-hop have influenced the menswear market, the culture around performance cars also creates aspirational markers in fashion. The visibility among young, stylish consumers who may never purchase a $200,000 vehicle but might one day buy a car-branded hoodie if the brand has successfully been marketed as excellent.
This season, Sprayground created a collection for fans of the German sports car
brand and streetwear fashion enthusiasts. Sprayground is known for its artistic and bold collections from Star Wars and Avatar to Formula 1 and the NBA. This exclusive collection will be
released across Porsche Dealerships globally this month. 
Fashion houses have been making custom cars in partnership with some of the world's biggest car companies for years. This deeper level of collaboration is indicative of a broader trend, where licensing deals and logo swaps aren't enough to pique the interest of consumers. Today, the working relationship between auto companies and fashion brands is far more elaborate, highlighting an alignment between their products and target audiences. 
To ring in the new collection, the edgy and artistic fashion
forward backpack and streetwear brand Sprayground developed a fresh collection with Porsche that'll be a surefire way of brand expansion into the luxury automotive sector.
This product offerings include a backpack and a duffle bag which pays homage to
the iconic Porsche 911 Carrera. The design captures the aesthetics of this classic sportscar, combined with Sprayground's style design, including its collectible art-piece shark mouth design.
Sprayground and Porsche have created travel flex with this
collection, showcasing functionality and an added dose of bold style. The design also encompasses vibrant turquoise, orange, yellow and red colors, with classic comic additions like
the speech bubble, dollar signs, and cartoon smoke. 
Visit
www.sprayground.com or @sprayground, for more updates on any upcoming
projects.