From timeless investment pieces to modified designs, the trend reports this season indicate a renewed sense of elegance in high-end jewelry. And, there is no better time than now to reset your couture jewelry pieces. There is a new wave of fresh sophistication that suggests a renewed consumer interest in couture jewelry pieces.
As businesses around transition to Web 3.0, there is growing concern about where (and what) it will all lead to for the global business sector.
As the fall and winter months arrive, so do black-tie philanthropic fundraisers, magnificent weddings, and other high-end festive events. I was always taught that when the economic outlook is uncertain, glimmering fine jewelry becomes especially important. Wearing fine jewelry conveys a message of confidence – one that can reflect the leveraging power and potential of your business.
What I find intriguing is that the jewelry trend reports this season resonate with modern standards. This season, jewelry designers have created pieces that adorn and highlight the simplicity of couture apparel, which has been made to modern consumer needs of comfort and flexibility.
Clusters of pearls, crystals as well as other jewels are made for bold earrings and cuffs, while statement necklaces take center stage. This Jewelry 3.0 opulence has made a strong presence in chains and other body jewelry and bralettes. And, one of my favorite statement pieces, the brooch, conveys more nostalgic eccentricity than ever before.
In short, statement pieces this season are reimagined as a newfound elegance with everything from placing emphasis of natural sparkle to accelerated contemporary design.
Read on for all of the season's jewelry trends.
77 Diamonds:

77 Diamonds-Gaia Earrings in white gold and diamonds, $3000
With pear and round diamonds softly weaving into the design, the Gaia vine earrings offer graceful movement that follows the curve of your ear. The winged curvature of a micro-set diamond band further accentuates this mesmerising design. Placing emphasis on natural sparkle while still retaining a touch of contemporary minimalism, the Gaia Collection pays tribute to the power of nature — formidable, yet capable of creating the most delicate gems. From day to night, these intricate Gaia earrings are the perfect chic complement to your favourite elegant looks this fall season
MARTIN KATZ:
MARTIN KATZ Mosaic Paddle Earrings – Mixed shape diamond paddle earrings set in 18k white gold (Price upon request)
Essential for a glamorous evening this fall  Available by appointment at Martin Katz's new Penthouse salon in Beverly Hills or for purchase and delivery from the new Martin Katz "Diamond Menu" at Nobu Ryokan Malibu available exclusively for guests of the premium Beachfront suite until the fall. Guests can enjoy the ultimate hotel stay with breakfast in bed and a side of diamonds. Items are available for same-day delivery by Martin Katz's team to try on for purchase. 
DEVI JEWELS:
Emerald and Diamond Starburst Earrings, $7200. Radiating sparkle with pave diamond rays emanating from a glittering emerald center, Devi Jewels Emerald and Diamond Starburst Earrings will add a burst of color and vitality to your look. Featuring emeralds of over 8 carats, they will be sure to turn heads.
Jenny Lauren Jewelry:
Jenny Lauren Jewelry- 14K Gold White Pearl and Creamy Shell Choker Necklace; Price: $625 USD
This necklace by Jenny Lauren Jewelry is a summer standout! Wearing this will make you feel like you're on a tropical vacation no matter where you go! The exotic materials and summery colors emulate summer paradise.
Kismet by Milka:
Kismet by Milka Jezebel Necklace; Price: $18,425 USD
The Jezebel Necklace, from Kismet by Milka's 'Hot Summer' collection, will make you shine bright this summer! Made with Ruby and Multicolor Sapphire, this necklace is a showstopper and a perfect accessory for any summer event or vacation planned!
Lugano Diamonds: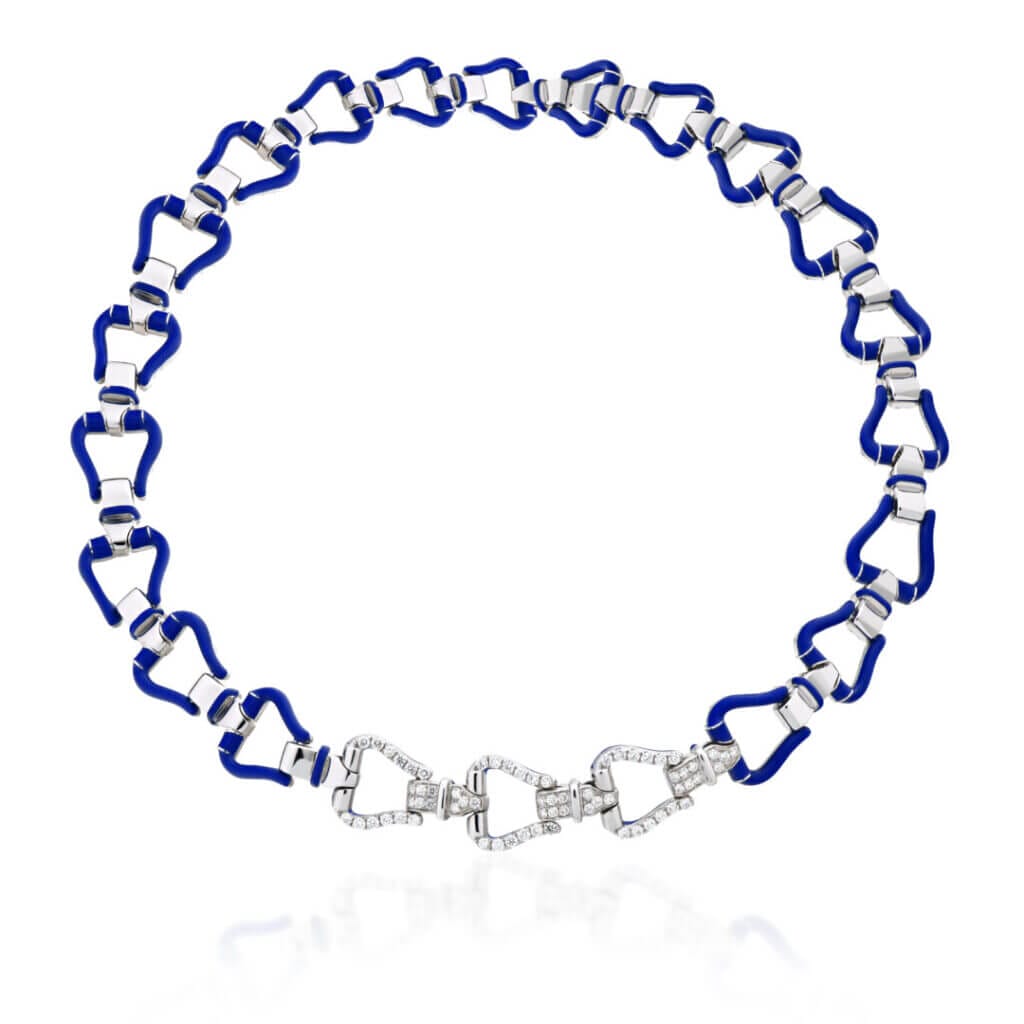 Lugano Diamonds-Stirrup Enamel Necklace
Nine carats of brilliant round diamonds set in 18k white gold with blue enamel make up this stunning stirrup necklace. Price: Prices are available upon request. With the equestrian season in full swing and the start of the European tour in September, this equestrian-inspired Stirrup Enamel Necklace is a signature piece to elevate one's look this Fall. The necklace is made up of nine carats of brilliant round diamonds set in 18K white gold with blue enamel. This piece captures the majesty of the equine culture. 
DEVI JEWELS:
Diamond and Tourmaline Necklace: As temperatures fall, bring on the heat with Devi JewelsDiamond and Tourmaline necklace, $8,200, with its clear, fiery tourmaline of over 7 carats. Its pavé diamond link chain bears diamonds weighing over 5 carats in total and is the perfect partner for the warm reddish glow of the tourmaline. The necklace pairs wonderfully with the high necklines of fall fashion and adds a touch of undeniable glamour to any look.