How To Dress And Present Yourself For Success – For Men
The mission of dress for success is to empower men to achieve independence by providing them with professional attire to help men thrive in work and life. Well-dressed men are viewed by society as successful and more likely to be a leader. They have a greater chance of reaching higher workplace goals.
Dress like a boss:
Dressing and maintaining a healthy appearance will be vital as we enter 2023. Depending on your career and lifestyle,
A well-fitting suit is something every man should own.
New shoes, belts, and wallets make a positive change.
Grooming is essential- people notice your facial hair immediately.
When purchasing ( dress for success) holiday gifts, I recommend keeping it simple and tasteful. A quality tee under a blazer is simple, looks on trend, and is put together during office hours. Timeless and essential items will make it easier for him to dress in the morning. When he looks good and feels good, it shows.
Every stylish man needs a perfectly tailored top coat. The Wesley from Jack Victor is all that and more. Made in Italy from a luxurious blend of wool and cashmere, this versatile overcoat has an incredibly soft hand feel and looks as good casually over a sweater as it does over a tuxedo. The Wesley model is a classic and timeless top coat with three buttons, a notch lapel, and slash pockets for the perfect combination of warmth and style.
Canali suits are famous for their tailored fits and top-quality fabrics. The beige suit features a delicate micro pattern that adds texture to a sleek look. The clean lines of the modern fit emphasize the body and follow its every movement, arming the wearer with a comfortable yet dapper way to put their best foot forward. $2,150
OXFORD LACE-UP: Two-tone brown leather and dark accents $1050.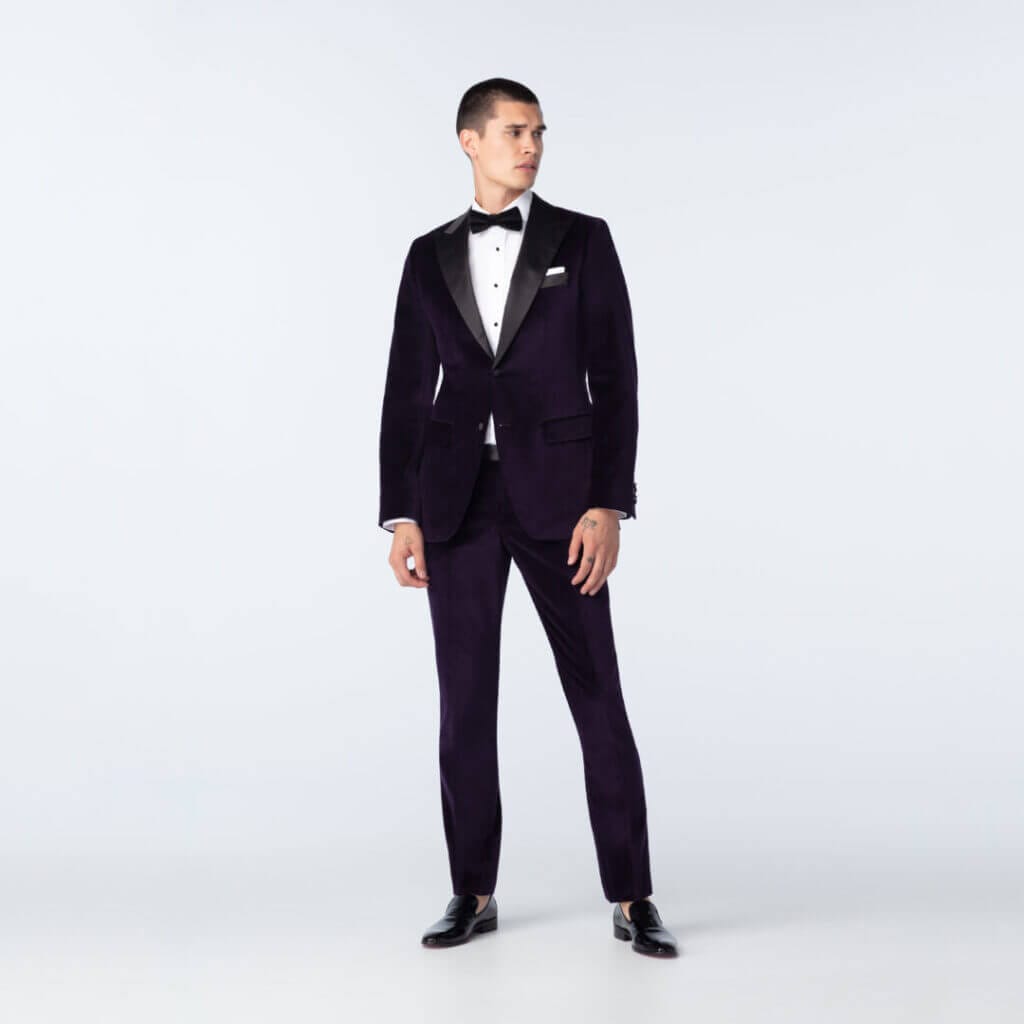 INDOCHINO Harford Velvet Tuxedo Harford Velvet Tuxedo is an impeccably tailored tuxedo and beautifully structured for a clean drape and sleek silhouette. Featuring a satin trim that provides stylish contrast, subtly highlighting the buttons, lapels, and pockets. The history of the velvet suit is as rich as the fabric itself. As the global leader in made to measure apparel, INDOCHINO has developed the shopping experience of the future. Customers take on the role of designer, picking out every detail of their garments to make them truly one-of-a- kind. These are made to their precise measurements and allows customers to shop online or in person at any INDOCHINO showroom.
Timeless tailoring with a modern twist, the Don Double-Breasted Jacket is the perfect combination of suave sophistication and J. Lindeberg's absolute luxury. $655
Wilke-Rodriguez at Men's Wearhouse
This slim fit suit separate navy blazer from Wilke-Rodriguez is the classic office
essential upgrade for the New Year. This versatile jacket can be worn a myriad of
ways- style it with a shirt and tie and chinos, or a crew neck and jeans as the weather
Warms. $139.99
Walk into the office in style with this Ibra Black-on-Black coat that is both stylish and practical. Dsquared2's creative flair is evident in this reworking of this classic jacket. $2455.00