Our fashion editors independently select all product features on Style Lujo. However, we may earn affiliate revenue on this article and commission when you buy something.
By Joseph DeAcetis Published: November 14, 2023
From Premium whiskey to top shelf vodka, stylelujo.com presents the best alcohol gifts for the spirit enthusiasts on your holiday list.
Tis the season to ring in good cheer! Enjoying alcohol responsibly during the holidays is th perfect time to spend time with family and loved ones. Whether as a gift host present for a holiday gathering,
The best thing about shopping for alcohol gifts, is that there are so many suitable for different tastes. From celebratory champagne to brown liquors, spirit lovers are bound to appreciate and start making cocktails that elevate the party atmosphere
If your intention is to get the party started, check out the list below and enjoy your Holiday 2023 Season
Zubrowka:
Zubrowka, also known as bison grass vodka, is Poland's most uniquely tasting vodka and the country's best-selling vodka brand which says a lot given that Poles are the ones who invented this potent spirit a thousand years ago! Zubrowka's distinct taste is based on a 5-century-old recipe and is enhanced by a blade of actual bison grass found in every bottle.
Light notes of vanilla with a hint of anise and cinnamon enrich its truly unique taste that lends itself to consuming Zubrowka as a shot or in a mixed cocktail such as The Apple Pie. The recipe is as easy to remember as it is to make: two parts apple juice, one part Zubrowka vodka, and a small pinch of cinnamon stirred and served over ice. Can you taste the holidays already?
Pick up a bottle of Zubrowka and try something new this holiday season. The elegant bottle and unique presentation also make Zubrowka a great and easy gift idea.
Le Moné:
Meyer Lemon $35 from drinklemone.com
Le Moné is on your radar for Holiday Gift Guides this season. It's the lighter, lemony aperitif that pairs well with any liquor or on its own. Le Moné is the perfect hostess gift, gift for someone who has it all, or simply the gift for your cocktail aficionado. | Affiliate
Big Nose Kate: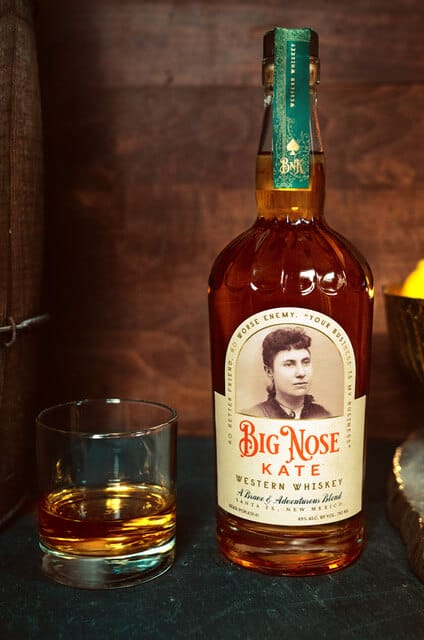 Big Nose Kate, the western whiskey from Melissa Heim. BNK is made in Santa Fe, NM and is a first of its kind blend of straight rye and American single malt whiskey. (And yes, Kate was a real person, a true unsung hero of the American West.
About Our Namesake
The extraordinary life of Maria Izabella Magdolna Horony, also known as Catherine Elder, and later feared and revered everywhere simply as the inimitable one-and-only Big Nose Kate, is a tale for the ages. A Hungarian aristocrat's daughter turned immigrant and orphan, she was drawn to the wild American west through chance, rebellion, opportunity, and a deep curiosity in people, places and ideas. A strong, industrious, and fiercely independent self-made woman generations ahead of her time, Kate was Doc Holliday's "partner in crime," bucked horns with Wyatt Earp, and ran a number of gambling and entertainment operations. Let this be clear: there was no better friend, and no worse enemy than Big Nose Kate. Yet the Docs, the Wyatts, the cowboys, and the rangers always commanded center stage. Until now.