Our fashion editors independently select all product features on Style Lujo. However, we may earn affiliate revenue on this article and commission when you buy something.
By Joseph DeAcetis Published: November 6 2023
Finding the perfect gift for the women in your life may seem daunting at first, but I assure you that these gifts have been reviewed by our experts at Style Lujo.
It's important to celebrate the women who mean so much to you. From a The Eloise Clutch in Garnet Velvet – which can be worn with jeans or with a cocktail dress to a Black Kelly Boot by Musier, for all her winter weather dressing needs with a contouring seam and a phone pocket on each side.- no matter the cost or scale, will show the recipient that you're thinking of them, this holiday season.
When shopping for the fashion enthusiast, who could refuse a button-down maxi dress with high neck-line and dropped shoulders by Baruni. And if you're still undecided, you can't go wrong with something classic like Loro Piania Turtle neck and beanie
A thoughtful gift will go a long way – especially when there is a heartfelt handwritten note attached to it.
AMI:
The Holiday Capsule Collection
AMI's 2023 Holiday Season capsule collection will be available in its stores as well as online at amiparis.com.
Featuring a wide range of AMI pieces in a delightful palette of white and silver tones, this limited collection reinterprets, among others, a selection of unisex basics from the AMI wardrobe.
The capsule features accessories such as gloves, scarves, caps, beanies, bags, and small leather goods, as well as winter-prone ready-to-wear pieces including silver down jackets, windbreakers, overshirts. On the alpaca Ami de Coeur garments, the distinctive symbol of the Maison is knitted in silver thread.
Ferrari:
Ferrari
Ferrari Metallic Leather Mini Tote GT Bag in Silver, $2,350
– This item is essential for those aiming to achieve great style for 2023, as the bag is characterized by refined embossed details created with a high-frequency printing technique. The Prancing Horse emblem stands out on the front of the accessory, while all of its metal components are treated with Ferrar's distinctive ruthenium Chassis finish.
Ferragamo:
The Vega Holiday Time Capsule is available now at Ferragamo.com, Neimanmarcus.com, $1695.
Ferragamo is delighted to introduce a radical reinvention of the Vega Holiday Time Capsule. This collection captures the beauty of every single moment with its clean geometric design graced by the double Gancini motif on the dial.
Its timeless modernity and versatile design make it suitable for everyone, changing the case size from 28mm for women and 40mm for men. In the new Holiday Capsule, the dial is adorned with 14 precious diamonds to shine and shimmer during the holiday season and beyond.
Oliver Gustav:
Oliver Gustav Scented Candle $150
 Oliver Gustav's creative touch infuses the collection 'Journey' with a rare ensemble of colors, light, and textures. Rooted in his instinctive compass, Journey is a sensory collage where furniture, scents, lighting, and art harmonize. It's a stylish gift that encapsulates Oliver Gustav's vision and transforms journeys into captivating energies. An embodiment of curated elega.
GOBI:
Double-Breasted Cashmere Blazer, $599
Introducing the 2023 GOBI Cashmere Coat Collection
From classic silhouettes to innovative textures and sustainable practices, GOBI Cashmere coats adapt to the needs and preferences of modern consumers. Whether looking for timeless elegance or contemporary trends, there's a GOBI Cashmere coat or jacket that perfectly complements any style while retaining warmth and comfort throughout the season.
Mulberry: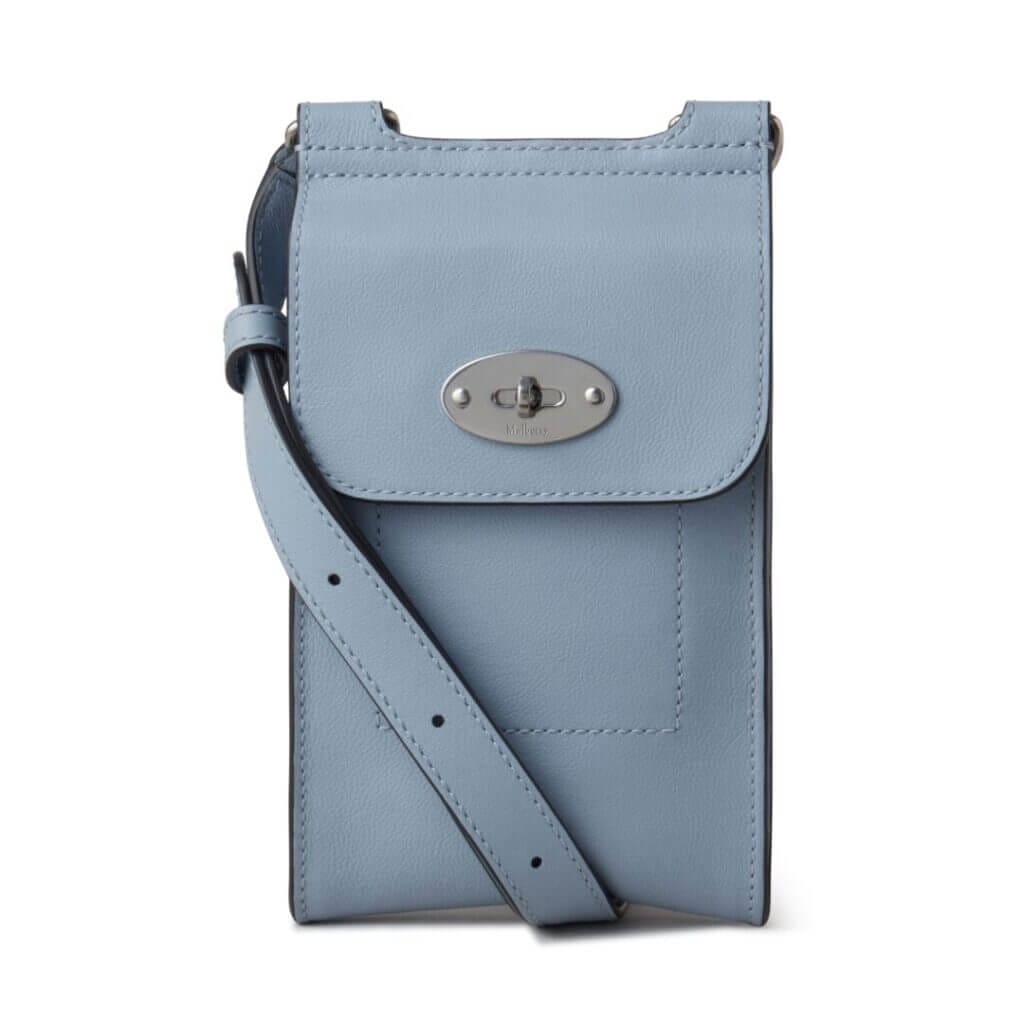 Mulberry Mini Antony Pouch in Poplin Blue, $495
This item is essential for those aiming to achieve great style for 2023, as the pouch is a lightweight addition to Mulberry's iconic, best-selling silhouette. The Mini Antony carries the essentials in the form of a timeless unisex satchel, complete with an adjustable leather strap.
GOBI: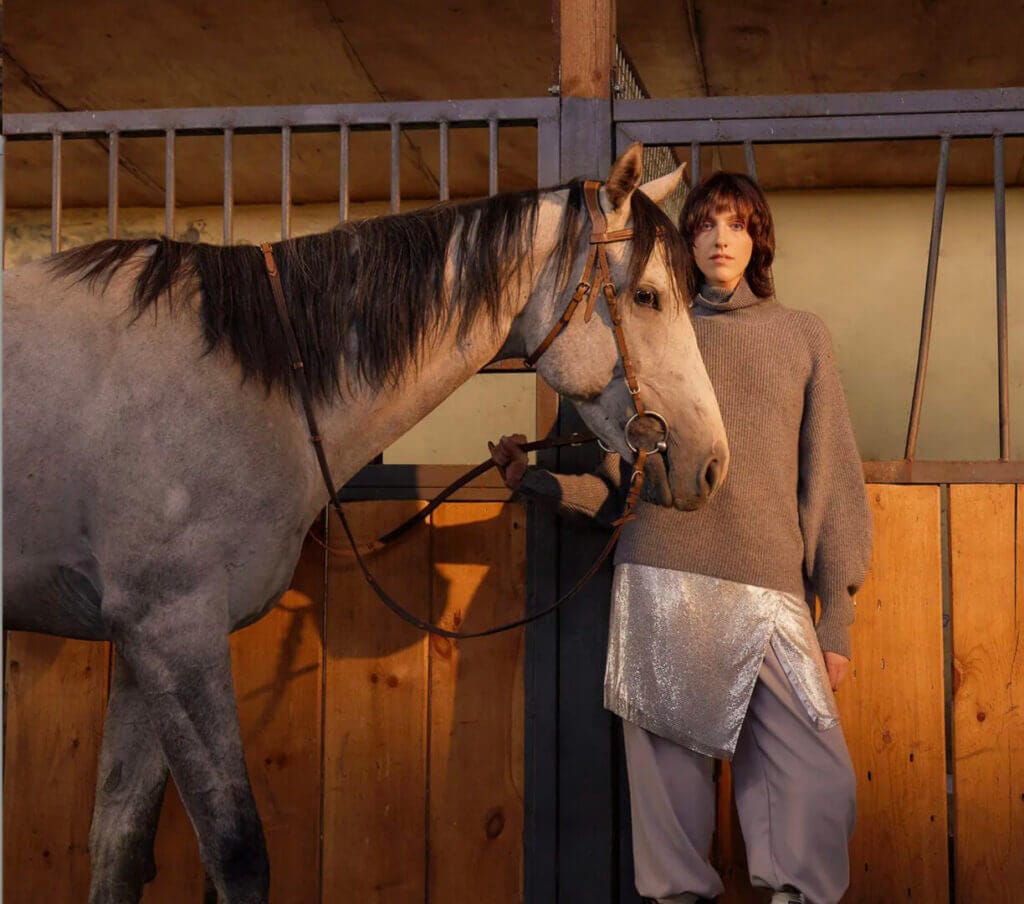 SHOP
GOBI Cashmere, latest collection for Winter 2023 titled "Country Chic." The new collection marries the elegance of English heritage with a contemporary twist, offering a fusion of classic design and modern sensibilities- created sustainably and responsibly in GOBI's facilities in Mongolia.
The GOBI Cashmere Winter 2023 collection ranges in price from $149 – $599 USD and will be available for purchase starting November 2023 exclusively on GobiCashmere.com.
Baruni: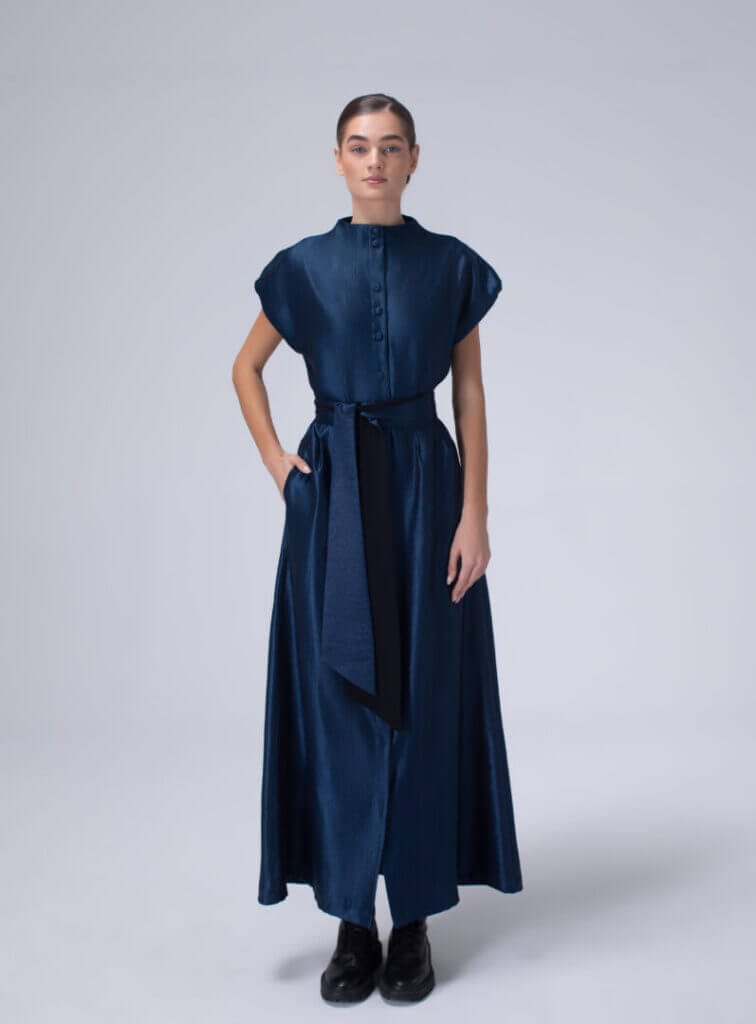 Sari Dress Price: $500 USD
The Sari Dress from Dubai based brand Baruni is essential for those aiming to achieve a good style for this Holiday Gift Guide 2023 because it is timeless, chic, and feminine all aspects that exude quiet luxury. This holiday season instead of sparkles and glitter opt for a more classic look with the Sari Dress, a piece that you will love for years to come.
Payal Khandwala:
Handwoven Silk Jumpsuit Color: Ecru Price: $595
The signature handwoven silk jumpsuit from Payal Khandwala is an essential for this season's Holiday Gift Guide. This stunning jumpsuit, created with handwoven silk provides an elevated and classic yet festive option for the holiday season.
Valentina Rangoni:
Barbie Flat Bow. Price: $335.00 USD
The new Barbie Flat from Valentina Rangoni is the perfect essential for this season's Holiday Gift Guide. The Ballet Flat is a trending style that is currently taking over, Valentina Rangoni offers a sustainably crafted design in their newest F/W 23-24 collection. Created with with rich, black velvet materials for an elegant, timeless, and staple piece to have in your closet all year around.
Loro Piana: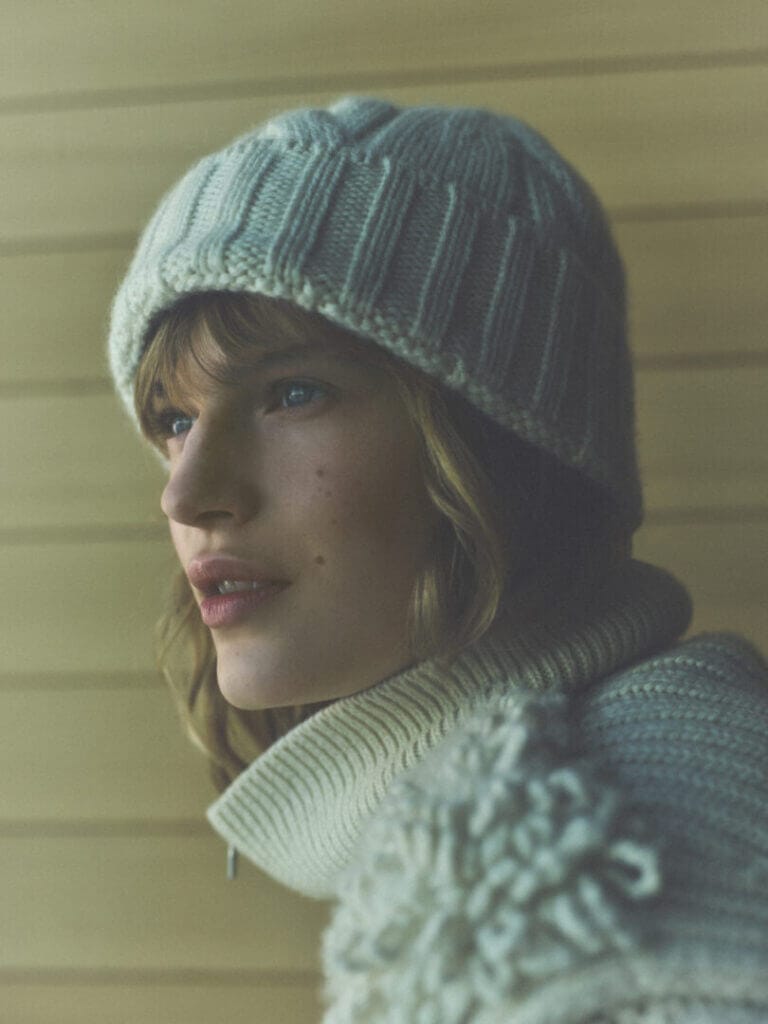 Loro Piania Turtle neck and beanie:
Winter atmospheres, leisure and festive spirit. Loro Piana's Holiday Collection opens the season of snowy holidays and explores the quintessence of life in the open air, which is part of the Maison's DNA.
The yarns are the iconic ones of the Maison – Cashmere Coarsehair®, Shearling, Cashfur, Baby Cashmere. The protagonist is the Tapestry Bloom turtleneck in cashmere and mohair with a stylised floral pattern, hand-brushed to en- hance the natural hairiness of the yarn and give a shaded effect to the printed pattern.
The Holiday Collection will be available from November 2nd in selected Loro Piana stores and on loropiana.com
Classic Six:
The Cary Crew Neck Sweater in Taupe – Cozy crew neck sweater with raglan detailing, long-ribbed hems, cuffs and collar.
Milaner:
Crafted from buttery soft Nappa leather, the Hallie Hobo ($465) puts a sophisticated touch on a casual classic. Made entirely in Le Marche, this Italian leather shoulder bag features either a handwoven or smooth pattern, complete with suede-lined interior and inside zippered pocket. An external zipper with leather tassel pull keeps everything secure.
Michelle Wilhite:
The Eloise Clutch in Garnet Velvet – This velvet clutch is timeless and classic. It is sleek and beautiful and can be worn with jeans or with a cocktail dress. It comfortably fits a cell phone, lipstick, keys, and credit cards.
MUSIER:
Black Kelly Boot – High heeled boot perfect for a very 2000's look.
Essential boot for all your winter weather dressing needs with a contouring seam and a phone pocket on each side.
AS by DF:
Our classic moto jacket PRICE: $850.00
"BRANDO" silhouette is now oversized – and the perfect cool factor to any outfit. Made with our amazing, soft, and supple Recycled Leather and lined with our super soft jersey, you can stay warm AND chic during the changing seasons. This style runs true to size in an oversized silhouette. There is no stretch in this leather. If you are in-between sizes, we suggest sizing up for a more relaxed boyfriend look or sizing down for a more fitted look. AS by DF Signature Recycled Leather – our Recycled Leather Collection uses leather scraps (which would otherwise be waste) and modern technology to create supple, luscious leather for our beautifully crafted garments.
Every woman wants a timeless and classic leather jacket in her wardrobe. The "Brando" is a perfect gift for yourself or a loved one who enjoys the vintage yet modern styling this jacket will give them. It adds the perfect "cool factor" to any outfit with its zippers, angled pockets, snaps, belt and buckling. It is also ideal for everyday casual looks as well as dressing up edgier evening looks.
SMMT:
SMMT PowderLoft Tote, $248
SMMT's take on the classic large tote bag, linking our best days and favorite moments, re-imagined for mountain town living. Lofted like your favorite jacket for lightweight protection. Elevated outdoor & sustainable materials to handle the best powder days or the worst mud season. The 35L can handle a full family adventure or a weekend away.
Milaner: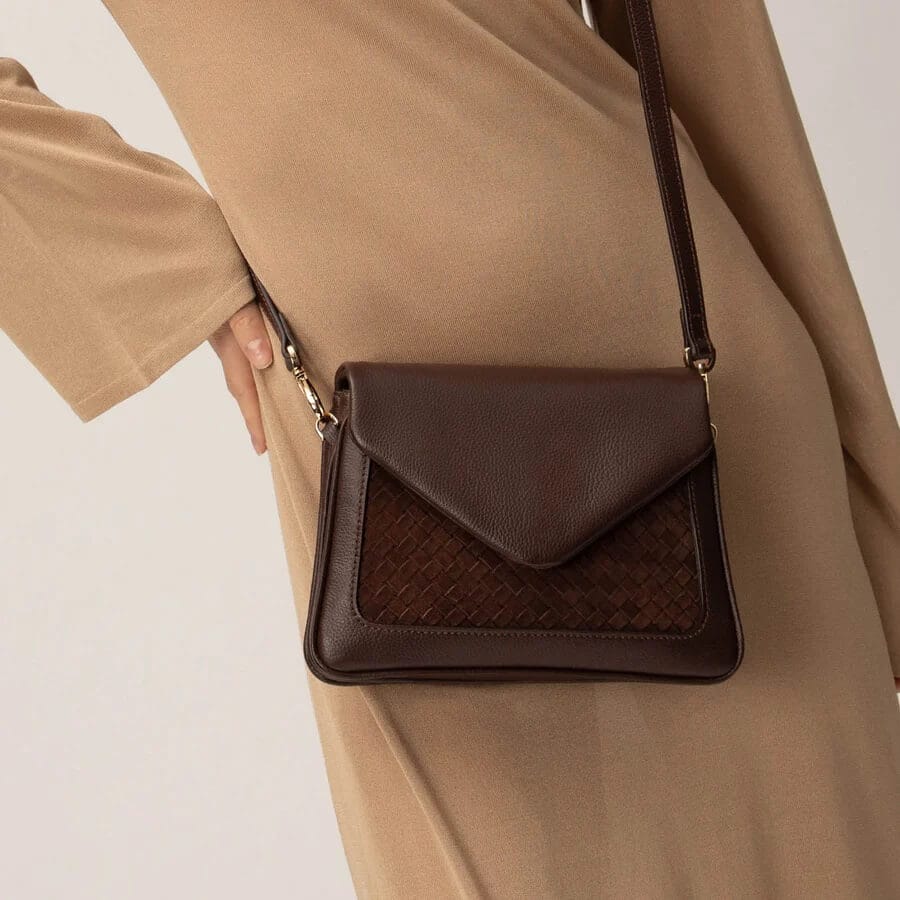 The Alex Crossbody Bag ($395) is artisan-made in Abruzzo, Italy and crafted from high-quality Nappa leather, featuring a velvety-soft suede woven pattern. A clasped top reveals three inner folds with one pocket, making it easy to segment your phone, wallet, and other on-the-go items. An adjustable leather strap is also removable, conveniently transforming this bag into a clutch when you need it.
Mercura:
Art piece for your face of Post Inside-Outside solid within space, art in brass constructed with a pair of dark metal sunglasses. @mercuraart @mercuranyc
Mulberry:
Mulberry Cashmere Scarf in Light Grey $285
Cashmere scarves— These scarves are the perfect gift for those aiming to elevate their style for 2023. Wrap up in style with a timeless classic 100% cashmere scarf that can be per