Our fashion editors independently select all product features on Style Lujo. However, we may earn affiliate revenue on this article and commission when you buy something.
By Joseph DeAcetis Published: November 9, 2023
The Holiday Season and Ski Season are coming into full swing. When you aim to surprise your hardcore skiers and ski bums with the right gift, you must remember that skiing is not just a sport; it's a winter lifestyle. Skiers even have a language all their own.
Our sports and tech editors at Stylelujo.com reviewed numerous ski brands and hand-selected the chosen few to be featured here for our viewers. Just to let you know, ski gear and ski upgrades are expensive. But if you can't afford to gift such high-ticket items, I suggest you gather a few people to pitch in and surprise the ski bum with a gift to cherish.
We suggest you understand the performance benefits and how the item performs in the snow, on the mountain, and over time. And even though some of the styles are on-trend, remember that performance always comes first to the skier.
And creative aesthetics give big rewards for the people on your list who are more après ski culture.
Here are our favorites – just in time for the holidays.
Suunto:
MSRP: $549.00 or $699.00 (Titanium)
Suunto, the Finnish-based brand known for its sleek-looking, durable, and high-performing battery-life sports watches has developed its strongest GPS multisport model yet. The flagship 9 Peak Pro is made for the rugged elements and for those who desire the most accurate tracking in the most remote locations. For those one-day or multi-day epics, the 9 Peak Pro can give you anywhere from 40 to 300 hours of in-exercise GPS tracking in up to 130 degrees and down to -5 degrees Fahrenheit with your choice of 4 battery modes. With five different satellite systems picking up a signal for one of the 95 preset sport modes is easier than ever. Whether you are finding yourself summiting peaks in the Himalayas or walking around the city the 9 Peak Pro has a timeless and versatile style.
High Camp Flasks: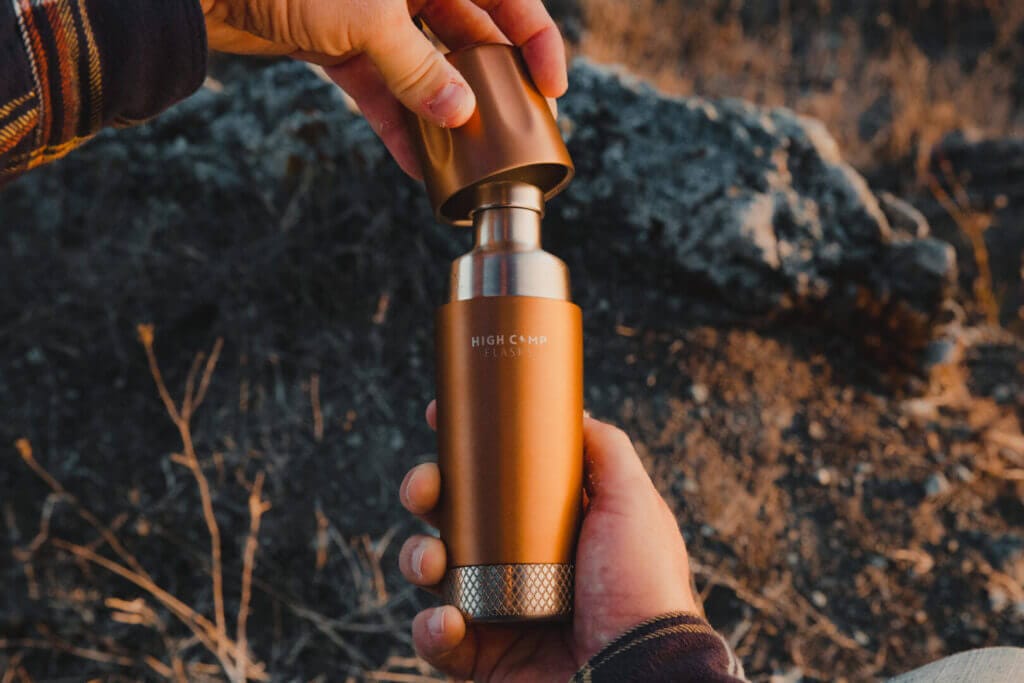 High Camp Flasks – Torch Flask $99
Delivering top-shelf drinking experience in a pocket-sized package, our 6oz Torch™ Flask features an innovative, funnel-free design and an integrated magnetically attached 3oz shot glass. Unlike other pocket flasks, you can even add ice. Fill it up by unscrewing the wide bottom-cap of the flask, then pour yourself a drink in our sake-glass-inspired shooter.
Gucci: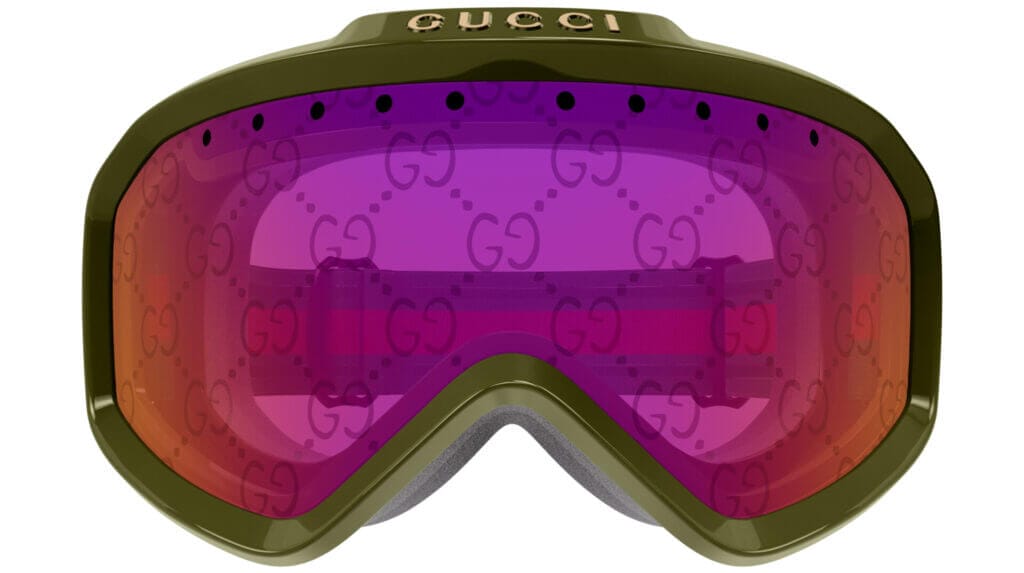 Envisioned for mountain getaways or cold days in the city, the Gucci Après-Ski selection comprises a wardrobe of sporty styles in vibrant hues, with matching sets that can also be styled separately, as well as reinterpretations of iconic handbags. The selection also includes ski masks defined by the House's signature codes. Fitted for glossy mountain peaks, with sporty details and technical features, the frames – available in a variety of different colors – are decorated with the name of the House, while the Gucci Web strap appears at the back. Bright guccissima lenses complete many of the styles. On-piste, off-piste, or simply in the resorts, from snowy peaks to city streets, the masks expand perspectives on the surrounding realities, seamlessly connecting what is seen and how one is seen
Kith and Stone Island: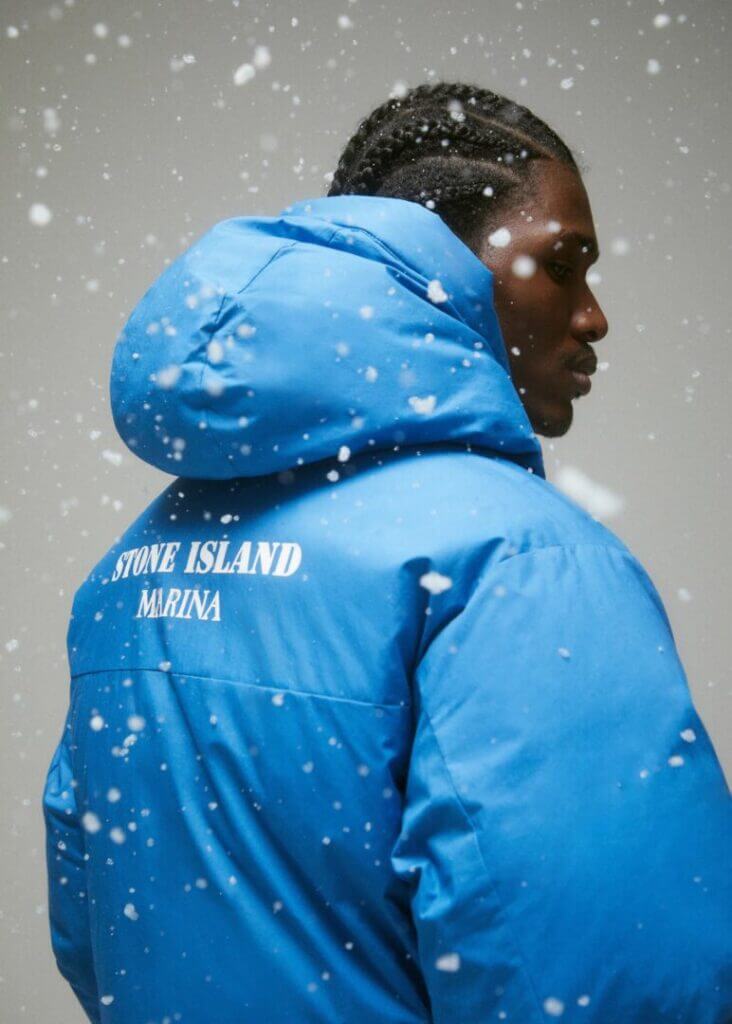 Kith and Stone Island present the Stone Island Marina seasonal collection—an elevated assortment of apparel and accessories inspired by the bright contrasts of the Antarctic expeditions of the 1920s. The collection features all-new reflective hues—only offered at Kith Aspen—but maintains its roots with signature raised rubberized print Stone Island Marina lettering. Alongside Stone Island Marina, the Stone Island Pop-Up also features other products exclusively available at Kith Aspen.

Rab Equipment:
Rab Mythic G Jacket
MSRP: $525.00
The new Mythic G Jacket is the next level in warmth for minimum weight. At 1000 FP down jacket, the Mythic G features a visible heat-reflective TILT lining. Designed for alpinists who are counting the grams in sub-zero temperatures, the Mythic G combines ultralight construction, 1000 FP down, and a TILT lining to improve heat retention without a gram of extra weight.
BALLY:
The Bally Winter Capsule explores the timeless allure of alpine glamour and reimagines it for the present day. Born in Switzerland in 1851, the luxury brand draws on its deep reverence for the mountains to offer a fresh vision of the lifestyles of the well-traveled, with a modern focus on a distinctly European sense of luxury. 
This capsule offers a myriad of pieces to be juxtaposed and layered in interesting ways, whether for hitting the slopes or for winter city adventures.
Connor Goggles:
Sweet Protection Connor Rig -Reflect Goggles.
MSRP: $220
The Connor is the latest edition in our goggle line that stands out with its true frameless design. This model features a 2.8mm toric sculpted lens with our unique proprietary lens technology; RIG. Securing the maximum field of vision without increasing the size of the goggles was the number one priority. The strap is very close to the lens of the goggles, making sure you get a seamless fit with your helmet. This goggle includes superior anti-fog properties due to the Clear AF inner lens technology and Gore Protective Vent to equalize the pressure and avoid deformation of the inner lens – providing optimal working conditions for the eyes. All goggles are available with our revolutionary RIG lens technology, developed by Sweet Protection to provide superior contrast, minimum color distortion, and reduced eye fatigue.
KHRISJOY: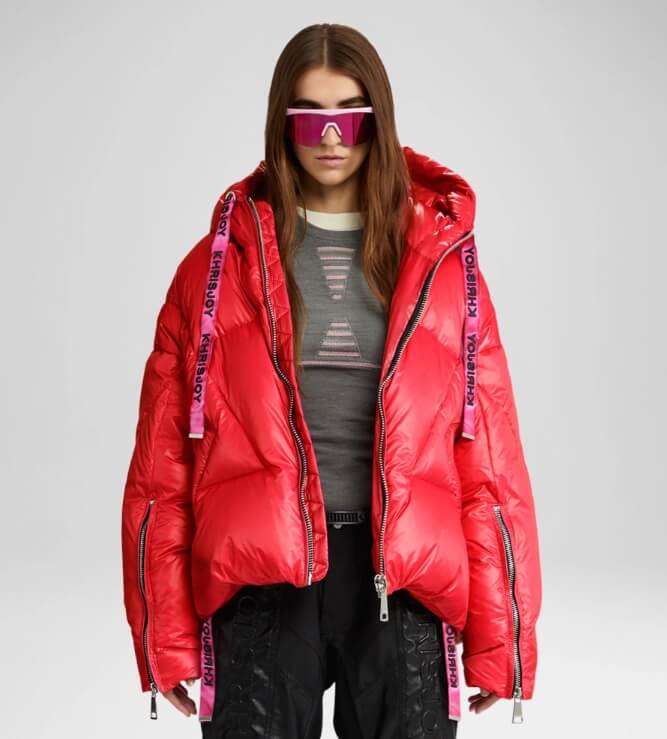 Puff Khris Iconic In Shiny Fire Red $1,870
This item is essential for those aiming to achieve a good Fall 2023 style. This bright pop of color will make the cold day's feel a little brighter while still keeping you on trend and warm during the Fall/Winter months.
Rossignol:
Cold days on the mountain call for versatile layers like the men's Rossignol Opside Hooded Jacket. You can layer it under a shell to hold in the heat on the mountain, or wear it solo while Nordic skiing and hiking. No matter how you enjoy cool weather, breathable synthetic insulation offers warmth without bulk and helps regulate your temperature as you warm up. Stretch fabric and preshaped sleeves support natural movement, and an integrated hood seals the deal for comfort.
DKNY:
Ski Jumpsuit $399
DKNY:
Puffer Scarf $69
DKNY:
Ski Overalls $199

DKNY:
Puffer Jacket $249