Our fashion editors independently select all product features on Style Lujo. However, we may earn affiliate revenue on this article and commission when you buy something.
By Joseph DeAcetis Published: November 8, 2023
Whether they aim to dress for success in the corporate business world or spend leisure time in the great outdoors, American men want to be on-trend with quiet luxury. After endless years of producing logo-ridden apparel and footwear, the style pendulum is swinging in the opposite direction. The new menswear buzz term is a quiet luxury.
If you're the person who finds it difficult to decide which gift to get him, our team of factors at Stylelujo.com has reviewed and selected a few suggestions below.
Men's Winter Collections 2023/24 are filled with leisure and festive spirit when opening the season for snowy holidays – especially New Year's Eve celebrations- men embrace textures over logos. With a few standout exceptions for men to express themselves. For example, the Space Travel Jacquard Sweatshirt by Rastah is designed with an intriguing homage to the space travel films of the '70s and '80s. At the heart of its design is hand-drawn artwork that adorns the back, featuring captivating Urdu typography, a blend that bridges cultures and time.
Today, American men increasingly focus on understated designs and tonal color patterns. I am researching why the market is moving in this new direction. Still, my educated guess is that flashy logos, once worn as a badge of honor, are now perceived as pretentious and tacky. At the same time, quiet luxury lends a spirit of sophistication.
Whether you're shopping for your father, brother, son, or spouse, the goal is to find the gift they'll put on and wear it the same day. And remember, A thoughtful gift will go a long way- especially when a handwritten note is attached.
Stefano Ricci:
CASHMERE AND NUBUCK CROCODILE HOODED BLOUSON PRICE: $3,600.00
Sophisticated outerwear is a must in any gentleman's wardrobe. SR offers this cashmere and nubuck crocodile hooded blouson, designed for casual occasions but imbued with luxe appeal. The premium materials coupled with the signature embroidery on pure silk lining, and precious metal galvanised hardware ensure an elevated aesthetic.
Cashmere and Nubuck Crocodile

Full 100% Technical Silk Lining

Attached Hood in 100% Cashmere and Nubuck Crocodile Leather

Hidden Vertical Zip Pockets

Ribbed Collar, Cuffs and Hem

Applied STEFANO RICCI Letter Logo Accessories on Back

Precious Metal Galvanised Decorative Hardware
Loro Piana: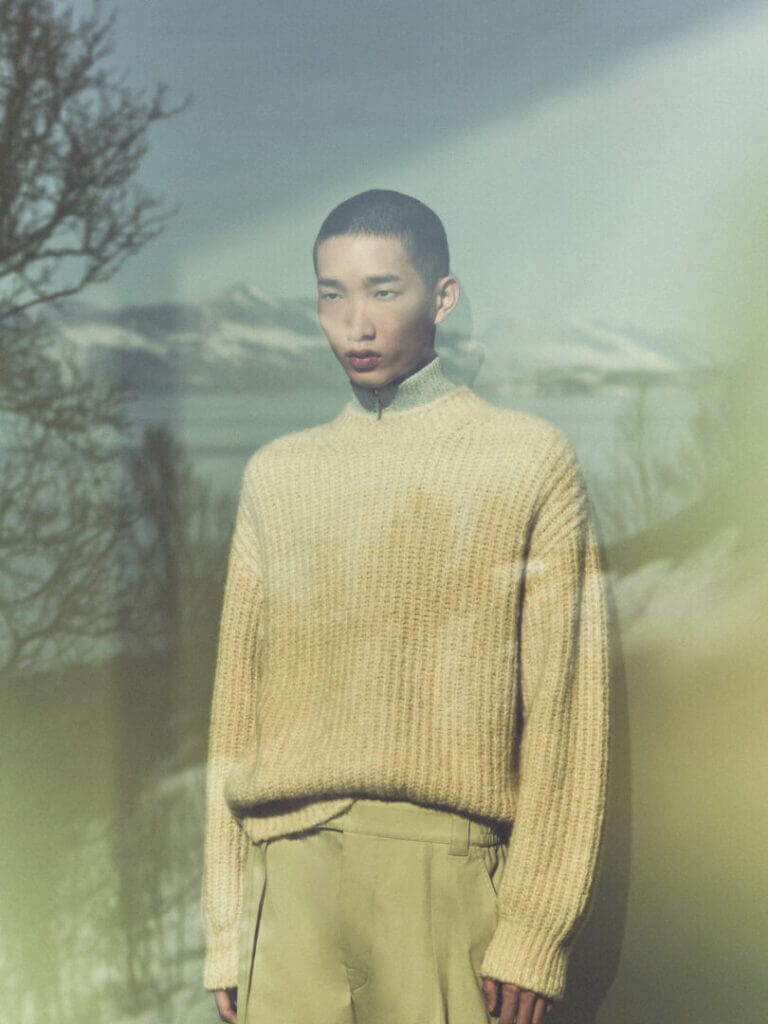 Loro Piana sweater and Trousers
Porsche Design:
Porsche Design has collaborated with the Porsche Club of America (PCA) to launch a limited-edition capsule collection that celebrates the spirit of the world's largest club of Porsche enthusiasts.
Featuring the vibrant "Clubblau", PCA logo badges, and striped accents, the sleek styles are perfect for the next road trip. The collection includes a color-block track jacket, casual t-shirt, and versatile backpack. The capsule is available now in Porsche Design stores and online at Porsche-Design.com and Shop.Porsche.com, while supplies last.
Ferrari:
Ferrari
Jacket— Ferrari Biker Jacket in Merino Shearling in Ebony, $6,250
This item is essential for those aiming to achieve great style for 2023. This Biker-style jacket features a short silhouette and oversized fit made of shearling and finished with a high collar in wool and cashmere.
Dolce & Gabbana: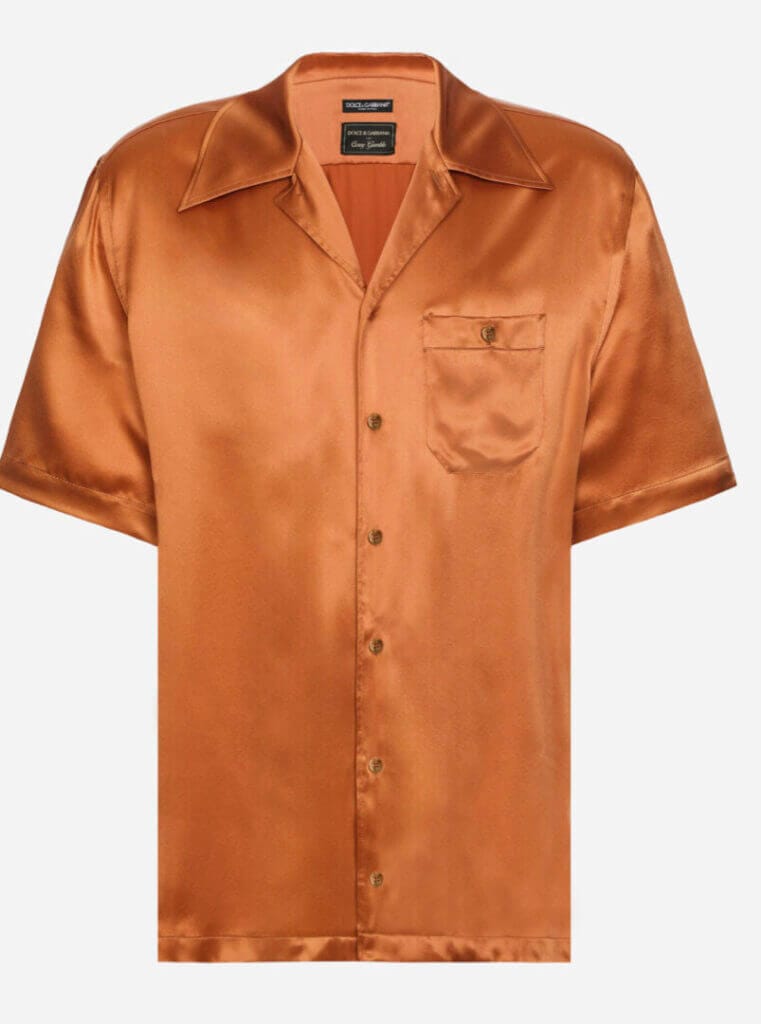 Dolce & Gabbana
Silk Satin Hawaiian shirt with metal DG Logo $1,295 available at select boutiques
This silk satin shirt from the Corey Gamble collection perfectly represents the Dolce&Gabbana man by combining luxury and style into one classic piece.
This nylon bag is perfect for on the go, great for travel and looks great with any outfit.
GOBI:
Double-Breasted Cashmere Coat for Men, $1,249
GOBI Cashmere:
For over 40 years, GOBI Cashmere has been Mongolia's premier cashmere brand. GOBI believes in traceability in every seam; from their factory in Ulaanbaatar and their local sourcing partners in Mongolia, to the very goat from which the cashmere is sourced. GOBI believes that great cashmere should be comfortable, sustainable, humane, and within budget. GOBI combines centuries-old craftsmanship with modern manufacturing expertise, with materials that are made to endure, and styles designed for longevity. With no middlemen, waste, or complicated production, a symbiotic respect is woven into the very way GOBI operates.
Dolce & Gabbana:
Dolce & Gabbana
Nylon belt bag $1,095 available at select boutiques
Customer Service Number: 1-877-70-DGUSA
Cifonelli: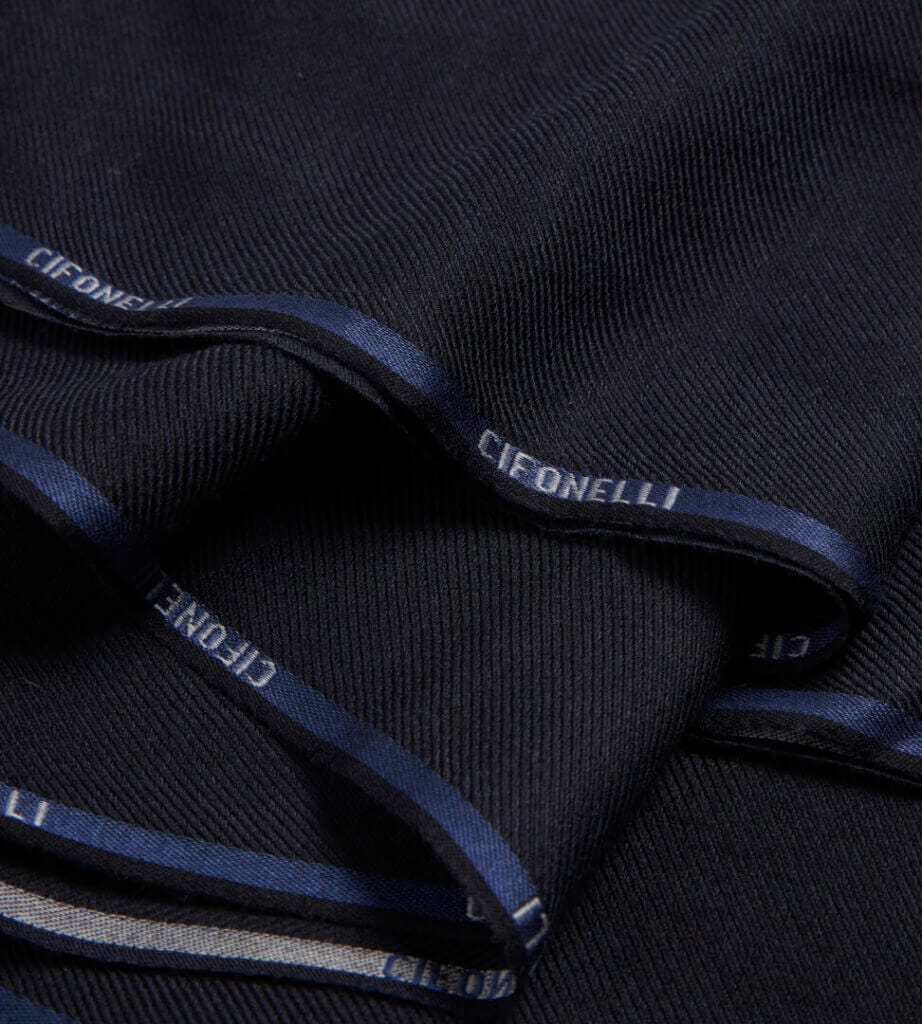 Cifonelli Blue Cashmere and Silk Scarf – $400
Cifonelli's new Autumn/Winter collection has an array of pieces, such as this blue cashmere and silk scarf, perfect for the discerning gentleman in your life this holiday season.
SENTALER: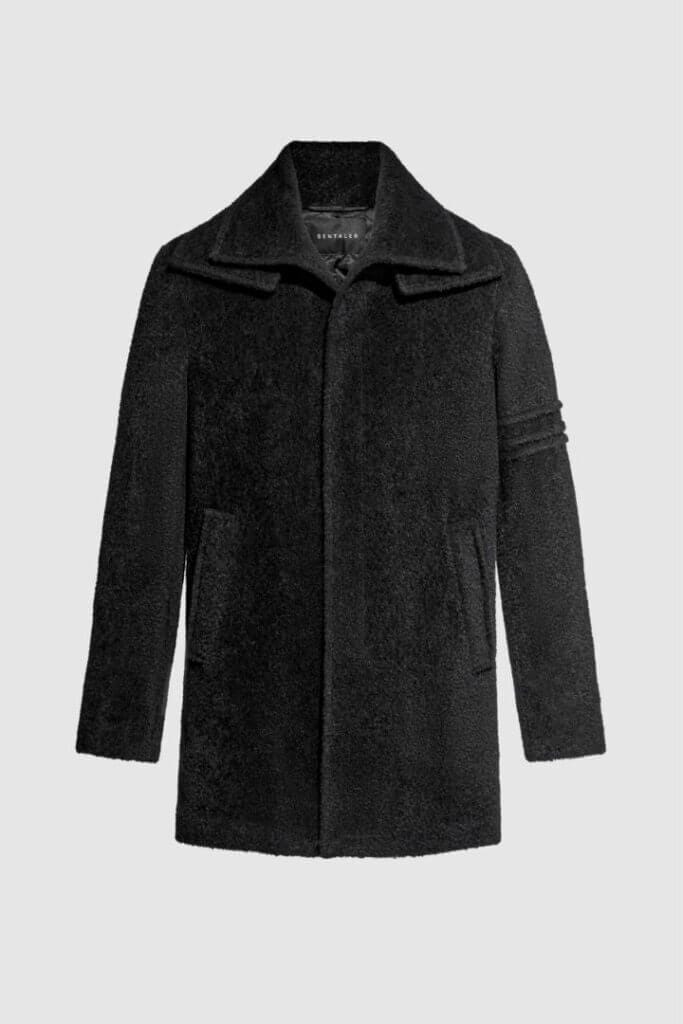 Men's Double Collar Technical Bouclé Alpaca Double Collar Coat -$1,850.00
The iconic SENTALER design features the Signature Double Collar with quilted padded filled lining for extra warmth. Crafted from plush Bouclé Alpaca, the warmest fabric in the collection, this material derives its exceptional warmth from its inherent properties of having microscopic air pockets inside each alpaca hair. Equipped with a Rain Shield treatment for weather protection, a concealed button closure, and a relaxed cut, this coat is a versatile statement piece.
The SENTALER MEN Technical Bouclé Alpaca Double Collar Coat seamlessly combines fashion with functionality. Crafted from plush and textured Bouclé Alpaca, it provides exceptional warmth from the natural thermal insulation created by microscopic air pockets within the fiber. Featuring iconic SENTALER design elements like the signature double collar and quilted lining, along with a special Rain Shield treatment, this coat makes a bold style statement while effectively shielding from various weather conditions, including rain and snow.
AMIRI:
Now available at AMIRI.com and at select retailers, including:
Fwrd / MatchesFashion / Mr. Porter / Mytheresa / Neiman Marcus / Nordstrom / Saks 5th Avenue / SSENSE / and more
AMI: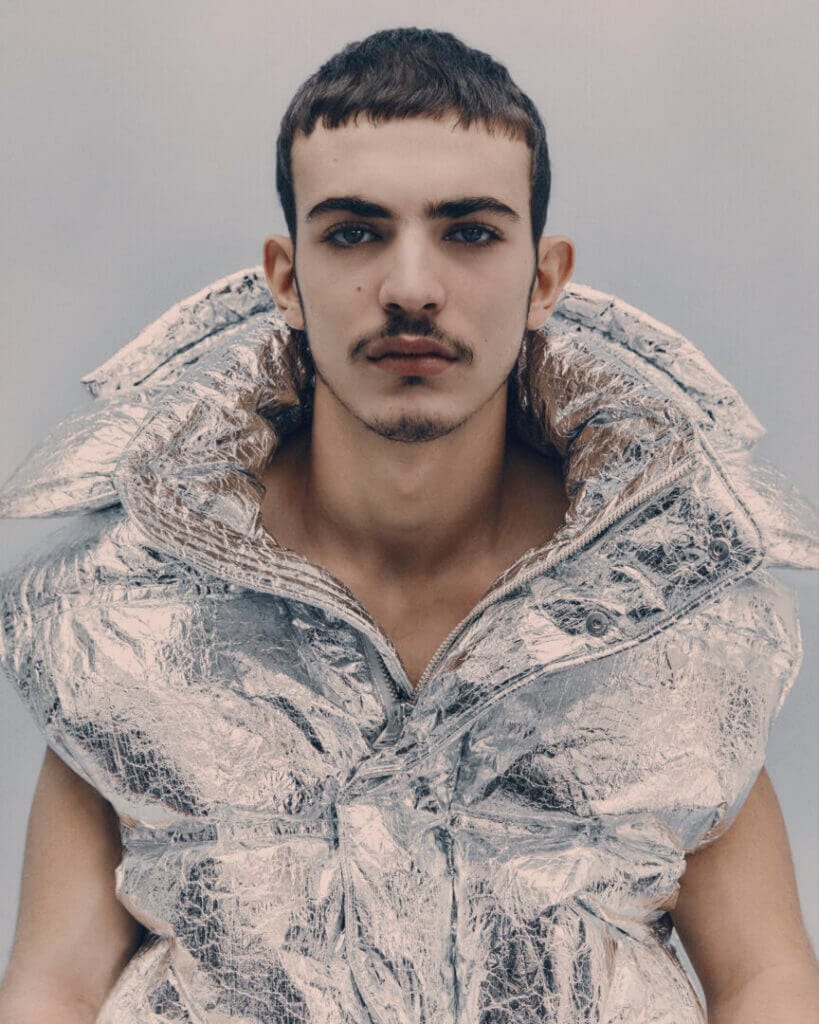 The Holiday Capsule Collection
AMI's 2023 Holiday Season capsule collection will be available in its stores' network around the world, as well as online at amiparis.com.
Featuring a wide range of AMI pieces in a delightful palette of white and silver tones, this limited collection reinterprets, among others, a selection of unisex basics from the AMI wardrobe.
The capsule features accessories such as gloves, scarves, caps, beanies, bags, and small leather goods, as well as winter-prone ready-to-wear pieces including silver down jackets, windbreakers, overshirts. On the alpaca Ami de Coeur garments, the distinctive symbol of the Maison is knitted in silver thread.
Scotch And Soda: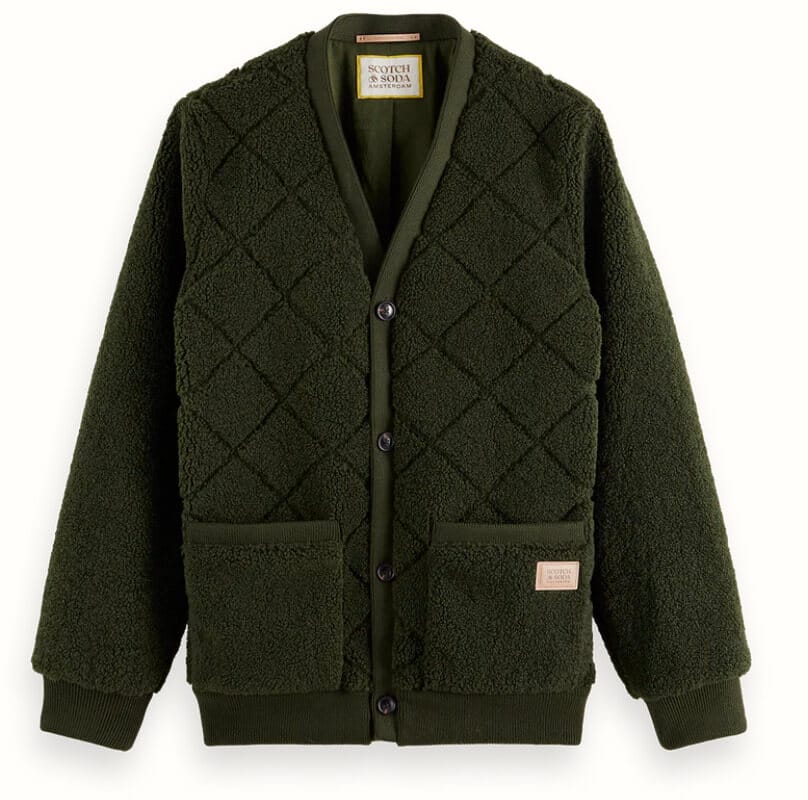 Shearling Cardigan Jacket Tired of grabbing the same old jacket when rushing out of the house? Give your fall wardrobe a fresh upgrade with men's outerwear. The Amsterdam based brand offers a range of statement pieces to pick from, allowing you to channel your individuality and match your personal style.
Shop the brand at ScotchAndSoda.com and top retailers Nordstrom, Shopbop, and more. Sizes range from S-XXL, prices start at $198. Affiliates available CJ: 6513748. Let me know if this is a fit for anything upcoming!
Mulberry:
Mulberry Cashmere Scarf in Light Grey $285
Cashmere scarves— These scarves are the perfect gift for those aiming to elevate their style for 2023. Wrap up in style with a timeless classic 100% cashmere scarf that can be personalized.
Cifonelli:
Cifonelli Beige Cashmere Sweater – $1190
In preparation for the holiday season, Cifonelli has released pieces, including this beige cashmere sweater, as part of their Autumn/Winter collection, making fashionable gifting easier than ever.
Rastah: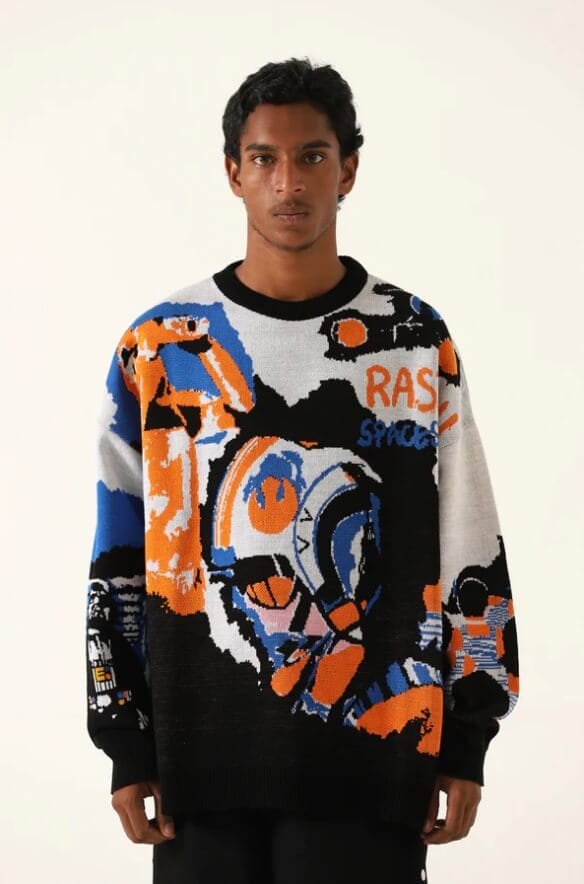 Space Travel Jacquard –This jacquard knit sweatshirt is an intriguing homage to the space travel films of the '70s and '80s, encapsulating the wonder and exploration synonymous with the era's cinematic art. At the heart of its design is hand-drawn artwork that adorns the back, featuring captivating Urdu typography, a blend that bridges cultures and time.
THE BACKPACK:
The ANDI Brand's Backpack: – $258 USD

The ANDI Backpack combines style and functionality in an extraordinary way, making it a must-have item for achieving a good style for Holiday Gift Guide 23. With its laptop compartment, trolley strap, extensive pockets, expandable design, detachable clutch, and eco-friendly features, it not only complements your style but also simplifies your holiday experience, making it a perfect gift choice for the season.

The ANDI Backpack is designed to solve the typical backpack challenges: easy access to your necessities and a look sophisticated enough to keep up with your work style. It also boasts interior and exterior organization, a trolley strap (because you've got places to go!), separate and padded laptop compartment, expandable design and a sleek detachable wristlet.

Separate laptop zip compartment (fits most 15" laptops)
Trolley strap for luggage
5 exterior pockets and 6 interior pockets, including interior cup holder pockets and exterior easy-access cell pocket
Top carry-handle
Main compartment 2-way zip
Expandable snap main compartment
Detachable clutch included
Water-resistant
Spot clean with a wet cloth. Air dry
Nylon water-resistant exterior
Recycled PET water-resistant lining (made with recycled plastic bottles)
Fractal Neon Webbing made from Recycled Polyester (made using recycled plastic bottles)
Hardware in gunmetal finish
MOSS:
The Business Casual Boost: Workwear Style Solutions with Moss
The world of workwear is experiencing a profound transformation, as professionals return to the office following the global pandemic recovery. Search interest in hybrid working continues to surge at 18% YoY but, interestingly, searches for business casual have skyrocketed by 108% and 186% for business casual suits. These statistics perhaps reflect the uncertainty surrounding what to wear, and a new appetite to smarten up.
Weekday dressing is no longer limited to business suits alone. It now spans the entire formality spectrum, encompassing business casual and casual alike. Those who worked from home during the pandemic, or still do now, have no intention of compromising on comfort; as they make their way back to the office however, the desire to create a versatile wardrobe that adapts to the demands of the modern workplace is evident.Thought this could be an interesting angle for you.
Malo Cashmere: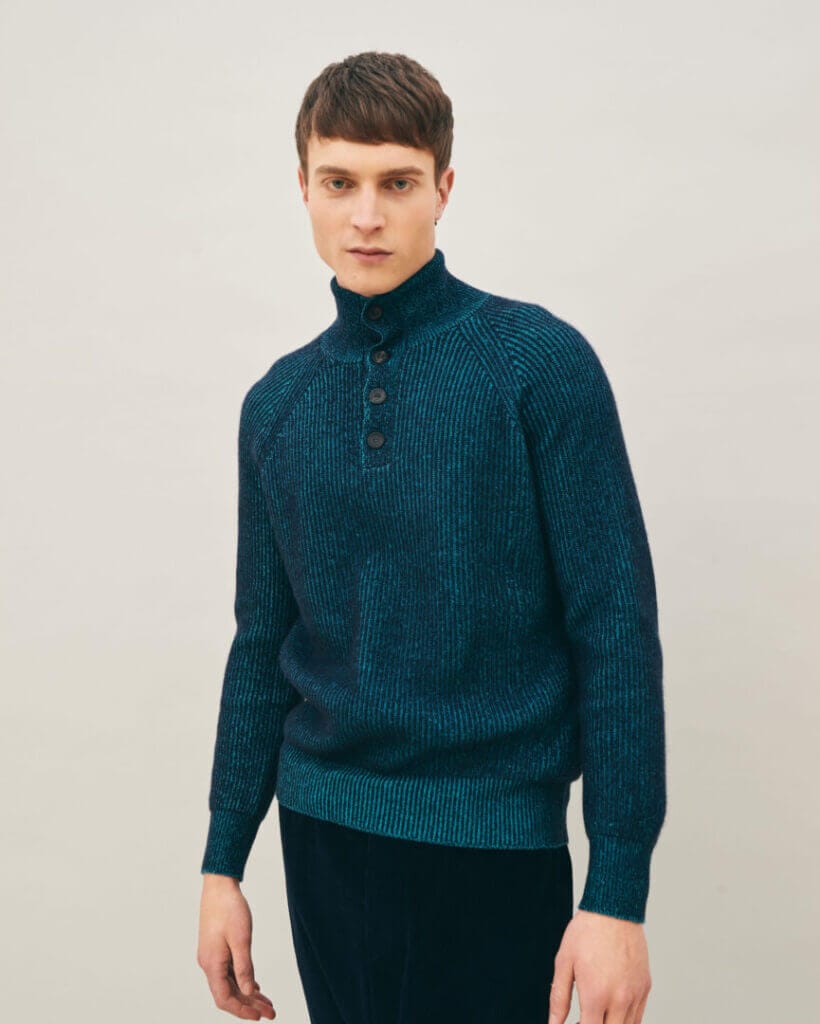 Cashmere turtleneck sweater, by MALO Cashmere, $1,710.00
A wonderful, comfy and warm Made in Italy sweater in precious cashmere signed by Malo Cashmere, FW2324 'Inhabit the body' collection. This vanisé cashmere turtleneck, is embellished with English rib and raglan sleeves. Vanisé cashmere is derived from a combination of cashmere fibers. This mix makes the yarn lighter, with a soft and delicate touch. A caress on the skin. Its 2/28 fabric, a reference to the fineness of the yarn, is a luxurious choice for those who appreciate uncompromising softness and warmth. An essential sweater to give an elegant and, at the same time, contemporary twist to cold and snowy Christmas holidays.
Brahaan:
This Navy 3-Piece Suit in a striking navy blue pin-stripe fabric. The coat has a notched lapel with 2 buttons on the front and comes with matching Trousers and a waistcoat.
Why is it essential? A three-piece navy suit is the perfect gift for the holidays, seamlessly blending style and versatility. Its classic design ensures the wearer is impeccably dressed for festive gatherings, formal events, and everything in between. The deep navy hue exudes sophistication, making it a wardrobe essential for those who appreciate timeless elegance. This versatile suit transcends seasonal trends, making it a thoughtful and enduring gift for the fashion-conscious individual on your holiday list.
Brackish: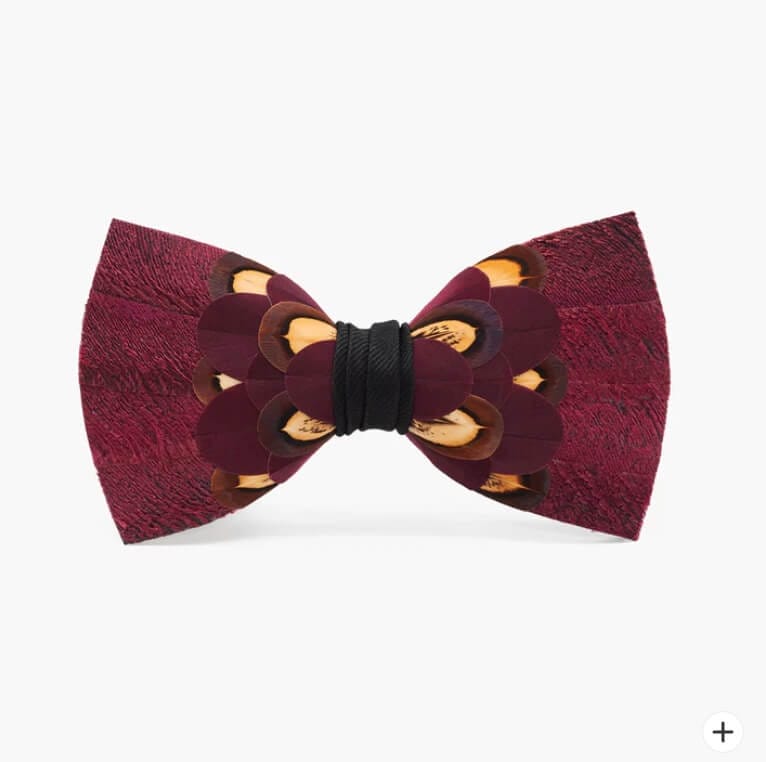 Rich and refined the McGrath Bow Tie is an elegant addition to your ensemble. Crafted by layering alternating sections of burgundy turkey and almond pheasant atop a textural base of peacock, this tie is a holiday stunner.
Band collar wrap features an adjustable strap from 13″ to 21″ and a hook closure.
Bow tie dimensions are 2.5" tall and 4.5" wide.
Each feather used in production is all-natural and sustainably sourced.
Feathers for bow ties are hand-selected, giving each finished piece unique coloring.
Each bow tie is hand-crafted in Charleston, South Carolina and takes approximately five hours to make, start to finish.
Rhone: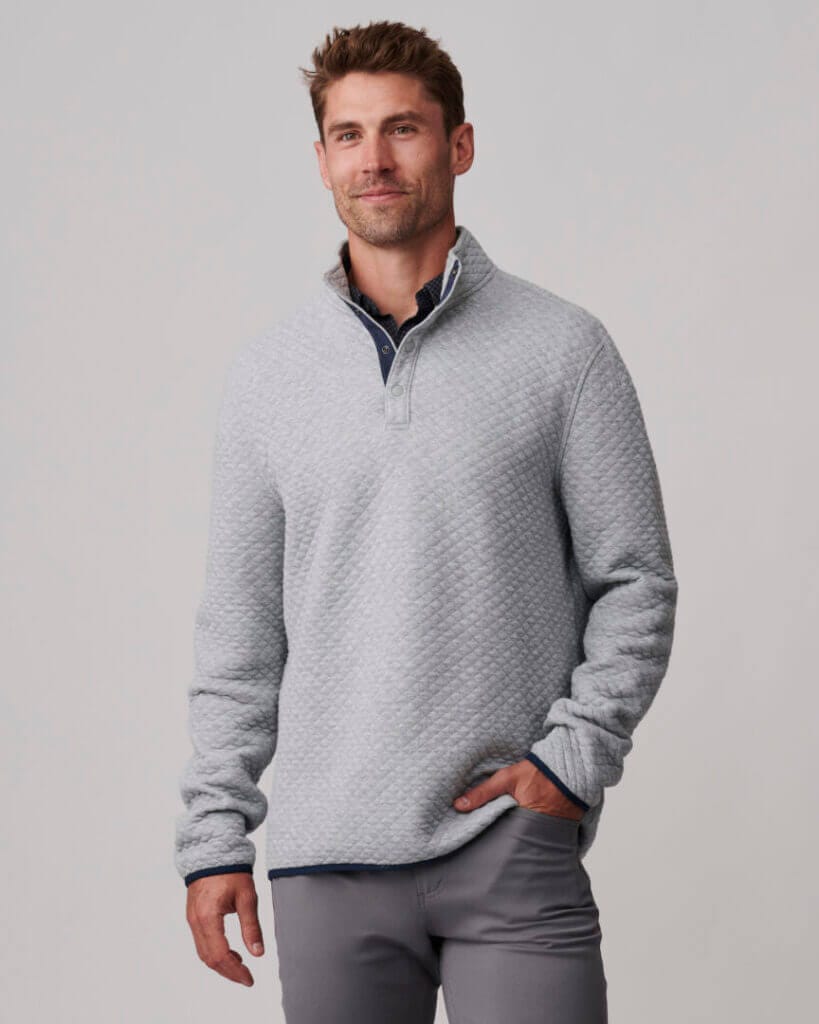 Cyber Monday Exclusive | 50% Off Over 100 Styles | Online & Rhone Retail Stores
Ring Bear:
Beveled Wood Ring
This elegant Beveled Wood ring combines the warmth of wood with the resilience of tungsten metal. Available in American Mahogany or African Zebra Wood inlay, it's the perfect ring for the lover of the outdoors. Its durability and unique design make it a great companion for life's adventures. (From $340)
Ring Bear:
Classic Comfort Fit Band
The Classic Comfort Fit band is the epitome of traditional elegance. Crafted from ethically sourced recycled gold, this handmade ring is for the man who values both sustainability and timeless style, appealing to environmental responsibility without compromising on value. A great choice if it's time to upgrade your husband's wedding ring.(From $349)
Ring Bear: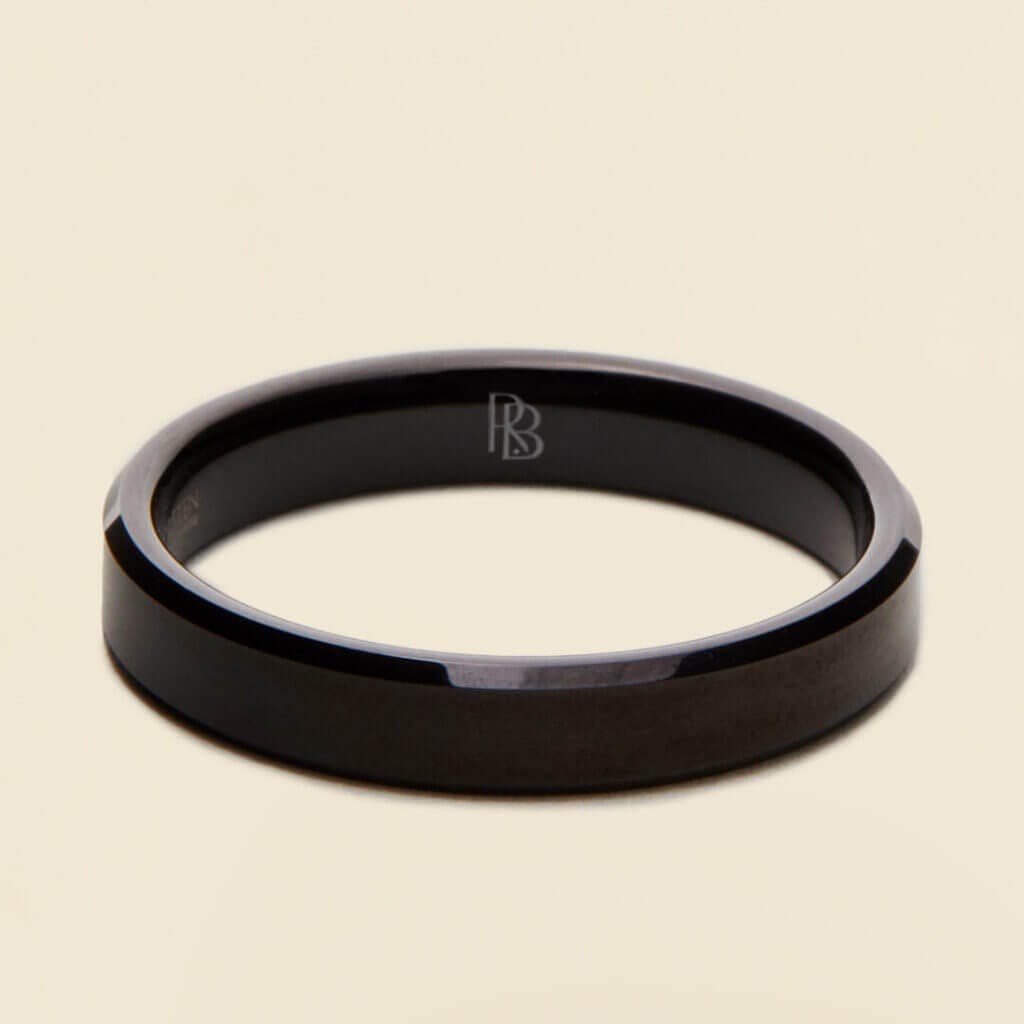 Black Beveled Band
This sleek Black Beveled band is tailored for the man who is both stylish and practical. Made from durable Tungsten, this band can withhold the rigors of daily life without a scratch. It's perfect for the modern man who seeks smart and effortless style. (From $230)