By Joseph DeAcetis Published: November 3 2023
Finding the perfect gift for the men on your list while staying on a budget is a real challenge. That's why stylelujo.com has done the work for you. In this Holiday Gift Guide , our team of expert fashion and lifestyle editors present some of the best gifts on the market today. Our picks are all top-rated and useful. More to the point, all the below gifts presented below come with a price tag under $100.
Tired of looking at useless products online that don't provide any value? Our team of gift researchers fond the best gifts that will spoil him. You seem being on a fixed budget is a smart way to shop this season but that doesn't mean you can't surprise him with the best holiday gifts on the market today.
The key to getting a great gift is making sure he would enjoy the surprise. The editors and writers of Style Lujo have curated a wide range of gifts that will be within your budget.
POTRO:
Photography by Macrae Marran. Model: Caleb Stevens.

POTRO: Polo Shirt $48.00

Potro menswear resides in its almost classic balance between tradition and innovation. Elements of Latino heritage appear again and again in a manner as demonstrative of preservation as of innovation. It is much more simple to become an icon when you're #somospotro
NWM:
NWM, the pioneer of audio technology and a perfect addition to upcoming gift guides. Discover the Future of Audio with NWM Japanese Air-Vibration On-Ear Headphones. NWM Headphones, combine style, comfort, and state-of-the-art technology. Whether it's for a loved one who loves to run or someone who values seamless connectivity, these headphones make for an ideal gift.
Just in time for the holiday season, NWM has three style of headphones: signature wireless ($159) + wired ($59), or a wireless neckband ($89), fit for all different budget and lifestyles. NWM products are made with precision by Japanese audio pioneering craftmanship making an excellent gift choice for remote workers, avid travelers, or fitness enthusiasts.
NWM's revolutionary on-ear headphones, featuring Personalized Sound Zone (PSZ) technology, allow users to precisely control their audio experience while staying connected to their environment. NWM is introducing a new sound immersion philosophy creating a safe and seamless listening experience.
NWM makes the perfect gift for every lifestyle. 
ORIZA: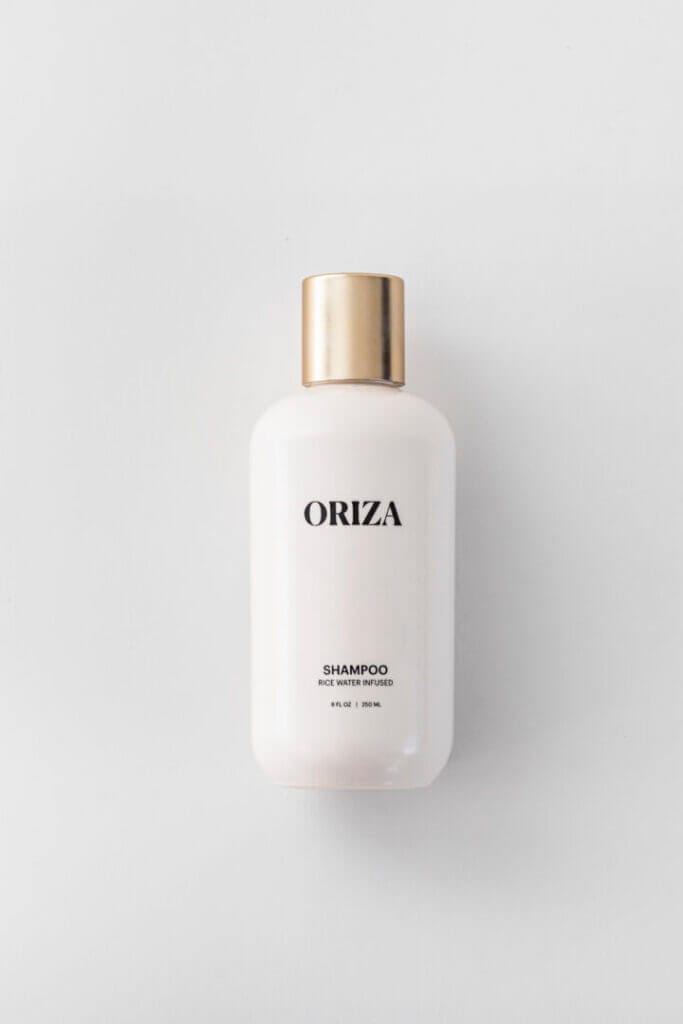 Oriza Rice Water Infused Shampoo // Price: $38 USD
Oriza Rice Water Infused Shampoo stands out for its ability to nourish and fortify hair, attributed to the enriching properties of rice water. This unique formulation enhances overall hair health, making it an essential addition to any hair care regimen. Additionally, its natural ingredients and proven effectiveness make it a reliable choice for those seeking a high-quality shampoo that delivers visible and long-lasting results.
Bluebella:
Alma Luxury Satin Short Pajama Set Fuchsia Pink – $84
When it's time to refresh your at-home edit, reach for the elegant yet playful Alma set. Made for lounging, sleeping or adding to your outerwear collection, this luxurious shirt and shorts duo is imagined in sleek satin that acts as the perfect canvas for boldly coloured design.
% Off Site Wide and what is the CODE (see below for reference)
Up to 50% off on select styles. (11/20 – 12/4)
Olfactory NYC: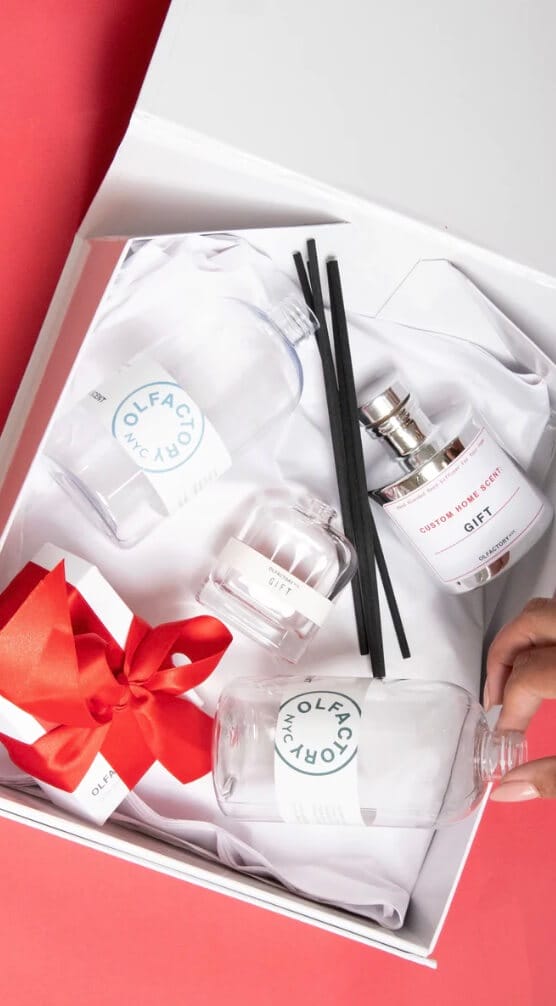 The Olfactory NYC Giftset is the perfect gift for men or women looking to create their own signature scent.
LEATHER HONEY:
Leather Honey Leather Care Kit ($43.99): If you have a leather enthusiast in your life, they'll love Leather Honey. From the couch to the car interior to their favorite leather shoes, and everything in between, Leather Honey keeps leather looking brand new. Now available in a perfectly giftable kit featuring a Leather Conditioner (8oz), Leather Cleaner (8oz), and two lint-free application cloths. The non-toxic, water-repelling formula offers 6 months of protection. The easy-to-apply formula is natural, safe, made of high-quality ingredients, and makes your leather last longer. Safe for kids and pets, Leather Honey soaks into leather's pores, hydrating the individual fibers of the leather and providing a water-repellent barrier that prolongs its life. Also available on Amazon.
COLSEN FIRE PIT:
Colsen Fire Pits ($74.96+): Get the instant ambiance of a real fire with Colsen Fire Pits and leave the smoke and clean up behind. The eco-friendly fire pits are easy to light and extinguish. Simply use rubbing alcohol to get that fire going! Just be sure to have proper ventilation. Made from temperature-resistant concrete for an enhanced, safe, smokeless, and odor-free experience. The modern, portable designs go with today's decor and offer an easy way to stage an inviting atmosphere for quiet moments alone or while celebrating with loved ones. Also available on Amazon.

AQUASONIC BLACK SERIES:
Aquasonic Black Series ($39.95): Beauty, brains and power. The Black Series is a world-class modern electric toothbrush packed with the most up to date technology. It features an ultra-powerful and industry-leading motor producing 40,000 vibrations per minute, lithium-ion battery, ultra-fast wireless charging, 4 mode operation, smart vibration timers, 8 DuPont engineered brush heads and bristles, and a custom travel case; all with a sleek ultra-slim, lightweight and IPX7 rated waterproof design. Each brush head lasts 3-4 months so 8 will last for about 2.5 years. Keeping more toothbrushes out of landfills. Also included is a convenient custom hard shell travel case made of BPA-free plastic with space for two brush heads. Also available on Amazon (with over 100,000 reviews).

CrashGal Couture: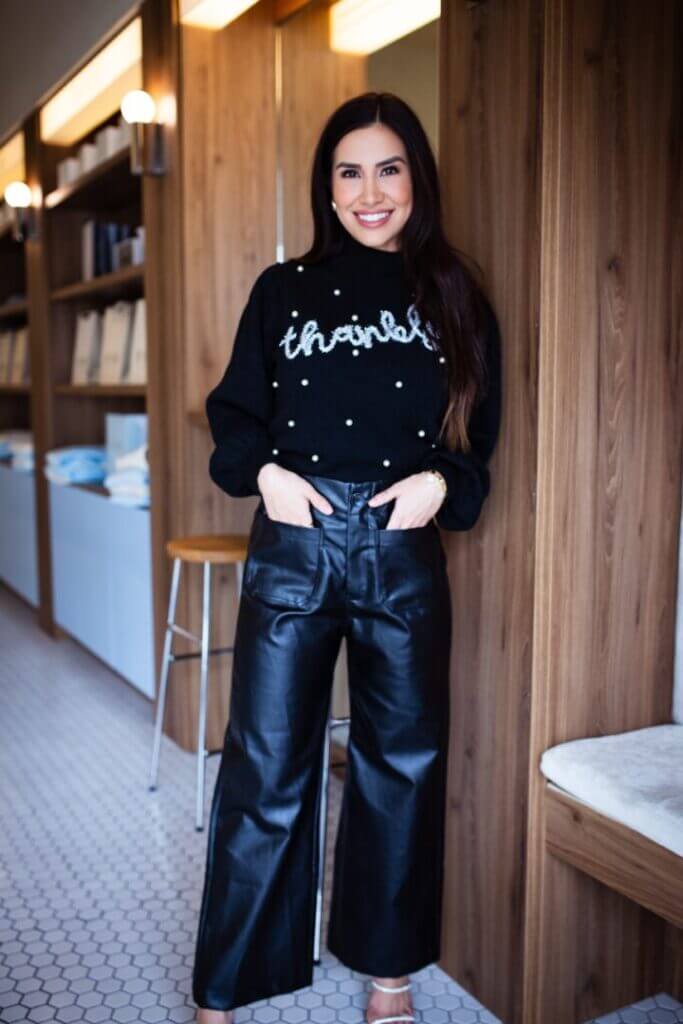 Salem Cropped Faux Leather Wide Pant $59.99
CrashGal Couture's Salem Cropped Faux Leather Wide Pants are an absolute must for anyone aiming to impress the stylish women in their life with exceptional gifts. These pants effortlessly combine fashion-forward design with comfort and versatility. Crafted with high-quality faux leather and featuring a wide-leg, cropped silhouette, they exude both sophistication and edginess. The Salem pants are a statement piece that can easily transition from casual chic to formal elegance, making them a perfect addition to Holiday Gift Guide 23's stunning gifts for the stylish woman. Whether paired with heels for a night out or sneakers for a more relaxed look, these pants offer endless style possibilities, making them an essential choice for the fashion-conscious gift-giver.
BT:
Broken Top Brands Geotanical Soy Candles ($26.00): Imagine this, breathing in the sweet and salty aroma of the coastline first thing in the morning. Driftwood marine, sultry amber, and earthy musk converge in this masculine scent, reminiscent of high-end colognes. Broken Top's candles are hand-poured with 100% U.S.-grown soybean wax and feature cotton core wicks, and fine fragrance oils. They're always vegan, gluten-free, paraben-free, and phthalate-free. Also available on Amazon.
BAABUSHKA: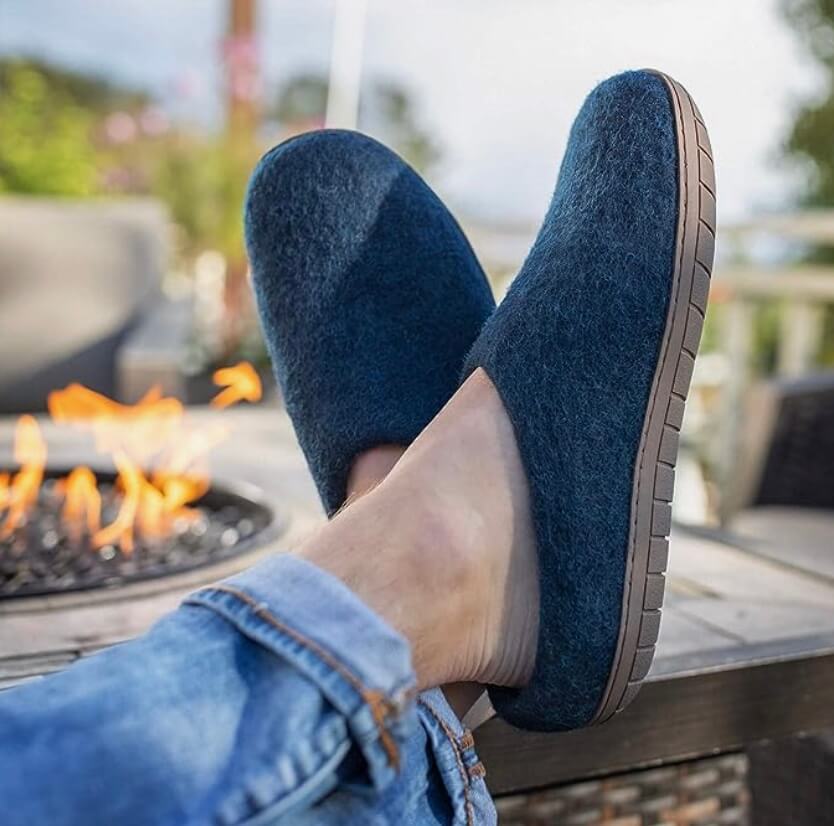 Baabuska Slippers ($74.00): Designers of toasty wool slippers for the whole family, each lightweight pair is handmade by women artisans in Nepal, empowering them to improve their living conditions and their children's education. Baabushka's slippers and booties are super comfortable, breathable, and sustainably made. Consumers rave about this added perk for the indoor versions, with their supple buffalo leather soles, enjoying how their flat handcrafted build mimics being barefoot. The outdoor selections, with sturdy rubber soles, offer built-in arch support and can be worn out and about. The breathable, natural properties of wool keep feet at the perfect temperature no matter the season. Following its ethos to give back, Baabushka donates a percentage of sales annually to Global Citizen (a non-profit working worldwide to end extreme poverty), even more reason to love them! Also available on Amazon.
Aromatherapy Diffusers:
Pure Daily Care Ultimate Aromatherapy Diffuser (With almost 62,000 Reviews!!) ($29.95): With a 400 ml capacity and state-of-the-art wave diffusion technology, the Pure Daily Care Diffuser is able to atomize essential oils for ultimate wellness. It includes 7 ambient light modes with two intensity settings for 14 different light combinations. It also includes 4 timer settings and a convenient auto-shutoff feature for low water levels. Made of BPA-free plastic with a beautiful printed wood grain design. The essential oils are formulated using high-quality plants sourced from various regions, such as lavender from France and Tea Tree from Australia. The modern heat-less diffuser delivers the therapeutic properties of these plant oils as nature intended by using modern ultrasonic waves to atomize the oils instead of burning them with heat.
POOLCANDY:
T-Rex Snow Tube ($50.00): The SnowCandy T-Rex Snow Tube is the wildest thing to hit the slopes since the last Ice Age! Every terrifying detail of this powerful animal was captured using high-resolution RealPrint® technology from SnowCandy. The oversize construction is big enough for riders of all ages and sizes. Riding this beast is sure to make you the king of the hill! Made of heavy-duty, durable PVC, cold-resistant to -25C, features heavy-duty grip handles and supports up to 250lbs. Also available on Amazon.
NATURAL FARM: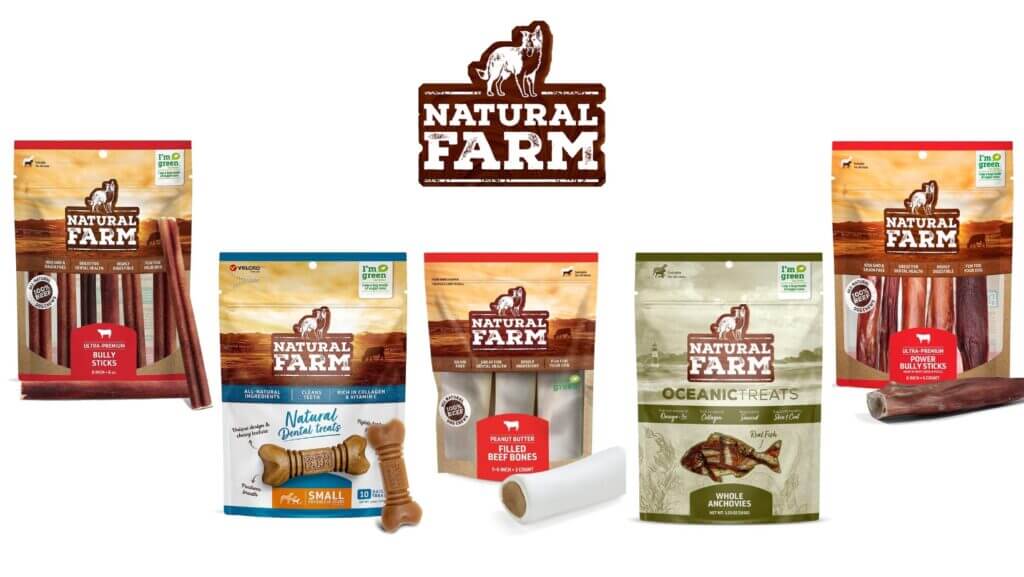 Best Gifts For Dog Dads

Natural Farm Dog Treats & Chews ($12.99+): Make sure your pets have the best of the best with these sustainably sourced,100% natural ingredient treats! Natural Farm's chews are naturally delicious, so there is no need for artificial flavors! Sourced from a single supplier of free-range cattle, chickens and pigs, all proteins are sustainably obtained so they know precisely what is in their dog treats without any surprises. These collagen chews promote joint, skin, coat, and digestive health in a fully-digestible chew. The brand also donates to One Tree Planted. Also available on Amazon (with over 14,000 reviews).
AQUAPAW PRO:
Aquapaw Pro ($44.95): This multifunctional grooming instrument is essential for pet owners as it ingeniously fuses the features of a scrubber, a bathing brush, a massager, and a shower. The dog bath brush, made from premium 100% silicone, provides enduring, flexible use, and delivers a gentle yet thorough cleanse for your pet's coat and skin. Its high-grade material ensures effectiveness and longevity, becoming a reliable grooming tool for your beloved pet.The Aquapaw Pro includes an 8-foot hose with included adapters for both shower and garden hoses for remarkable versatility. An ideal gift for your four-legged friend or fellow fur parent, it enhances the grooming experience while showcasing love and care for your furry friends. Also available on Amazon, Chewy, and Walmart + affiliated with ShareASale.

SUPESU:

SUPESU Cubby Collection 2023 New Launch – Cubby Sweatpants, Wide Leg. Photography courtesy of Kris.Niu

Cubby Sweatpants, Wide Leg. The price in US dollars$88

The must have collection this winter. Constructed, stylish, perfect, premium comfort.
Adjustable buckle of the cuff gives you two styles option.
Sporting a 360 degree elastic waistband, our Cubby Sweatpants is made from a unique soft premium fabric.
Hidden functional pockets lined with supersoft fuzz (plus a secret extra side pocket with an invisible zipper). It's high waisted elastic cut also works to tuck in the belly and elongate your body shape.
BLUNT UMBRELLAS:
BLUNT Umbrellas ($89.00+): Meet BLUNT Umbrellas, featuring an iconic design that arrives from New Zealand and lands on our shores just in time for fall and winter. These are no ordinary umbrellas. Built to last with superior engineering and intelligent design, wind tunnel tested to hurricane conditions, completely repairable and iconically stylish – BLUNT Umbrellas are the only umbrella you'll ever need. The core umbrella design has stayed the same for 150 years. BLUNT disrupts the notion that these staples are disposable and boring. The brand gives umbrellas a makeover that adheres to our lifestyle needs. The brand resists the "throwaway culture" to better treat our planet and reduce landfills (one million umbrellas end up in landfills each year!). That goes for the packaging as well. With BLUNT, enjoy patented blunt tips which act like mini umbrellas. A taut, high-tension canopy that has been wind tunnel tested to hurricane conditions. They are designed to be repaired, not replaced, adding to their sustainability with a 2-year manufacturer's warranty and ongoing support for life. Also available on Amazon.
Current Air:
Cascading Silver Neck Chain – This beautiful silver chain necklace features rhinestones, perfect to jazz up any outfit.
Talentless:
Women's Heavyweight Circle Logo Hoodie – Our best-selling logo graphic in our classic hoodie silhouette. The circle logo hoodie is cut from heavyweight cotton fleece, it includes a front-facing kangaroo pocket, double-lined hood, and ribbed cuffs. This hoodie is always a classic.
Crop Shop Boutique:
Activluxe Pocket Leggings in Air – Our Activluxe Pocket Leggings are made with our Activluxe fabric that offers high compression and a silky-feel for a sculpted look.
Lights Lacquer: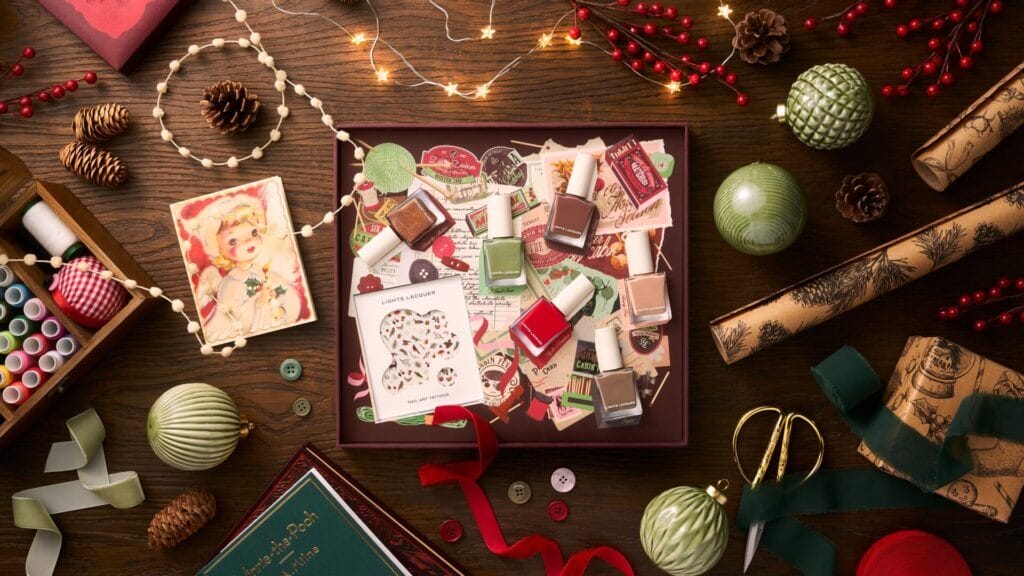 Cabin Fever. This includes a variety of cozy shades from Un Poco Cocoa to By The Fireplace. Additionally, items such as Nail Art stickers and a holiday mug are included within the bundle. Lights Lacquer is a female-founded, Latin-owned, vegan, cruelty and twelve-free nail lacquer brand created by Miami-based, mega-beauty influencer Kathleen Lights. For this holiday collection, gaining inspiration from the rustic allure of a cozy cabin retreat, the color palette mirrors the serene beauty of a vintage winter wonderland. This collection does an effortless job of creating new, unique shades that still bring holiday cheer.
Pricing is as follows:
$11 per bottle
$7 Nail Tattoos
$16 Mug
$73 for Cabin Fever Collector's Edition Box, which includes all six shades & nail tattoos
Sadire: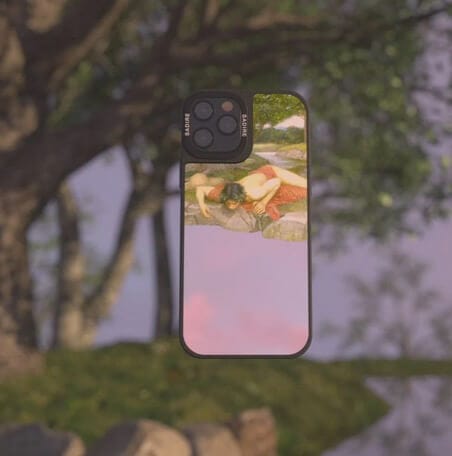 Narcissist Phone Case by Sadire. The top half is art, the bottom half is a reflective mirror. $30
Don't overlook the power of an aesthetically pleasing phone case. In the year of 2023, everyone has a smartphone and your phone case is the ultimate accessory. The Narcissist phone case by Sadire is a reimagined story of Narcissus from Greek Mythology told through you. A modern day commentary on our self obsession and addiction to social media.
befree:
zipOns from befree are adaptive pants that feature zippers on the legs from waist to hem so they can easily be put on standing or laying down without having to pull the pants up over the legs. Adult lightweight pants retail for $54.99.
They can also be unzipped at the bottom to accommodate casts, braces, and other medical equipment. zipOns are available in various colors and are made from soft, moisture-wicking material to help with comfort.