What Does Heritage Mean to Fashion Designers Today?
With a plethora of styles on the runway, such as dark goth, tailored jackets, floral prints, all white and sparkling glitter, the European Spring-Summer 2023 women's collections defined how past and present can coexist through the medium of fashion. The term being used is referred to as future heritage; developing new spring looks punctuated with vintage pieces and those from past collections. To be clear, it is important to remember that these fashion houses were once family-owned maisons which morphed into powerful conglomerates-with a laser focus positive revenue streams.
While the total idea is in some ways an extension of the designer as the arbiter, it is also very much an exercise in brand-building, a way to promote products cross-category. Even newer companies are reaching down-deep into specialized values that stand as the pillars of foundation for their respective brands.
This season, many fashion houses dug into the image archives to help gain information on rich brand heritage. The trace back in time is a testament for the artistic directors to tap into a company's history and gain knowledge of unique hallmarks in product development.
For the last few seasons, younger millennials and Gen Z have similarly taken an expansive view of the house history while influencing heritage brands to make updated versions -by incorporating style diplomacy. On the one hand, minimalist staples like tailored suits and sleeveless dresses ruled a large portion of the runway but they have been morphed into fresh looks pushing innovation with fringe, glitter, hoodies and sprouting hardware from all corners of the body. The trending thread that tied it all together is the delicate but powerful silhouettes and the fine attention to detail.
The designer collections referenced the points with these elements of the archives. Just as ideas about heritage are expanding in Spring- Summer 2023 collections, so collaboration is becoming more of a form of community building and cross pollination to reach a wider audience.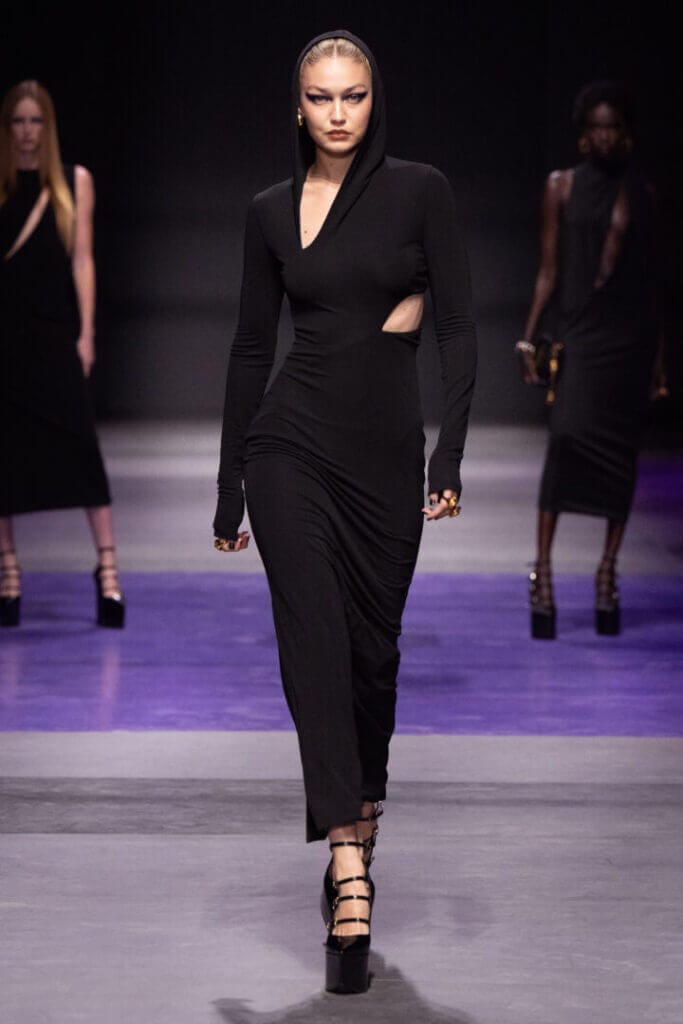 A DARK GOTHIC GODDESS: Black, purple, and hints of fuchsia are the colors running through the whole collection, coming together in looks both high-glamour and hard-edged. Singular slashes cut across dresses and tops, while a series of precision cuts come together as graphic pattern details.
"I have always loved a rebel". says DONATELLA VERSACE, "A woman who is confident, smart and a little bit of a diva. She wears leather, studs and frayed denim and she has enough attitude to mix them with chiffon, jersey, and a tiara! She is a strong liberated woman; she is gorgeous; she knows it. She is the Goddess of Freedom." –
The SS23 collection, artistic director Matthew Williams was influenced by Hubert De Givenchy and the differences between French and American cosmopolitan dress codes. This is where Parisian chic and California cool define a globalist generation. By researching the Givenchy archives, Williams creates a TK that was re energised along with workwear staples. The collective study began with adopting dress codes of the mansions past and re-defining them for purpose in the modern era. Elegant dresses are constructed with integrated panel and pleats draped from the neckline and elevated by the use of surface decoration and rendered modern codes of style. In a sense, it is a present day approach to urban dressing in 2023.
Focusing on rebirth, Balmain artistic director Olivier Rousteing discovered how radical advances in science transformed history toward progress. His museum research reacquainted him with painting, music and sculpture from past eras. These past images worked their way into his Spring-Summer 2023 sketches; by influencing patterns, details and silhouettes that channel the spirit, of the golden age's greatest thinkers.
Balmain continues to make progress in relying on earth-friendly fabrics (FSC- and Ecovero-certified viscose and sustainable Italian linens, as well as remarkable raw, undyed fabrics -helping to avoid water pollution from chemical dyes. By blending heritage and tradition, Roustring focuses on the new world. The new collection, includes a long gown with multiple layers of raffia, each playing with an array of brown hues and hand stitched onto a gauze base, allowing the amazing textures and tones of the trees that we spotted during our expeditions deep into the woods.
"There's such a long way to go and so much work ahead But we pledge to keep giving it our all —and we hope that others will join with us." says Olivier Rousteing.
The Paul Smith's SS23 women's collection continues with a strong emphasis on contemporary tailoring and a versatile interpretation of eveningwear. The collection is defined by a sleek, feminine silhouette with a distinctly relaxed mood in keeping with the season. Sophisticated tailoring, with premium fabrics including linen, boucle, jersey, suiting and satin. Tailoring is at the heart of the collection, presenting a modern take on traditional suiting codes such as the three-piece suit in the form of a satin shirt, cropped bustier and high-waisted trouser offers a more youthful interpretation. The relaxed looks are designed to provide a statement alternative to formal dresses.
DIOR:
This season, the Dior spring-summer 2023 ready-to-wear show, has adopted the image of the House's archives*. Maria Grazia Chiuri moves into the future by incorporating a reflection from the past and a look into modern times. Contemporary craftsmanship also revisits an ancestral tradition. A collective energy aiming to explore the multiple facets of feminine power.
Chloé :
The Chloé Spring-Summer 2023 (SS23) collection marks the second chapter of the Maison's research into climate solutions. SS23 continues into fusion energy. Fusion will soon become an infinite source of clean energy.
Layering garments made from lower-impact knitted cashmere mesh are complimented with textured linen tailoring.
"I would like nuclear fusion to become a practical power source. It would provide an inexhaustible supply of energy, without pollution or global warming." – Professor Stephen Hawking
The ID can be scanned with a smartphone. It provides transparency with every purchase, allowing users to trace their item from field to finished piece. A certificate of authenticity with a unique ownership passport will act as a guarantee, facilitating the product's second hand resale. Finally there is a section dedicated to care and repair advice.
Darkness into light. A story that evolves in the purity of black. Dries Van Noten womenswear spring/summer 23 progresses from dark shades into a celebration of optimism. The radicality of Kazimir Malevich's Black Square informs the segment devoted to that most total of non-colours in a series of structured pieces. This season the house revisits earlier designs, manipulating their scale. Some are oversized, others shrunken to micro-prints, lending the effect of one mass of pattern.
Couture techniques explore the delicate but powerful silhouettes. Transparency and lightness with a theme of surface texture and decoration developed in the handcrafted elements such as crochet, ruching, ruffles and macrame.
The Iceberg SPRING SUMMER 2023 woman is a protagonist. She aims to be unique.
"For me, these collections are about the individuals themselves who decide how they want to feel, so they can choose what to wear," Creative Director James Long, explaining that the Iceberg woman's style journey departs from his vision of "travelling without moving" and exploring fluidity of spirit.
Draped in monochrome variations of white and unexpected splashes of fire engine red, the Spring Summer Iceberg woman exudes a hint of romance with a splash of powder pink. Quintessential Italian sartorial flair and spirit of essential-ness makes its way onto the runway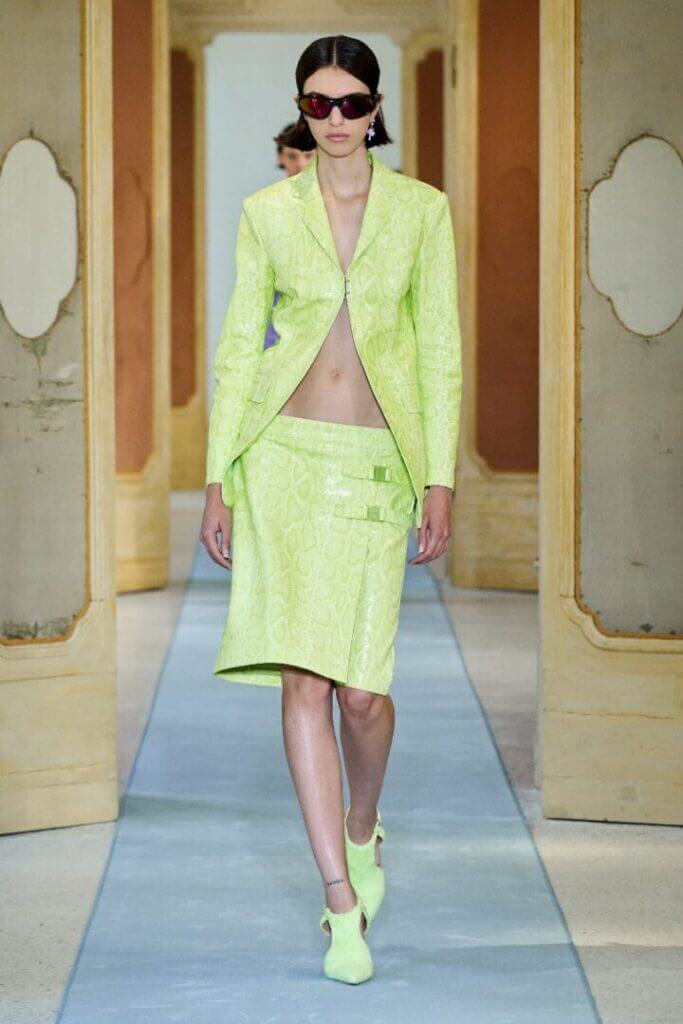 This look from DSQUARED2 sets the tone for high-octane tailoring. Following the tailoring trend of the season, this two-piece look features a sultry python print on a low rise, knee length, skirt and matching structured jacket. The fluorescent yellow matches well with numerous color combinations making each piece versatile from day to night. Together, or separate, you'll want to wear this look all season long.
Spring Summer 2023 once again finds Cecilie Bahnsen bringing her romantic, universe to Paris Fashion Week. The collection is Cecilie's reflection influenced by giving new life to the traditions of couture.
Material are embroidered with floral motifs, and backed with crinoline, elevating the fabric volume and movement. The craft and technique of couture is revealed as well in fil coupè pieces that have been left unfinished, threads uncut, mimicking the movement of waves and exposing all the beautiful intricacy.
"I have been thinking a lot lately about a piece by Yoko Ono that I saw ages ago in Denmark at the Louisiana Museum. It expresses so beautifully something that I feel to be true – that we are all the same, just placed in different containers. As humans, we make distinctions between our different shapes and sizes and everything else. But at our core, we are essentially the same." Cecilie Bahnsen
The collection resonates with the past, and a future. The simplicity of geometric forms, cutting and reduced construction are used to create garments that move easily around the form. Alaïa iconography is explored. Stretch-jersey pieces have been reengineered to function.
A root in haute couture -fabric moving freely around the body.. Material is draped and knotted, manipulated by seams and simple drawstrings. The garments become a new form of decoration. Challenging rules and restriction, the pieces twist around the body. Jewelry has a brutalism, laid under clothing or fused with their surface, , affecting the rapport between fabric and body, changing dynamics.

The history of Alaïa – Maison, and Azzedine – spin a thread woven through garments and accessories. The essence, an essential Alaïa. These sit alongside overt homage – a 1991 heel developed for Azzedine Alaïa by Raymond Massaro, styled as a pair of female legs, provides direct inspiration for a new creation by Pieter Mulier for Maison Alaïa. Reinvented for today, it grounds every look in the heritage of Alaïa, a constant inspiration, one that is always alive.
The Hui Spring-Summer 23 collection focused on rebirth. The butterfly is the inspiration, symbol of metamorphosis. Designer Hui Zhou Zhao sees butterflies as a link between East and West cultures. The legend of the Mother Butterfly is that the Miao people have been telling since the dawn of time. Transformed into an ancient maple tree, the Mother Butterfly falls in love with a bubble on the water of a pond. She becomes pregnant and lays 12 eggs and after 12 years of incubation, gives birth to 12 brothers including Jiang Yang, human ancestor of the Miao. The image of a woman's head with the body and wings of a butterfly, often appear on ancient artifacts, embroidery, batik, musical instruments.
This season, the Mother Butterfly becomes the leitmotif of a soaring collection. There are lots of shorts and wide-legged pants long skirts or cropped slim jackets with padded shoulders, but also trench coats, pea coats, and a maxi blazer with 3D applications that look like brooches. The butterfly effect is a fluttering of wings and can cause a tidal wave at the antipodes.
For Spring-Summer 2023, MM6 Maison Margiela draws inspiration from hand-knotted and studded pieces discovered in the archive. The runway show presented a 60-strong ensemble of the Orchestra Sinfonica di Milano, conducted by Wladimir Schall.
This season, clothes are crafted with vigorous, balletic movement in mind. A playful construction worn where shrunken spaghetti-strap tops become cummerbunds that cinch the waists of boxy satin coats, and knitted camisole dresses are tugged and folded into svelte, high-waisted skirts. The dye treatments of sky blue and rose jersey are marbled and streaked, a homage to pieces from one of the Maison's most emblematic collections. As ever with MM6 Maison Margiela, this is a collection that reiterates the brand's core philosophy – rather than impose how they should be worn, these are clothes to be lived in as you please.
This season, Bally welcomed Rhuigi Villaseñor as Creative Director. He presented his first collection for Bally with the Spring/Summer 2023 season. Bally is a Swiss luxury brand established in 1851, with a rich heritage in shoemaking, and a longstanding relationship to architecture, arts and the environment. Today, the brand offers unique designs across shoes, accessories and ready-to-wear, driven by a dedication to craftsmanship and a contemporary aesthetic. In January 2022,