Since the dawn of skiwear, luxury ski-apparel has had a place in sportswear that firmly holds its own stylish platform In fact, it upholds the dignity of winter sports similarly to the way fashion is in the metropolis cities.
In the past, affluent figures such as Princess Diana, graced the slopes of Lech in Switzerland by displaying ease and elegance in a sport which requires great athleticism and fearless courage. Gone are the days when sleek sunglasses and prominent headbands were an acceptable requirement. Nowadays, free-spirited, uber-stylish skiers and fun-filled spectators are seen on and around the slopes of the most high-end ski resorts as well as the most luxurious five star hotels- sporting luxury brands designed with the utmost polished on-trend styles for the ski season. More to the point. brands have been increasingly creating total ski looks by including helmets, googles and the whole shebang!
As a sport not for the faint-hearted, skiing is effectively a downhill adventure where you can equip yourself with integrated technique and independant style. This is what makes it all the fun!
Brand History:
The Fusalp name derives from 'fuseau from the Alps' that which refers to the brands ski trousers. Founded in 1952, the brand maintains a strong following until today; especially with the millenial and Gen Z customer base.
It all started when two innovative tailors from Annecy France set their tunnel vision with an aim to empower skiers with soulfully crafted winter uniforms- so to speak. Subsequently, the ski apparel was instantly worn by competitive racers as well as acclaimed artists of the sport. The result: Fusalp not only dove in head first but rather the downhill race was sure to pick up speed. And rightly so.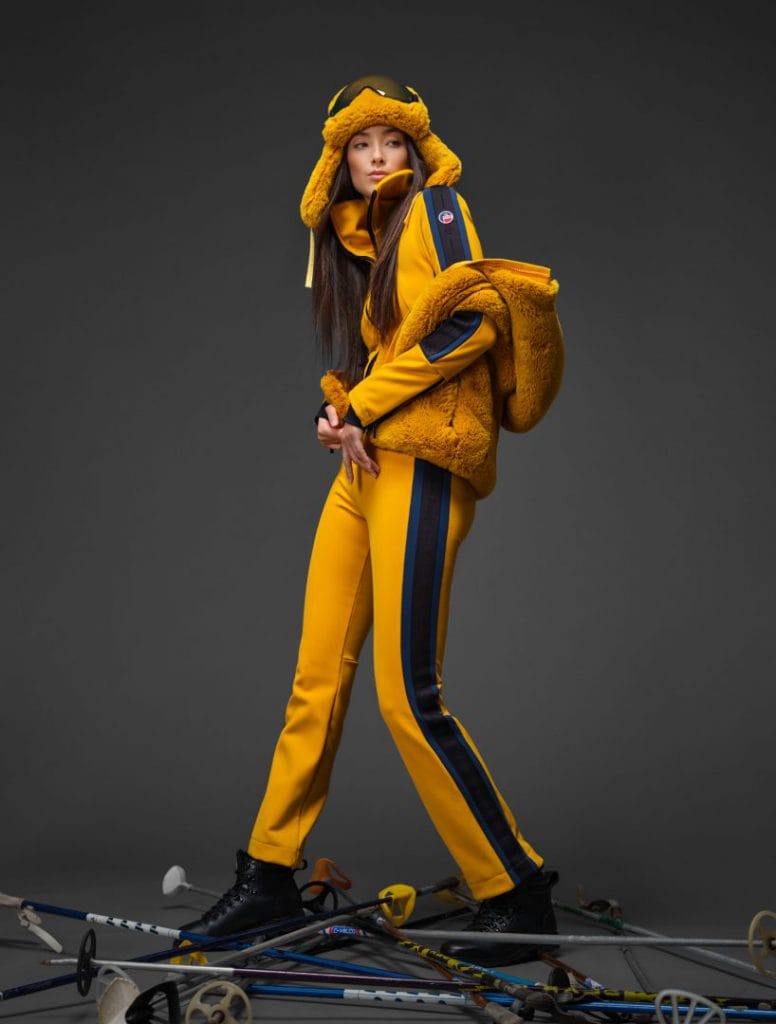 Fast forward to today where the company has successfully continued their great success thus proving to hold their own in a highly competitive market segmentation. Once more, Fusalp proudly maintains the brand motto which states "To design a unique sport-chic silhouette that celebrates the art of movement as well as French elegance on and off the slopes."
The iconic (and firmly embedded company) Fusalp skiwear brand is ready to take on the 2021 season with quality driven product to handle the slopes and an added dose of high-octane style.
Though 2021 hasn't been the brightest year for mountain sports, it has truly come to fruition with respect to extended design to help plough-through these trying times and release stellar collections. Fusalp has a prominent place in the industry when it comes to this matter, and in proving so, they launched a collaboration with Chloe which inherited great success for the the well-known French luxury house.
Luxury brands coupled with ski-apparel companies have seemingly found a true harmony in understanding of what it takes to create a successful collection, and Fusalp has done just this!
This season, product offerings include full ski-suits presented in white, beige and blue. This special 2021 collection designed for consumers no matter what the restrictions the resorts had mandated of the patrons. With a new creative director at the helm of Chloe, she has taken the correct path of the vogue girl into mind and incorporated her from bohemian city girl to sleek slopes of crispy paradise.
The Fusalp company express that, "Artistic Director Mathilde Lacoste has created a playful Spring/Summer 2021 collection that oozes magnetic attraction, to remind us how good it is to refocus on better connecting with one other again, once the current turmoil comes to an end and freedom returns."
Branching out into avenues of streetwear territories, Fusalp's clientele demanded more than just alpine attire, but something to fit their needs in everyday life. The brand has developed a lifestyle that infuses heritage expertise into sophisticated everyday wear– upholding their signature look they firmly planted in their creative pond.
As global–on-watchers are keen on Parisian style, the fashion capital is eternally intriguing as it seeks to embody a harmonization of luxury designers –from the runway and beyond. With an all-round luxury lifestyle outlook and trajectory, Fusalp assures us that we may move forward to the next winter season with excitement and optimism; ensuring there will be new garments of nuance for us to slip-into as you keep the thrill of an active winter brewing within.