Hybrid Formality:
Milan Fashion Week Men's FW23 is now over. Designers and brands firmly focused on minimalism while exploring and rethinking how to highlight brand heritage by redeveloping style from archives. Thankfully, logos had disappeared aside from looks that truly benefited from it.
Fendi Men's Fall/Winter 2023-24 began its transition into the future. The resulting collection, designed by Silvia Venturini Fendi, Artistic Director of Accessories and Menswear, was sophisticated comfort. I was especially interested in more opulent everyday wear, which seems to be trending with Gen Z and younger millennials. And somehow, the intermix of archival heritage and radical reinvention across the different eras of the brand flowed seamlessly. Indeed, this collection will mark a more iconic moment, in creative ways, than the beginning years of the brand's menswear collections. This show will most certainly become the new hallmark archive for being the most indicative of the direction fashion is heading today.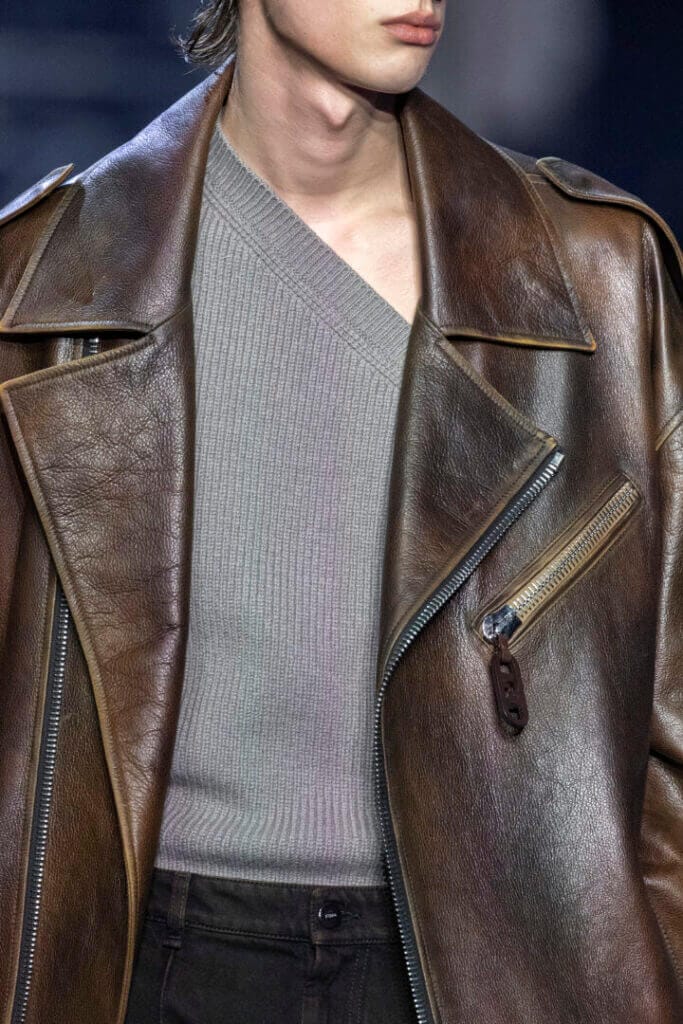 Dynamic workmanship and seductive allure inherent to the FENDI name, flowing yet acceptable tailoring expressions are embedded in a landscape of sartorial experimentation. House codes have been disrupted by twisting them to create new gestures of plush texture and patina that reinforce the vision of blurred lines between rigorous yet languid menswear silhouettes with a new soignée allure.
Asymmetry and volume remain consistent throughout the collection, revealing layers of craftsmanship and intrusive flashes of skin. It was a strategy Fendi opted for that no one expected: 
There is no question that we are in the midst of a new creative course, and it is clear that a brand changes and evolves with time, but the severity expressed by Fendi could not have been more intriguing. Unfolding in parallel gestures throughout, cocooning outerwear plays against the sensuality of languid knits and deconstructed shirting to question the boundaries of utility and artifice. Blanket coats and ponchos, ribbed cashmere track separates; sweater vests fall off the shoulder; fluid trousers are cut with a draped skirt, double-breasted overcoats featuring satin lapels, fringed hems or a scattering of metallic appliqué en Tremblant offer purity and rigor amidst layered silhouettes were all part of the Fendi FW23 arsenal. 
Mélange textures abound, from camel hair jersey to Shetland wool flannel, sprayed shearling, and FF fleece, as shadow effects create antique finishes in waxed and burnished leather or overdyed denim. Disappearing into geometric abstraction, the FENDI astuccio motif is reimagined as FENDI Shadow, a larger-than-life logo woven into mohair scarves, blankets, fringed linings, and 'pinstripe' tailoring. The effect is of a subtle extravagance: the FENDI man in his element on the streets, at home, or on the dancefloor.
When it comes to accessories, FENDI triumphs; the Men's Fall/Winter 2023-24 accessories collection is infused with a playful glamour, exploring the season's hybrid formality with heightened precision. The Peekaboo evolves with bold metallic strap hardware, sprayed shearling or harness detailing, and the Baguette is revisited in burnished leather with all-over utility pockets. In a soft folding gesture, a new hobo satchel is finished in FENDI Shadowsuede or grained leather, and woven FF cashmere bucket bags hold fringed blankets. The new Chiodo backpack's ergonomic straps pivot on a metallic hinge, creating a futuristic design statement when paired with the FENDI Shadow black leather. 
On foot, a slotted F logo heel features chiseled Cuban heel boots, FENDI Frame moccasins, and lace-up derbies, as the FENDI Flow sneakers return with scuba, mesh, and fine detailing.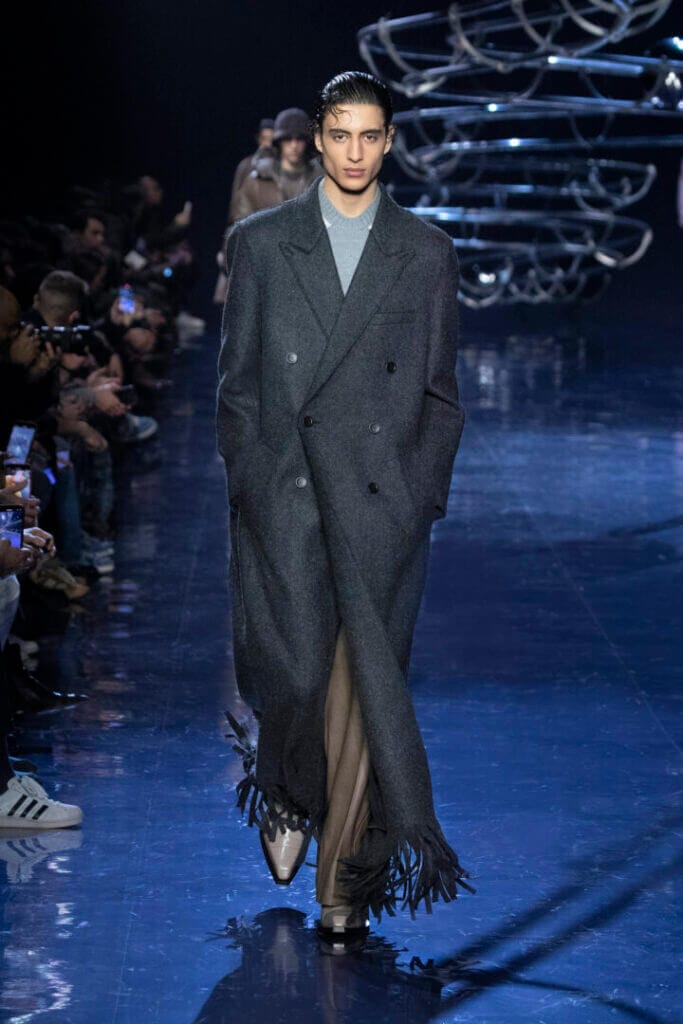 Designed by Delfina Delettrez Fendi, FENDI Artistic Director of Jewelry, the season's jewelry interprets the FENDI Shadow in engraved cuffs, chains, and squared pendants. Interlocked F motifs create pendant earrings and graphic chain necklaces, while the O'Lock device adorns a new round wristwatch with a double dial. 
The FENDI Men's Fall/Winter 2023-34 fashion show sees the House headquarters in Milan transformed into a giant roller disco pinball machine, with a custom disco soundtrack entitled "After Dark," specifically created by the legendary Italian composer and producer Giorgio Moroder. This unique soundtrack includes new compositions and culminates in a new version of the iconic disco hit "I Feel Love" (1977, music by Giorgio Moroder, lyrics by Donna Summer and Pete Bellotte), perpetuating the FENDI tradition of collaboration with the Italian electronic music scene.