Elevate Dad's style with New Arrivals from the world's best polos today.
The polo shirt is a sure-fire winner this season. The polos on the market right now run the gamut from the classic piqué style to tech-induced versions that retain color and shape real well.
The polo shirts you'll find here are quite versatile. Guys can wear them during office hours, outdoor summer gatherings even during nights out on the town. Now that the weather is warm and we could also use the occasional break from a constant rotation of tees, the polo suddenly feels like one of the smartest pieces of clothing a guy could own. It's suddenly looking like one of the smartest pieces of clothing a guy can own.
If you're searching for cool and thoughtful gifts for Dad, Style Lujo has precisely what you're looking for to focus on his needs. Our 2023 Father's Day gift guide features unique and personalized gift ideas that Dad will love. We also haven't forgotten to thank the extraordinary men in your life who have left a lasting impression.
When it comes to gifts, every type of guy needs to focus on his lifestyle needs, such as traveling, fitness, office time, and protection from the elements of nature. Planning your gifts early gives you plenty of time to surprise your dad with something thoughtful. After all, shopping for the right gift can be challenging. You don't want to be too sentimental, but it should have that personal touch.
That's why we've been searching high and low for men's gifts that appeal to every type of dad. Whatever your dad's into, we've got you covered.
Polo shirts are a sporty, stylish pick that work well from the golf course to the lounge. Here are some of our favorites.
Happy Father's Day 2023!
"Crafted in Peru, the Potro Polo shirt is the ultimate in casual luxury this Father's Day. Its lightweight piqué fabric is knit from long-staple cotton and double-mercerized to enhance its strength and color retention." "Potro" "–debossed detailed buttons and our signature embroidered Pony complete this modern fit polo. And, POTRO SPRING/SUMMER 2023 CAMPAIGN: photographed by Jaerez Ozolin featuring Summer House star Chris Leoni wearing Potro.
$149.00
Brunello Cucinelli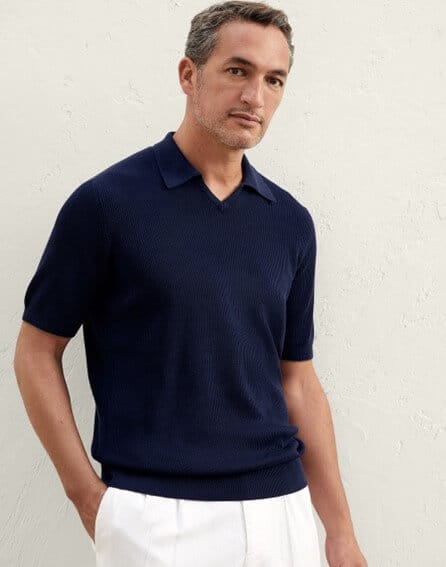 Cotton English rib polo-style sweater
Sophisticated details and natural yarns ensure a simple and elegant sweater. A v-shaped neckline is enriched with a small collar to give the appearance of a polo shirt. The pure cotton English rib texture enhances the season's colors and adds traditional appeal to the sporty silhouette. A contrast hue on the edges of the cuffs adds an iconic and refined Brunello Cucinelli menswear detail to the garment. This polo is versatile and timeless making it the perfect Father's Day gift. Price in USD $1,150.00
SR unites casual luxury and style seamlessly with this silk and cotton blend zip polo shirt. A true embodiment of splendor, it is accented with a vanisé knit geometric pattern making it a perfect present for Father's Day. Price in USD: $1,100
Vintage-inspired and blended with intricate functional details for high performance, polos like the Advantage Zip Polo, Newport Polo, or Upswing Performance Polo are perfect for all occasions. From casual Fridays at the office to a long game of tennis or golf, Wilson Sportswear's polos are designed with functionality and comfort in mind that are guaranteed to become a wardrobe favorite from the first wear. Available Colors: Bright White, Classic Navy, Sycamore, and Black , $78
Made with the same lightweight Italian fabric as Rhone's Commuter Shirt, the Commuter Polo provides office-ready style, comfort, and sophistication so you can keep cool without sacrificing professionalism all summer long. GOLDFUSION™ Anti Odor Technology.Price | $98
Continuing the theme of deconstruction seen elsewhere in the collection and on the dunhill Spring/Summer 2023 runway, this polo is engineered in a white cotton-silk blend with exposed bound seams at the placket, shoulder and sleeves. Other design touches include smoke-grey mother-of-pearl buttons and longtail tab branding, creating an elegant gifting statement for Father's Day. Price in USD – $550 USD
The SetiCo Polo is the perfect knit to pair with blazers and suits alike. Made in Italy with a custom blend of GOTS Certified Organic Cotton and Mulberry Silk it offers year-round versatility and style. $228
Abacus with 37.5 Technology
Abacus's Men's Albatros 37.5 Polo Shirt featuring 37.5 Technology.
Albatross 37.5 polo is made of a very soft and stretchy material. The 37.5 technology with extreme wicking and breathability functions always aims for keeping your body temperature at 37.5 degrees, which is your ultimate comfort zone where you perform your best. In a consumer experience study conducted with 37.5 polos, one user reported that he "played a round with friends in 95+ degree heat. Their shirts were dripping after 3 holes, my shirt stayed dry and kept me cool through the whole round."
This Father's Day gift will keep your dad cool on the golf course, and beyond, this summer. $140
A tailored polo is a travel essential, especially Orlebar Brown's Sebastian Style Polo Shirt. The button cuff detail and neat fit is a wardrobe saver. Setting the benchmark for tailored polos, Orlebar Brown's unique traditional polo is a wardrobe staple, whether at home or on vacation. $195
Custom fit Pique Polo Shirt
There are few iconic pieces more effortlessly elegant than the classic Pique Polo Shirt. This one's made from the world's highest quality cotton for a luxurious feel and drape – and custom fit to your dad's body. $98
The Heater will quickly become your go-to golf polo, with 4-way stretch, lightweight, and quick-drying fabric. The Heater Polo is made for the man who prides himself in being a perfectionist in performance. Currently, the Heater Polo could be considered the world's #1 performance polo, given it's worn by Jon Rahm, the #1 ranked player in the world's most imperfect sport (golf). Available in a range of colors featuring a heathered look with micro-feeder stripes. ·Sizes: S – 3XL. Price: $89.95
Hemp Polo Shirt
The hemp polo shirt by Malo Cashmere, in Eden green color, is versatile, refined, essential and sustainable. In fact, hemp is a natural fiber, grainy and rustic like ancient Namibian canvases, that combines strength and softness. A material rich in extraordinary properties: thermal insulating, breathable and antibacterial. But that's not all: it reflects ultraviolet rays, screens from electrostatic fields, does not irritate the skin because it is hypoallergenic and keeps bacteria away from the surface of our body because it is antiseptic. Furthermore, hemp plantations require little water and do not need aggressive treatments with pesticides, herbicides or other chemicals products, thus minimizing the environmental impact. Hemp is also one of the most efficient plants at converting carbon dioxide into oxygen. This polo shirt by Malo is not only a small masterpiece of elegance, but also a pleasant mix of strength and softness, a marvelous sensorial yield, which thanks to its innumerable properties, is good for the skin and for the planet. Price in USD: $550.00