The Fall Winter 2023 Story:
Today, luxury brands are required to cultivate a collection's attention to lightweight materials and lightness of construction. The attention to detail signifies a Maison's design philosophy converted into garments.
This season, there is a playful take on the fusion of accessories and garments that embrace a relaxed sensibility elevated through historical signatures and principles of comfort. For example, established luxury brands, emerging designers and buzzy technical players alike mixed relaxed apparel with sportswear at the forefront of the fall collections. In 2023, American consumers choose to celebrate the pioneering spirit of drawing inspiration from a brand's heritage while looking to the future of merging style categories.
Beauty that becomes functional: soft, comfortable garments with a refined allure and, at the same time, with a perfect fit for all silhouettes. From production to the selection of raw materials, from attention to detail to style, up to choices in the field of sustainability, thus becoming a guarantee of values and virtues and excellence and the best quality materials and workmanship.
The new vision inspires discovery across various style platforms through the personal relationships the retailer fosters with its clients. The customer-centric mindset fuels acceleration by elevating and strengthening the brand and customer experience through every touchpoint. In short, a brand'd history and core values have become just as important to the consumer as the creative designs.
An abundant number of brands draw inspiration from the their rich history while driving innovation to strengthen the luxury retailer's high-fashion positioning moving forward and breaking boundaries while drawing upon the magic, heritage, dedication to customer relationships.
Womenswear continues the study of new propositions of femininity today. A mixture of strength and gentility. It is a reflection on refinement, celebrating subtle details and nuance over bold gestures. The power and clarity of reduction with a strong emphasis on rigorous new tailoring silhouette, narrow and elongated. A feeling of lightness and fluidity is explored through airy proportions and soft shapes.
A focus on fabrication. The sensory richness of clothes; the iridescent shimmer of metallic paillettes, furry textures on sandals and flowing safari shirts. Intense depth of colour; rust, ecru, lilac, ink and olive tones. Parkas in apricot, citrine and mint rooted in fine craftsmanship imbued with the soul of the Maison's history.
Bally: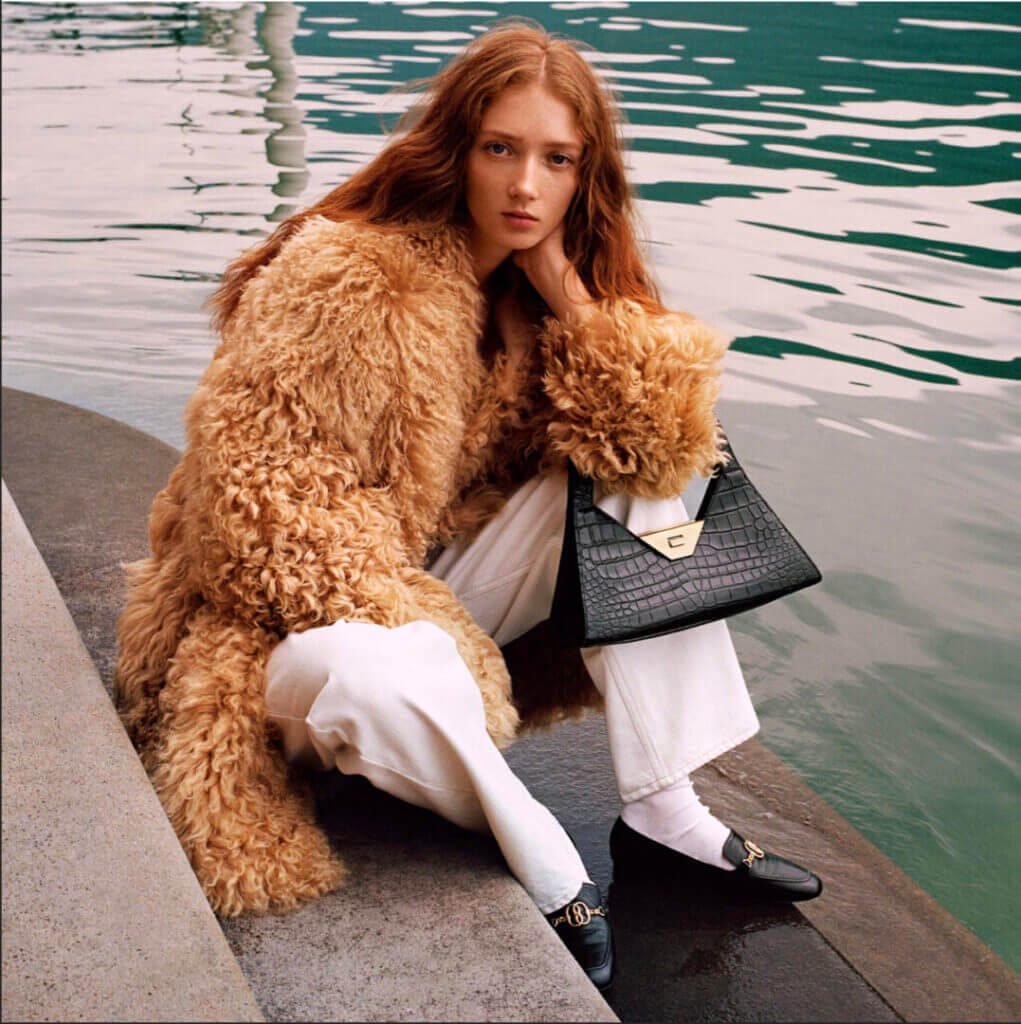 Bally presents its Fall/Winter 2023 Campaign – the first under new Design Director Simone Bellotti – shot by Alasdair McLellan. Captured at the Bally Foundation's home for art and culture, Villa Heleneum on Lake Lugano in Switzerland, the brand demonstrates an elegant return to its roots. The collection offers classic lines and motifs alongside heritage details from the archive. The palette is nostalgic and warm, interspersed with textures such as woolen knits, shearling and the relaxed ease of denim and leather. Refined accessories in new silhouettes alongside signature styles, such as the handmade Scribe dress shoes, pay tribute to the brand's luxurious, artisanal legacy.
Louis Vuitton:
Louis Vuitton Launches New Iconic Handbag, the GO-14
It is the nexus of entwined passions: a designer's inspiration, a trunk-maker's secrets, an artisan's ingenuity… The GO-14 is both a commencement and a culmination. The GO-14 is an initiatory bag, one of Nicolas Ghesquière's first designs – hence its coded name: Ghesquière October 2014, the date it first appeared on the runway for the debut of the Women's Artistic Director at Louis Vuitton. It is re-emerging in 2023 in full spirit with a unique characteristic: malletage.
MARIE FRANCE VAN DAMME
MARIE FRANCE VAN DAMME Long Dahlia Trench Coat $2,500.00 USD
This long oversized coat in a silver and gold jacquard Dahlia flower pattern is timeless and will transcend trends and seasons. Pair the lustrous texture of a metallic silk brocade duster coat with a soft silk chiffon black dress, enlivened with bold gold floral embroideries.
LOEWE:
LOEWE Squeeze Bag With it's plush nappa leather, a soft sculptural object in its own right, and customizable-length chain, the Squeeze makes the perfect day to evening bag
GUCCI: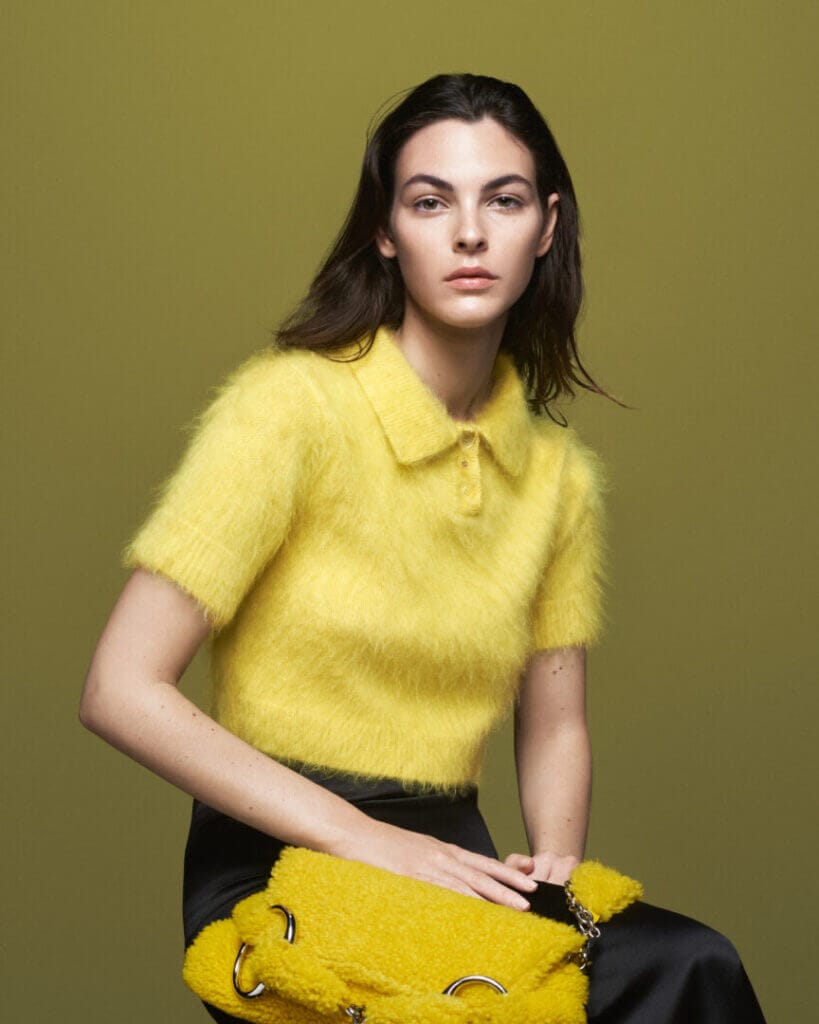 The new campaign showcases a series of signature silhouettes in ready-to-wear and accessories drawn from recent eras of the House and spotlights the latest archival reprisal – the Gucci Horsebit Chain bag.
The new bag is defined by a maxi version of the iconic Horsebit, re-contextualizing the legacy hardware first conceived by Aldo Gucci in 1953 as a loafer embellishment. In the Fall Winter 2023 campaign, Vittoria Ceretti suggests new ways to wear the bag—carried by hand, on the shoulder, or as clutch, highlighting how the design encompasses the beauty of a style so representative of a certain era and yet always contemporary.
KENTO TAKAYAMA:
This dress is made out of 100% Cotton French Terry Knit. It has a lining that is 100% Bemberg Cupro; a fabric that is a high-quality go-to for lining that is breathable, light, and durable with a silky touch that looks and feels great. The garment has a timeless loose fit held up by two leather straps (tailoring to all sizes of women) and the slit is made for a woman's walk to be easier in the streets. $3,800
KENTO TAKAYAMA Shop link:
https://www.kentotakayama.com/shop
#kentotakayama #kentotakayama23
When I think about fall, I think of hoodies and sweaters to give comfort. Being made of the same materials, this timeless dress not only gives you comfort but is a great layering piece for your favorite top to elevate your style from a day look to a night-out look. Being a future pioneer haute couture brand from Japan, it is important to embrace using materials that are not only sustainable but also perfect for fall and align with the KENTO TAKAYAMA brand.
AMANI SAAB:
Nera Wool Blazer$1,190.00 –Fabric:98% Virgin Wool; 2% Elastane
"It is a timeless staple to have in one's wardrobe as it can elevate a simple outfit to new heights of elegance. What makes the Nera Wool Blazer special is in the details. From the arm-slit detail, the wide lapels for added drama, and a form-fitted silhouette with cuts that accentuate the body. It offers a modern twist to a timeless classic." – Amani Saab (designer and founder)
Ownever:
The Ownever Blush Bag choice allows you to incorporate a softer and unexpected hue into your fall wardrobes, breaking away from the traditional darker colors.
Because a good fall accessory should be versatile, this timeless pink color bag can easily create a beautiful blush of pink in your wardrobe. It's just like when you finish your makeup with that last dash of blush. The classic design also allows you to combine elements of casual and formal wear very easily.More than a beautiful trend, this bag can be part of a great personal style. Owning a luxury bag that promotes an ethically made fashion is a beautiful statement – not just how you look but who you are.