Best Eco-Friendly Gifts In 2023 For Environmentally-Conscious People.
Earth Day is a time to thank the planet and raise awareness about environmental issues. It is a great time to show your support for the environment by giving eco-friendly and sustainable gifts- as a right of passage into a sustainable future.
Nearly all product offerings take a toll on the planet, But on the brighter side, eco-friendly gift options abound today. In 2023, finding a gift for sustainability-minded people became much more enjoyable.
An eco-friendly product is sustainable for its entire lifecycle–from the materials and the manufacturing process to the packaging and ultimately to the disposal of the product.
When choosing eco-friendly gifts, you'll want to search for products that use "sustainable, plant-based, or upcycled materials, biodegradable ingredients, recyclable or compostable packaging, and reusable products that replace single-use items are also excellent gifts for the recipient and the environment.
Whether you're celebrating Earth Day or simply interested in learning and practicing better eco-friendly shopping choices, here are the eco-friendly gifts to give your friends and family.
STYLE LUJO has carefully selected our favorite eco-friendly products from sustainable brands and businesses for gifting this Earth Day. From eco-conscious fashion and jewelry to cruelty-free beauty brands and items for the home, our Earth Day Gift Guide has something for your closest friends and everyone in the family.
Here are Style Lujo's Earth Day gift ideas for 2023 that are thoughtful and impactful.
SetiCo Cotton/Silk Knit Crew Neck
The Jack Victor SetiCo Knits are made in Italy with a custom blend of responsibly sourced GOTS (Global Organic Textile Standard) certified organic cotton and mulberry silk, making it the perfect earth day gift. Not only does Jack Victor prioritize partnering with suppliers that follow rigorous environmental standards, but all sportswear orders are shipped in Paptic® mailer bags, which are an innovative material made from wood fibers that are biodegradable and recyclable. Price in USD: $198
Made of bio-based materials, the innovative Yatay Model 1B is a further stage of this responsible journey Golden Goose has been living – together with you. With a white upper in Yatay B, a bio-based material derived from non-food plant sources, this highly durable animal-free sneaker with low environmental impact features a black Y to symbolize the principle of circularity, running along the entire shoe from one side to the other. The biodegradable sole is made by hand-engraving every print, making each piece unique and giving it our unmistakable lived-in signature. Printed white on white, the left heel tab features a unique code, the key to accessing our sustainable initiatives. $350
VáhyYou'll find no nasties in Váhy's sophisticated line of 100% clean fragrances, so you'll never have to compromise quality, scent and style. Shop Váhy's chic fragrance collection that is made with only clean ingredients for both men and women in 2023! Váhy brings a premium artisanal fragrance collection to the U.S. that people can trust. Inspired by wanderlust and a desire for balance and simplicity in life, Váhy's genderless line of perfumes are a modern and subversive take on traditional fragrance. This women-owned brand was created with organic fragrances and offers luxurious scents made in Australia with natural materials infused in organic sugarcane alcohol. Price: $45-$255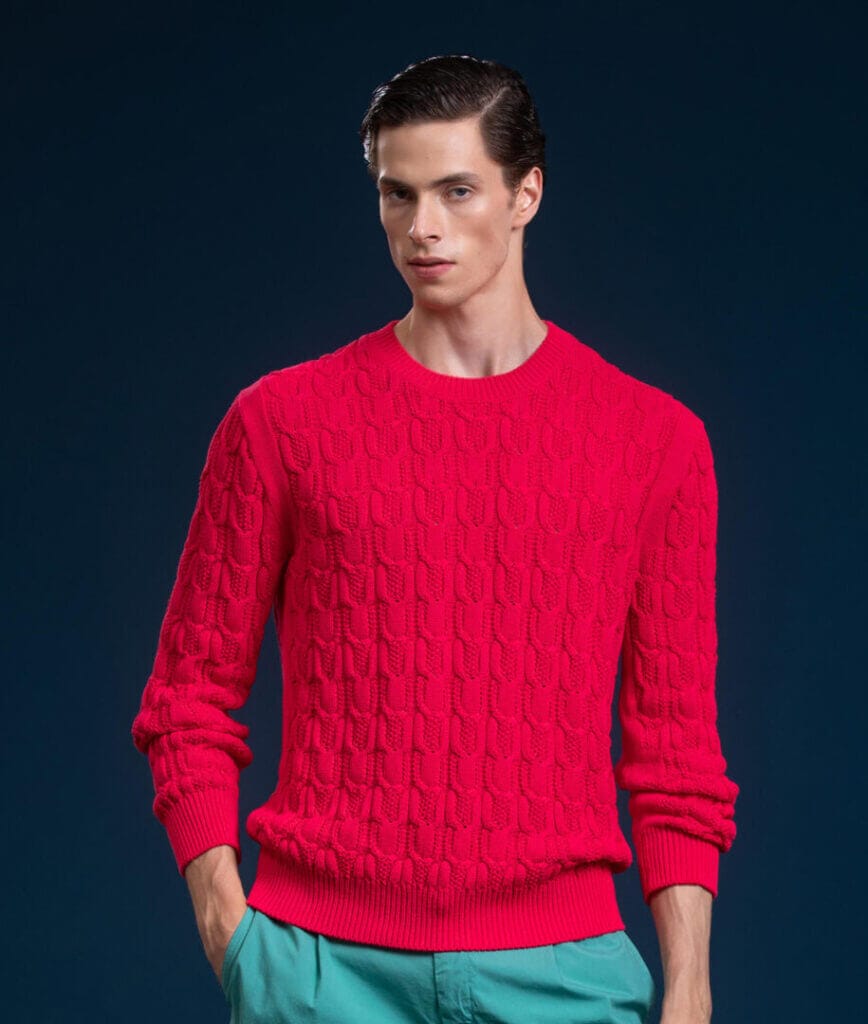 Malo the historic Florentine Maison specializing in cashmere knitwear, on the occasion of the World Earth Day, April 22, 2023, presents a line of garments made with sustainable cotton. For him, a wonderful amaryllis crewneck sweater embellished by braids, in cotton yarns that supports Cotton For Life, an innovative, ethical, supportive and sustainable Corporate Social Responsibility project that promotes the organic cultivation of Egyptian cotton, creates a textile supply chain entirely eco-compatible and socially responsible thus encouraging a sustainable fashion.
The sweater is part of Malo SS2023 collection "The Art of Earth", a hymn to sustainability and environmental awareness. An important aspect that concerns sustainable choices in materials, methods and projects that the Florentine Maison has decided to use and support. Malo has always been committed to safeguarding the environment with limited collections and recycled and sustainable yarns. Cotton for life represents one the concrete choices made by the brand helping the environment and the local cultures. A soft hug that is good for the planet and for the heart.
The Essence Watch collection is made from renewable materials including castor oil for its case, natural rubber, or recycled PET bottles for the straps. This modern collection is not only clean and simple in design but considerate to the world we live in. This watch is recyclable, assembled with largely solar power and entirely CO2 neutral scope 1, 2 and 3. 6. $245
For the person who cares about the world we live in, this backpack made from recycled water bottles is the perfect gift. Skyway Luggage Co. has a new collection of backpacks and wheeled luggage that are made 100% out of recycled plastics Price in USD – $59
The Bloom Clogs provide a lightweight comfortable slipper that is perfect for the warm weather approaching. Because Bloom Clogs come in an assortment of colors, everyone can have the perfect match to their personal style.
The Unisex In/Out BLOOM Clogs is crafted from an innovative material with algae. When algae grow in excess, it can be harmful to ecosystems, so the algae in this material were sourced by cleaning up natural waterways. These lightweight, easy-to-wear, and easy-to-clean clogs feature our new EVA and algae bloom footbed that guarantees comfort, and the cut-out detail on the side allows for breathability. Available in a variety of colors and retailing for $60 and $65.
Manufacturing
HUNTER's Spring/Summer 2023 and 86% of the brand's collection incorporates lower-impact and innovative materials like FSC®-certified rubber, BLOOM™ algae foam, or recycled textiles.
Packaging
100% of packaging is recyclable and by 2024 100% of paper packaging will be traceable and come from FSC®-certified and other sustainable sources.
Product Make-up
The iconic Hunter Short Rain Boots have received the perfect refresh to their image with the new tri-color logo on the back strap. These durable and aesthetic boots can withstand any weather while sprucing up your outfit. The Tri-Color Logo Backstrap Short Rain Boots have now been updated with the iconic Hunter tri-color logo on the back strap. They are crafted from FSC®-certified natural rubber from forests independently audited to Forest Stewardship Council® standards.The Hunter Original tread pattern and comfortable recycled polyester linings complete the design. Available in Black, Lichen Green, and White Willow for $170.
This bag is made sustainably and through a no-waste policy, while also being very trendy and in with the round bag obsession right now. Milaner is timeless vintage-inspired luxury goods ethically and authentically made in Italy & France in small batches. The brand works exclusively with Italian and French luxury artisans with a credible wealth of skills, traditions who've spent their lives mastering their craft. Milaner's production is based on a made-to-order and no-waste policy and was founded by a team of Italian women to honor their roots through a more authentic and sustainable approach to making and selling luxury goods. The extensive collection features handbags, shoes, hats, and accessories that make up iconic essentials of unsurpassed quality and beauty.
Oversized Boyfriend Shirt Rain Coat
The perfect thoughtful Mother's Day Gift to keep her dry from the spring showers. $890
KREYA's AURORA convertible backpack is the perfect gift for moms, allowing for two bags in one. The backpack easily converts into a tote to hold all of her mom essentials, while the backpack straps allow for easy carrying. All KREYA products are made from 100% luxury cow hide leather and retail for $495 on SHOPKREYA.com.
Scrap Stuffered Tote The Scrap Stuffered Tote is stuffed with 100% deadstock scrap yarn. The Verloop team was so excited to finally put separator yarn to use that they saved from production. Verloop is a sustainable brand that upcycles deadstock yarn to create colorful accessories, slippers and home decor.
Van Der Hagen Safety Razor Kit
This Earth Month and beyond, ditch the disposable razor and reach for resuable! This one is made with solid brass and then chrome plated. The compact handle is shorter than most razors and ideally weighted and balanced, giving you a better grip and more control when trimming your whiskers. The razor comes in a specially designed sliding box and includes five (5) Van Der Hagen double edge blades. Van Der Hagen blades are ice tempered stainless steel and include a proprietary coating that minimizes nicks and cuts, giving you the shave of your life. $24.99!
AnaOno's Delilah Soft Cup Bra The Delilah Soft Cup Bra is ideal for everyday wear! This super-soft bra is made with TENCEL™ Modal material, which is made from beech trees, and offers a customizable fit that's perfect for wearing even after a mastectomy, lumpectomy, reconstruction, or other breast surgery. This pocketed bra also includes lovely feminine touches, including ultra-plush Super Soft® lace trim and a breathable mesh back panel. In addition, AnaOno also has a tree for a tree policy, in which every tree they take to make their products, one is planted in its place and the brand also uses biodegradable, recyclable, and reusable packaging! $45.00 USD
Kara Pure turns air into Alkalized water. It has both household-level and societal-level impacts. It lessens the amount of plastic bottles a family has to buy each year. It is also especially useful technology for drought stricken areas. As we approach Earth Day, we're reminded of the importance of clean drinking water. Traditional drinking water distribution systems face challenges like unsafe contaminants or inadequate water disinfection.  Kara Pure offers a unique solution that captures air in the home and transforms it into clean, mineral-rich, high-quality drinking water using a proprietary 8-step process. The tech produces up to 2.5 gallons (10L) of 9.2+ pH antioxidant-alkaline water daily, all while reducing plastic waste and carbon footprint. Bye bye, plastic bottles!
Basic Stitch Anti-Microbial Yarn
Lion  Brand has announced a new line of eco-friendly antimicrobial yarns which offer projects and clothing protection against odor, bacteria, and allergens. The yarns, which are Oeko-Tex-certified are free of harmful substances and blended with recycled polyester and perfect for all projects including those intended for infants, pets or allergy-sufferers. $6.99
Product: Rinse Free Refresh Foam – available on BeardGuyz.com for $10.49 The innovative waterless beard wash contains a proprietary technology that refreshes and cleanses the beard while removing trapped odors from throughout the day, without the need for water! Formulated with biotin and collagen, it volumizes beard hair for a fuller look and helps maintain hair growth. This first ever rinse-free beard cleanser saves you time, is perfect for on the go, and is a more sustainable option.
Kindly's Comfort Modal Lounge Pullover Bra Kindly is made from sustainable fabric like modal sourced from renewable, sustainable Beech trees, recycled nylon and a sugarcane-based bra cup. With Kindly, you will never have to choose between function, planet, or price making it a brand that you should support this Earth Month. Kindly is also donating 1400 units of bras, underwear and maternity wear to women in need at Downtown Women's Center in Los Angeles and Henry Street Settlement in New York . By donating these products, this planet-friendly, Walmart-exclusive brand is also taking a step in addressing the fashion industry's waste problem.
Kōkua sunscreen is both reef-safe and the bottles are made from sugarcane, making them sustainable! Their Natural Zinc Sunscreen SPF 50 is the revolution in water resistant zinc sunscreen. No toxic chemicals and no eye sting! Deeply nourishing the skin with rich Hawaiian antioxidant ingredients, it rubs in clear and smooth with high performance broad spectrum protection using the highest percentage of non-nano zinc oxide at 25% as the only active ingredient. Natural extracts give it a light coconut vanilla scent. Professionally formulated to go on like a moisturizing lotion and light enough for everyday use, this sunscreen with its superior 80 minutes of water resistance also stays on through sweat and swells and protects you from the harshest UV rays. Price: $28.00 Available on Amazon
Kesha's Space (Brown Sugar by Kesha Janaan) – Natural Skin Care Gift Sets
Kesha's Space (Brown Sugar by Kesha Janaan) – Natural Skin Care Gift Sets
Don't let the winter cold and wind ruin your skin and hair any longer. Stay stunning all year long with natural skincare from Brown Sugar by Kesha Janaan. Since 2012, Brown Sugar has been introducing consumers to a world of skincare that was previously available to a select few. The brand makes natural skincare products that are just as good (if not better) than name brands, but without outrageous price tags. They strive to represent and serve everyone by taking us back to the basics. Rather than settling for less than what she needed, she created and perfected her own formulas to nourish her frizzy hair and dry skin. Brown Sugar was born to be a welcoming option to everyone, no matter their natural skincare journey or experience. Made in America Price: $35.00
Cariona Reusable Menstrual Pads
Cariona Reusable Menstrual Pads
Women have long deserved better pads for their menstrual cycles with more environmentally sustainable options and affordability. Meet Cariona, the reusable, organic solution that has been a long time coming! Available in a wide variety of size and absorbency, all pads are highly absorbent, while being non-bulky as well as odor-free, leak-proof, and hypoallergenic. Choose pads based on your personal flow, with a fun variety of patterns, such as floral, fruit, and animal designs! All black styles are also offered. Machine washable and dryer safe (life hack: hand wash them in the shower!). Price: $8.00+
Originating from Japan, Fleuri has been an expert in providing effective, yet gentle skincare products since 2002. Instead of formulas that only provided temporary effects, this brand refocuses skincare to help consumers long-term with products that offer comprehensive care to all your beauty needs. Fleuri's products are designed to be gentle on the skin and safe on even the most sensitive skin! Fleuri is committed to sustainable practices, their skincare has a high biodegradation rate which can minimize the impact of wastewater in the ecosystem. Fleuri values harmony in nature and fights to protect our environment through clean formulas and safe manufacturing methods that don't negatively affect the environment. Shop this amazing beauty brand that has become a bestseller on Amazon this Earth day! Available on Amazon.
Remedium candles were born from a desire to create luxuriously-scented candles that are naturally derived and eco-friendly. Their love for nature, beauty, and simplicity has guided them to make a superior product using natural coconut wax, essential oils, and wood wicks. The candles are handmade, poured from small batches, and presented in clear, reusable glass jars with sustainable cork lids. Remedium candles embody a clean and simple aesthetic to suit any décor or personality. Available on Wayfair *Woman-Owned Business* Price: $34.00. No wonder they went viral on TikTok!
*Women Owned* Urthy prides itself in phthalate-free scents – founded by two sisters who have the beginnings of autoimmune disease, they went on a quest to enable others with the disease to be able to surround themselves with beautiful scents. The candles are hand-poured and made with a blend of plant-based coconut wax and vegetable wax. Each has a wood wick that creates a clean burn and a crackling ambiance. Price: $34.00
Wild Cloud earrings are made from sustainably grown, regenerative bamboo. Their designs show love and appreciation for all the things that make our world and environment beautiful. Handcrafted in the USA, the brand perfectly blends ethical methods with sweet, subtle designs. They're plastic-free and hypoallergenic, so even the most sensitive ears have no trouble with these fashionable pieces. (Plus, each purchase goes towards reforestation projects and helping preserve the planet's greenery.)
*Women Owned* Price: $11.00+
*For Earth Day week, April 22 – 29, receive 15% off your purchase with code EARTH15
Cheyanne Symone is an indigenous-woman owned brand that creates timeless, handcrafted jewelry unlike any other. Their designs embody elegance and ease by focusing on sustainability and women's empowerment. They are passionate about creating jewelry that reflects strength as well as beauty and strives to provide pieces to be worn throughout life. The founder is an Energy Scientist and is passionate about sustainability for the 7th Generation. All of the jewelry is made to last a lifetime (with repairs included) and is shipped in 100% recycled and composted materials. Chosen by Visa to be a Participant in Visa's 2023 She's Next in Fashion program. Price: $118+
Abel's Master Perfumer Isaac Sinclair uses the latest in renewable ingredients alongside the best in heritage naturals. Our team relentlessly innovates with fragrance development, packaging and processes to challenge industry norms and provide biodegradable, environmentally friendly fragrance alternatives for conscious urbanites over the world.