TRENDS AND THEMES:
I am excited to share the latest highlights of Milan, Paris, and NY Fashion Weeks AW 2023/24. And although the shows were filled with excitement and innovation, my mission was to find the looks from renowned brands to emerging talents, that fulfill the needs of the power shift. The reflection on a new elegance takes shape by finding a contemporary balance between past and present. In a word, design has been informed by the past yet designed for the present.
March is International Women's History Month. And what better way to celebrate than to highlight the best looks for career advancement and entering and reentering the workforce to achieve their professional goals?
High inflation and a skeptical economy are the surefire reason for the return of dressing for success. Let's face it when competition is high and jobs are few the person who dresses well, will always exhibit an air of confidence helping her regain economic stability and financial independence. I strongly believe that every time people place time and money into their professional attire, they are improving their career development.
This season, designers and brands showcased a diverse range of styles and concepts, from the futuristic to the retro, from the minimalist to the maximalist. Some of the dominant trends and themes that emerged from the shows and presentations are:
Bold Colors:
Strong Shoulders
Wider Jackets and pants
Sustainable Fashion: using recycled fabrics, vegan leather, and upcycling techniques to create chic and conscious garments.
For Autumn/Winter 2023, Kim Jones explores classicism and elegance through the lens of subtle subversion. Drawing directly upon the wardrobe of Delfina Delettrez Fendi – how she wears her FENDI archive with an instinctive sense of self-expression. Masculine tailoring and traditional fabrics are twisted into feminine forms, while elements of utilitarianism appear throughout
Entitled 'Persistence of Time,' the collection takes on a monumental, cinematic allure. This season, Rhuigi Villaseñor continues the conversation he started with his inaugural outing. Encouraging questions and rewarding aspiration, it places everlasting Swiss elegance in the context of modern luxury. A duality of strength and sensuality is evoked across womenswear through the rich hand of leather, metallics and knitwear with lashings of lace creating a heightened sense of everyday, everywhere feel-good drama. Exquisitely crafted tailoring evokes an entrepreneurial spirit.Today, the brand offers unique designs across shoes, accessories and ready-to-wear, driven by a dedication to craftsmanship and a contemporary aesthetic. For more information, please visit Bally.com
For the Chloé Autumn-Winter 2023 show (AW23), Creative Director Gabriela Hearst explores the imperative need for women's stories and their contributions to society—so they can play a leading role in the race to find solutions. The AW23 collection forms the third chapter in Gabriela's exploration of urgency and need to champion women as leaders.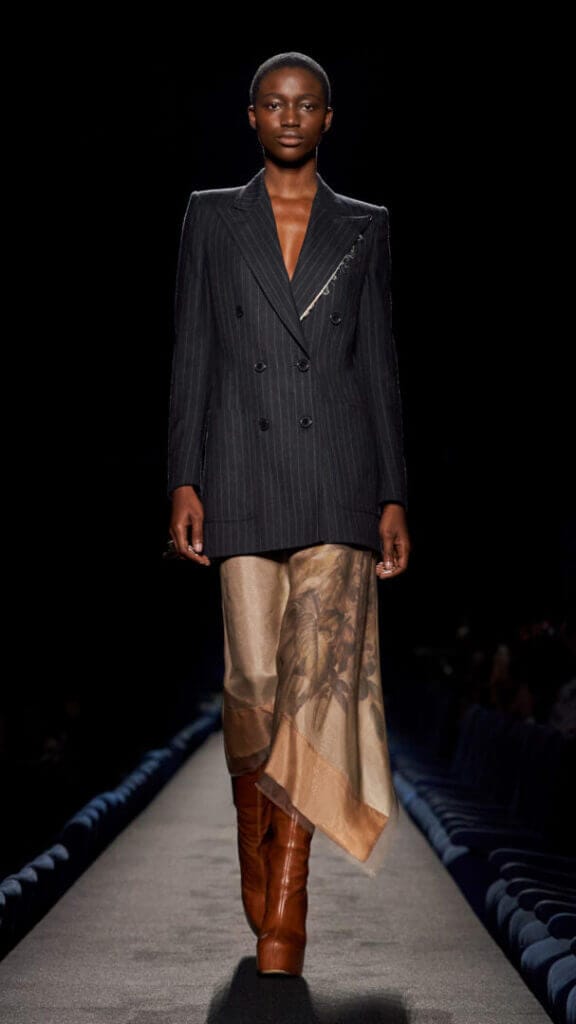 The precious and rarefied with the raw and unrefined. Dries Van Noten womenswear Autumn / Winter 23-24 explores the power in dressing for success. Using elements of the past to inform a new future and how we think about clothes. Antique fabrications revisited afresh; faded florals glimpsed beneath technical mesh, hand-drawn techniques and washed silks alongside sharp jackets and lean, precise shapes. Modernity in a rigorous new tailoring; emphasised shoulders, narrow waists and elongated trousers with sculptural platform boots that lengthen the silhouette. A friction between the masculine and feminine sculpted into powerful, beautifully defined shapes. Layering creates a sense of depth and plays with notions of conceal and reveal. Dries Van Noten Autumn / Winter 23-24 celebrates the visceral richness of clothes themselves and the stories they tell us. These creations suggest emotional paths to the new generations to come.
In a current moment defined by dressing for corporate ascension.the FW23 women's runway presents an introverted stance that's about silhouette, texture, and the way materials react to light. Proportions matter: fluidity, verticality, drapes and curves, sudden sharp compactness.
For Maria Grazia Chiuri, every collection is an opportunity to reflect on the role and essence of clothing in its relationship to the body and to fashion. The re-reading of the 1950s – at the heart of this Dior Autumn-Winter 2023-2024 ready-to-wear line – is also a means for the Creative Director to explore the history of Dior, Celebrating the kaleidoscopic image of femininity drawn by powerful icons, inhabited by the conscience of women who are shaping our future.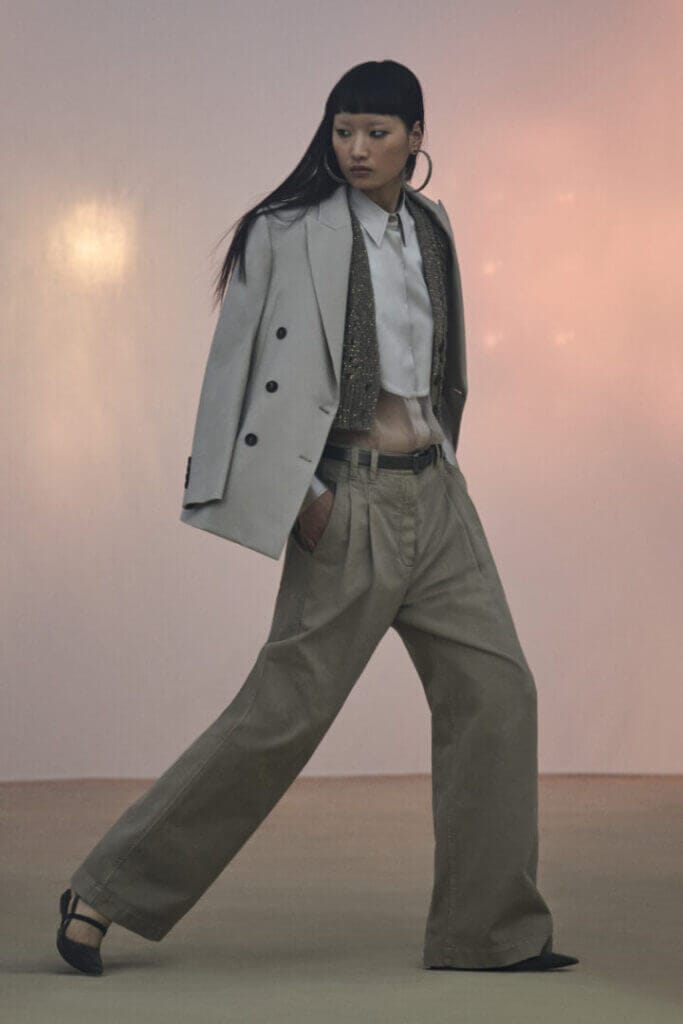 Brunello Cucinelli Fall Winter 2023 Womenswear Collection, highlists rhythmic densities, rich melodies and interludes that are the hallmarks of the Fall Winter 2023 collection, a distinctive blend of sounds, a balanced ensemble of the timeless and the contemporary. Harmonies based on the clean lines, pure colors, and compact fabrics that create seductive arrangements that support the fluid interweaving of melodies and form the stylistic synthesis in dressing for success in 2023.
The Gucci Fall Winter 2023 Women's Collection connects the creative cultures that cross-pollinate to an evocative yet contemporary proposal. A free expression founded in a shared understanding of dressing for success In an exuberant conversation between past and future. Suits cut an oversized frame with voluminous shoulders, dropped necklines and low-riding trousers.
This line, pulled from Balmain's official definition of the house DNA, perfectly encapsulates today's incredible silhouettes, signatures and patterns the archives. It's imperative that collections reflect the modern needs and the distinctive tastes of each new generation. Focusing on the essential. The collection aims to shine the spotlight directly upon the enduring power and singular sustainability of timeless designs By doing that, the collection makes clear that Balmain is ready for business.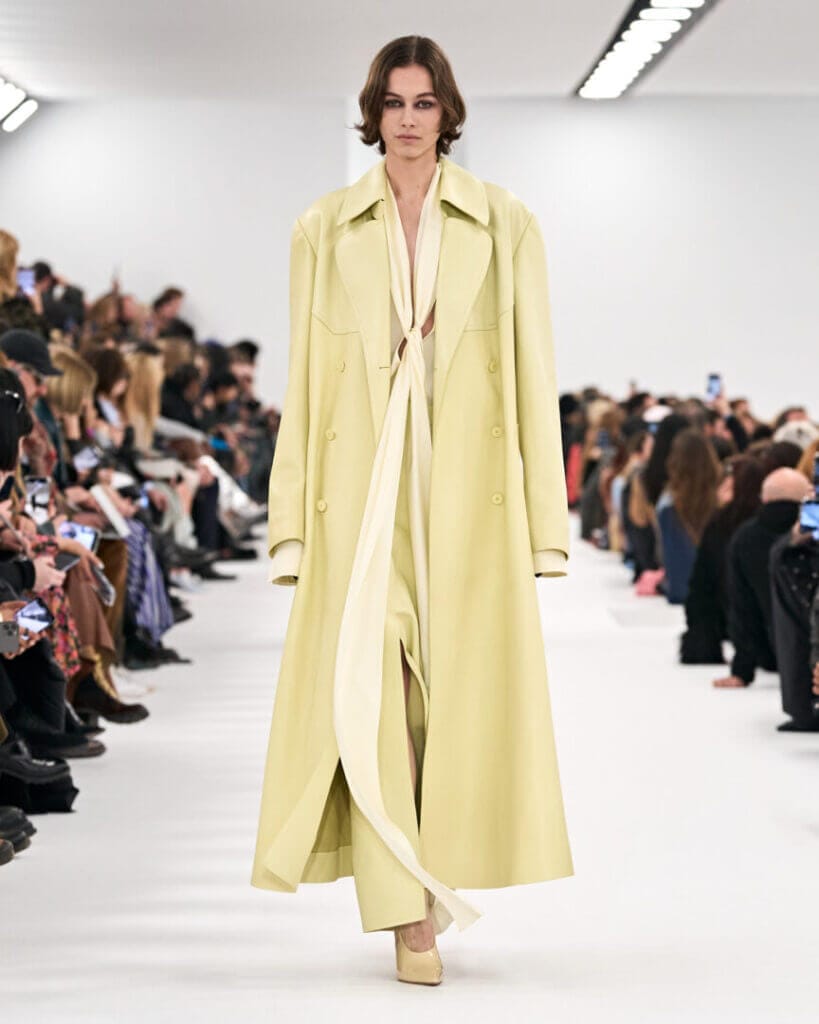 A contemporary way of dressing for corporate ascension. Givenchy explores a new generational sophistication through reconsidered classical compositions. This look is layered expressions transformed into elevated style.
BESFXXK: (Concept Korea)
BESFXXK opens with transforming sartorial styles to incorporate different elements of history, tailored pieces like smoking blazers and trench coats are fused with modern street classics like quilting accents, exaggerated silhouettes and mixed fabrics highlighting dressing for success in a whole new way.
What's past is prologue and for four decades Dennis has been perfecting his vision while staying true to the essence of the Dennis Basso look. Self-confidence, glamour, luxury. A very American brand of fresh elegance with a dash of European savoir faire. Dennis Basso has created a collection that is inspired by New York City and engages with the way modern women live today.
We celebrate the return to going out and dressing up with a nod to the past and a look to the future. The best is yet to come when dressing for success.
Chiara Boni La Petite Robe approaches the Fall/Winter 2023 season with a very precise attitude: unfussy and quintessentially elegant. The collection focuses on impeccable silhouettes, Feminine necklines, empowering shoulders and peplums define the selection of dresses crafted from the brand's signature stretch, compact fabric. Their feminine appeal creates a charming contrast with the precise tailoring, including essential suits.
TIFFANY BROWN DESIGNS Fall-Winter 2023 Collection focuses on the color grey. Grey is the color of intellect and compromise. Sophisticated, smart and refined, grey is a diplomatic tone, navigating the distance between black and white. The new collection expresses a rebirth of elegance and a classic timeless look that gives an heir of confidence while on the path to corporate ascension.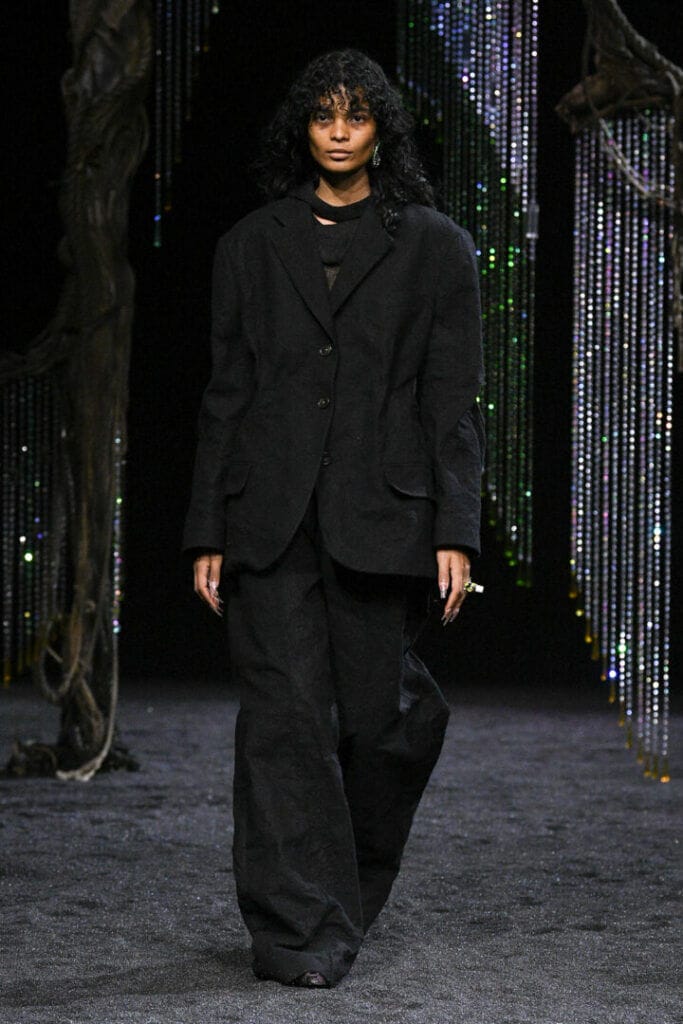 A celebration of growth and evolution. Rooted in nature, its symbolism and mysticism is reimagined for the Fall/Winter 2023 collection. Form-enhancing silhouettes contrast with voluminous style alongside wardrobe archetypes that conceal and reveal in equal measure. A study in contrasts, the silhouette skews generous, with boxy, oversized shapes and floor-sweeping lengths.
Kevin Hall:
After decades of refinement, Hall's latest collection continues his brand's impactful simplicity. The luxury experience was further defined by this dressing for success in 2023 look, which reflects the energy and vibrancy of American fashion.