Exhibiting his second runway collection since arriving at the creative helm of Ferragamo last year, Maxine Davis revisited Hollywood. The city of angels was the second home of Salvatore Ferragamo, the brand's founder, by drawing upon the brand's alignment with the glamorous stars of the 1950s. This collection gained power on the runway with its clean-cut modernity and hyper-feminine beauty coupled with a dash of alien futurism; the volumes and silhouettes of the era were distinctly displaced. And with a new strain on minimalism at the core of Milan fashion week, Davis proves to have his finger on the pulse.
It's how Ferragamo started, making shoes for films in the 1930s, and that grew into building relationships with movie stars like Sophia Loren and Marilyn Monroe in the 1950s," explains Davis. "I was interested in using their glamour and beauty, and their way of dressing, as a reference, but looking at how we could make it feel modern today."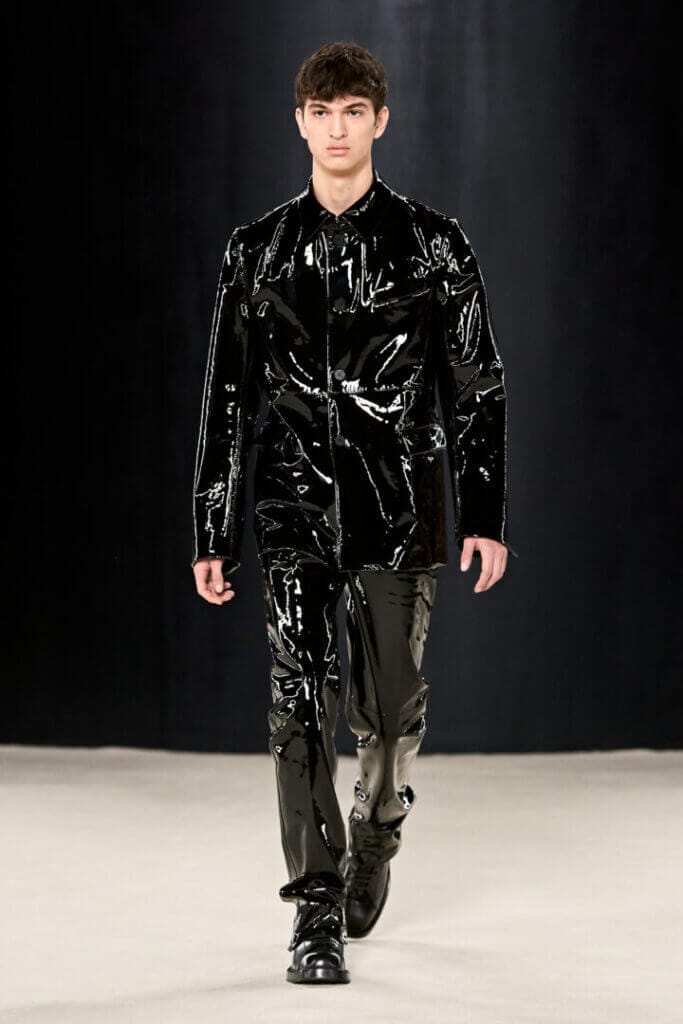 Coats, which opened up the show, emphasized new codes of shape which defined the collection. Removable cotton hoods gave massive volume to the shoulder. From modified cocoon-shaped coats with massive throat latches to clean geometric lines and new shapes, the looks proved to stand out. Footwear for her has a heavy presence of mules, whereas, for him, square-toed boots made a statement of shapes to come. And although tailored coats and suits were in dark colors, bright sleeve piping in red or white gave a welcome punch of light thus expressing a welcome sign of pizzaz.
For men, Davis seemingly revisited the 1990s with deep scoop neck tank tops, similar to what Queen frontman Freddie Mercury had worn, paired with leather pants and slate-colored jeans – all with flared bottoms. Activewear and utility details were abundant catering to the Gen Z clientele for sure.
Explored with the linear precision which defines Davis' expression, mid-century silhouettes find a graphic purity while offering sharp, cinematic clarity that has evolved the historic codes for a new era.
Exotic prints taken from the archives are scanned and manipulated before appearing screen-printed onto shearling, or leather and ponyskin accessories, with a slight distortion "to make them feel like heirloom pieces, taken from the past but brought into the future."
The graceful evolution of scarf dressing, a key code of Ferragamo, appears in contrast to strict silhouettes. "I wanted to introduce the more romantic side of the fifties, and the two elements appear to contrast so directly – the ethereality against the rigor – that they somehow go hand-in-hand," explains Davis.
The emergence of that languid elegance, expressed in bat-wing sleeves and Renaissance draped details, presents a counterpoint to the high-octane, fetishistic glamour of shimmering lamé minidresses and patent leather that emerges through the close of the collection. "This is my take on what people from the 50s would think of the future: alienated metallics and high shine," says Davis.