Bottega Veneta Creative Director Matthieu Blazy presented the FW23 runway show with a much-needed new style for the Italian luxury brand. Bringing to a close his 'Italia' trilogy of shows, Blazy
continues highlighting the past, present, and future of fine Italian craftsmanship. From ancient Roman bronze runners (1BC); to Boccioni's Futurist 'Unique Forms of Continuity in Space' (1913); to today's collection for Winter 2023 that at times draws from both the mythology of antiquity and Futurism shape of things to come.
An unfolding of possibilities through cut and craft, splicing of codes of volume and technique, shaggy fil coupe jacquards, and the intreccio takes the form of a new kind of skin, finding new configurations in clothing and leather goods. It points to the end of one part of the Bottega Veneta's story and the beginning of a new phase to come for Spring 24.
The new menswear silhouettes were innovative by the use of free-flowing cuts and super-sized tailoring. Like an abundant number of designer creatives, this form of tailoring was purposely oversized to spark interest in the Gen Z consumers. But, in my past experience, oversized men's suits won't work – unless the wearer works in a creative environment or, is a media celebrity. Nevertheless, men who work in a corporate atmosphere will not be wearing oversized suits anytime soon; perhaps never. There are rules to menswear that should never be broken and redefining a mans suit silhouette is one of them. When speaking of menswear suits, the rules to follow are fit, balance and proportion. More to my point, by altering any of those rules too much, will make the silhouette appear weak and unimpressive in or out of a board room. And lastly, Gen Z will have to grow up one day and dress appropriately.
On the contrary, as female models raced down the runway, one could not help but notice the inflated collars, flowing fringe, and contemporary peplums that delighted the audience. Some texture knits puckered up to three-dimensional proportions that reminded me of a blowfish or an egg carton – just saying. 
Blazy's latest collection impressed me with its ability to relate to the consumer lifestyle. After three awe-inspiring collections, Blazy has accelerated to the fashion world's top echelon. Laying down the collection's foundation with a streetwear sensibility was a trickle-up approach. Yet, the elevation of the creative philosophy showed true to itself by merging Italian history with proud nationalism.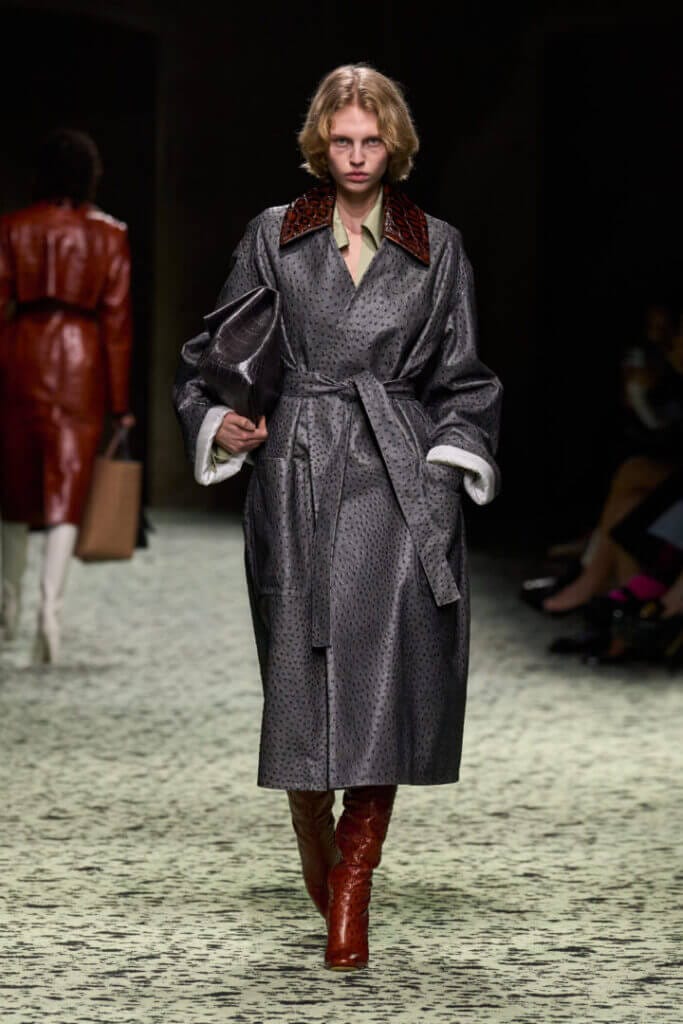 These 81 looks lead the way by highlighting individual developing trends. For example, the breakthrough materials included light, unconstrained fabrics and a showstopper fringed coat woven in one piece. The silhouettes included rolled waistband skirts aligned with the tails of mermaids. But there were also cleanly tailored double-layer coats and jackets for women and men. These pieces caught my attention because I could see them relating to the consumer.