In reviewing the fall/winter 2021 menswear collections, It is clear to me that men's fashion has taken on a meaning of what it means to be masculine in the modern era. Today in menswear, now more than ever before, the theme and trends of an abundant number of luxury brands is to stray-away from many of the preconceived rules and standards that have guided men for centuries.
Having said that, occasionally we see a modern twist on a coveted traditionalist piece that still keeps its old' and traditionalist ideologies in tact. The double-breasted jacket had been a staple in menswear for about a century – give or take a few years. The style really came into prominence in the 1920's and 1930's. Descending from naval officer uniforms, the double breasted jacket was generally associated from all ends of the financially gifted ranging from Gangsters to the British Royal Family.
Genuinely viewed as an item not suited for formal wear until alas, Giorgio Armani's revamping of the DB in the late '70s –that began its democratisation; his soft-shouldered, unstructured cut took some of the starch out of it, and in doing so, it soon paved the way for the boxy cuts indelibly associated with '80s Golden Boys of London as well as the Wall-Streeters- and their pinstripe suits. Now, however, the double-breasted suit is made a great return. New product offerings include a variety of modern fits and proportions, as a reaction to the predominant super-skinny silhouettes of the last decade to today for the "baggier" style of fashion forward formal wear.
Despite the millennial/Gen-Z way of approaching and dominating menswear in recent years, there are still general rules to abide by when it comes to wearing a DB jacket. One of the most important rules to live by when it comes to rocking a DB jacket is how to button it properly. It must always be pulled over from the left to the right side. Always. The number of working buttonholes that your jacket has, refers to the number of buttons that need to be fastened. Have all buttons with corresponding buttonholes fastened at all time. Optionally, you can leave one button undone for double-breasted jackets. You can opt to keep the top one unfastened for a more traditional look.
For Fall/Winter 2021, DB jackets are coming back to being a staple of every man's closet. Today, you do not have to go for the traditional matching DB jacket and trousers for a formal setting. You can dress it more casually by pairing it with a luxury tee underneath and pair it with a more casual pair of trousers for a nice brisk night out or really go for the fashion forward look and rock the matching DB jacket and baggy trousers with some great sneakers to have jaws dropped walking down the street. You will see the likes of fashion icons of both street style such as A$AP Rocky and more modern style, such as Jeff Goldblum rocking DB jackets which is a true testament to where menswear is now. Below, I have compiled a list of some of the top-luxury DB jackets for men this fall to help you guys stay right up on trend with the best menswear style on the market!
Alexander McQueen:
Alexander McQueen – Double-breasted tailored jacket in black Shetland wool bonded to satin with kimono sleeve detailing. The jacket has wide peak lapels and features an internal pocket, a slit pocket on the chest and two flap pockets at the sides. Finished with horn button fastenings. $3,980
Brunello Cucinelli: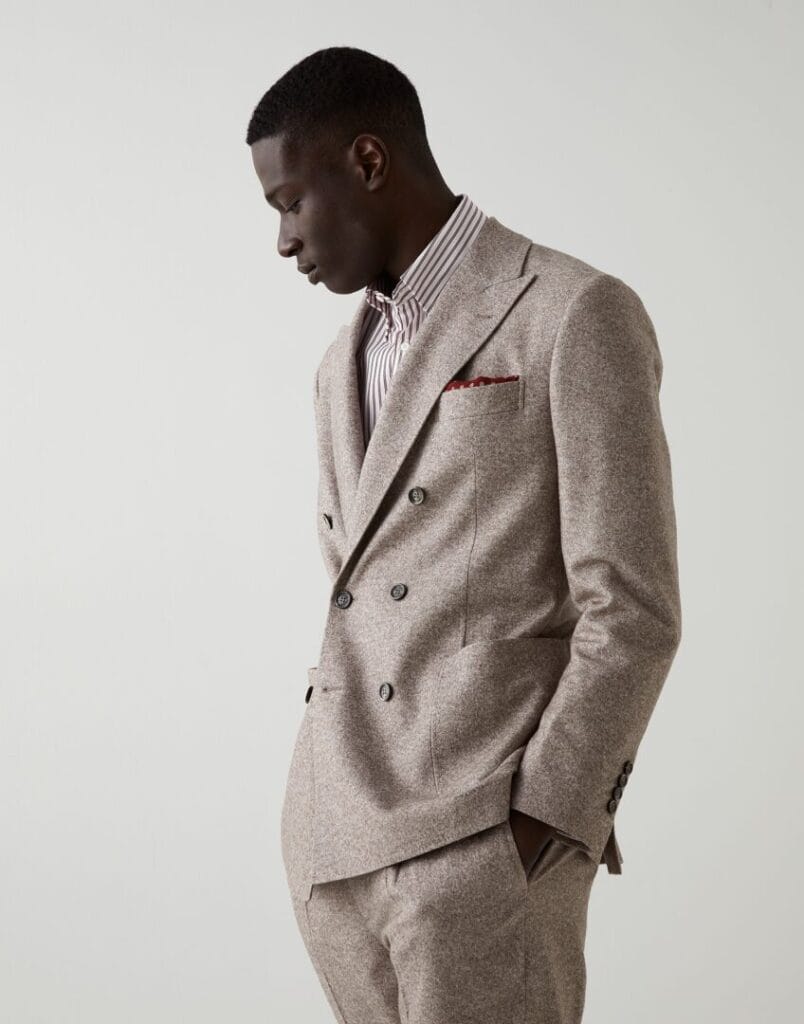 Brunello Cucinelli – A staple of Brunello Cucinelli's menswear collections, this unconstructed blazer is detailed in refined wool, cashmere and silk Donegal-effect fabric with a characteristic mélange and slightly retro look. Its fit is characterized by close lines through the chest with slightly pronounced shoulders to highlight the male physique. Versatile and timeless, this blazer can be worn by itself for a casual look or combined with suit trousers for a more classic feel. $4,095
CELINE HOMME:
CELINE HOMME – $2,850.
Dolce & Gabbana: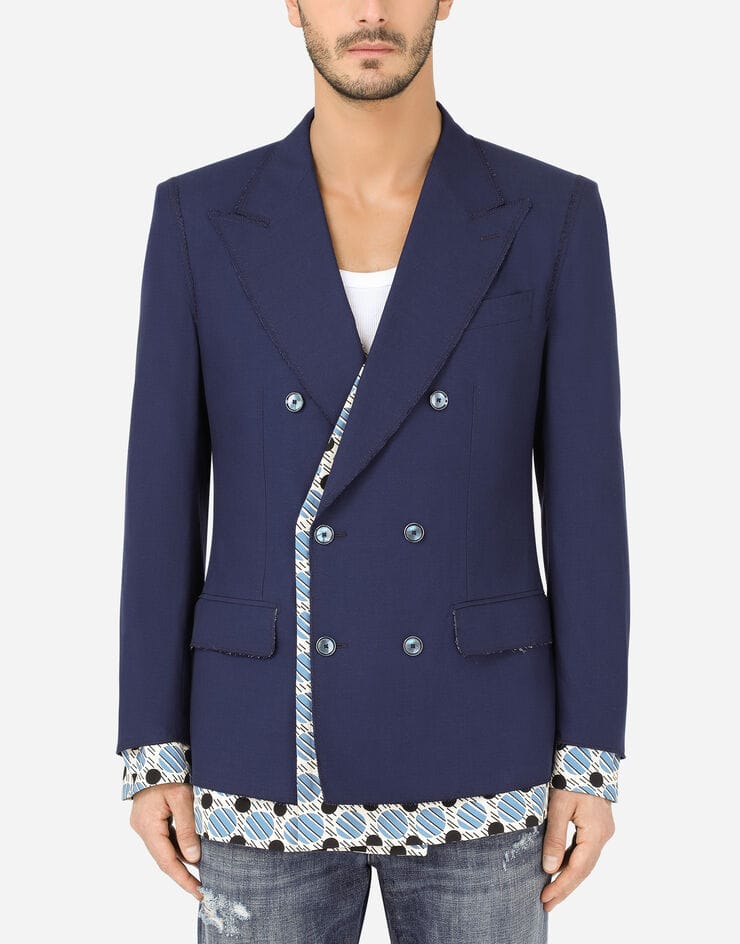 Dolce & Gabbana – The wonderful colors of the sea and the geometric designs of the majolicas, mixed with the white and blue of the linen, are the key details of the "Parco dei Principi" catwalk collection. Tailored garments in light fabrics, such as twill, linen and poplin, enhance the elegance of the Dolce&Gabbana man throughout the entire day. $3,745.
Giorgio Armani:
Giorgio Armani – $3,495
Louis Vuitton:
Louis Vuitton – This elegant double-breasted piece channels the season's Uniforms vibe, with pinstripes inspired by those worn by 18th century London bankers to signify their place of work. The piece gets a playfully childish twist from fancy buttons adorned with hammers. Details include two flap pockets at the front and a plain silk lining. $4000
Ralph Lauren:
Ralph Lauren – An essential building block of the Ralph Lauren look, our iconic Italian-crafted Polo blazer is the result of time-honored traditions spanning decades of impeccable design. Its doeskin wool was custom-developed in collaboration with Italian weavers to achieve a finer, softer, and lighter feel than anything before and finished to reduce shine. The soft shoulder, which harkens to classic American haberdashery, is achieved through meticulous interior tailoring that trims excess fabric and padding, followed by a unique pressing process. Fine horsehair canvassing combined with an elegant lapel roll and a lower button stance creates an ideal silhouette that can be worn both formally and casually. $1,198
Stefano Ricci:
SR illustrates Italian elegance with this peak lapel double-breasted deconstructed jacket crafted from an exclusive cashmere and silk blend. The item is adorned with a six-button front closure, double back vents, and soft shoulder construction. The addition of signature stitching and mother of pearl buttons give a sophisticated finish to this stand-out jacket, perfect for the first days of fall. $5,950.
Scabal:
Scabal – The Double-Breasted Kenton Jacket has been brought to life in the Sonata collection and is perfect for easy winter wear. The Kenton jacket combines clean lines and fine detailing, a slim cut with unlined and unpadded construction and can be dressed up or down but always adds a touch of style. The Sonata collection is also about colour but here the combination of coloured yarns within the herringbone design create tones that are easier to wear in an everyday Super 100's wool. Turn your back on the bright summer days and embrace the cool feel of the new season Double Breasted Kenton Jacket, an essential wardrobe item needed to carry you through to the colder months in style. Prices start from $1,025 (Made-to-measure).