By Matt Gulielmi | Published: September 5, 2023
The palate of the young male shopper has evolved drastically from what it craved ten years ago. What used to be deadstock Jordans and Off-White flannels are now Bush administration Gap and Aimé Leon Dore. He's grown up now, and so must his wardrobe.
The hype train hasn't stopped, but it's on a reduced schedule. The loud, logo-heavy design language that defined "hypebeast" luxury doesn't mesh with HR's dress code, and this friction welcomed back prep, or its taxonomic alternative "ivy style".
To summarize the curriculum, ivy style has its roots in elite New England academia, blending traditional American clothing with elements of British tailoring to create a relaxed yet sophisticated look. J.Press, a founding brand that supplied the movement, established their first store on Princeton's campus in 1902 and specialized in plain-front slacks, colorful sweaters, and paisley motifs. A departure from the previous century's formal apparel, ivy fashion was characterized by relaxed tailoring– think tweed blazers, chino trousers, and sweaters adorned with oversized chenille patches.
In the 1950s, Ivy League fashion gained national popularity and became more than just a college trend; it turned into a symbol of American style. The book "Take Ivy" played a big role by acting as a guide and cultural reference, highlighting key fashion items like button-down shirts, loafers, and blazers. Approaching the new millenia, brands such as Polo Ralph Lauren and Tommy Hilfiger stepped in and made preppy fashion appealing and accessible to people all over America.
Finding ivy apparel in New York is easy. Brands that define the genre such as GANT, Barbour, and Alex Mill have flagship boutiques that showcase their latest merchandise. However, the unique appeal of ivy style is its rich history—over a hundred years of it to enjoy. While it's cool to see how brands are building on the style, part of ivy's appeal is rocking iconic vintage pieces like embroidered Ralph trousers or a genuine 1980's MIT reverse weave.
With that being said, finding someplace that deals in both retro and new is a dream for ivy adherents. Sure, you could find a Brooks Brothers OCBD in mint condition at the Upper West Side's Grand Bazaar or Brooklyn Flea, but why spend hours panning for gold when you can find coveted classics in one place?
Alfargo's Marketplace is the ivy summit. Founded in 2021 by Stephon Carson, the second-hand periodical has amassed diehard attendees and continues to grow with each pop-up, and the members of the prepwear grand council have noticed. This year alone, they've joined forces with the bookends of ivy. In April, they hosted a joint pop-up with the aforementioned J.Press, and in June a sample sale with modern day prep torchbearer Rowing Blazers.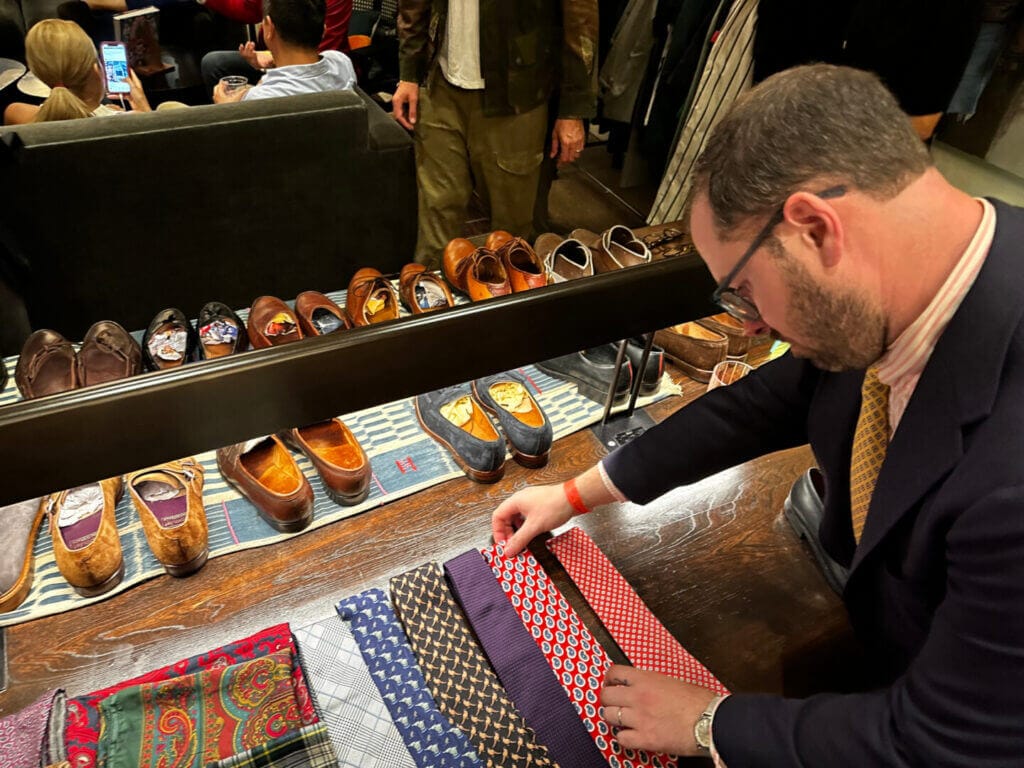 The menswear flea market operates on a selective schedule, hosting events every 1-3 months. This preserves the novelty of the market and allows their seasoned vendors to arrive only with their heaviest hitters. They skip the racks of mediocre graphic tees, knowing exactly what Alfargo's shoppers are looking for. It's not uncommon to see silk scarves spilling out of trunks alongside orange tab Levi's and RRL leather jackets. No filler, just dapper, knockout garments.
Without a website (yet), followers of Alfargo's stay tuned through their Instagram, where they patiently await a post featuring their signature tortoise mascot drawn by evolving guest illustrators. The reptile symbolizes a mature, sophisticated philosophy that values the timeless over the trendy, embodying the notion that good fashion, like the tortoise, is unhurried yet always impeccable.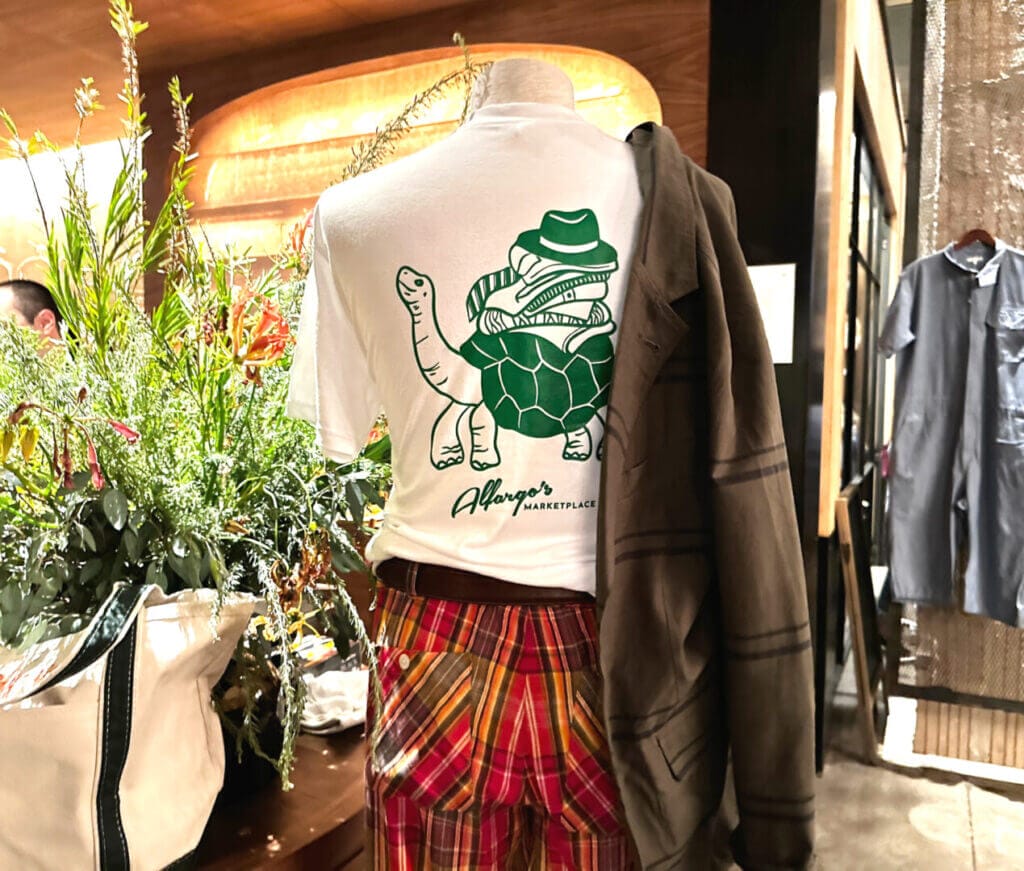 Anyone who's stopped by the menswear junction will tell you the community is the most special part about it. Everyone's decked out in their east coast regalia, but there isn't an ounce of snobbery. As you stroll through the vibrant stalls of vintage ties, you'll find yourself in a crossfire of compliments from both shoppers and vendors discussing their favorite pieces. Those who are team "collar popped" can see eye-to-eye with the "collar down" traditionalists.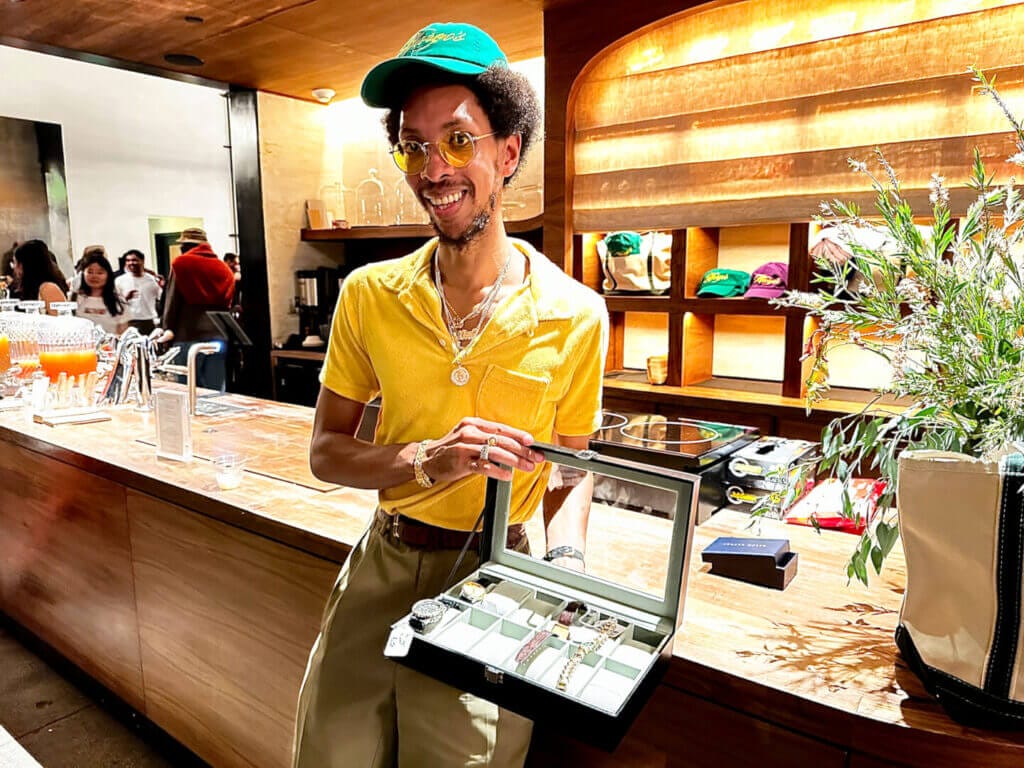 Their most recent market was hosted for two nights at the impressive 25th street NeueHouse. Hundreds of shoppers came together in an ocean of plaid, tartan, and madras to browse New York's most curated selection of men's vintage, and founder Stephon divulged in how Alfargo's came to be.
How do you go about finding vendors that align so well with the overall culture of Alfargo's Marketplace?
Word of mouth and social media. Independent sellers will come in and talk to us, or they'll send pictures of the merchandise they're really proud of. Some of our sellers will refer vendors they know that are good fits, too.
What are key events that happened in your life that got you into menswear and led you to creating Alfargo's Marketplace? Was it a family member's whose style you admired? A gift you got as a kid?
Towards the end of my junior year of high school, I began to dress nicer. I was going into my mom and dad's closet and there were a couple items I picked out and started wearing, and I loved the reaction I got from people when I dressed up. I continued that and it's grown into what you see here tonight.
You've had a turnout in the hundreds tonight. Looking back, what's been the hardest part about building such a devoted community?
In order to build a community, we just had to create a friendly, fun, real environment. People feel off of vibes. You need to be someone who people want to be around. If you want to keep the right company around you, you have to cultivate an energy that people gravitate to–and some nice tunes to go along with all of it.
If you could do one joint project with a brand or entity, which would it be?
The Armoury or Drake's of London. Drake's of London is their sister company, but I also work for The Armoury full-time, so it would be awesome to do something with them. But there might already be something in the pipeline, so stay tuned.
What makes Alfargo's Marketplace more than just a shopping venue is its sartorial pulse—a hub of conversation, artistry, and community. It's where the needle of past and present menswear finds its groove.
Besides Carson, Nick Andry, Elias Marte, and photographer Zane Gan are co-operators of Alfargo's Marketplace and have grown it into what it is today. Their next pop-up hasn't been announced yet, but their dates are booked through 2023, so you can keep tabs on the next event via @alfargosmarketplace on Instagram.