Times have evolved, but the distinction of an actor conveying a sense of impeccable style has certainly stayed the same. More to my point, the high-profile male film stars of today represent everything from class, success, fame, and most importantly, aspirational value.
Because of their high visibility and luxury lifestyle, Hollywood actors lend great impact to a fine watch brand. And today, an abundant number of high-profile actors are highly sought after by watch companies. In a word, when it comes to fine watch influencers, big name actors will surely lead patrons of the brand to the point of sale. And Omega has been ahead on this trend for years.
Typically, in the recent past, luxury watches were exclusive to successful businessmen, but in the current menswear marketplace luxury watches have become popular among athletes, performers and even tech guru's. It only takes one reference of South Korean actor Hyun Bin wearing OMEGA's new Speedmaster '57 Collection to accelerate enthusiasm. Hyun Bin is a South Korean actor. He gained widespread recognition for his role in the 2005 romantic comedy television drama My Name is Kim Sam-soon. Bin's popularity was further widened by starring in action thrillers such as  Confidential Assignment (2017), The Swindlers (2017), The Negotiation (2018) as well as the zombie horror Rampant (2018). The success of Hyun Bin's works brought international stardom. He is one of the highest paid and most influential actors in South Korea.
With the growing popularity of mature celebrity culture, the importance of luxury watches has expanded to a younger demographic. In recent years, younger millennials and Gen Z have shown great interest in obtaining knowledge about fine watches. The big point of interest is status and sentimental value. Unlike apparel, a good watch can last a lifetime. More importantly, you can wear your watch every day – it is the finishing touch to a well-dressed man.
The actors Hyun Bin and George Clooney are taking a front seat role in the promotion of OMEGA's new Speedmaster '57 collection. Perfectly complementing both sides of the famous chronograph, The South Korean actor, Hyun Bin, recently joined the OMEGA family. Exuding his typically confident and laid-back style, he was shot on location with a classic car in Korea, this time wearing a 40.5 mm stainless steel model with a black dial (ref: 332.12.41.51.01.001).
Clooney brings his classic style and iconic character to the campaign, yet again highlighting his long-standing connection to OMEGA. On the other hand, Hyun Bin is the rising star, with a cool and modern spirit that epitomises the Speedmaster's constant evolution.
As the name suggests, the Speedmaster '57 is emblematic of the original Speedmaster design, which was released in 1957 for racing car drivers and engineers on the track. As a tribute, today's Speedmaster '57 collection of eight new watches has been delivered with a slim style, colourful dial choices, a vintage bracelet, and an outstanding Co-Axial Master Chronometer 9906 movement – reaching the pinnacle of precision, magnetic-resistance, and performance.
Raynald Aeschlimann, President and CEO of OMEGA, says "The Speedmaster '57 is known for its quality and timeless charm. George Clooney and Hyun Bin are the perfect leading men to showcase these values and prove exactly how the timepiece fits with the dashing style of today."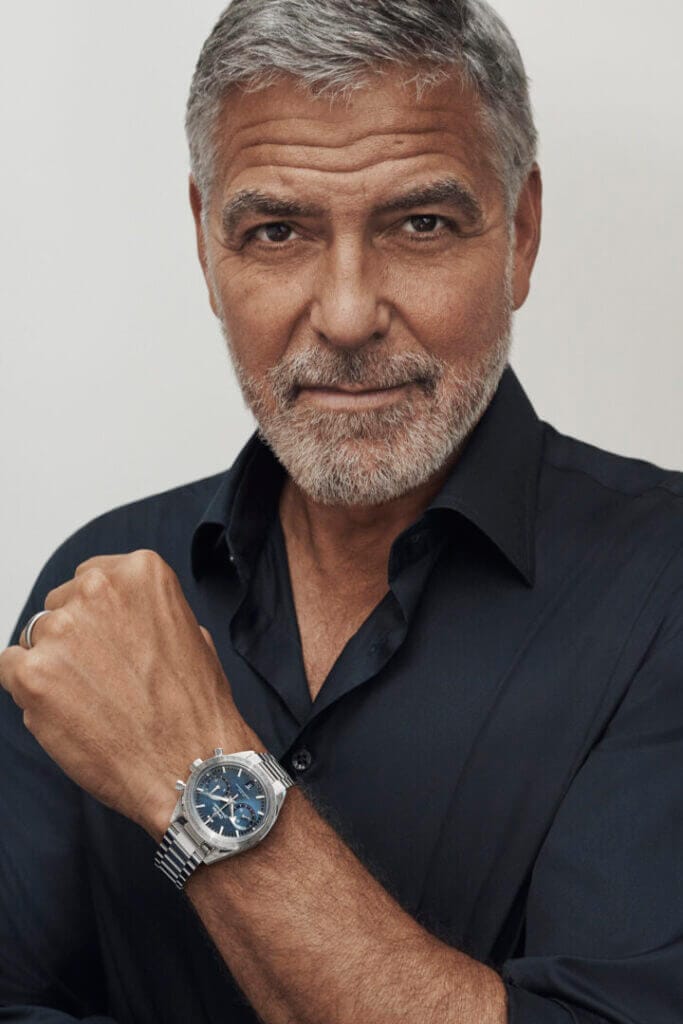 George Clooney is a long-time friend of OMEGA and, in many ways, both he and the Speedmaster share the same story. Both their lives began in the optimistic years of the space age, and both are known for their lasting popularity and qualities of excellence.
For this shoot, George wears the stainless steel model with a PVD blue dial (ref: 332.10.41.51.03.001). Amongst the new portraits, the actor can be seen wearing the timepiece while driving a vintage car near his home around Lake Como – a nod to the Speedmaster racing origins.
Coinciding with the 65th anniversary of the Speedmaster line, the full OMEGA Speedmaster '57 collection now includes eight new models. Along with blue and black dial models, there are also green and burgundy choices. Signature 1957 details include the brushed metallic bezel with its "Dot Over Ninety", as well as the famous Broad Arrow hands.